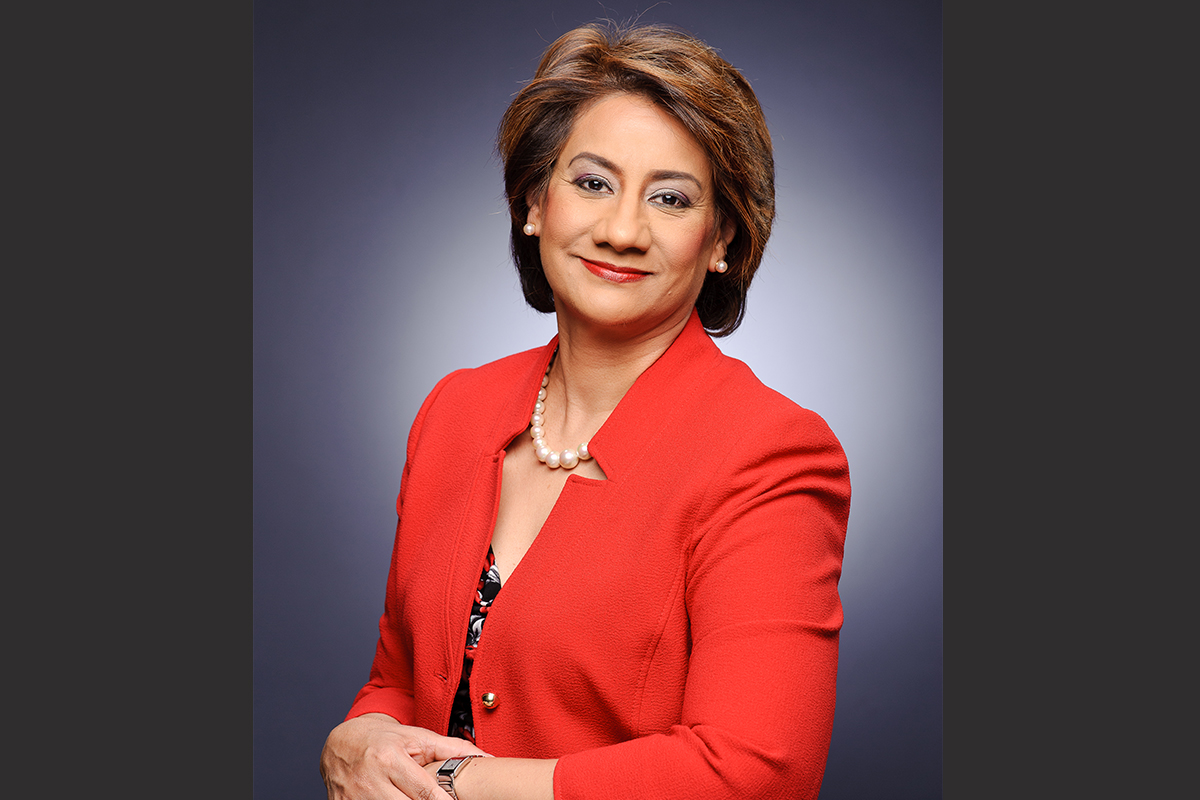 10 Feb

A strong banking sector is primed to support customers doing business in Trinidad and Tobago
Karen Darbasie, Group CEO, First Citizens Bank and President, Bankers Association of Trinidad and Tobago, offers an insight into how a leading bank is moving forward with enhanced digitalization
What major changes have you seen in Trinidad and Tobago's banking sector since becoming president of the Bankers Association of Trinidad and Tobago (BATT) a year and a half ago?
It seems like a lot longer than a year and a half, because so much has happened since August 2019. When I started, I had a vision, a strategy for dealing with my term in office and, of course, you can make all of the preparations that you want ahead of time, but you have to be able to be flexible, as you face emerging issues and events. I started with a focus, from a banking system perspective, on moving the sector into a more digital space and strengthening operational efficiency for our settlement environment, working through InfoLink Services Limited, an entity in Trinidad with shareholders comprised of the four major banks in the country.
In November, the banking system dealt with a very expedited demonetization of the local $100 note bill, where we worked in very close collaboration with the Central Bank of Trinidad and Tobago to get it done successfully in what was effectively five weeks. That put the banking system under a certain degree of additional operational burden. And then, very early in 2020, we were faced with dealing with the COVID-19 virus in terms of the impact on the banking system, as well as the impact on our customers.
So, apart from focusing on strengthening the operational efficiency for our settlement environment, providing it as a base platform to allow banks to expeditiously roll out new channels, we also focused on new products that facilitate clients' dealings with their bankers, not just making them more efficient, but with more of a digital mechanism through alternative channels. The new world that we work in requires us to do much more in an electronic, digital remote space, so all of these products and services that we were positioning within the infrastructural environment really started to bear fruit, and we are very much hoping that the launch of products and enhanced services will ramp up very shortly within this calendar year.
Of course, as banks, we are always focused on the protection of our clients from fraud, and all of the banks in Trinidad and Tobago are actively rolling out debit chip cards to enhance the safe environment for our customers to transact. All of the initiatives introduced required the deployment of technology, and embracing and upgrading our technology platforms, so that we could move forward as an industry.
First Citizens Bank offers a full range of banking services and is regularly named the best bank in the country at prestigious international award ceremonies. Headquartered in the country, it is the largest part of First Citizens Group, one of the leading financial services providers in Trinidad and Tobago. How did First Citizens Bank navigate the pandemic? What best practices did you put into place and what have been the biggest lessons learned so far?
COVID-19 required us to respond on the fly because developments were taking place as things started to escalate from a health and safety perspective. If I were to say how we approached it, both as an individual bank and as part of the banking system, the very first thing we focused on was protection of our people—making our environment as safe as we could for both our staff and our customers. We deployed quite a few measures very early on, including, of course, deployment of PPE, putting sanitizer in our branches and temperature checks of customers. We also put up screens within our banking hall and deployed social distancing.
The next major pillar of initiatives was working with our customers, both to ensure their business and their personal survival from a financial perspective, promoting alternative channels and educating the customers about use of these channels. We engaged in a series of mechanisms both alongside other banks and working in conjunction with the government. The pandemic created a high degree of uncertainty and communicating what we were doing and why, and opening up those communication channels was very critical for us during that stage—both in terms of internal communication to my staff, as well as external communication to our customers, both individually as a bank and as a banking sector as a whole. We worked with customers on deferrals, on waivers of fees, on interest rate reductions, looking at their cash flows and trying to do loan restructures to allow them to continue to operate.
The important thing was understanding that we must work together to ensure that we all survive this situation. It's been a long, hard journey and Trinidad and Tobago has been more fortunate than most, in so far as the second and third waves of infections are concerned. The economic environment has been very subdued, but we continue to work to ensure that, as an individual entity and as a sector, all of us do the best we can, in partnership, to come out of this together.
Then, as all businesses, we are focusing on the impact on our financial situation, and working to shore up the strengths that we have as an institution. Even in the International Monetary Fund's (IMF's) financial stability assessment of Trinidad and Tobago's financial sector that was published in November, the capital strength of the banking system in the country was highlighted. It is a balanced sector, consisting of multinational entities as well as local entities, so there is international best practice that's brought to the local banking system, as well as taking account of our local cultural norms.
First Citizens Bank is renowned as an innovator, having been the first to introduce internet and mobile banking to the country, for example. What is your take on the banking sector's adoption of digital technologies in Trinidad and Tobago, and how has COVID-19 affected the implementation of these technologies?
The need for digital adoption has definitely escalated as a result of COVID-19. Banks as a whole had already deployed technology to create a number of alternative channels for customers to interact with them. During COVID-19, all of the banks, as well as BATT, engaged in education of our customers to increase their awareness, to increase the utilization of these channels, and to assure them that using these channels was and continues to be safe and secure.
COVID-19 has also increased the urgency in the banking sector for our own adoption of digital technology, both for making ourselves more efficient and for increasing the access to alternative channels for clients to transact. The expedited need for that was clearly brought to the fore during COVID-19. And I think in the case of Trinidad and Tobago, it has been recognized more widely and even on a national scale. The government engaged with the private sector, including the banks and the financial services sector as a whole, in order to come up with a road map of initiatives for deployment in dealing with not just the fallout of COVID-19, but the new realities of the world. Expediting our digital agenda was clearly articulated by the government in its final report, as well as within the national budget announced in September of 2020. So, I fully agree that COVID has really pushed all of us, in all industries, to move toward a greater penetration and deployment of digital technology to ensure that we can operate in an even safer environment.
How does the government and the banking sector support entrepreneurs and small- and medium-sized businesses (SMEs) in the country, and what type of programs does First Citizens Bank offer its SME clients to support them?
We've worked with the government as an individual entity and as part of the banking sector in rolling out initiatives to support the SME sector. The government worked in conjunction with the banks to design a soft-loan program, where 75 percent of the loan amount was collateralized with government support for the SME sector. The banks assumed the risk for 25 percent of the facility without government support. Loans under the program were disbursed at a very subsidized interest rate with repayment terms structured to allow moratoriums and a long five-year term to repay. That was very clearly focused on SMEs. The government also rolled out a grant program for what I would call microenterprises, which was not a loan, but a full grant.
From the very inception of COVID-19 showing up in the country, the banks were called to the table, initially as part of a three-member team working on a response. And then, as part of a far wider team working on a longer-term response, the banks have cooperated with each other to ensure that we all move forward together. Banks have been working with all of their customers, not just SMEs. Large corporates, as well, have faced tremendous disruptions as a result of COVID-19. The hospitality industry has been particularly heavily hit. We continue to work with all sizes of businesses, as a sector and as an individual bank, to ensure that we can all survive.
Can you walk us through the key points of the country's 2020-2021 national budget? What are the priorities and how will it help address the economic impact of coronavirus?
That's a very wide question. I think what we have to understand is that in the 2020-2021 national budget, the government had to adopt a balanced though difficult position. We have a situation where global energy prices are down. Trinidad and Tobago is substantially dependent on its energy sector—oil and gas—for a substantial portion of its revenues. Domestic economic activity is very subdued due to measures deployed to reduce the risk of spread of the virus. So, from an overall perspective, you are making a budget in an environment where revenues are substantially down, but the need for expenditure is substantially up—as a balancing act, the government had a very, very hard position to deal with.
There were measures that it was putting in place to support the vulnerable, looking at social programs that were assisting approximately 200,000 people. There were measures to reduce taxes, especially at the most vulnerable levels. The income threshold for payment of personal taxes was increased, reducing income tax paid by the most vulnerable. There were stimulus packages offered to the agriculture sector. Of course, the SMEs loan program that was established in conjunction with the banks was still in place and spoken about. That program ran up until the end of December.
The budget was really still trying to focus on the short-term measures to support the local economy, while projecting the plan or the vision for the long-term economic position. There were very clear statements around the digital transformation of the local economy. A ministry was set up to deal with that plan and, in a lot of ways, it is going to assist in making the delivery of products and services from the state sector more efficient.
What were the biggest takeaways from the IMF's 2020 Financial System Stability Assessment Program (FSAP) report for Trinidad and Tobago, and what will be the main areas of focus for the sector moving forward?
As I mentioned before, the FSAP report did quote that the banking system had strong capital and liquidity positions, which within this economic environment is a real positive for Trinidad and Tobago.
The IMF did perform some stress testing and, while we did not have the benefit of understanding exactly the parameters of the stress test, the report quoted that under some severe COVID-19 adverse scenarios, some banks could reach their minimum capital requirements. Clearly there's a need—and this was emphasized in the report—for the central bank as the regulator to work with the system as a whole to shore up its strengths in order to ensure that the buffers that we have built as a system over a period of time are brought to bear, so that we can support our customers. But this has to be done in a manner that does not result in tremendous risk to the banking sector, where the buffers are eroded and we put the capital adequacy of the banks under risk.
Some of the other longer-term measures that were mentioned in the report, which are aligned to national policy, include things like incorporating more of an institutional capacity for assessment, and the inclusion of climate and environmental risks in the lending practices of banks. This is an additional suggestion that the IMF made to strengthen the contribution of the banking sector to the global and country effort on climate and environmental risks. And so, as an oil and gas economy, that is something that the country and the government are focused on as well.
Then there were some sectors of specific vulnerabilities, not necessarily directly in the banking system, but it spoke about the mutual fund industry. The IMF mentioned the need to look at what is effectively a mutual fund market that is very much skewed towards a fixed net asset value (NAV) product. While considered very low risk for customers, it can provide some risk to a financial institution's balance sheet. The report recommended a conscious look at the mutual fund sector, which is not limited to the banking sector. Jointly with the regulators, the industry has started to look at mitigating some of those risks posed by a fixed NAV product.
So, there was an acknowledgment in the FSAP report of strengths and buffers within the banks, and some recommendations for the system to work alongside the regulator to mitigate some of the potential risks that the IMF saw when it did its stress analysis.
What role did First Citizens Bank play in helping to complete the FSAP and what policies were implemented to achieve this?
Whenever the IMF, the World Bank or any of those international entities come into the country to visit and assess the country or specific sectors, they meet with a number of the financial institutions, and First Citizens Bank was a part of the rounds of meetings for the FSAP. We had some discussions, we answered some questions, we put forward some suggestions, but it was as part of the general investigative work that the group would have done as part of the FSAP. That is standard for what goes on whenever these entities come to do assessments of the country. We participate both from a sectoral standpoint and as an individual bank in one-on-one meetings, and then potentially as part of sector meetings that are held with the entity. So, we did participate in the rounds of meetings during the assessment that was being done.
Moving forward, what would you say is your strategic vision for First Citizens Bank, and what do you most hope to achieve in the short to medium term?
We actually have a very well articulated strategic plan that we have been working on adopting for the last three to four years. We recalibrated that plan in September of last year, taking into account the new realities and consistent with everything we've spoken about today. The adoption of technology internally for our operational efficiency and for reducing our cost base, as well as the adoption of technology for deployment in our product set, remains a key strategic initiative for us as a group. We are always looking at the balance that we deploy within the group.
There are five strategic pillars with sub initiatives that we are working on, but if I were to look at the commonalities around all of them, they are all based on repositioning the organization for growth in the future and for moving the organization forward with an enhanced digital capacity, both for ourselves, as well as for delivering products and services to our customers.
What would be your final message for the readers of Newsweek?
Trinidad and Tobago is a great place to do business. We have a strong banking sector. We have well developed infrastructure. We are open for business albeit, at this point in time, in an electronic manner because our borders are still closed. But I think the mechanisms that we have deployed as a country mean that when we start to return to some degree of normalcy and the borders can be opened, we in Trinidad and Tobago are ready to do business with the world.
We are ready and capable to restart and we look forward to supporting, from a banking sector perspective, all of our customers, both existing and potentially new as they explore opportunities to do business in Trinidad and Tobago.