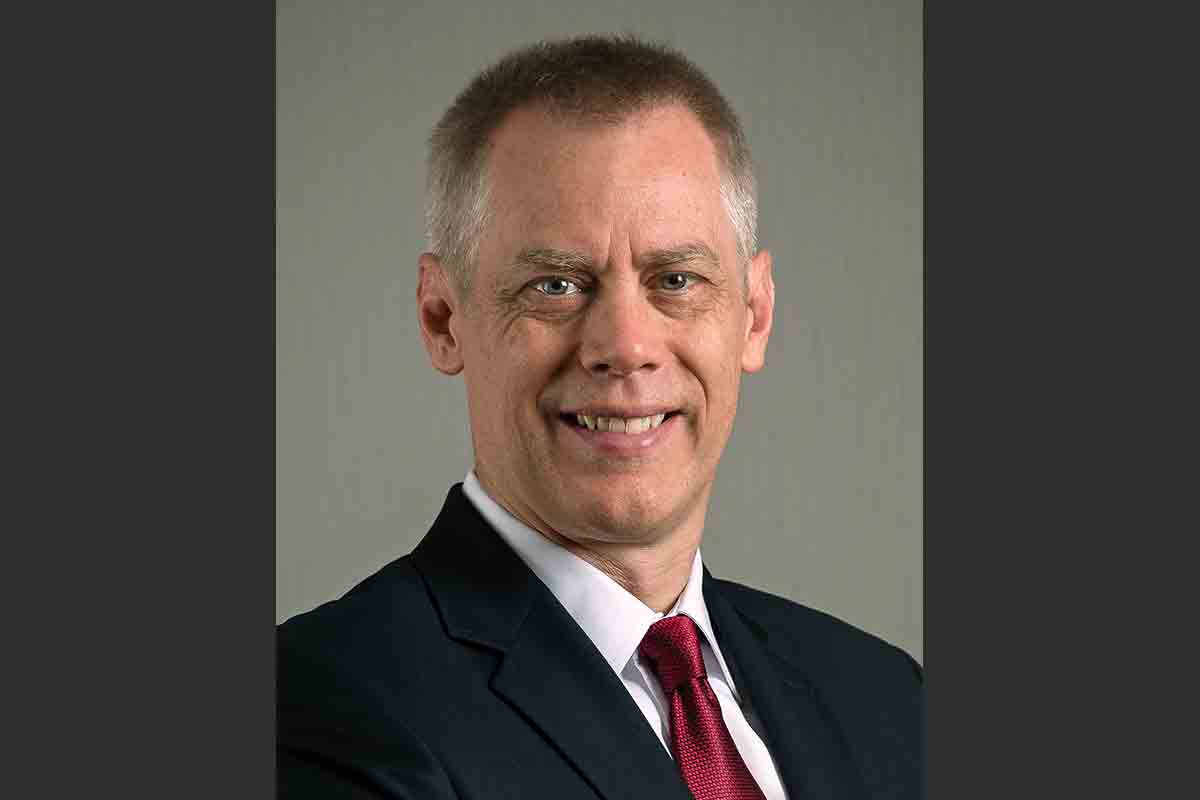 01 Sep

A future in the clouds
Jeff Nygaard & Fergus O'Donnell, Executive Vice President of Operations and Technology & Plant Manager, Seagate, see a world created in Northern Ireland where cloud computing and nanotechnology rule things.
Seagate has been following the growing technology wave since its inception in 1978 with its first five megabyte five-and-a-quarter-inch hard disk drive. Since then, things have changed quite a lot, but the company has been a mainstay in hard disk creation, remaining one of the few on the board. The company opened its facility in Northern Ireland in 1993, becoming Derry's largest employer with a staff of almost 1400. To start, can you give us a rapid overview of Seagate today, highlighting the strategic importance of Northern Ireland for the group?
(Jeff Nygaard) Business has transformed over the last 25-30 years. Seagate has evolved from focusing only on our hard drive business, transforming into a data storage infrastructure solutions company helping data move frictionlessly across the world. We take ownership and care, as approximately 40% of the world's data is entrusted to the products we make.
We are a global company; we began around 40 years ago. Our NI operations began 27 years ago.
When you hear the word 'cloud', 'multi-cloud environment' and 'edge environment,' the hard drive is still and will continue to be a mainstay for these storage environments. Seagate is also expanding into data infrastructure services and solutions. That has happened over the last 2-3 years as we move into areas where we can provide services beyond selling the devices.
At our core, we remain a tech operations company. We are unique in that we design, make, sell, and support our products. For many companies, they either focus on design or the sell.
At Seagate, we believe that vertical integration of key technologies is central to Seagate's success. Our facility in Northern Ireland is central to that operational development footprint. It's come a long way over the last 27 years, from operations to research and development. Our 200mm wafer fabrication facility is the largest in the world for making recording head devices.
Everything going on in our personal and professional lives, how we connect with people, how we consume entertainment, how we bank etc. creates a datasphere or environment of data. We believe the datasphere will continue to grow exponentially, and the next 40 years at Seagate are going to be better than the last.
Seagate's main operations today fall into the cloud, with 65 percent of operations in mass capacity applications. How has Seagate managed to hold itself ahead of the competition in its creation of disk drives? Why has Seagate switched to offering cloud storage services; and what are the pros and cons of offering private cloud data as opposed to open clouds such as with Google and the like?
(Jeff Nygaard) Right now about 70 percent of Seagate's hard disk revenue is mass capacity storage. As the environment has grown from a client-based environment—such as laptops or computers towards a multi-cloud environment—the mix of what we make and sell to serve the datasphere has shifted towards mass capacity. We are at 70 percent now. If I look 5 years out, we are probably 90 percent plus mass capacity, in those time frames with good growth. I wouldn't say that we switched from devices to services, but that we are adding to our offerings because the device part of the business—the traditional part of the business—is still growing.
Based on the skills of our team, in NI and around the world, we believe our services business can help with more efficient storage and movement across the ecosystem. Our services encompass our Lyve mobile products, which allow us to move big chunks of data safely from one environment to another. Data is also physically moved. If you tried to send it through the internet there are cost, speed and bandwidth limitations too. It is faster and cheaper to physically move the data, and we have a Lyve mobile business where we are leasing equipment to companies to enable them to move datasets between data centers.
In our cloud services, we store data for our customers because we make these storage devices. We provide the most economical path for companies or large enterprises to store and access large amounts of data without egress fees. We are enabling a new environment rather than taking share away from our customers or other companies. We believe there is a need for a storage environment in the middle, for speed of interaction and data management. Not all the data goes to the public cloud, there's data in the ether right now and this is creating an opportunity to grow and expand the datasphere. This is an opportunity.
Technology innovation has been the cornerstone of Seagate's success and in April 2019 a package of investments totaling approximately $78 million centered on its wafer manufacturing plant at Springtown in Londonderry. How do you value Northern Ireland in terms of its innovation capacities and how important is the Northern Ireland facility in regard to your innovation strategy?
(Fergus O'Donnell) Our NI site was established in 1993 and has evolved tremendously over the last 27-28 years. Today we have 1600 employees, 40 percent of which are engineers and professionals. We have a highly skilled workforce including 120 PhDs. Our operational charter is for wafer manufacturing, research and development and product launch. We build the thin film head transducer in NI. From start to finish, it takes five to six months to create the completed part, that shows the complexity and engineering behind it. There are between 1,500 and 1,800 processing steps as we make these devices. We manufacture in a very high-tech clean room environment. It is one of the largest clean rooms in the world at 87,000 square feet. From a total available market, over a quarter of the world's read-write transducers in a storage device have originated from the site in Northern Ireland. That is a huge statistic and one we are very proud of.
We also provide a significant proportion of the Seagate transducer development. Since we started operations in NI, we have made a capital investment of over $1.5 billion. It's a huge commitment from Seagate into the Northern Ireland facility. We continue to have a collaborative relationship with industry, government, and academia.
Technology innovation is the cornerstone of Seagate's success. We believe industry leading innovation delivered by the NI facility has really been at the heart of the business strategy for the last 27 years.
We are leaders in nano-manufacturing. The technology required to enable the device created at NI is controlled, to a width of less than 30 nanometers in a cleanroom environment that is recognized as one of the foremost 200mm wafer fabrication plants in the world.
(Jeff Nygaard) Innovation is happening everywhere in the company. Yes, we are an operations and technology company, but we talk about innovation: we want our manufacturing teams to innovate and do things more efficiently or more effectively, we want our products to be better through innovation, we want our financial transactions to be better, our business processes to be faster. Innovation must happen everywhere in the company.
Specifically for NI, the facility and its manufacturing is central to our vertical integration. Two-thirds of recording heads, which is the main element that reads and writes the information in a hard drive, is coming out of that facility. It's super high-tech manufacturing, data centric, AI enabled and requires many skilled personnel. The research and development aspect of NI has grown over the last 10-12 years: it started as a manufacturing site but now we develop a large proportion of our recording head research and development there as well.
In the future, with the talent we have in NI, we will continue to do what we are doing and more, as the company moves into new areas of business and transforms. The future for our NI facility is bright.
Digitalization has gone through the roof with the pandemic. This has caused a fresh stream of investment into new technologies from governments all over the world looking to catch up and cash in on the current tech revolution. In July, the U.K. government announced that it was throwing down $176 million dollars in R&D funding to support new innovations, including $59 million dollars for research into nanotechnology under a coalition of technology companies and research entities led by Seagate. How substantial is the U.K.'s funding into new innovations, specifically in Northern Ireland? How important is it for governments to fund these types of projects?
(Fergus O'Donnell) When the site was first considered in Northern Ireland, we expected to be a manufacturing only site at about 500 employees. Now we are 1600 employees, and we have added research and development and product launch capabilities over the last 10-11 years. We do that because we have a very highly educated and talented team across all our disciplines—from operators, technicians, scientists, and engineers to do the technologies and innovations that are needed right across our functions from our manufacturing operations right through our research and development. We are focusing on creating and sustaining an ecosystem to do that. We see it as a triangle between industry, government and academia to sustain our operation as we go forward.
The big announcement that was made in July from the Department for Business, Energy and Industrial Strategy was part of their flagship Strength in Places funding from UKRI. There were only five projects awarded funding with the Smart Nano NI consortium successful for NI. The five major research projects throughout the U.K. totaled $176 million from the UKRI Strength in Places fund. The Smart Nano NI investment totaled $88 million in funding – $59m from the government and 29m from business and academia.
Smart Nano NI is a Northern Ireland consortium collaborating to develop game changing electronic prototyping and smart manufacturing methods to deliver new technologies, and we are talking about the 4th industrial revolution. Those are the type of things we are looking at; how do we evolve and create those over the next five years? The Consortium, led by Seagate with five leading local companies and three academic partners is all about making a difference for NI. We have termed it smart manufacturing corridor and we are proud partners along with Analytics Engines, Causeway Sensors, Cirdan Imaging, Digital Catapult NI, North West Regional College, Queen's University Belfast, Ulster University and Yelo.
We expect a knowledge transfer to 75 small and medium enterprises. It's all about developing and leveraging this ecosystem within Northern Ireland. It is aimed at arriving at this self-sustaining local industry and economic growth through research and innovation and bringing to market new smart products over the next five years. Data storage is one of them, but it is also about prototypes of medical diagnostic equipment, optical communications and data analytics. Data analytics is a huge area of development.
An independent government report released last week called for the U.K. government to centralize its data systems to improve performance, and more importantly security. About $6 trillion in damages is expected to happen in 2021 around the world. Governments, companies and individuals need to get on board to create systems to mitigate its effects. For Seagate, how significant is cybersecurity as part of both its mandate and in its R&D developments?
(Jeff Nygaard) Every person and every enterprise should be concerned about cyber security. Operationally, at Seagate we want to protect the IP and the data that we have at the company as well as protecting our operations daily. Our factories and our business processes are digitally connected and data intensive. Those connections require a lot of thought around cyber security to ensure that when we operate, we are operating safely and that we can survive threats.
There are several development activities underway to improve the security of the devices that we produce and our systems that are part of the ecosystem for the movement of data. On the storage device, such as hard drives, we are working different methodologies to ensure that data is secure. Seagate was the first and only company selling encrypted storage devices, with the data physically on the device encrypted with only one key. We don't have access to the key: the user is the only one that has access to the data on the storage device. In the future, we are trying to create an ecosystem where the device or hard drive talks to an intermediate cloud, or edge environment to a large private cloud environment. We want that movement and storage of data to take place in a secure and safe environment. We want to have seamless infrastructure across that whole system—from hardware, software, and firmware. Those are areas where there's a lot of development activity at Seagate right now.
How was Seagate impacted by Brexit this year?
(Fergus O'Donnell) There was quite a long lead into Brexit, so we had time to prepare. One of the big things we wanted to prepare for was the impact to our supply chain and our internal suppliers to keep our facility running smoothly. In preparation we made estimates of what may happen to our lead times, and we made sure we increased our inventory levels to avoid any disconnect to our operations. All worked out smoothly when Brexit did get cut in. In most cases we were overly conservative and from an overall operations point of view, we had practically no impact at all.
(Jeffrey Nygaard) We have a very competent and proactive team that really worked together before it happened. Certainly, people's lives were impacted as it happened, but we made it together as a team and the site is growing right now.
What is your final message to the readers of NEWSWEEK?
(Jeff Nygaard) Innovation is critical. It sounds like a buzz word now, but innovation is key, in every area of the business—whether it is products, services, operations, business processes. We must think and do things in an innovative way to move forward and continue our success. People generate the success and culture of the company and how we interact with the community. That has been key over the last 27 years in NI. We're in a great industry. Data storage, whether it is served through devices or services, and we look forward to its continued growth.   If you want to be successful you must work on developing your team and your people, not only with leadership skills, but as the business changes, with different skills to support the business as we look forward. Seagate is investing a lot to support either leading edge technologies on the product side, or leading-edge operation elements.
The NI operation is a central element to Seagate's integrated stack of operations across the globe, producing almost 70 percent of the recording heads of the company. The teamwork and the collaboration from the team in Northern Ireland with the U.S. and Asia teams has been outstanding. As we look forward, and as the business changes and grows, we are going to focus on the resources we have at the company and develop them for the future, so that when the business changes we, our people and team are prepared for that. The next 40 years for Seagate are going to be great and better than the previous 40 – this is true for Springtown NI too.
(Fergus O'Donnell) Our ecosystem in Northern Ireland is key in supporting our innovation and people development. We really value our relationship with our academic partners, Queen's University Belfast, Ulster University, University of Glasgow, University of York, and the Tyndall National Institute based in Cork which is a European research center. We established a center for doctoral training in 2010. It was the first one established in Northern Ireland. We set this up to look at our photonics and data storage capabilities/opportunities specializing in Heat Assisted Magnetic Recording (HAMR)—the technology for future products. In 2015 the first wave of PhD students started graduating. Every year now we are supporting this supply of highly talented graduates, with very relevant skills, from engineers to scientists.
We have been in Northern Ireland for 27 years. In that period, we are experiencing the next generation of families and community working at Springtown as engineers and scientists. The ecosystem and the support from Seagate to establish something with the longevity that we have in NI, is phenomenal. It is great to be a part of it.