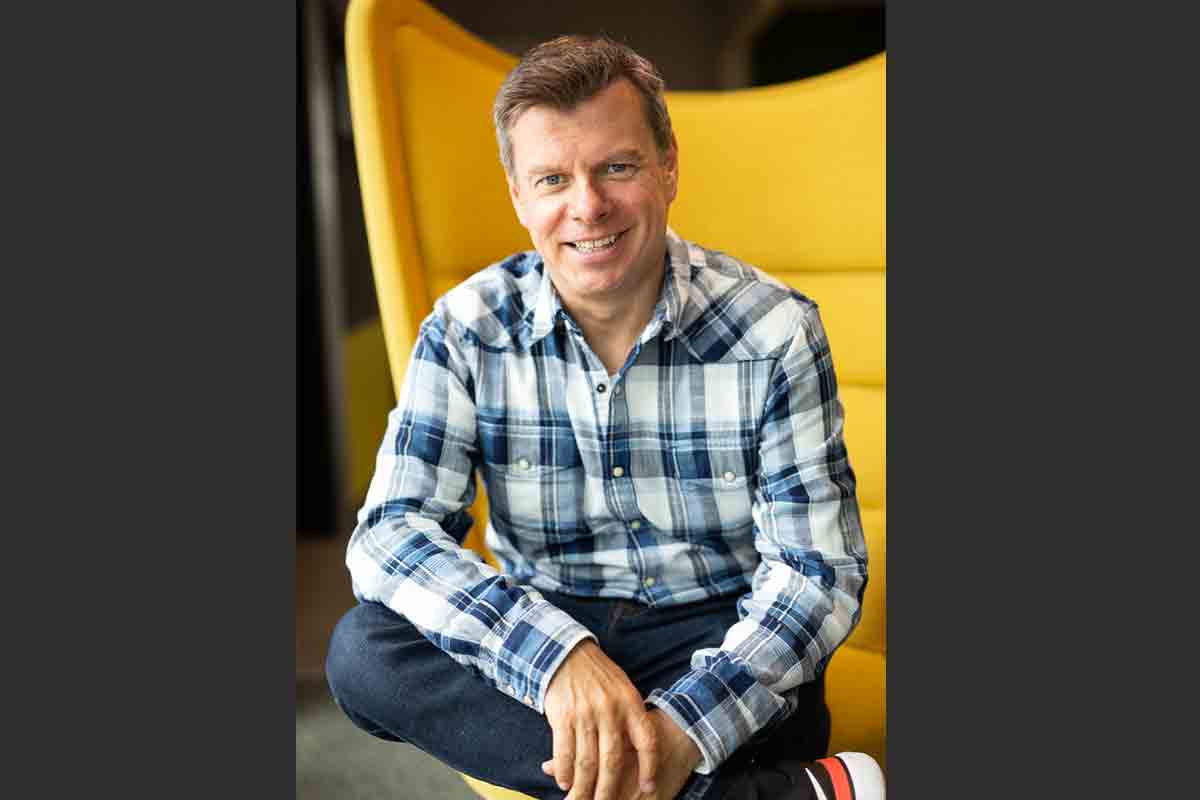 01 Sep

A Northern Irish bastion of innovation
Steve Orr, CEO, Catalyst, is an expert on innovation ecosystems who is currently at work building a world class one that will direct Northern Ireland's economy for the next generation.
Northern Ireland just celebrated its 100th anniversary against a challenging background with the COVID pandemic and Brexit reality. The region has transformed radically over these 100 years from a heavy manufacturing economy into a service and tech centered economy. How would you evaluate Northern Ireland's business and investment environment today? How do you evaluate the region's R&D capacities, innovation and talent development power?
Northern Ireland is a remarkable success story in spite of the numerous challenges it has faced as a small country. One hundred years ago this was a region of prosperity with about five industries where we led the world, although that prosperity was not accessible to everyone. The country then went through a period of sustained difficulty, and every time it looked like the region was going to rise again, something else occurred which set us back further. Even against those challenges, Northern Ireland is a good example to the world that, if you back the brilliance of your own people, you can achieve great results.
One of our greatest advantages is that there has always been a history and culture of excellence in science, technology and engineering here. Throughout the tough times, that culture of excellence within engineering and science endured. As things normalized relatively over the last 20 years, there has been real transformation in how the world innovates. Sectors have risen, such as technology, where Northern Ireland has performed very strongly. I like to think we are just getting started.
Catalyst is Northern Ireland's Science and Technology Hub, established over 20 years ago as Northern Ireland Science Park, with the objective to create a self-sustaining, internationally recognized, knowledge-based science park in the region, offering a commercial and research driven centre for knowledge-based industries. Can you give us a rapid overview of Catalyst today: how successful has the project been, what companies have you managed to attract, how important is it for the country, and how would you assess its role and contribution so far?
Catalyst was an initiative included as a series of projects to mark the signing of the Good Friday Agreement, the political agreement reached in Northern Ireland to address issues which had caused conflict during previous decades. If you fast-forward to today, Catalyst is a real success story, home to 174 companies and 2,700 people across three sites in Belfast, Derry-Londonderry and Ballymena. We are also home to Queen's University Belfast's flagship research centre, The Centre for Electronics Communications and IT (ECIT), which is where their world-leading cyber security research centre (CSIT) is located. Some of the companies located at Catalyst are household names like Microsoft and IBM. There are also important U.S. financial institutions like Citi on our Belfast campus and AllState in our Derry site. Catalyst is also home to a lot of Northern Ireland's start-ups and scale-ups, such as Cumulus Neuroscience, who are leading the way in wearable device integrations, and B-Secur, a company with a revolutionary ECG technology which you will soon find in your everyday devices. We are home to some breakthrough science Bio-tech companies like Phion, another Queen's University Belfast spin-out which will transform drug delivery for cancer therapy drugs.
Catalyst is focused on fostering innovation and developing entrepreneurs. How do you promote a more enterprising region that supports new business development? What type of schemes, mechanisms or incentives does NI offer in that regard?
Before joining Catalyst, I was an entrepreneur in California. I became obsessed with the San Diego, of how a region that had very similar characteristics to Northern Ireland (1.8 million inhabitants in the mid 80's, 60 per cent economic dependency on the public sector) went, in the space of 15 years, from the bottom of every league table to the top of what Michael Porter calls 'Indicators of Innovative Capacity.' Located there was the main science and technology university, UC San Diego, and a UCSD non-profit called CONNECT that created a volunteer platform where the most experienced and connected entrepreneurs, executives and investors could come back and help the most promising entrepreneurs pro-bono. The idea was that if you could build a platform like that at scale and aggregate all the best people and a pipeline of the most promising entrepreneurs, then you can do something really significant. That was one of the key things that they did in that region.
We implemented the CONNECT model in Northern Ireland as a small pilot in 2008. Catalyst, or Northern Ireland Science Park as it was called then, is a non-profit organization with a large rental income from some of the world largest technology companies and local scale-ups. This generates a surplus profit that we are able to reinvest into the entrepreneurial eco-system in Northern Ireland. Over the years, we have developed a series of development programs, which are quite closely modelled on how CONNECT did it in San Diego. We adapted the model and applied it to the unique characteristics and requirements of Northern Ireland. This has been a real success story. Just looking at the last 12 months, we will have engaged with and helped over 900 entrepreneurs, start-ups and scale-up companies. Living and implementing the same CONNECT ethos, where we facilitate the involvement of people that have experience and success to come back and support the most promising entrepreneurs, all pro bono and under the mission of advancing innovation in Northern Ireland. That is a core tenet of the Catalyst way.
If the first phase of Catalyst was about helping to facilitate entrepreneurship, we are now looking at how to facilitate innovation and then integrate the entrepreneurship into that. The key thing with this next phase has been the development of institutional partnerships in Belfast and Northern Ireland. We just launched 'Innovation City Belfast,' a new partnership of five primary innovation institutions all in the one team: Belfast City Council, Queen's University, Ulster University, Belfast Harbour and Catalyst. We want Northern Ireland to lead the world again in a minimum of two industries within the next 15 years. We have identified three we are going to focus on; we will settle for two but hope to get three.
Over the last year, real leadership has been shown from Northern Ireland's Department of Economy with the 10X Economy vision paper that was published in May. There has been an exponential glut of collaboration over the last year with genuine alignment and collaboration between government and the primary institutions, not just in Belfast but across Northern Ireland.
How does Catalyst assist in the implementation of the '10X Economic Vision'? How does it work to propel inclusive growth in the country and accelerate the development of the specific clusters mentioned in the plan, like cybersecurity, greentech, FinTech, etc?
Catalyst has a new value proposition: "we make it easy for you to innovate." The problem that most organizations face these days is that they cannot meet their innovation needs internally and alone, but have to participate in external, collaborative models of research and innovation. This is not just a problem for big companies, it's for little companies as well, start-ups, SME's, scale-ups. If you spend time to really understand what it is like for those companies, it's hard to engage in those models of collaboration. You get institutions that think about what they need, not what the companies need. What we are ultimately looking to do here is to provide companies, both multi-nationals and start-ups, with easier access to the collaborations, partnerships, relationships, knowledge and resources that will give them an advantage over their competition.
Catalyst's role in all of this is to be facilitator and integrator. We have a physical home that co-locates the big multinational companies and the academic research. We have this phenomenal network of entrepreneurs and are uniquely positioned to bring everyone together in to the one team to start to co-design the projects that are going to make the difference.
How is Catalyst looking not only to develop local leaders in this field, but also attract the renowned global players that will enable further development, research, and technology transfers? How important is the American market in that regard?
The U.S. market is important. Northern Ireland can't be all things to everybody. It comes back to the importance of focus. We have identified three sectoral clusters that we are going to focus on: Fintech / regulatory technologies; health / precision medicine; and green technologies / zero-emission transport. The time has now passed when our message to the world was, "Look we've got cheap talent, come here, it'll be great." We have taken that model as far as we can. Going forward, there has been significant investment of $1.4 billion in UK Government City Deals, in Belfast, and Derry-Londonderry. We are now developing the research and innovation capacity where we can have a focus on monumental challenges in each of these areas of fintech, health and greentech. The really important multinational corporations in these areas are going to need to be in Northern Ireland, because it is here that we are developing the specialisms that are going to be paramount to the future of those industries. It is about focus and specialization.
Like all economies, Northern Ireland has been impacted by the COVID-19 pandemic. In a recent interview you gave, you insisted on the strategic importance of the digital economy to accelerate recovery, stressing that there were four key ingredients for Northern Ireland to grasp this opportunity: focus, alignment, inclusivity and speed. Can you elaborate on that?
If you wait to write the perfect strategy you will wait forever. We need to jump off the cliff and build the wings on the way down. This is why the Department of Economy started by publishing a set of principles and not a strategy. This was the right thing to do as it signals to the community, that we are going to do this differently. We are going to focus and have a new approach to how we do this.
There is a good team of all the main institutions in Northern Ireland and Belfast working on the big propositions within each of those industry clusters. The cohesion and alignment in this team keeps getting better. We don't just want to build this successful new knowledge economy that only benefits people who are successful from the meritocracy, who are good at passing exams. One thing that we are going to be relentless about is making sure the opportunities created in these new world-leading sectors are going to be available to everyone, including people who are furthest from opportunity. One reason we have had social and civil issues in Northern Ireland in the past is because access to opportunity and prosperity has not been equal.
Speed is key. One of the things about having partnerships and greater alignment is that we can move ridiculously fast. The government wants to change the speed at which it responds, but as we are jumping off the cliff and building the wings on the way down, we need to build at speed before we hit the bottom. All these things have got to come together for us to achieve the ambitions that we have.
What have been some of the main lessons learnt from the past 14-15 months? How do you view the country's recovery trajectory? What's key to propel growth and confidence?
What Northern Ireland financial institutions and foreign direct investment companies found out was the extreme resilience of business operations in Northern Ireland during COVID. Business continuity was much better in Northern Ireland than in other parts of the world. Even simple things like the resilience of broadband; the ability of staff to continue remote working was relatively seamless. There was real recognition of the importance of things that you might take for granted. Infrastructure or the ability for staff to adapt and flip to remote working was relatively flawless. That was a huge advantage.
The partnership deal 'Innovation City Belfast' took shape early in the pandemic. When we met and made sure that everyone and all organizations were OK, our thoughts quickly turned to post-vaccine and the determination that we wanted to be ready for a repositioning of what Belfast and Northern Ireland was, not wait until the post-vaccine moment to have to figure it out. One of the things that has surprised all of us is how well we could work with nine or ten Zoom calls in a day, how fast you can develop partnerships, develop a shared vision centered around inclusivity and innovation, identif the sector and clusters, etc. We achieved so much in that period. Another thing that happened during this time was economic modelling and gaining acknowledgment from the U.K. government that there is no regional balance in the U.K. The southeast of England dominates where U.K. government investment goes in research and innovation, but it does not yield the economic benefit from that. Some of the modelling demonstrated that Northern Ireland should be getting a much higher percentage of U.K. research and innovation investment than it currently gets. There has been a gargantuan amount of work done over the last year in working with U.K. government on what it will take to 'level up' Northern Ireland. What we develop locally has got to become nationally significant. It's not just on an east/west axis between Northern Ireland, London and Great Britain, but it is also on a north/south basis. In this newly redefined context, how can we leverage the post-Brexit opportunities that are coming between Northern Ireland, the Republic of Ireland, the EU and the U.K.?
In this interview you said, "We can actually be more ambitious and should put our collective energy into solving some of the world's really big, meaningful problems." Can you give me examples of where and how Northern Ireland can contribute to global issues?
In the field of transport, there is a company now located in Northern Ireland called Artemis Technologies. Artemis is an America's Cup sailing team and they chose Northern Ireland to locate as they attempt to develop the world's first net zero maritime transport vessels. We have areas where we can leverage our industrial past. Another example is in cybersecurity. We have a particular strength in post-quantum computing and are looking at the impact that it is going to make on the financial services industry. Instead at looking generally at FinTech, we are working on a proposal to establish the U.K.'s National Centre for Secure Intelligent Regulatory Technologies (GSIRT). On health and precision medicine, we have real depth and strength in diagnostics. Northern Ireland is home to the U.K.'s biggest diagnostics company, Randox. They have played an amazing role in the fight against COVID. When coupled with advanced computing, artificial intelligence, secure patient data and cyber security, all-of-a-sudden we have a very distinct and unique capability to solve problems in biomarkers and diagnostics. It is all about the intersection of where we have research strengths and industrial strengths. We are not trying to be brilliant at everything, but we are zeroing-in on where we have a legitimate excellence and advantage over other parts of the world.
This year NI was also faced with the reality of Brexit, even if the NI protocol has brought some much-needed sugar to the whole deal. What has been the immediate impact of Brexit, how have NI's businesses prepared for it? Which sectors might be most impacted or benefited?
Most companies here were not prepared for it because it was not clear what it was going to be until the very end. In the first couple of months companies were coming to terms with what the agreements were and how they would need to adapt. The experience of companies with the NI Protocol has been mixed. There are definite opportunities with the protocol and there are clear threats. The threat is, if your business is dependent for goods and the supply chain from Great Britain, then there is an awful lot more friction with the people supplying you before Brexit than are supplying you today. This isn't just an imagined problem. There are serious problems with U.K. supply chain dependent companies today. That is the big problem that exists today and hopefully they find a solution to that.
The ability to supply into Great Britain or the EU is the big opportunity is for companies located here. For example, we have an e-commerce company that is located here and some of their Northern Irish retail clients on their platform have experienced sales increases of five to 10 times from the EU, which is very dramatic.
How do you see the way forward for Northern Ireland, past the initial 4-year trial stage? How do you see the future of the country when it comes to the protocol?
My job is to identify opportunities, but it is also to be respectful of political practicalities. We have a situation in which the NI Protocol has caused genuine difficulties. My hope—and I have no insight into how they might do this—is that there is a compromise agreement within the next month or two on whatever those difficulties are. The idea behind the protocol was to create an advantage for Northern Ireland. It does do that, but there has to be recognition that it has created difficulties as well. If those difficulties can be addressed somehow in a satisfactory way, then hopefully the advantage that we do have here could create a sustained long-term opportunity and attract the kind of economy that we want—one that is really going to benefit the citizens but create a fabulous place for people to innovate.
You took the reins of Catalyst 3 years ago, after Dr Norman Apsley, in what's been one of the most challenging periods of the last 3 decades. What have been some of your biggest achievements while at the head of the organization? What sort of new strategic directions have you taken, and, going forward, what's your vision, ambitions and priorities as incoming CEO?
Taking over from Norman was superb, but it was initially to identify how to repurpose and reposition Catalyst for the next 20 years. The first 20 years had been very successful, but how we reposition and repurpose for the next 20 years is equally important. Not only do we want to grow where we are, but we are building the best place in the world to innovate. It's building a five-star all-inclusive resort for innovation. Whenever your employees work for a day or two at home that's great, but whenever they come into work, they are going to have a life enhancing experience. How can we help to benefit their lives socially and vocationally, with learning, with nutritional needs, fitness and wellness? There is a whole suite of things that we are rolling out right now. The second thing is about moving from fostering entrepreneurship to fostering innovation. Through developing our partnerships, we have really been working on developing solutions for some of the world's biggest companies in those targeted corporations within key sector areas. How can we customize solutions for them to establish research hubs here and how can we help them to really scale and grow the access to some of the best talent they are going to find anywhere in the world? We want to catalyze the genesis and growth of the sectors where we are going to lead the world, building on the foundations that we already have for that. We should have been live with a lot of this 18 months ago but then COVID had other plans, so we are anticipating post-vaccine being at the end of the summer. We are lining up an awful lot of things to go live at the end of this year. The big things have been the partnerships that have been established. We will hopefully have some announcements very soon about the Northwest of Ireland and an important cross-border project for Catalyst on the island of Ireland. There are some things that are yet to be announced.
What's your final message to our readers?
If Northern Ireland is special for one reason it is because it's a beautiful place with beautiful people. We just love to innovate and to solve difficult problems and do really good work. We really care for our people, and we want to take care of them. We want to be an example to the world of what inclusive innovation actually is instead of just talking about it.