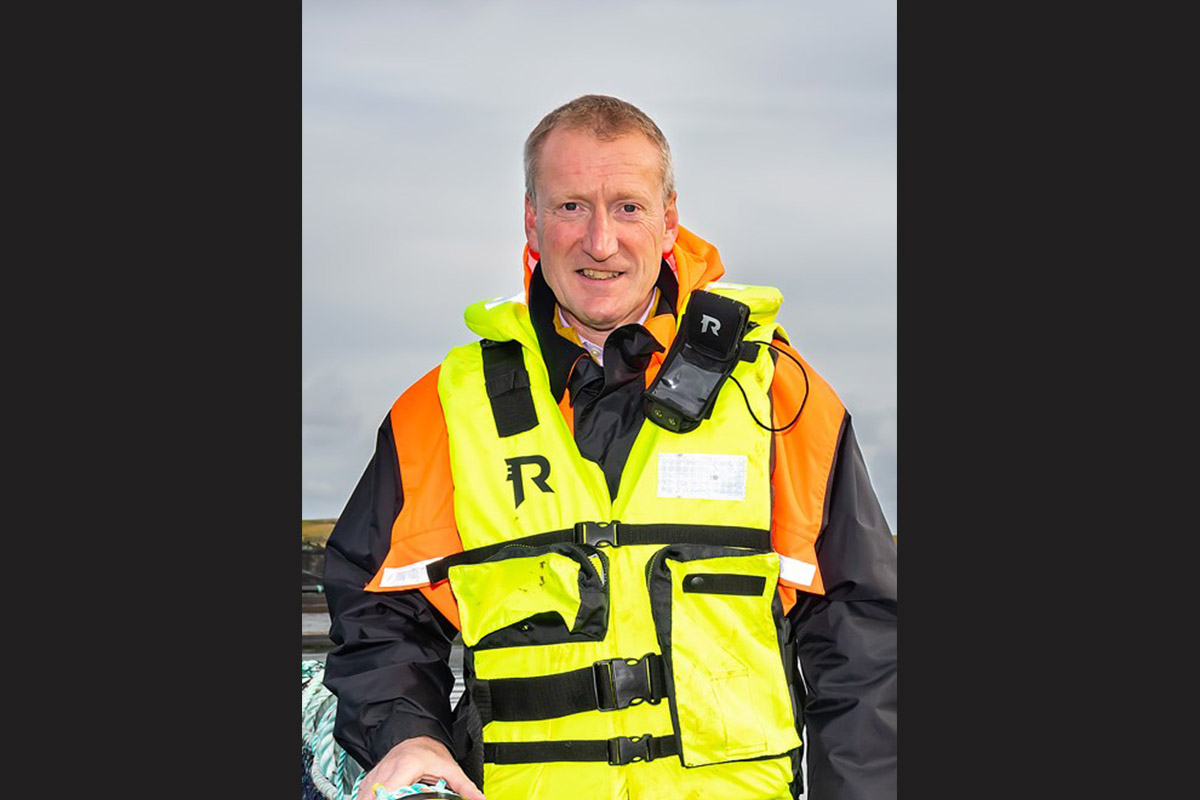 19 Mar

A salmon-hued future
Tavish Scott, CEO, Salmon Scotland, gives an account of one of Scotland's preeminent exports and explains why it is only natural that a country surrounded by the sea exports the world's favorite fish.
Salmon fish farming is a major success story. It's the U.K.'s top food export, accounting for 40 percent of Scottish food exports, employing 2,500 people in Scotland and supporting over 3,600 suppliers with 10,000 more jobs. Could you provide us some background as to how it came to be? What has allowed the sector to gain such a global reputation in your specialty?
Fifty years ago, a number of small businesspeople started small seafood companies driven by entrepreneurial ambitions. In Shetland in the north, we had 50 separate small businesses in those initial years when people were learning from Norwegians, copying its fish farming techniques.  In many parts across the Highlands and islands of Scotland, individual men and women who were all used to looking after animals, applied the same husbandry techniques to looking after fish. There really is not much more to it than that.
There is a very high-tech industry now, but just like in the early days, what you have to do, of course, is recognize fish behavior. It is just like looking after a field of Charolais bulls in that sense. If you see one who is limping or one who is not well, you know you have to get the vet in. The industry grew in those early days out of a love of animals and a real belief in good animal husbandry. Many people who got involved in those early stages right across the Highlands and islands of Scotland did so because that was their passion. Then over the last number of decades, the industry has inevitably consolidated, mostly, because of the sheer financial exposure and the scale of these businesses nowadays. The days when you could run a salmon farming operation as an individual business through the bank with your own bank account have long since gone. The basics things like feed, for example, costs $1,300 a ton. The input costs were very high, the financial exposure was extremely significant, and there was a fair degree of risk. You are, after all, growing fish in the sea. The marine environment is a hostile place, and, just as with the oil industry or with the offshore wind industry, it is never to be treated lightly. Therefore, the risk element to that was significant.
Essentially, over these 40 or 50 years, we have consolidated, developed and have become
more technically adept in terms of technological innovation. We are now using AI on fish farms. In fact, we mirror much of what goes on across industry in terms of using innovation to reform. We are at a really exciting stage in our industry now, and it has hugely changed from that very initial entrepreneurial stage it was at 30 to 40 years ago.
What are the main factors driving the dramatic recovery from the pandemic you have had, and what are your expectations as well for the industry in 2022?
The main thing we have had to concentrate on is quality. We are not as big as Norway. Currently, we are at about six to seven percent of global volume production. Therefore, we have always concentrated on quality, and we are helped by the marine environment in which we operate. The coastal waters of the islands and the Highlands of Scotland are fantastic for growing fish due to its cool water temperatures. Our place is not in the mass volume business because we will never be able to produce the tonnage that Norway does, nor would we want to. Hence, there is a concentration on quality and making sure we get our accreditation and standards right. For example, as with the whole industry around the world, we are very heavily regulated and accredited, both to supermarkets and retail outlets within the U.K. and internationally. We comply and, indeed, seek to be ahead of the international standards that are applied to the industry worldwide. Those building blocks allow us to concentrate and market on the basis of what we produce in the best possible marine environment. Then the product ultimately passes with flying colors the ultimate test, which is the consumer test.
How are you approaching the US market specifically?
The U.S. market has always traditionally been a strong market for Scotland. We sell on the basis of provenance, and Americans are very strong on analyzing provenance. They like the story around Scottish salmon. They want the story around the people, that impression of what Scotland is: haggis, castles, bagpipes, whisky and salmon. We unashamedly use all those characteristics to promote our salmon into the U.S.
Scotland, particularly in seafood terms, has a great story. We have always been very successful selling into the American marketplace and there is nothing that would indicate a change in that trend. Interestingly, the Americans recently appointed a new consul general into their diplomatic team here in the United Kingdom, and this new person wanted to visit a salmon farm. I have no doubt that that pitch and that ability to sell on the basis of provenance is a very important aspect of success in the U.S. market.
Give us some insights into the backstory of how your sustainable models work and, looking forward, how you are building on this model?
Back to our discussion about consumers, the consumer demands more, and the European consumer is highly discerning about where their food comes from. Again, they care about provenance, but they absolutely care about the health standards of fish and the importance of how we grow our fish. As innovation has allowed us to become better, we have developed the increasing sustainable mechanisms of growing fish and that has definitely changed over the past 15 to 20 years as well. Around that, we have put in place what we call a sustainability charter for Scottish salmon. All our producer companies and, therefore, all the fish produced in our businesses and coming out of Scotland, must be grown to the standards set forth in our sustainability charter. As an industry, we should be net-zero by 2045 in greenhouse gas emissions. That is a big commitment we have made very publicly, built on the back of COP 26, although we started on that journey a year before Glasgow. That has implications for every part of our businesses, from the supply chain to the producing companies themselves. We take great care of how we grow our fish, how we find our energy—using hybrid workboats at sea, for example—how we look after our fish in terms of no medicines, reducing the environmental impact, and constantly striving to be better.
Probably the most significant change we will see is companies investing in what are called recirculation facilities. That means that we grow the fish for less time at sea and have them for more time in what we call 'the smolt phase,' that is when they are basically very small fish growing. We have them more on-land before we put them to sea. That reduces our environmental impact on the marine environment. We will see a lot of change in that over the next five years to the benefit of the environment and to how we grow fish. There are excellent, innovative practices coming in that have sustainability at their heart.
How can this model be replicated in other parts of the world, where overfishing is a major concern, and to what extent are you working also to expand your best practices?
The fish feed that we use in the Scottish industry all comes from internationally certified resources. In other words, we will not buy any wild fish from a source that is not internationally certified by internationally recognized accreditation bodies. We do that for two reasons. One is because it is just the right thing to do. Most of our people are involved in the fishing industry or have got family in the fishing industry so that interconnection between different aspects of the seafood industry makes us all matter to one another. Families have sons and daughters who work in the fishing industry, and they know that if we do not fish sustainably the industry dies. The second reason, is back to our consumer point. The consumer demands that.
Therefore, we do not have an issue at all with sourcing fish for the Scottish industry because we only buy it from sustainable sources. We encourage all our partner companies and members who operate in other parts of the world to do the same. There is, in fact, an international grouping of the industry that comes together on a regular basis to discuss these kinds of issues. We know that we have to follow those principles of how we source our raw material in terms of using fish feed. The one thing we always do not quite know about is other countries in terms of their operations and how they produce fish. We operate with our Norwegian friends, our Chilean friends, our North American friends, and also with European colleagues. We do not quite know what happens in Russia or China, for example. That is more challenging, but I believe these international accreditation schemes will increasingly become the norm.
Do you see salmon fishing play a role in helping the U.K./Scotland reach its net-zero targets?
Absolutely. The worldwide blue economy has to be the future, and I do not see any way in which we can feed an ever-growing world unless fish farming and salmon farming is central to that. I do mean to include all the salmon farming nations of the world. We are all a key component of feeding our ever-growing world population, in contrast to other traditional farming mechanisms which will change. When we assess ourselves in terms of our CO2 emissions, we are right at the lowest level compared to other forms of traditional farming, and that has its advantages. Particularly in a world where, for example, fertilizer prices are skyrocketing because of Russia's invasion of Ukraine. That will obviously have big implications for terrestrial farming whether it is in Europe or worldwide. Thus, that again suggests that when the United Nations and other international bodies look at how we feed the world and try to make sensible plans to encourage the sectors that can help do that, the blue economy has to be a big part of that. I am very optimistic about how the salmon sector can be a part of that.
What is your organization's approach to innovation? How are you triggering research developments in the sector?
In Scotland, we have an industry science consortium that drives innovation. The other aspect of innovation is private sector development. Particularly small businesses, both internationally and Scottish based, are constantly coming up with new and better ways of doing things. The innovation that happens in the private sector, allied to the very close links we have to Scottish and international universities around research, means that we do not lack innovation in fish farming. You still need to look after fish, and ultimately very clever and bright women and men who work on our farms are better at judging that as a human being than a machine is. How you look after your fish comes down to your experience of fish husbandry.
We innovate to help us with all the things around the edges, such as how to reduce our environmental impact and how to cut down on any environmental impact on the seabed. These aspects are constantly being refined, improved, and are regulated. As food producers, we should be regulated. That is where the innovation is so helpful and why we have very close ties to our universities.
How do you see Scotland and the Scottish economy in terms of its position on an international branding level?
I believe we need to be at the center of quality in terms of food, food exports, whisky, seafood, beef and lamb. For a small country, that is the only place to be. We will never be a volume producer, nor would we wish to be. There is no way we could achieve the sustainability we need if we sought to be in the volume world, all but with the exception of whisky; but that is a slightly different kind of industry. In fact, there are lots of connections in that we do lots of promotion with Scottish whisky and with other businesses in the seafood sector. We have a Scottish food and drink consortium that draws this together. That has been a very successful roadmap for us.
Of course, there is also the consumer response. Salmon exports out of the United Kingdom are increasing year on year, despite Brexit and COVID. That is where we will always need to be positioned. We need to be at the quality end, excellent on provenance and on explaining our story of Scotland. Then, we need to make sure that when our visitors come, we give them a fantastic tourism experience, whether they visit Edinburgh or the Highlands and islands. It works both ways: we are giving our international visitors an eyes-open approach to what is happening locally, which gives them confidence in what they then eat in a restaurant in the evening.
Do you have any final comments for the readers of Newsweek magazine?
I love traveling and I have been lucky enough to visit the world both through politics, but also through rugby and now with salmon. Scotland still ranks at the top my list of amazing destinations. I highly recommend you come and visit.
We believe so strongly in the sustainable future of our salmon industry that we know can provide the world with a fantastic, high-quality and nutritious product. We are incredibly open and transparent about how we grow our fish, and we would love to welcome any international visitor who wants to learn on a sea farm on the west coast of Scotland or in the islands.