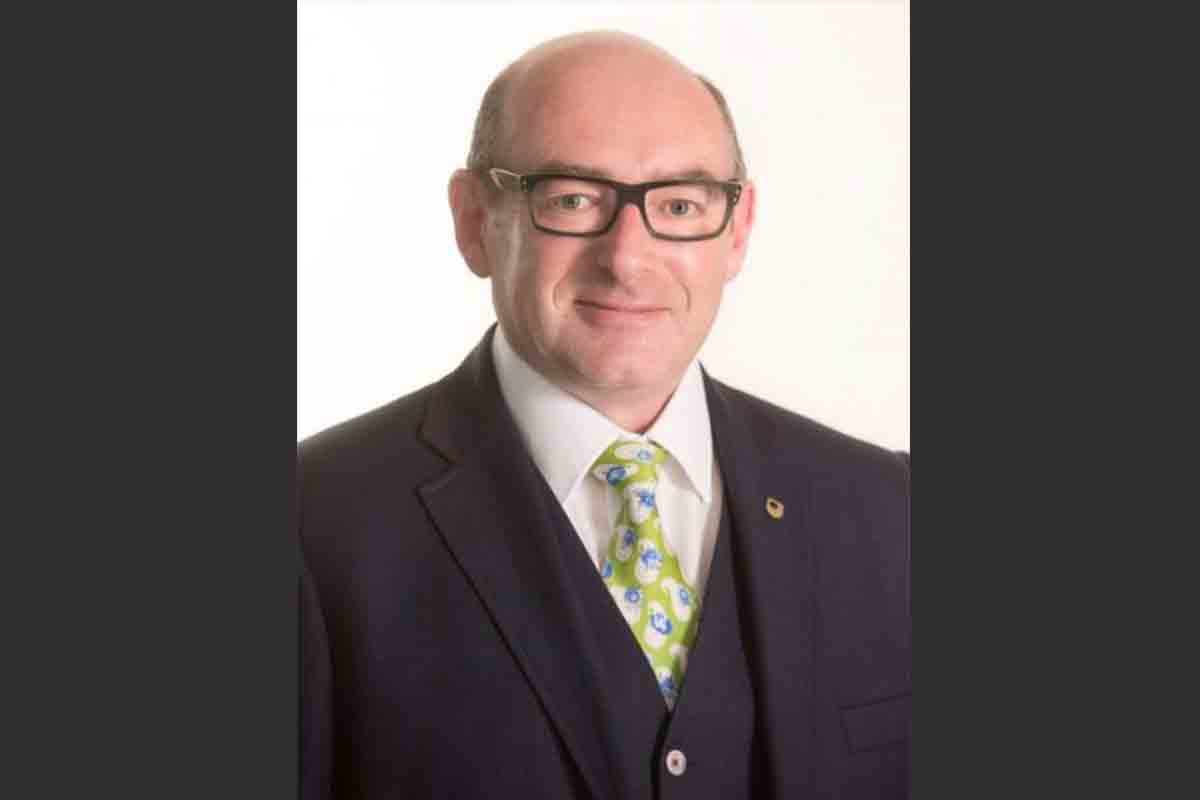 01 Sep

A virtual university for a global Northern Ireland
John D'Arcy, Director, The Open University in Ireland, has seen the world of education transform to online—exactly where his institution has been for decades.
Northern Ireland, boasts a strong, internationally focused higher education system—considered one of the best in Europe—with two highly-ranked prestigious universities. Can you give me your analysis of the Northern Ireland higher education system? How do you value the overall capabilities, skills and adaptability of the region's post-graduate students?
Northern Ireland has a very vibrant higher education sector. The Open University, Queen's University and Ulster University each provide distinct and complementary services to citizens, the business sector and international investors who want to build their workforces here in Northern Ireland. Unlike Queen's and Ulster, The Open University does not have a traditional campus here, rather we teach people at a distance, using online methods with personal tutor support. Our campus is within people's homes or their workplaces.
The three universities work very well together, not just with themselves but also with the six regional colleges of further education. This helps give higher education an additional reach into small/medium sized enterprises and entrepreneurs who are regionally based and not necessarily within cities like Belfast or Derry-Londonderry.
The Open University is very high performing in terms of student satisfaction. We have been ranked the number one university in Northern Ireland for overall student satisfaction in the National Student Survey each year since the survey began in 2005. Given that we operate at a distance without traditional campuses, that says a lot about the quality of teaching that we have and the support we provide to our students. The demographic of The Open University is very different to that of Queen's and Ulster. The average age of our students is 28 years of age—predominantly these are people who are in work and wanting to upskill through undergraduate or postgraduate study.
One particularly interesting program is The Open University's pre-registration nursing program where we work with the Department for Health in Northern Ireland and all of the hospital trusts. We currently enroll around 190 students per year—these are staff who are already working in hospitals, for example as health care assistants. They then study with us for four years and, upon successful completion, become fully qualified nurses. That is very attractive for the health system here and for employers, as these new nurses stay with their employers and make a real local difference to skills supply in the health sector.
We also work closely with the Department for the Economy, which produces a lot of insight reports into sectors which are likely to grow in Northern Ireland. Key areas which The Open University has focused on include cybersecurity, FinTech, computing and IT, both on our own and in partnership with some of the further education colleges here. The Department for the Economy encourages the three universities and six colleges to collaborate. Given what everyone has come through with COVID, that's exactly the right thing to do. Northern Ireland is a very small place, and it should be easy for us to collaborate effectively to make the student experience and journey more flexible to meet national needs.
The Open University is a quite a unique education institute, created over 50 years ago to open up education to all. In Northern Ireland, the university counts 5,600 students and over 48,000 alumni. What are your flagship academic and research programs, and how does it position you in the global academic landscape?
Online and distance learning has become more attractive to people because they have had to do it as a result of the pandemic, and their children have had to do it in school. Our student numbers have grown not just in Northern Ireland, but in Scotland, Wales, England and in the Republic of Ireland. In the Republic of Ireland, we currently have just over one thousand students. One of the unique things about The Open University is that we are an all-island/cross-border university. Despite differences in student fees and currency, that borderless experience is popular with students. MBA students in particular value the fact that a class group will have students from Northern Ireland, the Republic of Ireland, England, Scotland, Wales and farther afield. In terms of the learning experience, they can pick up examples of how businesses are run in different areas and get a sense of different jurisdictions, laws, legal systems, and the business environment.
Our key offer, for me, is flexibility and high-quality tutor support. We have an open entry policy, which means a prospective student doesn't need to have the typical entry qualifications that would be expected at other universities, but this does not take away from the academic quality of the qualification. We do put a lot of effort into student advice and guidance to help students with course choice and ensure they are on the correct path of learning that will benefit them the most in their aspirations.
The other thing that sets The Open University apart in Northern Ireland is that people can study in a modular way. A traditional degree is typically three consecutive years of full-time study. Open University students can study a module, have a break, do another module and work at a pace that suits their family and work life. Another popular pathway with The Open University is The Open Degree in which students can create their own degree. We have had examples of students, particularly in small to medium sized enterprises and entrepreneurs, who will study some IT, some business, some marketing, ending up with a degree which matches the needs of the business in which they work.
Another area that has been strong for the OU is recruitment of students within the areas of science, technology, engineering and maths (STEM). 37 percent of OU students in Northern Ireland are registered on STEM modules and we seek to grow these numbers in the immediate future to support the local economy skills deficits.
We have also been able to work with three of the six further education colleges to validate some of their provisions. We have been able to work with those colleges to produce very business focused foundation degrees and top up degrees in subject areas that employers really want.
As well as our core degrees, The Open University founded FutureLearn in 2012 as the U.K.'s first massive open online course platform. Now co-owned with SEEK, FutureLearn has been very active in producing new courses called microcredentials, which are typically 10-12 weeks in duration with 10 – 15 university credit points. These are a great addition to anyone's CV. Employers and people see these as a good way to reskill. For example, because the tourism and hospitality sector in Northern Ireland has been impacted so badly by COVID, we have had a number of students from that sector develop skills in computing and IT via microcredentials.
To what extend has the pandemic accelerated your development and relevance, with the shift towards e-learning solutions? Going forward which trends do you see will consolidate permanently and how do you see the future of flexible learning?
I think the demand for flexible learning will grow. Many universities may look at hybrid models where they will still retain some face-to-face, but they may also not want to lose the expertise that they've now gained in the online environment. For The Open University, our challenge will be to continue to make our courses relevant for students to meet their needs, as well as continuing to develop technologies and support that is good for our students.
We want to ensure that we provide excellent support mechanisms for students and for their learning. In Northern Ireland, we have had amazing numbers of people picking up our free learning courses. In 2020, the number of people from Northern Ireland accessing our OpenLearn courses was around 132,000, and in the Republic of Ireland almost 161,000 people used these courses. When COVID struck, The Open University curated a suite of free online courses for the Department for the Economy to support workers who had either lost their jobs or been furloughed as a result of Covid.
Partnerships are important for The Open University to reach students and potential students. For example, we have a memorandum of understanding with The Irish Congress of Trade Unions and one with Libraries Northern Ireland. The library partnership has real potential to bring higher education into local towns and villages across Northern Ireland.
We also do a lot of work with the Institute of Directors. We work with them through conference sponsorship and by providing expert academics from The Open University to talk to business leaders. Because we are a cross-national university, it is a strength for us to have access to exceptionally high-quality OU academic talent from across the U.K. and bring them to Belfast or Dublin for keynote events. Many people already perceive The Open University as an organization that is ahead of the curve in terms of online learning, but we are not resting on our laurels. We understand that we've got to constantly work on the content of our courses; how we deliver them; as well considering the variety of different devices and platforms that people want to use.
How does the Open University contribute in terms of research and innovation?
The Open University has submitted to the UK's Research Excellence Framework 2021 assessment with the outcomes expected in April 2022. In the last Research Excellence Framework in 2014, we ranked in the top third of U.K. universities using the Times Higher Education Power Score. Some 72% of our research was assessed as world-leading or internationally excellent. In Northern Ireland we leverage that research into local environments. The Open University is a member of the Matrix panel, which is the Northern Ireland Science Industry Panel, along with Queen's and Ulster, working with industry on future trends and innovation support. Working with Matrix allows us to work with our academics to ensure that we are developing interventions that the industries of the future will need.
The Open University is also a member of the Connected program, which is a knowledge exchange program. We also work closely with Invest Northern Ireland and Enterprise Ireland in the Republic of Ireland. We completed a pilot last year of an online business support program. Rather than= a senior leader in a company doing an individual course like an MBA, the Open For Growth program involves the senior management team accessing online materials as a team and across a range of disciplines like finance, marketing, etc. to produce a growth plan which can then be submitted to a funder or to a bank. In addition to the online materials, participants also have tutor support. Pilot companies, particularly those in rural areas, found the online approach helpful because staff didn't have to travel to city campuses to undertake the program. Of course, since Covid and lockdowns, this type of program becomes even more relevant and useful. The pilot was very successful, and we hope to mainstream the program over the next year or so. I'm very proud to say that the development of the program was funded by two Irish philanthropists from the business sector. This really allowed it to be innovative.
How is the university working to expand its international reach, to craft new partnerships and collaborations with its peers, and develop additional student exchange programs?
The Open University is already in that space, largely because we operate online. Our FutureLearn platform attracts international learners already. It's not just The Open University provision on FutureLearn—the platform has content from universities from across the globe, including some of our peer universities in the Republic of Ireland.
Because we are an all-island/cross-border institution on the island of Ireland, I suppose we have a degree of international activity here. We work with both governments, in Belfast and Dublin, to make sure that we can offer solutions and support skills development, widening participation and social justice. Because a lot of our students come from the most disadvantaged areas in Northern Ireland, we put in a lot of effort to support people who perhaps didn't get the opportunity to pursue university education at age 18.
What is your strategy to grow the university's image and appeal to attract international students, professors, and talent? In particular, how important is the U.S. as a target market?
The way I would answer that is, how can The Open University in Ireland help support inward investment by developing skill sets of people here to make this a great place to set up businesses. Northern Ireland has been very successful in getting U.S. investment, as indeed has the Republic of Ireland. We work with Invest Northern Ireland and the Department for the Economy to make sure that potential companies can be assured there is a pool of people with the right skills and qualifications for their bases in Northern Ireland. We get students accessing The Open University materials from the U.S. and other territories, not just through FutureLearn but also through our YouTube, Apple Books, Amazon and Google. A lot of our materials are instantly globally accessible.
How do you assess the impact of Brexit on the education system and how has being an online university helped you tackle the challenges?
I think The Open University has been fortunate in that we are an online and distance university. It's an interesting space, obviously there are issues with the Northern Ireland Protocol for businesses and politically. Economically there are potential advantages to Northern Ireland having unfettered access to the United Kingdom and having access to the European Union. I think over time those advantages will come to the fore a little bit more. The Open University has undertaken academic work in and around the Brexit issue. Professor Leslie Budd from our Faculty of Business and Law has been very active in looking at the economic advantages and the disadvantages of the decision of the U.K. to leave the European Union and how it impacts Northern Ireland
From a recruitment and marketing standpoint, what is your strategy to grow the university's image and appeal to attract international students, professors, and talent?
I think it is important for The Open University to ensure that we reach people who can avail of our educational experience to make a difference to their lives and to the lives of their families. There is a tremendous talent within Northern Ireland. We have fantastic people and some industries have grown at a huge pace and will continue to do so over the coming years. Particularly IT, FinTech and the creative sector. We target our marketing and recruitment activities to support people wanting to work in these sectors. A lot of major HBO, Netflix and BBC productions are now filmed in Northern Ireland, most famously Game of Thrones. A lot of the time, it seems that there are film crews on every street in Northern Ireland. Northern Ireland has been able to create a good infrastructure for the creative sector. It used to be for people to succeed in the creative sectors that they had to leave Northern Ireland and go to London. That has changed. I am very hopeful of a very bright future for this part of the world. Working closely with government, I think The Open University can support a bright future for people here.
What's your final message to our readers?
It's the centenary of the foundation of Northern Ireland this year. For a large part of that time, there have been political problems and conflict. There is an evolving peace process which emerged with the Good Friday/Belfast Agreement which needs to be nurtured to build better futures for everyone in Northern Ireland. A key part of that nurturing will be education at all levels to help people create successful futures with good jobs, prosperity, good health, and wellbeing. Universities have a critical role in that space and I'm proud that The Open University is already working at the heart of the challenges we face across Northern Ireland.