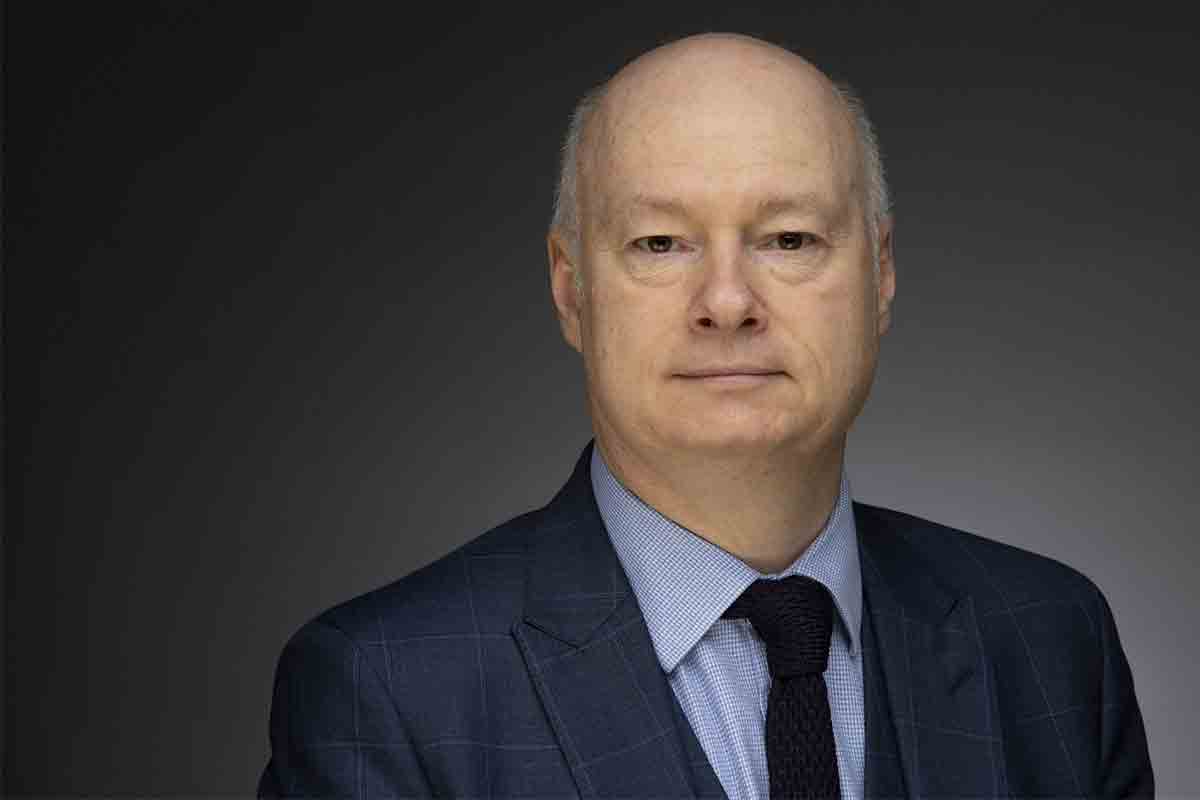 01 Sep

An academy for the global stage
Professor Paul Bartholomew, Vice-Chancellor, Ulster University, has seen the university expand both its offerings and the breadth of its students, especially international, in recent years, thereby positioning itself as a key global institution.
In your analysis of the Northern Ireland higher education system, how efficient and competitive is it in a global context, and how does it stand out in terms of skills generation and in crafting an adaptable workforce for the region?
We have an excellent secondary education system, while in the tertiary education system and particularly in the universities, the funding system produces some degree of an under-supply of places—meaning that we are an extremely competitive sector. The scholars that come to Northern Ireland institutions tend to be extraordinarily qualified compared to the rest of the U.K. In accordance with that, we get superior quality students and produce stellar graduates.
The funding system in Northern Ireland for higher education is different in that government makes a contribution, and, therefore, students do not pay full fees. This dynamic strengthens the partnership between government and universities, and translates into seamless collaboration as a sector, offering a good degree of complementarity between ourselves as well as excellent alignment with the policy direction of the Northern Ireland government. Although we are all autonomous bodies, the synergy that we work under allows us to deliver with a significant degree of overlap those skills that have been ascertained by the government. In fact, at Ulster University, we have a unit called the Economic Policy Center who are the authors of many of the analysis documents that the Department for the Economy use as skills barometer. Essentially, we cover a full cycle in which we produce the research and analysis in terms of what the sector needs; we have a government that then is funding some of that section and working with the institutions as autonomous bodies; and then we deliver against those needs for the economy. Of course, as a relatively small place, we are quite tight, but we are very well formed and linked up, which contributes to our strengths.
In terms of the regions' graduates, the funding model enables us to be quite agile and we excel in a number of growth industries such as biosciences and healthcare, art and design, law, education, agriculture, and food science. There is also a lot of expertise in the media and screen industries and Ulster University is central to that through one of our city deal projects, which is the Screen Media Innovation Lab. We are close to industry because of our extensive network. As a small place, it is easier for us to be well-connected and represented across many organizations like, for example, NI Screen, InvestNI, and the chambers of commerce that we have in various places, just to name a few. This allows us to build in work readiness, agility of provision and the targeted innovation that characterizes HE here. Granted, all universities would make a claim of how innovative they are and the value they bring through their intellectual endeavors. I think in Northern Ireland we take the innovative nature of universities and target it much more specifically to the needs of the local economy, because we are immersed in it ourselves in both the policy and commercial arenas.
What are some of Ulster University's flagship and more renowned studying and research programs, and how does it position in the global academic landscape?
Ulster University is known for several characteristics. First, we are a regional university with four campuses, which means that we are committed to developing solid skills in young people across the region, giving us a bit of academic projection into the corners of Northern Ireland, which is key. The campuses in Northern Ireland have about 24,000 students, but we have 27,000 students including our branch campuses in London and Birmingham. We are also the main collaborator of the FE colleges in Northern Ireland, so that regionality extends beyond our four campuses into the six colleges of FE. The validation of programs in those colleges translates into about 7,000 additional students. We have got just under 2,700 members of staff, students from over 100 countries around the world, and about 677 programs between the different variations.
As for our standings, we have the number one school of pharmacy and pharmacology in the U.K. at our Coleraine campus; we are number one or two, depending in terms, of optometry; and we are regarded as outstanding in areas of biosciences, education, research, nutrition, and art and design. We have got tremendous interests through those City Growth Deals we are co-investing in the region in health technologies, screen and media, robotics, artificial intelligence, advanced manufacturing, personalized medicine, and increasingly in areas like FinTech with overlaps into AI.
We are within the top 25 percent of Universities U.K. for research power and within the top 25 percent of teaching quality, which is the ratings divided by the number of staff, and, incidentally, quite an interesting dual focus to sustain over four campuses.
We also have a great widening participation track record. Around 60 percent of the mature students studying a degree do so with Ulster University, and just under 40 percent of our students in undergraduate education come from the lowest two quintile of deprivation. Those students do just as well as students who come from another background. Therefore, not only can we talk about widening participation, but we can also talk about widening success because there's negligible difference between the people who come from the top quartile. It is the top quintile of social deprivation and the lowest ones in terms of their overall performance, so we take them in, and we do a superb job with them.
This coming fall, we are starting a new medical school in our Magee campus up in Londonderry, helping to relieve the shortage of doctors, and consolidating that campus for all of our health professions. We already have nursing and paramedic studies up there, and in 2022 our radiography and physiotherapy programs will join them. The Coleraine campus distinguishes itself through the bio sciences, in terms of pharmacy, optometry, nutrition and biomedical science. At Jordanstown we have the arts and humanities, as well as engineering and computer science. Law computing and engineering are subjects we duplicate in the Northwest and around Belfast. At the Belfast campus we have the Belfast School of Art and some hospitality, but we are building a new $496 million building to which we will move the totality of Jordanstown within the year, onboarding people from August onwards.
We have an obligation to manage our four campuses to provide opportunity while driving the necessary efficiencies a university has to support. It is quite a responsibility and carries a supplement in terms of our cost base to run them, but we make a critical contribution to the economy of Northern Ireland with £1.4 billion return to the economy, according to the London Economics Report. Ulster University also has a cost to benefit ratio of seven to one, which is extraordinary.
Can you point out some of the biggest research areas, breakthroughs and best examples of indigenous innovations made at Ulster University?
There are countless examples. In our bio sciences, we are one of the leaders in terms of researching pancreatic cancer and its treatments. Our researchers identified a new therapy that can selectively target pancreatic cancer tumors, and a further strand of this research is focused on this technology alongside radiotherapy, with the potential to make a real difference to pancreatic cancer patients in the future. We have research expertise in education, especially as it relates to policy development; we have got a UNESCO Center for education, which is one of the longest standing ones; and in art and design. We are part of a $18m investment in a creative industries research and development partnership with other local partners, to secure the future of this thriving sector in Northern Ireland which will drive the generation of over $8 billion for the local economy. Our expertise in nutrition includes a state-of-the-art facility dedicated to nutrition and cardiovascular research – a global health issue of particular concern for people in Northern Ireland. The facility enhances our ability to conduct top-quality nutrition research to inform policy and practice aimed at preventing and treating heart disease and stroke. We lead research in the developing fields of health technologies, the cutting edge of screen and media, advanced manufacturing, and personalized medicine, in which we are doubling down in organizing a funded city deal project around it. Our artificial intelligence research expertise is developing AI technology that could help people communicate following brain injury, bringing innovation to the real world and playing a crucial role in new forms of wearable neuro-technology. The mobile defibrillator was invented and marketed within our institution. Additionally, we are a leader in terms of the number of spin out companies via Innovation Ulster Limited, through which we have backed approximately 200 new companies.
How is the university working to close the gap with the corporate world to enhance research impact, especially at a local level?
There are multiple facets of how we work through our industry engagement. For example, there is a lot of interest in the apprenticeship modes of delivery which can go all the way up beyond the level six degree into masters. We work with a number of companies to develop apprenticeships, and we have research collaborations with companies such as Randox for development in biosciences.
Our relationship with companies is holistic in that we seek for them to provide our students with placements while we supply them with skills. They contribute to our industry engagement boards, which gives them an opportunity to shape our academic programs, and the writing of research grants. Many of my colleagues collaborate with industry professionals and we have relationships with multinational companies such as Seagate to name just one.
How has the university weathered the storm of the pandemic, and to what extent has it disrupted traditional models and accelerated your digital transformation and transition?
We made a very particular response pivoting decisively to online learning right away. We closed our campuses quite early on March the 17th last year, coordinating with Queens University in that regard. That early decision meant that we had to hurry to be up and running online. The strategy we came up with made us one of the most effective institutions in dealing with the situation. We went through all of our curricula and programs, worked out all of those learning outcomes that make up our individual degrees, and we worked out which of the talk sessions were absolutely necessary to take place on campus. Once we had done that, we made sure we would schedule only those taking place on campus with the necessary PPE and risk assessments. Everything else that could be online was to be done online.
That allowed us to graduate all of those students who were able to do so, and they had a fairly normal cadence in terms of when they would get their results. Of course, from our large population of mature students many would have had school-aged children with responsibilities for childcare and homeschooling. Therefore, many students chose to electively defer assessments to later in the year, and we eased that process.
As far as I know, we are the only University in the U.K. delivering qualified healthcare professionals out into clinical practice. Everybody else has had to defer some learning and they are still catching up, so we are extremely proud of that.
In terms of ramifications for the future, we stand behind the principle of higher education and learning being a social process. We believe in the campus-based model and look forward to returning. However, the staff, having experienced what their own capabilities can now achieve in the online environment, might introduce a bit more hybridization into their own pedagogy. That would, however, not be pushed through a management mantra.
Where we do see some abilities to be different, especially with our four campuses, is that we have used Teams a lot more. The days of people spending hours on the roads in Northern Ireland to go between campuses for meetings might be a bit less, and we have also gone further in that if people can continue to do their job at home effectively, then we will be flexible. Not only will this improve their work-life balance, but it will also help us with the carbon footprint of the overall business of the institution.
How has the university contributed to the global response to the virus and proven itself as a medical and healthcare-focused university?
We've been involved in the development and sometimes the production of PPE equipment; we've done a lot of research on the social implications of COVID in the economic, education, and mental health space; and we've been involved in developing testing regimes because we're a multi-campus institution with some physicality in spaces where we can be hosts for testing and diagnostic facilities on our campuses, and in that way, we aid the community.
How is the university working to expand its international reach, to craft new partnerships and collaborations with its peers?
Like any university, we take the view that universities are, by their very nature, international. New knowledge, as it gets created in universities, is made accessible through journal publications, and of course has global impact. We are also very aware of our responsibility to the world, the need to educate citizens of the future, and to power the innovation and development that delivers against, for example, the UN's sustainable development goals.
In terms of how we go about projecting our footprint, we are quite selective in our international partnerships, and we have always focused on the establishment and maintenance of academic quality, or that specific discipline that is about a deep understanding of transnational education, the framework for higher education qualifications, and the infrastructure that sits behind the granting of degrees. In that regard, we are an outstanding partner through our understanding of how to navigate and optimize quality infrastructure to ensure that we can work creatively to give other people opportunities.
We probably have the highest amount of growth of any university in the U.K. If you went back 10 years ago, there would not have been a huge number of international students at Ulster because it simply was not a priority. My predecessor certainly had it on the agenda, built an infrastructure for internationalization, and we have seen a very steep rise in the number of international applications. The plan is to internationalize our institution, and although the revenue is important, it is very much about the diversification of our student body to allow all students to interact and have international peers to enrich their own learning and give them a global focus.
We are also very aware that transnational education happens through us projecting onto other campuses and partners around the world, and with global online initiatives which allow overseas students to study for an Ulster degree, without necessarily having to come to Ulster. Of course, there are models in between, and we have concentrated heavily on articulation arrangements which would see students potentially doing a year or two on their program in another country and then continuing it here. Increasingly, over the last couple of years we have seen those arrangements allow for in-country articulation as well, meaning you can complete the degree where you begin it. That allows us to propagate the Ulster brand and degree elsewhere, widening the opportunity for people to study with us.
What is your strategy to grow the university's image and appeal to attract international students, talents, researchers, and professors and how important is the U.S. market for you in that regard?
Staff and students benefit greatly from the quality of life here and the friendliness of the people in Northern Ireland. How welcoming it is here to people from elsewhere is well known. The institutions themselves are known for their high quality nationally and internationally. Our own institution has a very varied offering because of our multiple campuses. We are building a state-of-the-art new campus which will come online in the next few months and will be highly attractive to international students and staff. Ulster University is strategically geared to place student and staff wellbeing at the center of what we do, wrapped in academic excellence, there for people to see across a full range of disciplines. Our marketable proposition is academic excellence coupled with student and staff wellbeing. Northern Ireland also benefits from some of the lowest cost accommodation students can find in the U.K., which is probably also a draw.
How do you assess the impact of Brexit on the country's higher education and research landscape and how is Ulster University preparing for it?
When Brexit happened, we had to do extensive risk mitigation planning for the worst, but quite a lot of things sorted themselves out. As I look at it now, there are clearly ongoing politics, and universities and politics are quite close in Northern Ireland because of the close relationship to the government. There will be ongoing politics, but there is no doubt that Northern Ireland's special status through the protocol and its relationship to the rest of the U.K. and the EU may carry particular economic benefits. I think it can be a strong proposition for the attraction of foreign direct investment, with access to the two markets. The consequences for that will depend on our understanding of the capacities base needed to capitalize on the protocol and ensure that the universities can deliver the skills, the intellectual property and the research that will add value to corporations wanting to base themselves here. There is a natural overlap with the current city deal proposals that are trying to develop world-class centers of research excellence, characterized by close working relationships with industry to kick-start and catalyze the areas discussed earlier. This dynamic can only be well served by bilateral access to the markets of the protocol.
More widely, I think there are challenges within the ambiguity around access to research funding and we will continue to press for the best potential outcomes there. In Northern Ireland, we have been in play in terms a substantial amount of European funding, so we will have to see how that goes forward.
Student mobility has also been something that we wish to protect, and although we are embracing the ongoing Erasmus Plus scheme in parallel with the new opportunities offered through the touring programs, it is early days in terms of how that works. Outward mobility is most likely secured, but that does not help quite so much in terms of the inward mobility necessary to promote ongoing diversity. Nonetheless, as an international base in attracting those students, we would still hope to return diversity into the university through the recruitment of students, not just from the EU, but more widely. Finally, the agreement for the two-year post-study visa is extremely important to being able to attract those students for diversity in the future.
What have been some of the most valuable lessons you have learned over the past year, and going forward how would you summarize your vision, priorities, and ambitions for the university?
One's primary asset in a university is always the staff. When COVID came along it was our staff that stood up and did all the work. Hence, we must always appreciate the assets of our staff. Collaboration in a crisis works much better than competition. How we have worked with Queens University, the colleges, and the government has been absolutely essential in getting through this. We serve a society working as a united front to transmit an understanding of how we were going to admit students and teach, and so forth.
There is a strange dichotomy of the global world in that, in many ways, one can think about being less global as people are not traveling around the world. However, what could be more global than an outbreak of a disease that spreads around the world, and we all have a common problem? That commonality of a shared planet as a vision has really come to the fore and as a result, the sustainability agenda is crucial.
The strategy that I am currently working on for the university is dubbed 'Sustainable Futures,' in plural as it encompasses the future of the planet, the future of learning, the future of staff and student wellbeing. The pandemic has raised many questions such as how can we use technology to have better working lives for our staff; how to reflect on what future learning looks like for students; how the research agenda focuses on researching what makes the world sustainable; how do we ensure that the university is sustainably funded; what does that look like in terms of the model for Northern Ireland. There are new opportunities as well as new challenges, but the value proposition of putting people at the center as the university's real assets will always remain the priority.
What is your final message to our readers?
Northern Ireland is a remarkable, resilient, versatile, beautiful, and friendly place that is full of potential. In many ways, Ulster University is a microcosm of the region, with incredible places to study and full of remarkable people.