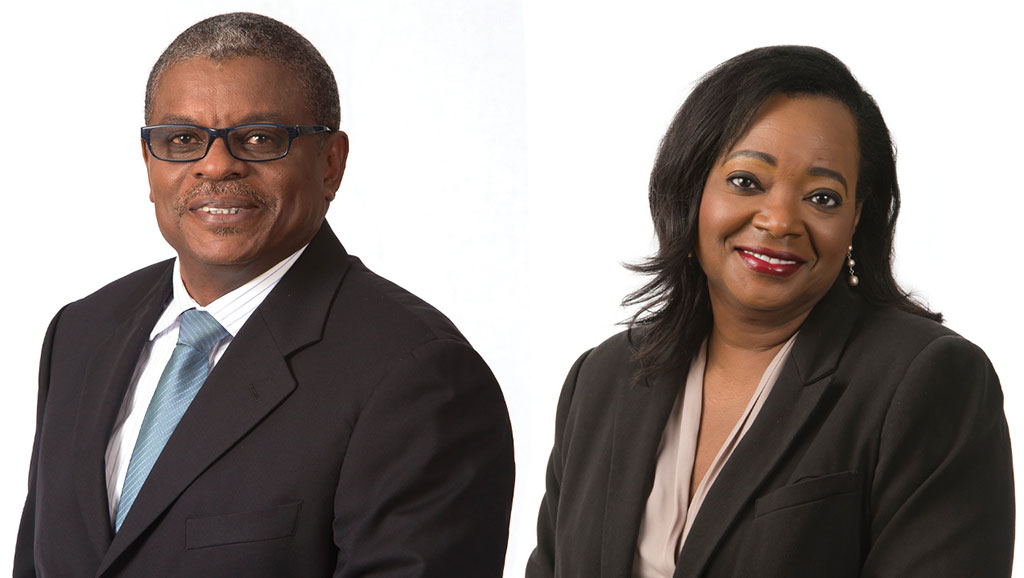 12 Nov

An open, competitive market for telecommunications and broadcasting
Gilbert Peterson, Chairman, and Cynthia Reddock-Downes, CEO, Telecommunications Authority of Trinidad and Tobago, a regulator that makes it easy to do business in the country
The Telecommunications Authority of Trinidad and Tobago (TATT) was established in 2004 as an independent regulatory body responsible for the transformation of the country's telecommunications sector from a virtual monopoly to a competitive environment. 16 years later, what has been achieved in this respect?
Gilbert Peterson (GP): The telecommunications landscape in Trinidad and Tobago in 2020 bears no resemblance to 2004 when TATT commenced operations. Back then, we had one service provider for mobile and fixed voice services, plus a few small operators and several internet cafes for internet services that were "dial up".
In 2020, competition in Trinidad and Tobago, which has a population of 1.3 million, is a reality. Today, we have the following number of providers: two for mobile, seven for fixed voice, 11 for internet, seven for international services, 36 FM radio stations, five free-to-air TV channels and eight cable TV services. In addition, download speeds available for residential and business internet services now range from 5Mbps to over 600Mbps, while fixed internet penetration stands at 80 percent and mobile penetration is 155.1 percent.
Free public wifi is already in place at passenger ferry terminals, bus terminals and COVID-19 hospitals. In the coming year, it will cover public libraries and all hospitals and health centers—162 locations in total. Five new ICT centers will also be funded by the Universal Service Fund that has been established by the authority.
Apart from being responsible for the liberalization of the telecom sector, the authority has an additional mandate to regulate the telecommunications and the broadcasting sectors plus, among other tasks, to encourage investments that facilitate the availability of both those sectors for everyone in Trinidad and Tobago. How has TATT set about attracting investors?
GP: The authority's responsibility to promote investment in the telecommunications and broadcasting sectors has been focused in the main on seven areas. Firstly, creating an enabling environment—rules and regulations were important in order that investors would view the industry as fair, open and transparent. Secondly, establishing a robust consultation process, which ensured that the telecommunications and broadcasting industry was part of the determination of policy frameworks and regulations. Thirdly, encouraging co-location that would reduce costs of operation and at the same time protect the environment—new towers require a non-objection from the authority, for example. Fourth, easing number portability, which reduces barriers to entry and promotes investment. Fifth, our spectrum management now affords investors the ability to utilize the spectrum in accordance with International Telecommunication Union and World Radio Communications guidelines. Sixth, introducing a fee structure that is in keeping with international guidelines for the various spectrum demand levels. And lastly, making minimal interventions when the market is considered competitive—TATT's interventions arise from consumer protection mechanisms or formal disputes.
Cynthia Reddock-Downes (CRD): A large proportion of what we do is about creating an enabling environment for promoting investment. Our regulatory framework has been organized in such a way as to ensure that we have an open market for telecommunications, allowing entry of various organizations to provide telecommunication services, fixed, wireless, internet and broadcasting services. Our role is to enable organizations to enter the various markets, compete fairly, provide high-quality services, develop and grow. In Trinidad and Tobago, it's not just national or regional operators that provide facilities, we also have international organizations here. We have a regulatory environment that enables these organizations to come in and invest, and we have a process where we, as transparently as possible, authorize these organizations to provide services here. At the same time, we make sure that, as far as possible, we enable fair competition. Disputes that arise are dealt with promptly. Regulation is, therefore, all about a regulatory framework that enables fair competition, high-quality affordable services and continued investment in Trinidad and Tobago
The newly re-elected government has put the digitalization of the economy at the center of its priorities. What role will TATT have in this respect?
GP: TATT has a wide-ranging role in the economy's digitalization. We must ensure the connectivity of all households, which should all be able to connect to access government services. In terms of quality of service, the experience in a digitized environment should be of a superior quality when using our telecommunications infrastructure. We have to make sure that the government and businesses have the ICT facilities they need to significantly improve the ease of doing business in Trinidad and Tobago.
Tackling affordability issues for the most vulnerable in our society including people with disabilities and those on low incomes is another responsibility, along with facilitating the development of ICT skills by direct intervention in providing opportunities for education and innovation. TATT also has to provide a disaster management framework for the most critical infrastructure and introduce measures to ensure business continuity. Finally, we must guarantee sufficient off-island cable system capacity and facilities for service provision and redundancy.
Trinidad and Tobago has one of the largest mobile-service penetrations in the Caribbean, if not the largest. Services are split between the public operator TSTT under the brand of BMobile, and Digicel, a foreign-owned company. Do you think the market is well served with these two companies or is there room for more players?
GP: The two current mobile network operators, TSTT and Digicel, can provide connectivity for up to 100 percent of the population. With number portability and a proliferation of service offerings, competition between the two service providers is in place. There may be room for a third mobile network operator with an innovative business case in this mature market, if it was seeking to secure market share based upon unique services and was willing to co-locate to reduce infrastructure costs and the impact on the environment.
The arrival of 5G and the Internet of Things is going to radically change our daily life, both at personal and business levels. What are your plans for regulating the introduction of this new technology?
GP: The authority intends to roll out a framework for 5G at the time most appropriate for Trinidad and Tobago. This will take into account the allocation of approved trusted frequencies, the availability of handsets, the environmental ecosystem and many other areas for consideration.
CRD: The policy for 5G that TATT is formulating is intended for implementation in the next 18-24 months. We must ensure that the right ecosystem is in place including equipment, phones and other facilities that support 5G. We need to make sure that whatever policy we develop and environment we create, we evaluate the technology that we're using, especially in terms of the benefits of the technology to Trinidad and Tobago and doing business here. There are already operators in the country that provide 5G services in other parts of the world and those organizations would be included in bringing 5G to Trinidad and Tobago.
How has COVID-19 impacted telecommunication services in Trinidad and Tobago?
CRD: We have excellent internet services here. Because the internet is fast, available and reliable, businesses have been able to continue work at home in a seamless manner. In fact, what we have found—certainly in terms of our own organization—is that we are able to take part in many more meetings and discussions than if we had been in the office or traveled overseas to meetings. For businesses, providing employees have the required connectivity, they are able to access all the various global meeting platforms, all of which are available here.
The companies providing internet access have told us that, between March and October 2020, their traffic has increased by over 50 percent. Prior to April 2020, operators expected that there would be times when there was downtime, meaning that people would be at work or children at school. But they have found that the patterns of usage of the internet are not like that now—there's a situation of being "always up", meaning that people are always online in huge numbers. Operators have said that they have been able to cope with the additional volume and traffic so far for a few reasons. One is the fact that the authority moved very quickly in April 2020 to provide additional spectrum to enable them to be able to provide services to a larger number of users at the same time.
The two mobile providers received additional spectrum in April 2020 free of charge and it will continue to be so up until 31 December. Based upon circumstances prevailing at that time, we will decide whether an extension of this period is required. Certainly, that additional spectrum has really helped mobile network operators to be able to enable the remote activities that have been taking place online at homes and so on.
What we've also noticed is a lot of the on-the-go network traffic has reduced as well as commercial traffic. Much of the traffic that you would have with people using their mobile phones on the street or in outdoor areas has reduced, while fixed and mobile internet traffic at home has really increased substantially. In the business environment, it is quite different from before as well. Whereas you would have had people in the office using facilities, the facilities are largely residential and indoors now. What that has meant is that service providers have made different arrangements to manage the change in traffic patterns. Now, because a large percentage of the working population and students are at home, if there's a cable break during the day or something to that effect, then everybody's affected and customers know right away that they have no internet service.
Regarding customer service, service providers have received many more calls over this period. The authority has been assured that service providers have been able to deal with the additional traffic because they've made sure that their networks have the required capacity—in part, because of the additional spectrum they have received.
Do you have a final message for the readers of Newsweek about the future of the telecommunications sector in Trinidad and Tobago?
GP: Trinidad and Tobago intends to have a vibrant, innovative and sustainable telecommunications sector and industry, which will be highly efficient, profitable, innovative and add value to the lives of all who live, work and do business in our country.
CRD: On a wider note, I'd like to let readers know that we are open for business despite COVID-19. Being in Trinidad and Tobago, doing business or working remotely, you would not see the difference in terms of your performance or the ability to get your job done—and the environment is equally conducive to work and play. We want to make sure as far as possible that what TATT does makes doing business in Trinidad and Tobago easy. In addition, if you come here with your family, we have excellent schools, universities and facilities that you can use. It's a developing country, yes, but a developing country with a hydrocarbon industry that is over 100-years old, and we have a very highly skilled and educated population.