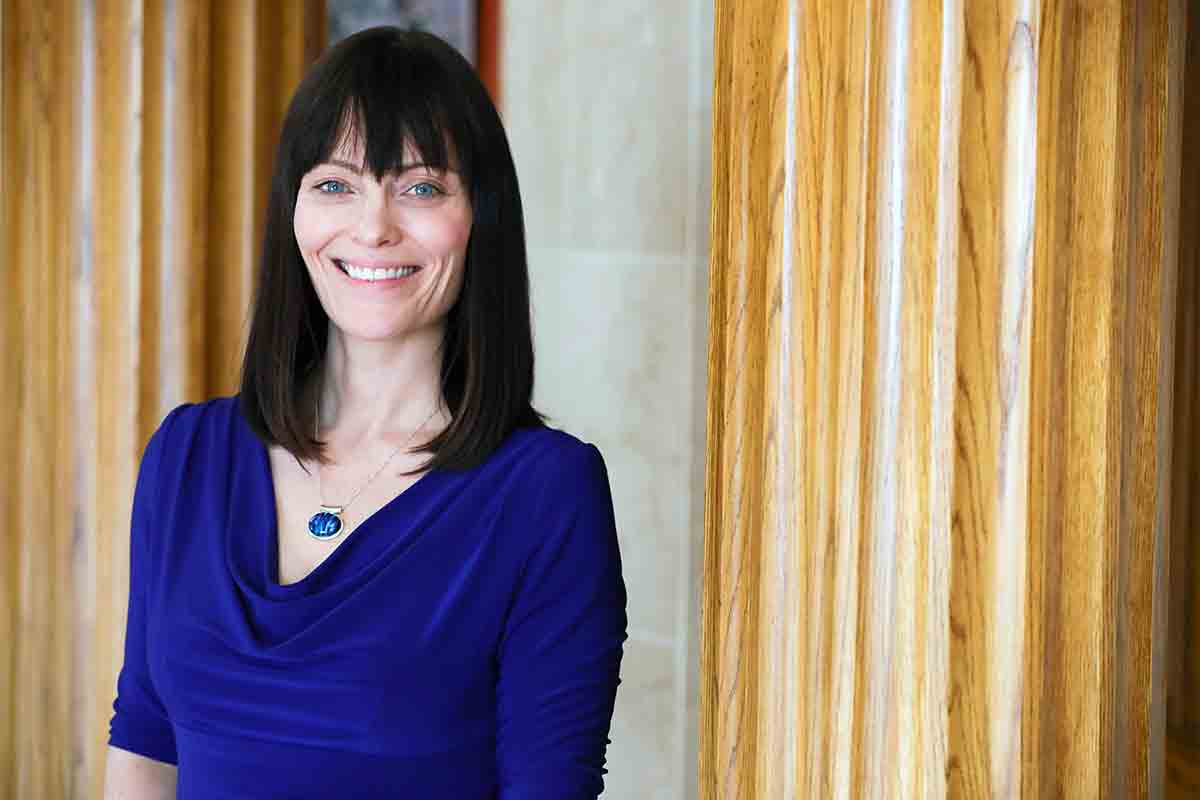 02 Sep

Building a new infrastructure for a new Northern Ireland
Nichola Mallon, Minister for Infrastructure, Northern Ireland, is leveraging all points to bring a sound infrastructure to a nation that is a growing economy but also one that likes to walk and cycle, and that wants to see an Ireland-wide rail network.
The Minister said "Our Green Recovery from Covid will only be possible if governments, the private sector, and as citizens, we all stretch ourselves and work together". For example, the $14m funding for the Ulster Canal—an important north south project especially in our Green Recovery from Covid. Could you tell us more about the Green Recovery plan and highlight the goals of the department of infrastructure, taking into account the post-Brexit issue and challenges, government priorities and financing opportunities?
I welcome the announcement from the Irish Government of an additional funding package for the Ulster Canal Restoration project. This is another step forward for this hugely exciting all island project which will not only benefit the local community but will also enhance opportunities for our economy right across our island. Over the last year we have really had our eyes opened to the potential on our doorsteps from our rich, natural and beautiful environment. I am delighted that this next phase in the Ulster Canal project is moving forward.
As we look towards a green recovery, we must ensure that it is underpinned by modern and sustainable water, drainage and transport infrastructure. This is the only foundation upon which improved connectivity and sustainable, regionally balanced growth can be achieved.
Too many parts of Northern Ireland are still not realizing their potential and there are very significant socio-economic differentials across the North. Since coming to office, I've made it clear that I want to address decades of regional imbalance particularly in the northwest, help communities that have been left behind and support our rural communities increase connectivity.
Our recovery from Covid is a challenge for the executive collectively. It will require action on a range of fronts including innovation, entrepreneurship, skills, and, no less important, building confidence and supporting our businesses and communities. These cannot be delivered if we fail to address the water, sewerage and transport infrastructure deficits that exist in these areas. With the challenges of Brexit and the climate crisis facing all of us across society, as well as Covid, there has never been a more pressing time for proactive collective leadership within, across and outside of Government. It is my view that if we work in partnership, we can build back better together and plan strategically for the future. And if we are to rise to the challenges, we need to be game changing in our thinking and actions. One big idea I have been pushing is the establishment of an independent infrastructure commission. Having commissioned a report carried out by the expert Ministerial Advisory Panel I established, it is clear there is support across the business community, environmental sector and wider society. An infrastructure commission will not only support our recovery in the short term, but also the medium and the long term. We need to look strategically at the needs of our society, our economy and our environment—and we can only do that if we work together in a new way, informed by expertise.
While I continue to work with executive colleagues to press for the establishment of an Infrastructure Commission, I am also investing in our green recovery. This year I have committed a further $19 million – a total of almost $28 million. Greening our infrastructure not only has benefits for our environment, but it also improves people's health and wellbeing. We have seen how small changes, such as the relaxation of planning to allow for businesses to extend out to our streets, putting in pop-up cycle lanes, parklets and pedestrian options in our towns and cities, is transforming our places for people, making them more attractive to live, work, visit and invest in.
The quality of the transport infrastructure across the North impacts on investor confidence. That is why our investment in key projects—such as the our rail network, the A5, A6, North West and Belfast Transport Hubs—are so important if we are to address a key barrier to economic growth across all parts of Northern Ireland.
We understand there is a major transport connectivity review which is assessing the feasibility of a bridge or tunnel between Northern Ireland and Scotland, although the Minister said it "could be a waste" of $28 billion. Why is he saying so and what is the alternative proposal?
I met recently with Sir Peter Hendy, the Chair of the Union Connectivity Review, and with the Secretary of State for Transport, Grant Shapps MP, to discuss the interim report in advance of its publication and to reiterate my serious concerns that the British government is undermining devolution by going over the heads of locally elected and locally accountable ministers, making decisions in London and imposing them on devolved administrations.
I have made it clear throughout the review process that, if money for infrastructure is available, this funding is needed in Northern Ireland to build a transport infrastructure that improves people's lives, connects communities and tackles the climate emergency. This is what the people of Northern Ireland want to see, rather than millions of pounds of public money squandered pursing a vanity project of Boris Johnson that will never see the light of day. Instead of seeking to impose his own vanity project, a much better starting point would be for the Prime Minister to honor the commitments he and the British Government have already made to people here, to finally provide the investment long promised and to start respecting devolution.
I want to see infrastructure projects delivered that will truly transform lives, our communities, economy and environment. I will continue to press the British government to fund those commitments it has already signed up to under New Decade, New Approach which I continue to remind British ministers is the basis of the restoration of the five-party executive.
The department is implementing road safety priorities such as the roll out of 20mph limits outside schools, and the promotion of Irish language such as the Irish language messaging on the West Belfast Glider route. Other initiatives include more green living and tourism: greenways and the Belfast Cycling Network plan. What are the expected outcomes and how will they improve the delivery of services?
I was delighted to welcome the introduction of Irish language signage on the West Belfast Glider route. This is a positive step forward in giving the Irish language the visibility it deserves on our public services and within our communities. While there is much more to do to ensure language equality, I am pleased that my department is delivering and building on progress.
I am also committed to promoting and improving road safety and working actively with partners to reduce death and serious injuries on our roads, particularly near schools. The department is currently completing works at 103 schools across Northern Ireland included in the first tranche of part-time speed limits at schools program. These measures will increase driver awareness and achieve reductions in vehicle speeds outside and near these schools, ensuring that parents, children and staff will be safer as they go to and from the schools on a daily basis. I am committed to rolling this out to many more schools this year.
My ambition is to significantly increase opportunities for active and sustainable travel, to give everyone the freedom and confidence to be able to walk, wheel or cycle safely.
The Belfast Cycling Network recently published a report which paints a clear picture of my ambition to develop coherent, connected and safe cycling infrastructure in Belfast for the next 10 years and more. The department hopes to develop similar plans for other urban areas as these will form the basis for developing meaningful connected safe cycling routes for everyday journeys in other towns and cities.
The Covid crisis has brought unprecedented challenges and has fundamentally changed the way we live. However, there is no doubt that it has also created an opportunity for us all to take a closer look at how we travel and consider how we can do things better moving forward. I am committed to reimagining and reshaping our spaces to accommodate walking and cycling as part of an ambitious recovery plan.
I have made it clear that I want to drive forward a program of measures to reallocate road space and to create more space for cycling and walking to deliver sustainable infrastructure that will transform our communities and lives. I have established a new $28 million capital blue/green infrastructure fund to boost active travel and continues to work with Executive colleagues, councils and other partners to help deliver cleaner, greener, sustainable active travel infrastructure across our island and including creating more footpaths and cycle lanes.
We have found some criticism on the lack of electric charging points is putting off drivers from buying electric vehicles. How is the government responding and what is Northern Ireland doing to foster electric mobility at a national level?
The e-car public charge point network in Northern Ireland is owned, operated and maintained by the Electricity Supply Board (ESB). There are currently 320 22kWh (Fast) charge points at 160 locations and a further 17 50kWh DC (Rapid) public charge points in the North. Whilst the market is open to other commercial operators who would wish to provide charging infrastructure, to date, ESB is the only public network provider in Northern Ireland. ESB currently does not charge e-car drivers for the use of its public charge points in Northern Ireland.
I have recently met with ESB and representatives from the motor industry to identify further opportunities to advance the e-charging network in order to help tackle the climate crisis. Departmental officials are also assisting ESB as it seeks to replace up to 60 charge points (30 charge posts) and 5 Rapid charge points which were installed as far back as 2011/12 and are now experiencing faults. I also have recently been able to begin making changes to the planning system, through permitted development rights, to make it easier to expand the charging infrastructure for electric vehicles. The revised permitted development rights (PDR) came into operation on 21 December 2020.
Electric vehicle charge point infrastructure is operated on a commercial basis and funding opportunities for the installation of charge point infrastructure in Great Britain and Northern Ireland are provided by the Office for Zero Emission Vehicles (OZEV). The OZEV provides funding to support the early market for ultra-low emission vehicles (ULEVs) in Great Britain and Northern Ireland including grants for plug-in cars, vans, taxis and motorcycles and grants for home, work and on-street residential charging infrastructure. The British Government has extended grant funding for the On-street Residential Charge Point Scheme (ORCS) for 2021/22 and £$28 million will be available for local authorities to provide charge points for residents without off-street parking. The Department is encouraging local councils, where possible, to access this funding for the installation of charge points on residential streets. Departmental officials have been engaging with OZEV and with the Energy Saving Trust (EST), who administer the scheme, in particular, with a view to supporting applications from councils in Northern Ireland.
I have also recently written to the British Government to press that the funding on offer is made available to Northern Ireland so that we can transform our infrastructure here, giving communities and citizens the opportunity to choose cleaner and greener modes of transport.
The multimillion new Belfast Transport Hub should start in 2022 and should be completed by 2025. The plan is to see the transformation of the 8-hectare city centre site. The government is looking into if trains can travel faster on Ireland's railways in a review of the all-Ireland network. Are both part of a larger master plan? How will Northern Ireland future transport system look like?
I am keen that we take a strategic view of the public transport services that we deliver and, to that end, in line with the commitments within the New Decade New Approach Agreement, in April 2021, both I and the Transport Minister, Eamon Ryan, were delighted to announce an All Island Strategic Rail Review that will allow us to consider our rail network across this island and how we can improve it for everyone.
This is progress on the commitment in the New Decade, New Approach agreement of the Irish and British Governments to examine the feasibility of a high/higher speed rail link between Derry, Belfast, Dublin and Cork. Minister Ryan and I have a shared ambition for rail and are committed to tackling the climate emergency. We want to use this opportunity to consider how we can improve our rail network across the island of Ireland, we want to be ambitious and we want to connect our communities better by rail right across the island of Ireland.
To achieve this, the All Island Rail review will examine the potential for rail connections across the island, including how our existing connections could be improved and where new rail links would be best placed. It will also review how we can connect our rail network to our international gateways through our ports and airports. In line with this, the review will consider the use of transporting freight across our island using the rail network while considering how we can move to a low or zero emission rail network as we seek to tackle the climate emergency. The completed review will be used to inform investment decisions on our rail network across the island of Ireland and will provide a joined up approach North and South in that investment to ensure we can achieve the maximum impact from investment in future years for all our citizens right across Ireland. This I hope will not only see cleaner and greener travel by efficient rail on the island but open opportunities for our economy and tourism potential on the island.