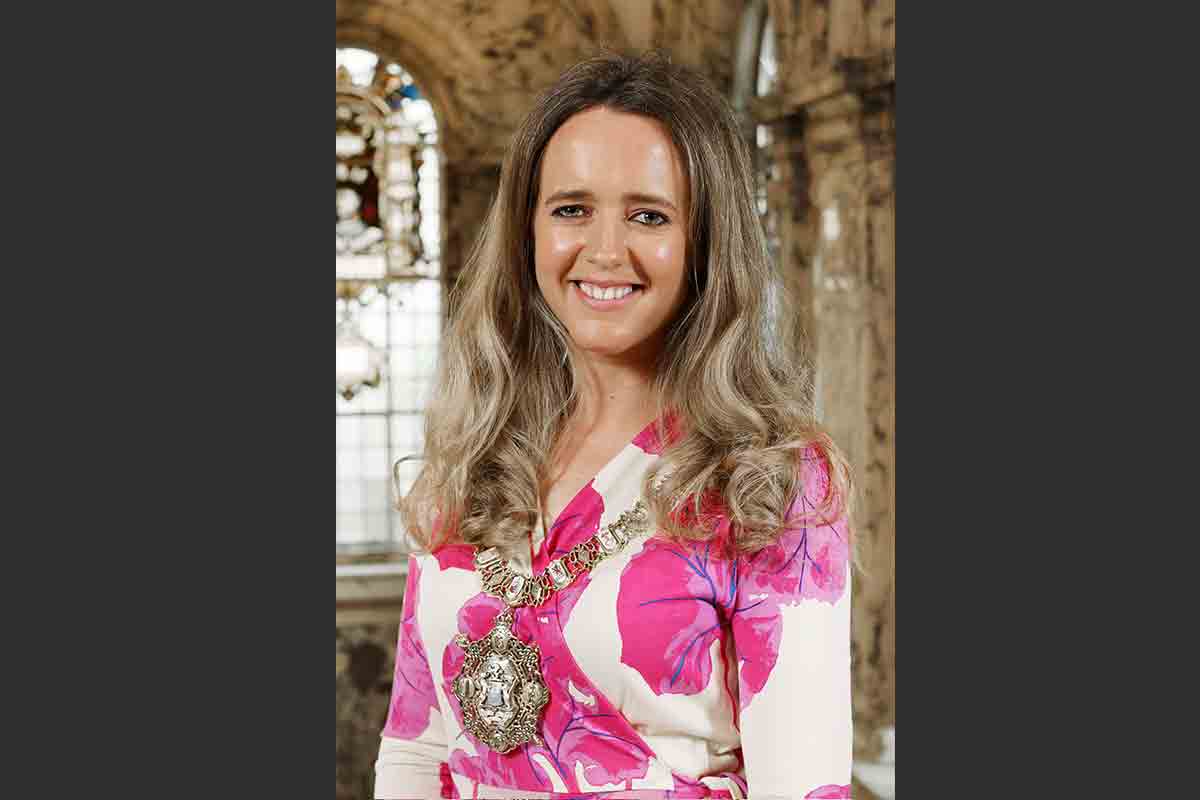 01 Sep

Building Belfast a better tomorrow
Kate Nicholl, Lord Mayor of Belfast City Council, has a vision for her city that she wants to share with the world: inclusive, green and economically vibrant.
A traditionally very industrial city, Belfast has transformed over the past 100 years and today ranks as one of the UK's most livable. As someone with a large global background, can you give me a rapid overview of Belfast, Northern Ireland's capital and economic powerhouse. What makes Belfast stand apart? What are its competitive advantages next to other EU capitals?
In one word, resilience is what makes Belfast stand apart. This city has been through and dealt with so much: we are a very resilient place. We are quite small, with a population of 343,000. The vast majority of our population works in the services industry, which, at 92 percent, is considerable. Mainly these are micro-small business. Over the last five years, over 2.5 million square feet of office accommodation has been completed or is under construction. This exciting fact shows the direction that we are going in.
The 2020 Ernst and Young attractiveness survey cited Belfast as the most important regional FDI hub in the UK between 2018 and 2019. We are home to 900 international companies, including Citi, Baker McKenzie, Deloitte and PWC, who have chosen to set up and grow in Belfast. 75 percent of these international companies would reinvest. We are one of five UK cities to offer full 5G services, something that is a massive draw. Labor costs are 30 percent lower than other European cities, while operating costs are 50 percent lower than other major UK cities. We are developing in terms of FinTech and the creative industries. We are the #1 international investment location for US cyber security development projects and the #1 European city for new medical software development. We are #1 global destination for financial technology investment. Finally, we have two world-class universities in the city. There is a lot to say about Belfast, and we have really evolved over the past 10 years.
From a personal perspective, I was born in Zimbabwe and moved here when I was 12, in 2000. Even visually, the transformation of the city has been extraordinary. It has become a lot more diverse. The fact that Belfast has allowed someone who wasn't born here to be their mayor, shows they really embrace other cultures and are forward thinking. The legacy of the Troubles is what so many people associate this city with, but the truth is quite the opposite: it is a very compassionate, kind, warm, inclusive and forward thinking city.
You have just been appointed as Lord Mayor for the city of Belfast, congratulations for this new appointment. Can you outline your main priorities and development axis for the city during your mandate? What are some of the key challenges to address, the key pillars and major projects currently under way?
There are many challenges, as the city has been through some real difficulties. We had the bank building fire in the city centre. Then there was COVID and now the Brexit readjustments. There is a lot that we are working through at the moment. There are areas of long-standing deprivation, economic inactivity, educational underachievement, so inclusive growth is the priority for me and the council when we are looking at recovery.
There are still remaining social and community tensions in pockets of the city that need to be addressed. That's something that I am partially going to be working on with members of political parties because I think that there is sometimes a sense of an absence of leadership. The Northern Ireland assembly gets a lot of coverage for the conflict and the adversarial nature of it, but in Belfast City Council we work well together across parties; certainly it shows that we are invested in the same patch. A key priority for me is to show how well we work together on some social issues and constitutional questions. We will have different views, but our strategy for inclusive growth remains at the center of all our work.
Innovation City Belfast is a really exciting project. We are going to look at how we approach innovation and investment as well as how we work with partners. Having those five centers of excellence makes the City Deal so exciting for this city. Climate action is one that I'm personally animated by and we are doing a lot of work around that.
Belfast City Council has taken forward work on developing the Dublin-Belfast economic corridor, focusing on developing collaboration on issues such as skills, research, innovation as well as developing key industry clusters that compete globally, because we are quite small. This will take into account the new trading environment. The council is exploring opportunities to research new initiatives through PEACE PLUS and Shared Island Fund. It is quite exciting.
The Belfast Region City Deal is major turning point for the city. Can you give me insights into this scheme and the key innovation projects within the plan? What is the vision, the objectives and expected impact?
The Belfast City Deal is a £1 billion package that aims to develop growth and stimulate the city's economy. It has four investment pillars: infrastructure, regeneration, innovation & employment, and skills. There are 22 projects within that, supported by five sectoral centers of excellence embedded in our innovation districts. All these projects will also really build on our tourism performance, which has been phenomenal. Game of Thrones has made a huge impact on Belfast, as has the Titanic theme. We have plans to build an iconic £100 million tourism attraction in the city. The hope is that we will increase GDP by £470 million and create 20,000 additional jobs accessible to people from all communities. It will boost our small businesses, and, since we are going to invest in digital transformation, it will upskill our workforce, making our people more competitive and productive.
Belfast is among one of the U.K.'s fastest growing tech hubs, with significant clusters in cybersecurity, fintech or greentech. What are your plans to promote start-up development and propel a dynamic local eco-system of talent and entrepreneurship? What are some of the existing schemes and programs that the city offers in that regard?
Innovation City Belfast is one of the. It is the fruit of a partnership between six of the city's key institutions: the council, Belfast Harbour, Catalyst, Queen's University Belfast, Ulster University and Invest Northern Ireland, which is acting in an advisory role and is going to be central to the delivery of this ambition
We have statutory responsibility for promoting start-up development, talent and entrepreneurship and have been doing work on that for the last five years. To be honest we have fallen a bit short, so that is why we have been working with partners to revamp and increase what we offer. We are looking at what systems to put in place to change the culture around entrepreneurship. For example, only 10 percent of people are self-employed in Belfast, so we are trying to grow that, as well as grow female entrepreneurship.
We have put in place the Innovation Factory—a workplace or a hub for small businesses— providing them with quality space and business support to help them grow. We have got the infrastructure there, but we need to do a little bit more to scale that up. The universities are playing a big role in it, and the council works with the universities on dedicated entrepreneurship initiatives for students. That has proven really successful in creating a number of high-value start-ups. Universities also provide additional research facilities to help businesses access innovation and product development support.
Belfast has been recognized among the top 10 cities in the UK for its 'green attractions'—parks, gardens, nature & wildlife areas, playgrounds, water areas and forests. What are the city's strategies to reignite tourism post crisis, what are some of major plans and projects under way regarding tourism development or redevelopment?
Work is underway on a 10-year tourism recovery plan, which will complement the City Deal and the £100-million investment in key attractions in the city centre. Titanic Belfast has been very successful. Game of Thrones has been very successful. Tourism has been growing steadily before COVID, so we want to accelerate that. We are looking at local tourism—neighborhood tourism—which is really interesting. We have a fascinating history and want to show how that manifests into the neighborhoods and the different communities.
We also have a 10-year cultural plan: A City Imagining Plan. We are also working in partnership across Northern Ireland for the Festival 2022 plans, which is a UK wide drama cultural celebration. We really see tourism as central to the city's recovery. That is something we are maintaining investment in because we recognize it as so important.
Shifting to the topic of sustainability, what are some of the city's biggest climate action initiatives, and how is the city transitioning to a low-carbon economy?
In 2019, the council changed politically: we now have eight political parties represented on Belfast City Council. That really changed the focus and the appreciation for how important it is to look at sustainable Belfast and what we do around that. We declared a climate emergency in 2019 and from that we formed a resilience and sustainability board, which falls within Belfast community planning partnership. When you are looking at the development of Belfast in the last 10 years, it's important to look at how local government reform changed the nature of how councils work. We went from having a lot of councils across Northern Ireland and now we have 11 super councils. Within those councils we gained powers for planning and community planning. Community planning is really important because we are working with grassroots organizations and third sector to make sure we are delivering things appropriately.
We also launched the Belfast climate commission in January 2020. I don't think any other council in Northern Ireland has a climate commission. Within that we have got working groups on business and finance, on youth and on just transition. We have the resilience strategy and we commissioned a report which is our net zero roadmap for Belfast. We work very closely with the housing executive looking at different opportunities within that. The one million trees project is quite exciting. Belfast Harbour has ambitions to become a green port. TransLink, our transport provider, is working to develop a zero-emissions city bus fleet by 2023 and they are doing a number of other things. We are also planning on launching a climate plan at the end of the year. Finally, with COP26 we are focusing on trying to use volunteer engagement.
What has been the impact and consequence of Brexit so far? How has the municipality prepared for it? What sorts of new opportunities are likely to emerge in the longer run?
Personally, my party was opposed to Brexit, and I just think it is disastrous. In terms of the impact it has had on the city, it is quite hard to tell just yet because of COVID. We are waiting to see. COVID really impacted tourism, and, as a result, it is hard to know where Brexit negatively impacted.
In terms of preparing for it, we were pretty advanced. We set up a Brexit committee within Belfast City Council. It was a forum for different expert voices and opinions, and it really acted as a lobbying role. There were a couple of trips to the EU to talk to MEP's and EU offices, and we supported preparations to facilitate new trading and inspection arrangement both directly via our port but also goods inspections facilities. We have been working very closely with partners, InvestNI, Trade Ireland, TourismNI to get the message out to businesses. That would have been the key role, the practical support for smaller local businesses and helping them. We have been promoting the EU residency scheme and encouraging people to register. As you would expect, we risk assessed our key services and developed contingency plans for them, mainly around increased demand for council support, food packages and how we would deal with potential food shortages and things of that sort. Although the protocol is always in the news, most businesses recognize that there is the potential to add more value. Business groups like the CBI are very strongly in favour. There are some who are a bit concerned about the bureaucracy, but I think most see that we are in a position where we are technically in the EU and UK markets. There is a real potential to increase our appeal as a place for investors, especially when you consider the low-cost base and the pool of qualified people. There are massive opportunities for the city and there are massive opportunities for local businesses to fill gaps in supply, if GB does continue to reduce exports to Northern Ireland and the EU.
What's your final message to our readers?
Come and invest in Belfast. Belfast is a wonderful city. We are ambitious and have ambitious post-COVID plans. We are looking at inclusive growth and to renew our city with a strong sustainable development dimension. We are striving to be viewed as a global city. We are working on repositioning Belfast on the global stage, particularly within this post-Brexit context. There is no better city, the people are warm and everyone who visits says that.