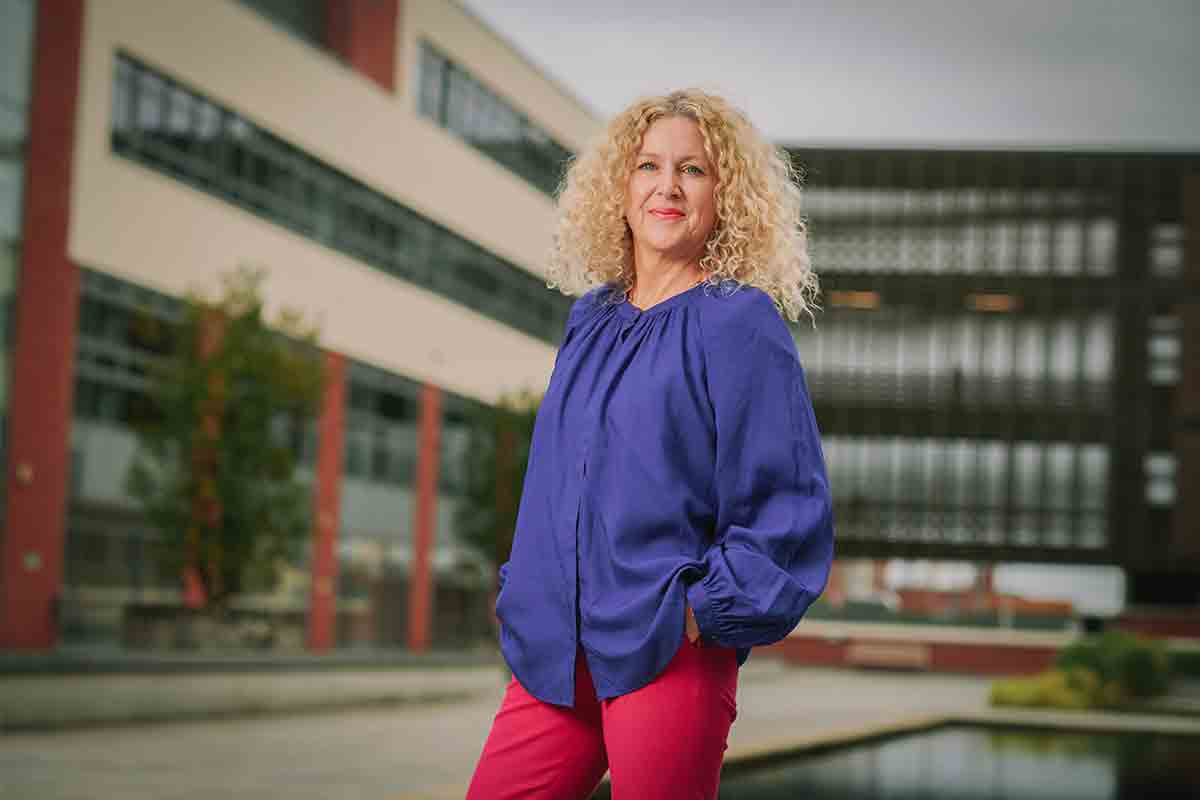 01 Sep

Building skills for tomorrow's prosperity
Louise Warde Hunter, Principal & Chief Executive, Belfast Metropolitan College, advocates for further education in developing a labor force with the skillset equal to Northern Ireland's economic potential.
As part of the U.K., Northern Ireland boasts a strong internationally focused higher education system with two highly ranked prestigious and reputed universities. To start, can you give me your analysis of the Northern Ireland higher and further education system? How competitive is it in the global context, and how do you value the overall capabilities and skills of the region's post-graduate students?
The six further education colleges in Northern Ireland have an interesting identity as we operate as non-departments of public bodies. We are under the control of the Department for the Economy, so we are very closely involved in shaping the development and delivery of skills in employability solutions. We have a dual mandate: one is to support and develop the economy by providing people with the skills they need to fit into the economy and a second which is concerned with social inclusion. Economic inclusion is a vital dimension of true social inclusion.
All six colleges have the same remit, the same objectives in regard to skills building, but we have very distinctive local identities. Even though Northern Ireland is quite a small place with only 1.8 million people, we're the only metropolitan college in all of that.
NI's higher education also distinguishes through its range, breadth and reach. Further education colleges are not exclusive, they are for all learners, and no other set of institutions gives education and training for people aged from 16 to 76. Besides, all colleges offer courses and programs, but we bridge different stages of attainment and achievement. In our own college, for example, we have a very large cohort of learners who have special educational needs.
The other thing that distinguishes us from colleges across the U.K. is that we're very directly involved in supporting business development, growth and innovation. We do that through a range of funded skills intervention programs, such as the Assured Skills Programs, which we use to support the development of the talent pipeline for many top-level organizations in Northern Ireland. Over the past four years we have delivered 1,500 graduate jobs, working with key employers through our Assured Skills Academy.
If you look at that wider environment in which we are operating, the Skills Barometer 2019 talked about a real lack of skills at an intermediate level of what we call Skills Level 3 to 5. Over the next 10 years, there will be opportunities that become available and they will have to be filled from overseeing the educational system and from immigration. The skills at level 3 to 5 are the most undersupplied. We must be realistic: to grow the economy, we must address that massive skills gap.
The colleges in Northern Ireland are not just about further education. They're about higher education as well. We deliver approximately 20% of all the higher education programs in Northern Ireland and the vast majority of the Higher Level Apprenticeship (HLA) programs. People can study an undergraduate program while they are working. This "earn while you learn" scheme is part of the inclusion agenda and is a much more attractive way to acquire those important qualifications. It's not all about student loans and tuition fees. This is particularly important for those coming from family backgrounds who are not affluent and for whom the concept of debt is problematic or undesirable. Besides, these HLA programs are closely aligned to what employers need. All colleges are seeking to deliver this work very closely with employers so that the technical requirements that employers have are being reflected in what we are providing in terms of skills.
The six colleges across Northern Ireland are engaged with something like 75,000 learners from a very wide range of backgrounds, and we are reaching out to more and more who have not yet participated. I feel that we are, as a college, an engine of our own economy through delivering skills. We used to have a massive tale of underachievement in Northern Ireland. The portion of people who are coming into the labor market are not educated and don't have the skills required: we have about a third of those between 16 to 64 who are qualified to degree level or above but then there are nearly 14% who have no qualifications whatsoever. The proportion of school leavers achieving three or more A-level degrees was around about 41% in 2018 to 2019.
We have an aspiration to grow a further and higher-level education tertiary ecosystem but we are only starting on that journey. Vocational skills pathways need to gain in value, respect and esteem just like other classic academic programs. As an economy, we need to shift those perceptions and collaborate much more effectively together so that FE colleges are not seen as a lesser choice. They are about pathways, about opening doors, about helping people step up on the ladders, particularly those for whom school has not worked. The proximity that FE colleges have to employers makes us a very attractive option for other learners. There's exciting stuff in the whole digital, tech, film and media space for instance. Northern Ireland is working to try and provide those qualifications.
Belfast Met recently announced a new partnership with Artemis Technologies for a new Advanced Manufacturing Apprenticeship program in the field of maritime technology. What sorts of partnerships are you looking at establishing with local industries and, further away, with potential global players? Which specific sectors are you interested to develop programs for?
That's a really exciting project that builds into Belfast's incredible maritime history. There are a lot of other areas as well. We have a lot of partnerships and network. We work with all business bodies and are kept abreast of all of the activities, issues and challenges that industry is facing. That allows us to work in partnership with organizations to co-create programs where we can then seek funding to support businesses. We've been very successful in doing that. We've delivered over 100 of those Assured Skills programs over the past 7-8 years. The program is funded by the Department for the Economy in partnership with InvestNI. It is largely to support the attraction of foreign direct investment to Northern Ireland: large-scale companies as well as smaller ones that have significant job opportunities. We work with them to create programs that provide the skills pipeline that they need. If it's around cybersecurity, we are delivering programs for Microsoft. We've also delivered a range of programs with Deloitte, PwC and others, focusing on advanced technology centers here in Northern Ireland. We're there in the background, working on these programs, tweaking and changing them, keeping abreast of new skill requirements and developing qualifications. In technology we need to continually be engaging and liaising with industry, because in areas such as data analytics, AI, IoT or machine learning things are moving very quickly. We need to ensure that we're engaging with employers and working with those partners to upscale our staff and ensure that we're keeping abreast of all those changes.
Aside from the sanitary and social challenge, tell us a bit about your experience of the pandemic. How has Belfast Met weathered the storm? To what extend has it disrupted the traditional models and accelerated your digital transition and for the next academic year?
It's been fascinating for me. I joined the college during lockdown, on the 20th of April 2020. What a time to take a leadership role! Belfast Met showed its true colors as a resilient learner-focused organization. When I joined, the organization had already pivoted, pushing 75% of our curriculum online in the matter of a few weeks. It was nothing short of miraculous really. Today, we continue to run a number of classes online, so it's not a disadvantageous change. But students who were passing assessments last year, their assessment process was nightmarish, and people rose to the challenge. When the restrictions were on and we were on lockdown, some vocational courses required face to face instruction, such as electrician or hairdresser training. Whenever we were thrown a challenge, the Belfast Met team found a way to address that while staying within the guidelines.
In addition, we have been implementing a Skills-Focused Program for small to medium sized enterprises with fewer than 250 employees where we offer free upskilling for staff. We were part of the wider response to support businesses during the pandemic. We also secured new funding to support the accreditation online, accredited upskilling of individuals for people who are being made redundant due to the pandemic. There was a fund that the department set up for that. It was open to the FE sector and to the three universities: Queens, Ulster and Open University. We received a chunky amount which allowed us to deliver a range of courses. The focus were primarily on leadership and management, digital skills, health & social care and green technologies.
I worked with the senior leaders of the wider organization in the middle of a pandemic to create a new 3-year strategy. Our objectives are very clear: we want to be the College of choice, to be an employer of choice, to be a partner of choice. All of those three are interlinked around the learner. These then relate to what I've just said about online learning: one is to be digital by design and the other one is to be sustainable by nature. The digital by design is the explicit recognition that we must take the learning from the pandemic and implement it at all levels for learners and staff. We're now developing, for example, our first remote working policy, blending remote learning and face to face learning right the way through. We're probably not alone in doing that. We recognize that we have moved digitally.
In terms of globalization, how is the College working to expand its international reach, craft global partnerships and collaborations, and also attract international students and talent?
Clearly, we are here to serve the learners who come to Belfast Met, but we want to keep looking beyond our shores. Indeed, Belfast Met has had an excellent reputation on that front because my predecessor travelled globally—which regrettably I've not yet had the chance to do—building relationships as far afield as China and America. We're mindful of change to create new opportunities to access the Turing Scheme, which is funding for staff and student exchange. That requires us to work very closely with the international Working Group and the U.K. Skills partnership. We have already cross-border links to the rest of Ireland, but we are the lead for the FE sector. Belfast Met is the lead on the development of the cross-border apprenticeship working and now would be funded through the PEACE plus program.
About 13% of our student body comes from the wider EU and the rest of the world. We are determined to keep going on that path and to really care for those learners who come from different communities, backgrounds, ethnicities and countries. We are the only designated College of Sanctuary in Northern Ireland and we have a very large proportion of ESOL students as well. We will continue trying to attract people from different countries, whether that's students or faculty members. We already have a high standard and reputation for the care and support for those who come to us.
Internationalization has been a core focus for well over a decade. We've really focused on a number of key areas, and we have developed significant partnerships across Europe, North America, Asia, and beyond, developing all sorts of new programs and projects. We have significantly benefited from EU funding as a college. We have accessed European Social Fund, European Regional Development Fund, Horizon 2020 funding, Interreg (North-West Europe Program) funding and PEACE funding. That has allowed us to really enrich what the college does. We have used the Erasmus program significantly to support both staff development and student mobility. It has really provided an opportunity to enrich the curriculum that we have. We have used Erasmus funding again to develop programs and proposals, working with our EU partnerships around digitalization, projects around the Internet of Things, and working on common training materials and projects. We've used PEACE funding to develop a very innovative youth engagement program. As those funds may not be open to us for much longer, we will be looking at the Turing Scheme. We'll be looking also at the Shared Prosperity Program, which will be the U.K. government's alternative to some of the EU funds that we would have been engaged with previously. So, we are still in that space. We're actively involved, and we will be continuing to develop that over the years to come.
What's your final message to our readers?
Northern Ireland is a small economy and our aim is to specialize in key industries that can compete globally. Our sector has a way to go to be able to really fully play its part. We are working closely with employers. We have 2 of the 7 curriculum hubs: digital ICT and tourism hospitality. The purpose of the curriculum hub is to make best practice common practice, to lift the skills agenda, and to share the knowledge, training and learning, right the way across the sector. Our proximity to employers, our collaboration across our own sector, the closer partnerships that we can make between FE and KG is essential. At the end of the day, colleges deliver 20% of the higher education programs in Northern Ireland.
The unique calling card of FE colleges is the fact that we provide skills and education tools. We have a dual mandate, a strong economic and social inclusion agenda. The FE sector is a bit of an unsung hero, in terms of skills provision.