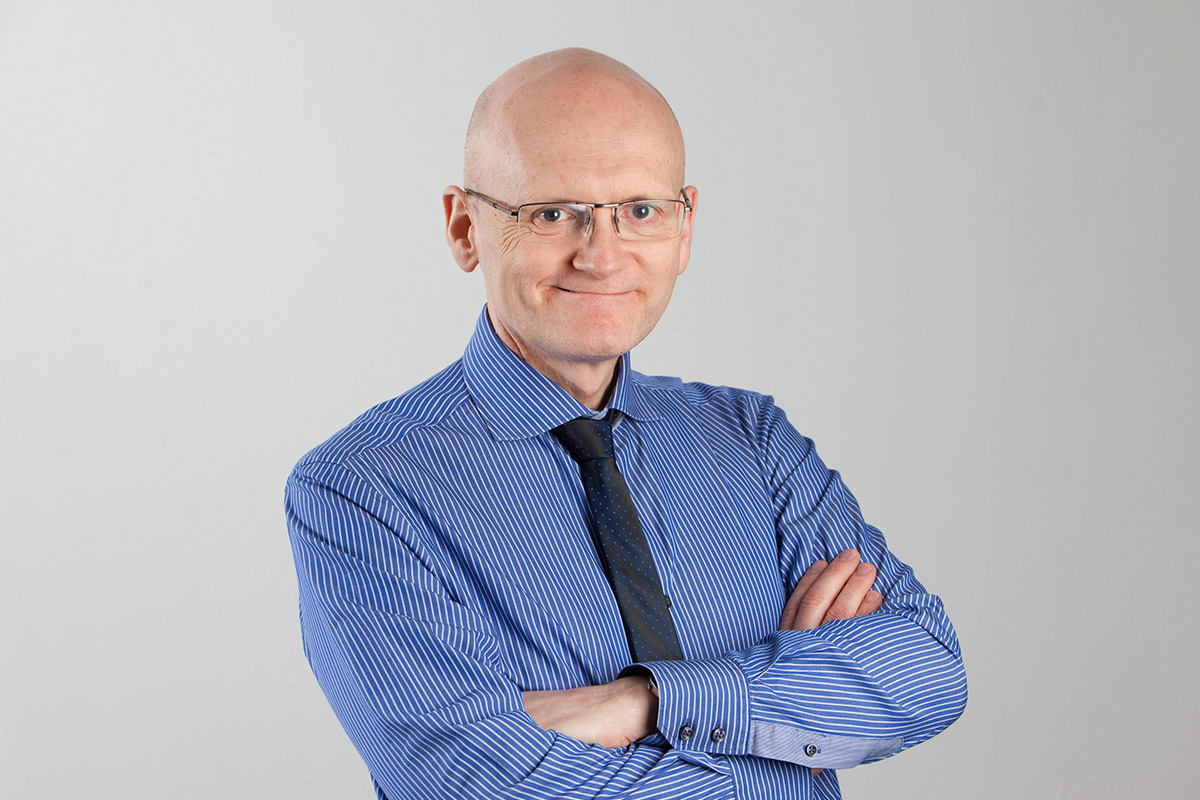 05 Apr

Building smart, building green
Dr. Don McLean, Founder and CEO, IES, has developed world-renowned techniques for building and explains why these Scottish innovations can be a way through future crises.
IES has been around for over 25 years and has grown as a leading global innovator, hosting the largest building physics analytics team. Can you give us a brief overview of your company? How does it differentiate itself, and what strengths and expertise has it built?
I have always been very conscious about energy, its use and how much we waste it. The roots of IES go back to 1979 when I began my PhD work in detailed computer simulation of renewable energy devices at the University of Strathclyde. With the 1973 energy crisis, the three-day week, power cuts and predictions that oil would run out by 2000 high in the public's consciousness, I set out on a mission to create a set of commercially viable simulation tools capable of designing buildings to be more energy efficient, conserve fossil fuels and preserve the environment for future generations, ultimately launching IES in 1994.
IES was set up as a university spinout from Strathclyde. In fact, we are the largest company from a workforce perspective that has come out of the university.
Over the years, the company has grown to employ around 270 people, with offices throughout the world. Within the architecture and engineering market, our core virtual environment (VE) building performance simulation software has been supporting the energy efficient design and retrofit of individual buildings for 27 years, helping identify ways to maximize occupant comfort and ensure compliance with local building regulations and other voluntary energy rating standards. If you travel around the world and come across large new buildings, there is a fair chance that our software was used to help design them.
Now, with climate change and the need for decarbonization, we recognized the need to accelerate action, particularly within the built environment, which accounts for almost 40% of emissions globally. Tackling the issue one building at a time was too slow, so we began working to expand the capabilities of our technology beyond the individual building level, creating new tools to enable the decarbonization of the built environment at scale. This culminated in the release of our expanded suite of digital twin technology—the Intelligent Communities Lifecycle—in 2019, which produces highly accurate virtual replicas to help analyze and support the decarbonization of both new and existing buildings and portfolios, as well as entire communities, cities and networks, across their lifetime.
With our expanded set of digital twin tools, we are giving people the ability to analyze buildings, communities, cities and the energy networks supporting them—even looking at things like district cooling and heating systems. The whole point is to make the built environment operate as energy efficiently as possible. We recognize that energy is essential to modern life – our society can't function without it – but try to think about how we can access the energy we need while reducing the need for fossil fuels. In fact, there are a whole range of problems that our technology can address alongside the need for decarbonization —everything from supporting net-zero investment decisions, ESG reporting, identifying ways to enhance the health, comfort and wellbeing of building occupants, and reducing operational energy costs being some key examples. We also look at issues like fuel poverty. If we do not treat that, we will not be able to decarbonize. Therefore, we look at how to do this in a way that everyone can decarbonize their buildings and make them as energy efficient as possible.
Decarbonizing the built environment has been our mission for a long time, and the company is extremely mission-led. Many people join us and stay with us because they know about our mission. They believe in it and they want to be a part of it.
Your digital twin technology allows you to create 3D virtual models of any built environment and offers remarkable data insights to any stakeholder. How has the integration of such advanced data sources changed the way in which clients approach their projects?
I first saw the term digital twin about eight years ago, and I recognized that this was a good description of our existing technology. However, there are varying definitions of what constitutes a digital twin. Whereas most people just digitize the geometry of the building, we also digitize the physics of buildings. That is what makes our technology so unique.
In our industry, digital twins are often confused with building information modeling (BIM). This is where you have the geometry of the building structure and the model is used as a data repository for the project team—you assign information to it such as what a room is, where the drawings are for the building, and information about where the building equipment is stored. Information is updated at key project stages, however a BIM model remains very much a "snapshot in time" of the building, based largely on design assumptions or construction documents. Essentially it is a detailed record of the building. Very few people keep up to date the information in these models.
The key distinction with our digital twin is that it not only looks like the building, it behaves like the real building too, responding to different operational conditions and building occupancy to produce an invaluable digital asset. We can model any building or community to such a degree of accuracy that we can actually say, if we make these changes, it will affect the building(s) in this or that way. We can see how to make the building(s) more energy-efficient, more comfortable, or ensure that the air quality is right inside the space, just to name a few. We can start to answer the kind of questions people need answered to ensure that their building, community, or city is performing the best it possibly can.
This requires a reasonable amount of expertise. We estimate that we have about 20,000 people around the world that use our software regularly. These skills are highly sought, so there is a lot of headhunting that goes on with people trying to pick up those who know how to use our software. Of course, we have a lot of contacts within universities around the world that are generating students that know how to use our software and getting them into the market. Training people on this technology is hugely important. We have forged relationships with many universities around the world to help implement training on our tools so that students come out with the ability to automatically enter into the industry and start making a real impact within the built environment.
The new technology we have been developing is referred to as the Intelligent Communities Lifecycle, and this enables the energy efficient design and continuous operational optimization of not just a single building, but entire groups of buildings and their infrastructure. For instance, we recently modeled the city of Limerick to establish how to make the city zero-carbon by looking at the government action plans and deciding whether these would take the city where it ultimately needs to be to achieve its target. Governments set policy, but without having the appropriate analytical tools to test it, they really have to hope for the best that it will work. We helped Limerick find out what they had to do to reach zero-carbon and discovered, if they complied with the climate action plan the government was suggesting, they would not actually reach their target by 2050. However, using the digital twin, we could show them what they needed to do beyond that to make the plan more effective and actually achieve carbon neutrality. Our new technology operates at a scale that no one can operate at this moment in time. We have very unique software in the first place, but we have been expanding it more and more. This is where we are now starting to make traction among a number of Fortune 500 companies. They understand that what we are doing is unique.
We are seeing significant growth in the company even throughout the pandemic. As the pandemic gets a bit more in control, we see a rapid expansion globally through these larger companies that can help us proliferate our technologies through the market.
Can you expand on the issue of the stalling of carbon reduction initiatives in Scotland? Also, please tell us about your footprint in Scotland your role in transforming the cities and communities there.
With our headquarters being in Glasgow, we have worked with a whole host of public and private sector organizations, cities and communities across Scotland to help them progress their carbon reduction strategies. For example, we do a lot of work with Scottish universities, in particular Glasgow University. They have been extremely proactive with us in using our technology, both in teaching the students and also through the massive investment that they have made in their buildings across the whole campus. All of their new and refurbished buildings were modeled in our software. As those buildings come online, we can then use our software to look at the operation of the building to analyze its performance and see how we can optimize the building's performance at any given moment. Essentially, Glasgow is acting as a tremendous testbed for this type of technology. This is also helping the estates department that are responsible for looking after all the campus buildings. They have more control over those buildings, and they are getting more precise information with which they can make sure the structures are performing as best they possibly can, detecting any operational faults, identifying where energy, carbon and cost savings can be made. At the same time, the university has been training students on our software and they have started to model all the buildings on the campus to use it.
We have also worked on a wide range of other high-profile projects within Scotland, encompassing everything from hospitals, government buildings, museums, schools and other local authority portfolios. We've even helped remote island communities up in Orkney identify ways to maximize their renewable energy resources, improve energy efficiency and take steps toward creating a zero-energy island community.
We have a major task in getting our software to all of the built environment. This is part of the reason why our strategy is to get larger partners to help spread the technology. The role we see in Scotland is that the more we can do for the private and public sectors here, the more Scotland can be a lighthouse for this globally, to show how a country can decarbonize effectively. Scotland has a number of ways of doing it: through wind turbines and the plentiful sources of renewables. However, apart from having this energy, the key is how to use it effectively. There is a great issue of fuel poverty, and if the cost of energy is too expensive, people will not be able to use it. We need energy that everyone can access to cook their meals, be warm and be well. Energy has to be used in a way that is cost-effective for people. The more we can make buildings energy efficient, the more we can make the supply of energy as effective as possible, and the more we reduce the issue of decarbonization poverty.
Aside from Scotland, in which international markets are you present? What do you have in mind in terms of expansion, and what are the most interesting markets?
We now operate in many countries around Europe, North America, Asia, Middle East and Australia, and our team works with a growing network of partners to deliver value to our growing client base globally. We do look after the United Kingdom, of course, and we are very strong in Ireland, particularly in Dublin. There is a massive building performance demand, with many companies that are aware of what we do and hire people to use our software to work on their new projects. Hence, we have an office in Dublin, and offices in Atlanta, Melbourne, Singapore, Pune in India, and we are just about to open an office in Vancouver. We have a reasonable spread globally. Those areas are a catalyst for us being able to expand inside those countries and further into those regions. There is an emphasis on using local people to support our customers in those areas.
In terms of training, our new ICL technology, which looks at greater scale projects, is not as complex to use as our core VE technology. It is key for universities to train their people and they can then go back to their building, community, or another part of the country and bring these skills to train more people so that it can proliferate much faster. There is a two-tier approach where the bottom tier uses the technology to train people in the skillsets needed to answer the demand; but also, from the top tier down we are working with those large companies to reach many markets to help spread the technology downwards. Hopefully, both sides will meet in the middle.
As a species, we will fail at decarbonization without some radical way of finding either unlimited energy that is free or, alternatively, having the technology to make decisions that help us decarbonize. The construction industry has not always been strong at doing this analysis type of approach, and so our buildings do not perform anywhere near as well as they should. There are massive inefficiencies in buildings, but our technology picks up on that and helps address the shortfalls. Obviously, we cannot force anyone to do anything, but we can give them the information with which to make better decisions. Part of our mission is giving people the skillset to take control of the situation themselves. We are seeing a dramatic change in the way people throughout the world are viewing decarbonization, in that they are taking responsibility and showing increasing interest.
I don't see anyone being able to match what we do with our digital twins for at least a decade. However, we are looking for others to white label our software. The mission is to get the right technology into people's hands to decarbonize the planet effectively. Once we have decarbonized, the action will be to continue to make buildings as efficient as possible. No matter where we generate energy, it is precious. We cannot mistreat it. The same goes for water. Culturally, humans need to evolve a bit to understand the need to get the right balance with nature.
In terms of lobbying and getting your message across to the key stakeholders in your industry, what is your strategy to create more partnerships?
It is about getting a type of authenticity within our message. In the past, we have been dealing with the people in the building market, which is a closed community. The ICL allows us to expand out into many new markets. A lot of people may have heard about us, but they did not know the extent of what we can do, nor were they aware of our new technology. However, we are starting to see a shift in this understanding, and we are beginning to see the impact of engaging with larger companies, and these partnerships are helping to raise awareness and accelerate the uptake of our expanded technology set. The positioning of our technology is that this is for everyone. Because it is so unique, and the timeframe is so limited, this needs to reach as many people in as short a period as possible through corporations, governments and local authorities to make them aware of these solutions and get them to use them. We see it as an obligation to exploit our technology as much as possible.
Do you have any final comments for the readers of Newsweek magazine?
Climate change is already having a profound impact on our planet and it is only going to get worse unless we start to take serious action to decarbonize our built environment. There are lots of other areas we must focus on as well. However, my concern is the built environment. This must be done for the sake of humanity and all other species and lifeforms on the planet. The planet always recovers from disasters. It has done so several times, but not all species will survive this. We need to act now, and people need to accept that we all need to take responsibility for decarbonisation. Hopefully, by working together and with the support of the right technology, we can turn the tide before it is too late.