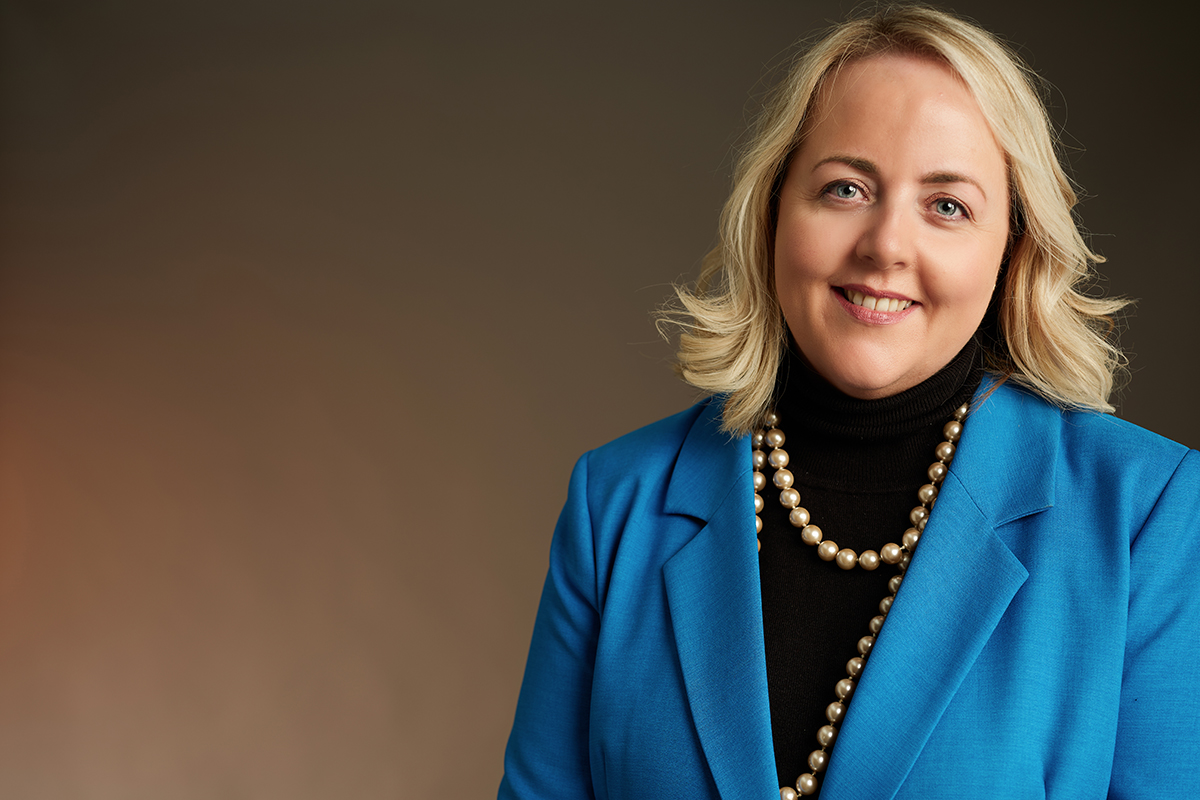 02 Sep

Creating the right playing field for prosperity
Kirsty McManus, director, Institute of Directors, sees an exciting future for businesses in Northern Ireland, where the institution she leads is promoting innovation, economic integration, and cross-order relations.
Northern Ireland celebrated its 100th anniversary this year, against a challenging background with the COVID pandemic on the one hand, with Brexit on the other hand, and growing internal tensions. How would you introduce Northern Ireland's business and investment environment to our readers? How attractive and competitive is it, how has it performed prior to the pandemic?
Northern Ireland is a unique location for business to compete in. We are the birthplace of Titanic, and many people know of us because of that. In the most recent past, we have emerged as leaders in digital transformation and cyber security. We used to launch ships, now a hundred years later we are now the perfect film and TV location for global hit TV series such as Game of Thrones or Derry Girls. One in five of the world's computer hard drives have parts made in Northern Ireland. We make 30 percent of the seats for airlines, and 10 percent of the global financial market flows through Belfast every day, which is equivalent to $592 billion. It has changed, it has evolved, we have had 23 years of peace and prosperity and Northern Ireland is a very different place.
Post-Brexit, our unique dual market access to G.B. and the EU gives us a very unique competitive advantage: We are the only region across the globe that has that dual access. That has made us very attractive to manufacturers, distribution companies and, in particular, to e-commerce.
About 61 per cent of our population is under the age of 44, and 27 percent of school leavers go on to further and higher education. Operating costs here in Northern Ireland are 30 percent lower than the U.K. or other parts of the EU. Our corporation tax is 19 percent—the second lowest in Western Europe, though not the rate of the Republic of Ireland. In our tax regime, we have the patent box regime for new product development: you can avail of up to 10 percent of corporation tax of global world sales through the U.K. patent box.
We have a vibrant workforce and exciting opportunities. It's, it's a beautiful and happy place to live. We are a unique personality. It is very friendly. Of the international brands that are in Northern Ireland, almost 70 percent of have reinvested in Northern Ireland. People who come here and test the marketplace, see the talent, they see the warm and friendly environment and the welcome from the people, and they want to reinvest. We have to acknowledge there are challenges and friction from a G.B./NI side, but there is an opportunity to collaborate, be creative and find solutions. Let's now sell the opportunity that the protocol gives Northern Ireland, because we have an opportunity for any company across the globe with an interest in tapping into the marketplace in G.B. and the EU, to come to Northern Ireland and base themselves here. We are a hungry and attractive place and I am very happy to have conversations with anyone who is interested in that opportunity. We are keen to attract that investment to Northern Ireland.
Can you tell us more about IoD in Northern Ireland, how important is it for the region, how does it contribute to improving Northern Ireland's business environment?
IoD has been in existence in Northern Ireland for about 43 years. We have a thousand members, and our membership is an individual membership. Our focus is around Director development. We believe better directors, will make better firms and that will ultimately lead to a better economy. It is about making sure that director's have all the tools in the toolkit so that they can function and perform to the highest level that they require.
We have our Chartered Director qualification, which is our gold standard and similar to a Chartered Accountant. I am not sure if it is the same in France but in the U.K., people become a Company Director and the only requirement is to register in Companies House that they are over the age of 16 and they pay a small registration fee. There is minimal training. We have people who have legal responsibilities as a Company Director but don't know or have any training to support that. We feel that is very important, as a director there must be a minimum requirement.
We have had about 800 people in Northern Ireland who have completed our certificate and our diploma program. In the last year we have noticed a boom in investment in leadership development. Leaders in Northern Ireland did not have COVID on their risk register and it has made them feel they need to be better prepared. People have used this time during lockdown to invest in their own leadership development. We catered by offering our courses online.
IoD plays an active role in civic society. During the conflict it played a vital role in The Good Friday Agreement in representing the voice of business. In many times business was working on with businesses in the South on economic and trade and making sure those relationships, on a North/South or East/West basis were strong, and making the economic case for peace and prosperity. We continue that role. For us it is about being patrons of the Good Friday Agreement and protecting that agreement for future generations as well.
What are some of the key programs or events that you run? What are some of the key issues that IoD is lobbying for at the moment, what are some of its strategic goals?
Our signature event is our International Women's Conference that has run for 13 years. This year we organized it online, which opened us up to a global audience. We had Erin Brockovich as one of our speakers. We had over 1,100 delegates, from Bermuda, Poland, the United States, etc. For us it is about creating an environment for showcasing role models and every year we are always inspired. One of our speakers this year has now just been appointed the head of the civil service in Northern Ireland. It's really exciting to see that and for our young women and young students. That is one of the events I'm very proud of.
We focus on supporting our directors, our family businesses. Only 3 percent of family businesses will succeed from second generation to third generation, so we support them to make sure they can successfully transition to that third generation, ensuring that they have a strong governance foundation, establishing a board and have an independent non-executive director on their board who is not part of the family but can help the business grow and be sustainabl by separating out the family from the business.
From a lobbying perspective, Brexit has been quite challenging and our five-party mandatory coalition doesn't necessarily all agree on a position on Brexit. Two parties say they want to get rid of the protocol and other parties who see the opportunities but recognize those frictions. As a voice for business, we are not taking anyone's side. We are very pragmatic; we are very resilient. It is about solutions, we have done a detailed paper on the challenges, but more importantly are giving some solutions and opportunities. We have been a critical voice to the U.K. and EU government. We will continue to champion that. We are very positive and hopeful. President Biden's intervention over the last two years will be positive and give a political impetus at an EU and U.K. level to find a solution to the GB/NI protocol challenges and in to selling Northern Ireland as an investment opportunity with dual market access. That is where we want to be, and we are very positive about Northern Ireland. We need to be positive; we need to create a future for our young people. It's important that we represent all the voices in Northern Ireland and be cognizant of the fact that some people are not happy with the protocol. It's about selling the opportunities of the protocol and bringing that to real life so people can tangibly see the benefits the protocol can bring to Northern Ireland citizens.
Do you see any specific sectors that will be more impacted or benefiting from the protocol?
We have seen a lot of interest from e-commerce and manufacturing companies who see the GB and EU markets as two opportunities. They see the benefit from that. We are seeing a lot of interest in across the globe at the moment. It is important that politically we provide stability to encourage investment to come here. We need to educate companies in EU and in GB that there is an opportunity for them to base themselves in Northern Ireland and continue those trade flows post-Brexit.
When it comes to promoting inclusive growth and diversity, how is the IoD working to increase diversity in the workplace and to increase the number of women on the boards of leading NI companies. What kind of achievements can be point out her?
The conference has played an important part because it has showcased role models for females who may experience imposter syndrome. At that conference you hear from very senior business leaders where people say, "I have imposter syndrome too." People can relate. It inspired me that Jayne Brady, who is our incoming head of the Civil Service in Northern Ireland also feels that way sometime. Its breaking down those barriers. Role models are really important. In our board members group, we have more females than males, which is really positive. Diversity is important, not just from a gender perspective, but also for diversity of thought. From a technology perspective, it's important that the board room has representation from the younger generation, because some of our board may be a particular age and won't appreciate the artificial intelligence and technology disruption that is coming down the tracks, but a young person is tuned in to tech talk and Instagram and can apply that expertise to the business. From a board simulation perspective, its important to challenge businesses in that context.
We are doing a lot around education and that is education for ourselves within the IoD as well, so that we are aware of Black Lives Matter and of the LGBTQ+ perspective. We are at fairly early stages of looking at our membership, we are doing a diversity and inclusion survey so we can get the baseline of our membership. We are on a journey, but for us it is about providing a platform where we hear those voices, listen to those voices, and respond and take action.
Northern Ireland is working hard to push its innovation input; through the 10X Economic Vision, the Belfast City Deal scheme, or through the work of the two universities, Queen's University Belfast and Ulster University. How does IoD encourage a culture of innovation among its members and within the corporate world?
There are many city deals aside from Belfast. There are huge opportunities. The Northern Ireland Executive and the U.K. Government are investing $1.5 billion in the City Deal in the next 10 years. For us, innovation and productivity and upskilling your workforce has to start at the top. Leaders who invest in themselves and their teams are much more outward looking and can respond very nimbly to the opportunities in play. The people who invest, really get the sense of innovation. They are constantly evolving and challenging themselves. Our members and the members if IoD are committed to that individual journey of continual learning. They are ambitious companies and ambitious leaders. That is where we can change the dialogue.
Our new head of the Civil Service, Jayne Brady, I am not sure if you are due to speak to her, but she is going to be a fantastic appointment to the Northern Ireland Civil Service. Her background is in engineering, she was a digital commissioner, she is an entrepreneur in residence in Oxford University. She is involved at a UK level in innovation. She is not a civil servant. She is not from the public sector; she is going to be transformative. She is all about innovation and collaboration, and that will be really important because the regions that will perform well in a global context are the ones that can work collaboratively with the public, private and third sector and can work together in a dynamic approach.
The patent box is a huge opportunity for new products and gives a 10 percent corporation tax on global sales. That is something that is an attractive proposition for all of our companies. It is continuing to challenge, but it is also about showcasing companies who have gone through that innovation, and we have seen that through COVID. O'Neill's, which is a sports clothing factory that responded to the COVID crisis by creating PPE. Never did they think they would be in that space. In a time of crisis, it also creates opportunities. It is about celebrating that.
What have been some of the main lessons learned from the COVID-19 crisis? What kind of permanent changes will remain in the Northern Ireland business environment in the coming years?
We have probably all reflected on the saved travel time by conducting a lot of business over Zoom. I think it is going to be a hybrid model from now on. For us, even from an events perspective, our women's conference gave us a global platform. It's broken down those geographical barriers. Our courses, which would normally have been face to face, are now virtual. That creates such a global experience and an opportunity to connect. The technology, Microsoft Teams and Zoom, have really opened up the world and made it more accessible and connected. I see it as very positive. I think it will be interesting from an FDI perspective. Facebook is allowing staff to work from anywhere in Europe, whereas Apple is encouraging people to go back to the office. In beautiful places like Northern Ireland, there is an opportunity for global brands to tap into our talent pool, but not necessarily need to have an office in Belfast. That flexibility will be really interesting, I think employees will demand flexibility.
On the tech side, quite a few of our technology companies have outperformed in the last year as a result of COVID. Others areas have been challenged, such as the hospitality and tourism sector, but the level of support from the furlough scheme in the UK has been very advantageous for companies and helped maintain employment. It will be interesting to see when that furlough scheme ends what impact it will have on the unemployment rate. Levels of corporate debt is going to be a growing concern as many of our organizations have taken out bounce back loans from the government and will then have to repay those. For some organizations returning to normal under social distancing doesn't necessarily mean you are going to make a profit; you may break even, but you may not make a profit. Its going to be a tough road ahead, and I still think the government will need that level of support for companies for the next two years.
From a corporate perspective, it has really given us insight into our risk register and risk mitigation. We never thought a global pandemic could happen and we weren't prepared for it. People are really starting to think, what about cybersecurity and testing the organizational resilience so that we are better prepared for the next crisis.
What is your outlook for the rest of 2021? In your opinion, to propel growth in confidence back into Northern Ireland what must be done? What is the general feeling within businesses for the time being?
Our vaccination program has been world class, particularly in Northern Ireland where we are vaccinating 18-year olds. Yet, there is concern around the Delta variant, we all now need to live with COVID for the next few years, it is not going to go away, but how do we ensure we can open parts of economy, tourism and hospitality in a safe way? Our challenge to government is going to be to continue some of that level of support beyond September.
For us, it is about looking at the whole area of corporate debt and what can we do in that space and supporting members through this. They have to pay for rent even though they haven't been able to use their premises. Overall, in Northern Ireland the environment is very positive.
What's your final message to our readers?
Northern Ireland is the only country in the world that has dual market access to both the Great Britain and the EU markets. It is an attractive base for countries seeking to trade in both of those markets and it creates a competitive edge for organizations. We are a unique region. We have strong digital infrastructure, a stable economy, a skilled young workforce and it's been an attractive destination for global brands. More importantly, it is a beautiful and happy place to live, work and invest.