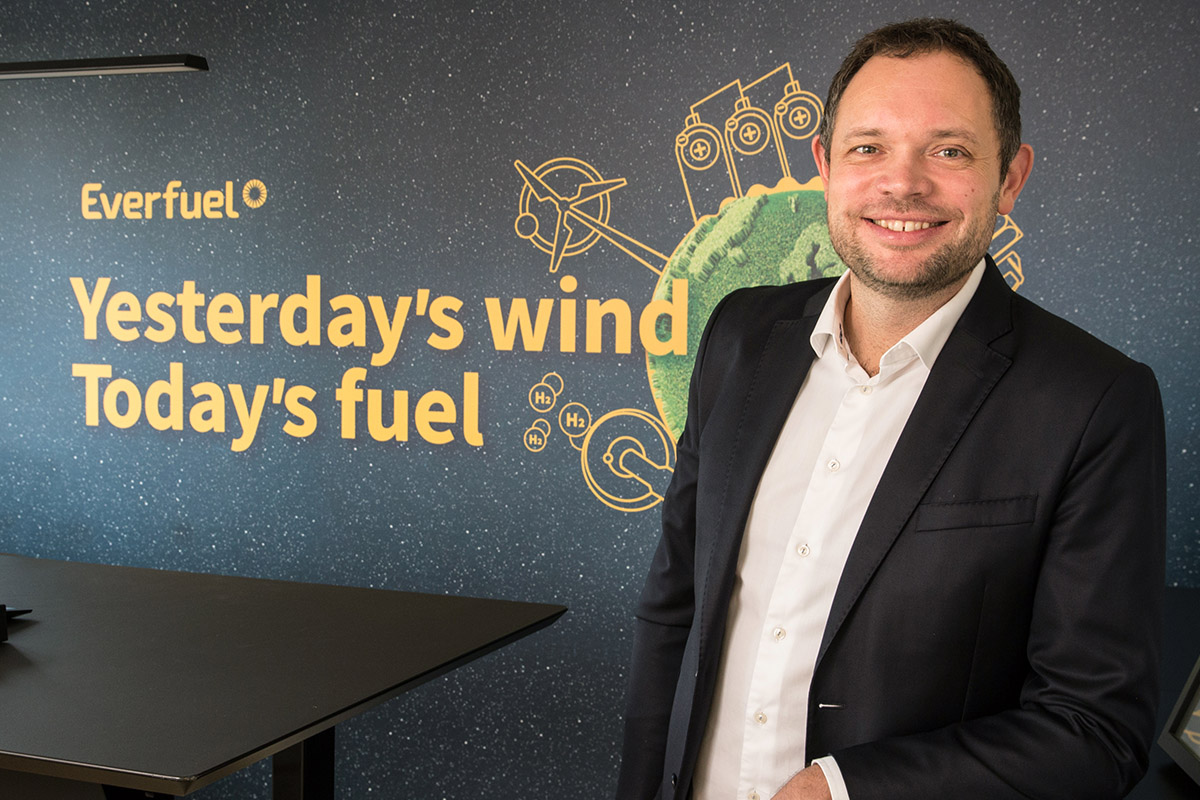 29 Dec

Danish company heralds the rise of green hydrogen

Jacob Krogsgaard, CEO, Everfuel, outlines the roadmap to create a sustainable future through the use of green hydrogen in Denmark's energy value chain and the efforts the company is making to speed along its development.

 

What is Everfuel doing to transition the mobility sector towards the use of hydrogen?

Everfuel's goal is to make the green hydrogen business case work, particularly in the field of mobility. Having too many entities in the hydrogen value chain ends up making it complicated and rigid; it is difficult when too many entities are vying for the largest piece of the cake. To make hydrogen happen quickly and competitively, vertical integration is essential. The north of Western Europe, Scandinavia, Germany and Benelux are our initial target markets. We are setting up electrolyzers for hydrogen production and building hydrogen refueling stations. Everybody wants to go green as long as it is affordable, and affordable means costs are roughly the same as when using fossil fuels. We have abundant renewable energy and ambitious partners with the same fossil-free vision. This is essential for hydrogen to reach fossil-parity. We can achieve this if done correctly. We have achieved success because we are willing to not just see hydrogen as an industrial gas with high profits, but as a fuel that can have a positive impact on our climate.

The hydrogen value chain for mobility comprises electrolyzers, hydrogen distribution and hydrogen stations. The core technologies within these three steps are not what we do at Everfuel. These three gears must turn simultaneously to make the sector efficient but do not interconnect very well. Everfuel's role is to create smaller gears to make the big gears work. This will eventually cut down additional costs we currently see in the value chain. We are performing research and development on electrolyzers to standardize them into 20-MW or 100-MW plants that we can duplicate. Our goal is to make the process cheaper and more efficient. In the hydrogen distribution area, we are adding intelligence to hydrogen trailers to make them more dependable and efficient. We are also standardizing the footprints of hydrogen stations so projects can be put together using standard and pre-defined bricks. A key development for us is the HySynergy project in Fredericia, Denmark. The electrolyzer project has three phases. The first construction phase will see a 20-MW electrolyzer—the largest in Europe currently under construction—operational by the end 2022. The second phase will bring up its capacity to 300 MW in 2025 and the third phase will see 1 GW generated at the location in 2030.

How is Denmark positioned to be ahead of the game in terms of implementing hydrogen in its energy sector?

Denmark is a frontrunner in implementing and utilizing renewable energy. It is the first country in Europe to really face the challenge of curtailment of its renewable energy. This is a challenge as much as it is an opportunity. It will allow us to harvest renewable energy in interesting conditions, which will eventually lead to cheaper electricity and set the scene for producing cheap green hydrogen to compete in the transport sector. Our motto is, "Yesterday's wind is today's fuel." Denmark is developing energy islands with a surplus of energy that far supersedes our total energy consumption. The Danish government wants to harvest this surplus and make it into hydrogen to supply mainland Europe through future pipelines. Denmark aims to be the first to implement a hydrogen plan while developing technologies and companies within the sector.

We are a frontrunner in utilizing renewable energies, predominantly wind power. At this point, Denmark turns off its wind turbines because we have surplus power. Essentially, we are done with the first half of the green transition, which is raising renewables in the energy mix beyond 50%. Other power plants handle fluctuations. The second half is much more difficult and involves adding more renewable facilities while turning off fossil-based power plants. This means power prices will fluctuate. This phase requires added technologies, using power when it is available and converting it into something that can be stored and used when we do not have renewables available. This will involve power-to-X technology, and this is exactly what we are preparing for in Denmark. There is not enough material available on this planet to make enough batteries to store all the energy necessary to electrify the future. It must be transformed into a gaseous form. The easiest and most efficient is hydrogen and this has been realized in Denmark. Energy for fuel will come from renewables—mostly wind and solar—and our biogas and biomass potential. Batteries are sufficient for most of the passenger vehicles segment, but for heavy-duty and intensive transport such as buses, taxis and trucks, renewable power is not enough, and this is where hydrogen comes in.

How feasible is the global goal to include hydrogen into the energy mix?

Hydrogen is inevitable and is a crucial part of the second half of the green transition. There is no silver bullet that can fix everything within energy and transportation. There is a place for battery power, but it has its limitations. We have more of a limitation in battery supply and the electrical grid than power supply. The hydrogen solution is now coming into its own. Everfuel is fueling these ambitions and making them happen.