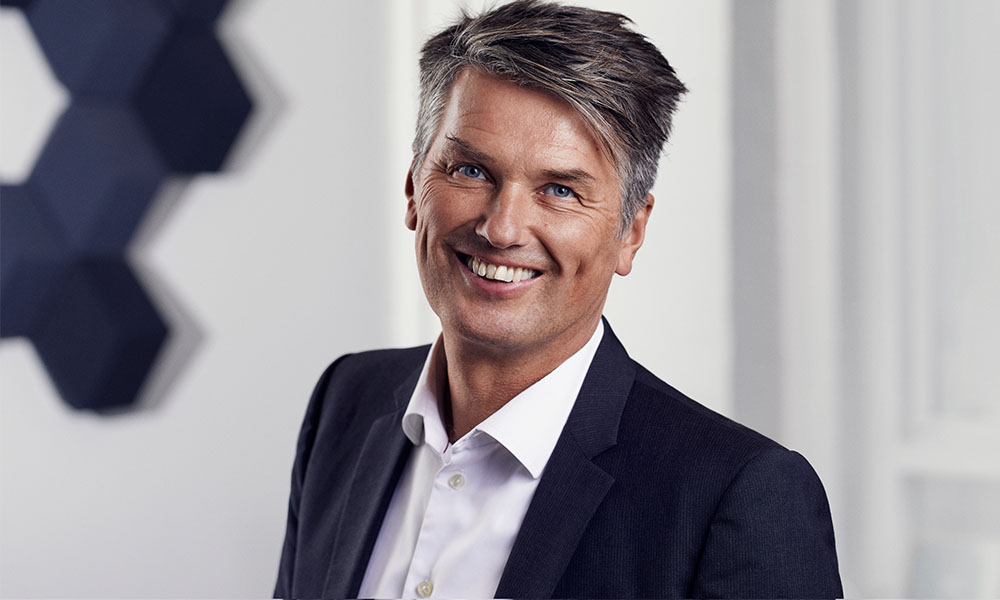 14 Jan

Danish retailer turns up the volume on experience
Kristian Teär, CEO, Bang & Olufsen, discusses the company's unique strategy to grow awareness of its high-end audio technologies and the significance of sustainability in its core business culture.
Can you give us an overview of Bang & Olufsen's brand and operations?
Bang & Olufsen began in 1925, which makes us one of the only consumer electronic companies that has survived so long. There is no one like us that is still independent. In the past two years, we have added more than 150 new talents—especially within research and development—to ensure that we make magic for another 100 years. We have always built excellent products crafted to last with a timeless design and amazing sound quality. We take pride in the craftsmanship we do. We have the three following product lines: On the Go, which comprises our headsets and Bluetooth speakers; Flexible Living, which covers portable audio products for the home; and the staged category, which covers television solutions and large home speakers. We stand out from other companies because of our unique designs and superior quality. We sit more in the intersection between luxury and consumer electronics. We are a design company that provides our customers with the best experience in unique ways. Functionality needs to be perfect. When one looks at our products from far away, one can tell they are made by Bang & Olufsen. One will notice aluminum, wood and an interesting color scheme. There are very few other companies that produce products that match our level of flair and ability.
From a longevity point of view, many of our products last for 50 years, which is why they become collectibles. In December 2021, we announced a feature that will connect our past products with present and future products. For instance, customers can take our turntables from the 1970s and connect them with our modern speakers to make a single system. This is unique in the industry. Connecting the past to the present and future without compromising quality is something that makes us special. We also recently launched a classics program where we restore our old products. Customers can send us a beloved turntable or speaker from the 1970s and we will upgrade it with new technology and a warranty.
We are trying to do things no one has done before. Innovation is the name of the game. It was in the DNA of our founders and will continue as we move forward. We are trying to rethink how people use products to experience visuals and audio and how we can make them longer lasting. We have a higher price point, but our lifetime value differentiates ourselves. We build products that are made to last for more than 10 years. It can be seen as more of an investment. Innovation comes down to people and their creativity. We try not to constrain our workers and give them freedom to operate. We offer unique services and propositions; nobody else is doing what we do.  Many of the recent developments we have not revealed to the world just yet. We have been hiring a lot of designers and engineers both from Denmark and abroad. We have a diverse leadership team ranging from French, Mexican and Finnish workers along with people from Denmark. We have an excellent platform of individuals who are passionate about their work.
Why has your recent growth strategy been so successful?
My first mission when I arrived two and a half years ago was to increase earnings. We designed a program to lower costs, which extended our runway and gave us more time to make a turnaround. We needed to grow with sustainable profitability, and that is precisely what we managed to do in 2021. We turned the company back to black and delivered a small profit on the bottom line. We have entered the second phase of the strategy, which is focused on building robustness and strengthening the customer experience. We want customers to buy the product and like it so much that they service it and take good care of it. We are also investing in future innovation, workforce, tools and processes so we can start to grow. So far it is working. Despite all challenges—be it the pandemic or microchip shortages—we are getting through it by relying on our strong culture and workforce. We have quite a bit of flexibility to adapt to what is happening in the world and have managed well so far. There is a waiting list for our products. Our more expensive speakers, televisions or system solutions have a waiting list as we cannot keep up with the demand. We are working to improve this by working with our partners and component manufacturers to redesign products so that the worldwide chip shortage affects us and our customers as little as possible. We have begun working with five-year and seven-year glimpses into the future. We need to prepare ourselves, our products and features for what is to come. Having a longer perspective is exciting.
How has the company benefited from working in the Danish market?
Having lived in nine countries, I have a broad perspective on Denmark. After returning here, I can see what works and what does not. We are working closely with universities and have world-class expertise in audio in Denmark. We benefit greatly from this in our products. There are several good audio companies here and universities who have vast knowledge on the subject. We are in a good place to see what is happening on the cutting edge of the audio world. In addition, Danish design is world famous. This heritage and competency are to our benefit. We are inspired by it and have the pleasure of working with outstanding Danish designers. Danes pride themselves on having superior craftsmanship. We spice that up by looking outwardly at what is happening in the rest of the world. However, our design, audio expertise and craftsmanship cannot be found anywhere else in the world. Additionally, digitalization in Denmark is amazing; we are at the forefront. Copenhagen has a cosmopolitan atmosphere, and everything works very well; it is stunning.
What strengths does the company gain by having such a large global footprint?
Considering my past work in many different cultures and countries, we have an advantage when engaging with customers and partners in international markets. In most cultures, it is more about forming relationships than only doing business. We also have a certain curiosity about how things work in China, the U.S. or France. We take these cultures into account when building our products and design our services propositions. We want to offer the level of service that people are expecting, and there are sometimes subtle differences depending on the country. The luxury segment has been growing in China as in many other places, which plays well for us. The untapped potential in the market is huge. We are now well positioned in three continents.
How significant are partnerships in increasing brand awareness?
To be able to form partnerships is a wonderful thing. For example, we do the audio tuning for Hewlett-Packard Company laptops. With our expertise and brand, we help them make a better product for their customers and in turn get a license fee. Our brand is visible on millions of laptops. The same thing goes for automobiles. Together with Harman International Industries, we bring our expertise to customers who genuinely appreciate topnotch audio experiences in the car. We are in the Lamborghini Urus and Bentley Motors and Ford vehicles. Licensing deals is a wonderful way of doing business. We recently teamed up with Cisco to provide a business solution built on the post-pandemic trend of working from anywhere. We are also working with Verizon in the U.S. We also work with luxury brands. We work with Berluti and have worked with Rimowa and other luxury brands for amazing designs in the past. Partnering with them enhances our brand value. Our capabilities enable us to team up with many partners to create new solutions, and we will continue to forge new partnerships to help expand our brand going forward.
What key market segments is Bang & Olufsen currently targeting?
The hybrid work segment is a growing market for us. Customers want to have headsets that are not only high quality but look good. People do not want to put on a black plastic headset with a microphone arm in front. Outside of work, customers want to listen to music when commuting or use it at home when they watch television. Instead of separate products, we offer one stylish product with all business features necessary for work. We have also begun to enter the gaming segment because we know we can provide a unique and combined experience with the same headset for all areas. The untapped potential in these segments is immense. Immersive music and sound experience will always be in demand; we see a lot of new opportunities for us as technology develops. We are confident we are on the right path. Our purpose is to change how people hear, see and feel the world. It is less about the product or technology and more about creating experiences and evoking emotions.
What marketing strategies is the company employing to reach target segments?
B&O has an exceptional brand image. Most people remember their first experience with a Bang & Olufsen product. We have a city-focused strategy. We are trying to expand our presence in culturally important cities around the world. We are currently working to gain more of a foothold in London, which has already been successful. We will continue to expand our city strategy in the future. We want to grow from the eight core markets we are focused on today. Our greatest challenge is to create more awareness with the younger generation. We are focusing our marketing and product development towards Generation Z, particularly in China but also Europe and the Americas. We want to build products for them that are both long lasting and fit into their lifestyle. Digital marketing is a good tool to communicate with the next generation. We are creating new immersive experiences for them and making sure they find us and get to know us by partnering up with celebrities, opinion leaders and brand ambassadors. Another customer group that we are successful with are ultra-high-net-worth individuals. The challenge is meeting them and making them aware of our products as this segment does not typically go to many stores. They get recommendations from their interior designers, or they see the product at their friends' places. Essentially, we need to be where our customers are, whether young kids on digital platforms or wealthy people at polo, golf, tennis or yacht clubs around the world. Our biggest challenge is creating more awareness of what we can offer.
How is the company working to push sustainability and lower the world's carbon footprints?
Product longevity is at the heart of our strategy. We want to minimize the footprint of our products throughout their lifetime. In September 2021 we announced that we were the first consumer electronics company in the world to receive the prestigious Cradle to Cradle certification for the Beosound Level speaker. It is the world's most ambitious sustainability certification, and it underlines our commitment to building long-lasting products and contributing to a more circular economy. All new home speakers will be based on a modular approach to be easier to repair or service if required. We are equipping all products with a replaceable streaming module that allows customers to upgrade their products should new technology be introduced 10 years from now. We have never built for obsolescence, and we are accelerating this focus. Sustainability has always been at the core of everything we do.