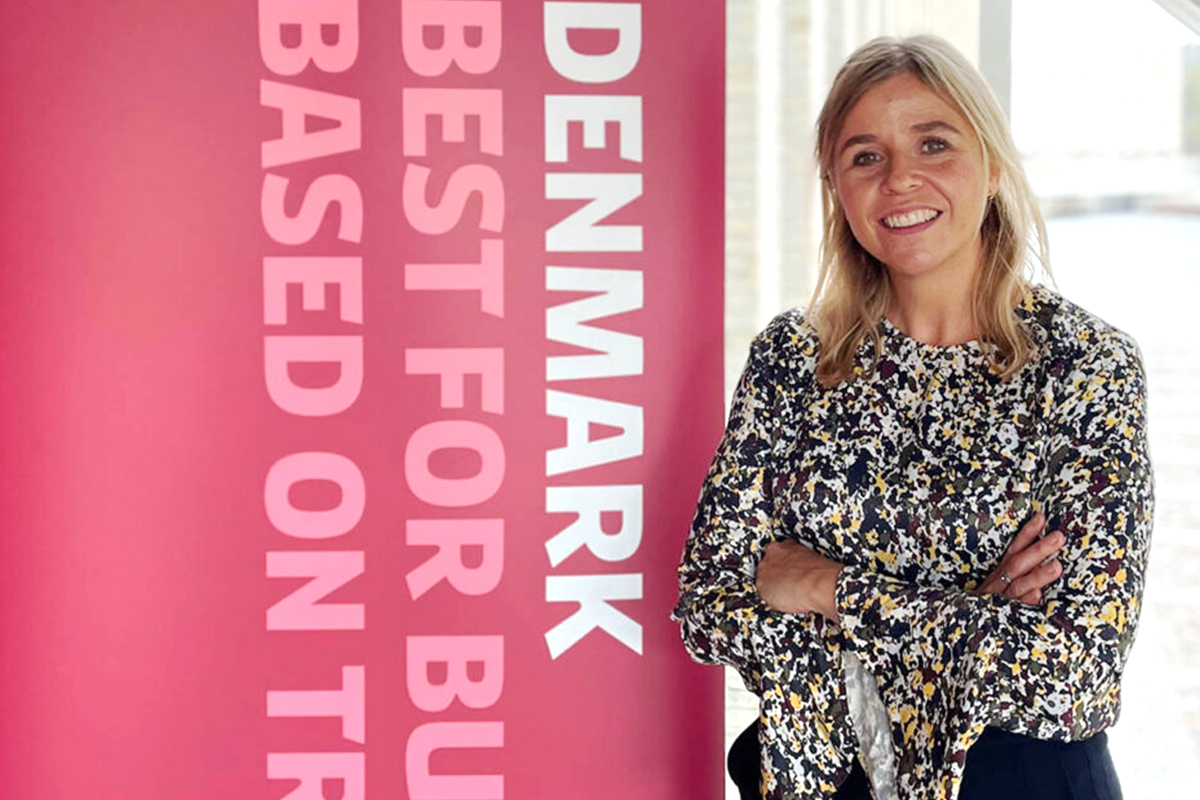 28 Jan

Denmark opens its arms to investment
Anne Hougaard, Director, Invest in Denmark, details the reasons the country has remained competitive as a destination for foreign direct investment and key opportunities for investors in the green transition and life sciences and technology sectors.
What key strengths have helped Denmark continue to grow despite challenges caused by the COVID-19 pandemic?
The Danish economy is in very good shape. Our economy is robust and has recovered well. There are growth predictions higher than what we hoped considering the COVID-19 pandemic. We had a projected growth rate of 4.7 percent in 2021. This rate of growth is outstanding and will continue in the coming years. The export of goods and services rose 2.2 percent from September to October 2021, meaning we are at par or even beyond pre-COVID-19 rates. All nightmare scenarios of what the COVID-19 crisis might do to the Danish economy have not come to pass. The state of our small and medium-sized enterprises and our unemployment rates are encouraging. We have the same low interest rates seen across Europe. Our decision to keep up productivity has proven to have been the right choice.
Denmark is among the most digitized countries in the world. Everything we do has been transferred to the digital space, which is a huge indicator for development. In the Digital Economy and Society Index used by the European Commission, Denmark came out in first place. We do our work, shopping and social activities online. Many of our basic services are online. From starting a company to buying services of any kind, almost everything can be done digitally in Denmark. Our digital capabilities made us well positioned to withstand shocks caused by the pandemic. Denmark also has strong healthcare and life science sectors. We have an enormous number of resources and solutions that we need to develop to get through the current health crisis. We have state-of-the-art pharmaceutical companies and one of the strongest research and development environments in terms of medtech, pharmaceuticals, biotech and healthtech. Denmark is also ahead of the curve in its green transition. We have framework conditions that make us an ideal place to test, develop and scale new green solutions.
Like many European countries, Denmark is a country of small and medium-sized enterprises. We have a vibrant startup community, an area which the government has a large focus on. Companies such as Cleo are growing rapidly. Our focus is to help digitize small and medium-sized enterprises. Although many are born in the digital sector, many others require help in this category. Small and medium-sized enterprises that are digital have higher productivity and growth rates. The government has been quite active in providing help to digitize these entities across the board through several programs.
Why is Denmark an attractive destination for foreign direct investment?
To borrow a phrase from a former French ambassador to Denmark, "Denmark is the country of balance." The Danish social model is built on a high level of social trust. In the rankings for Denmark in Transparency International, we compete with other Nordic countries every year to be the happiest people in the world. Social trust pours into our labor market. We have one of the most flexible labor market regulations in the world because it is based on a transparent and trusting paradigm between employers and trade unions. One can hire and fire much easier than in comparable European countries. Our businesses are run on transparency. Denmark ranks first in the ease of doing business. We also have a world-renowned work life balance. There are many highly educated people that want something more than just a career and a job. People want a full life in livable cities with time to spend with their families, which is something Denmark offers.
We also have a long tradition of public-private partnerships. There are many examples of companies and local and national authorities working closely together in tailor-made partnerships. The model is a pragmatic way to solve problems. For example, we have institutionalized a tradition of partnerships through Trial Nation concerning clinical trials. Essentially, any companies looking to do trials in Denmark can go to this organization to find tailor-made partnerships instead of going door to door, speaking to hospitals and doctors and trying to figure out if there is a suitable population of patients. They help identify the right doctors with the right specialties, the right hospitals to run the clinical trials and whether there is a suitable patient population. Companies save a lot of time. The same goes for investors looking to do greenfield investments. We have a long tradition of bringing together municipalities with investors and local authorities. We enable companies to go through a due diligence process and establish if it is worthwhile to invest and establish a company in Denmark early on. They have the advantage of having all stakeholders at the table. We use this pragmatic and practical model in gaining permits with local authorities and in research and development collaborations.
What key opportunities are there for investors looking to join the Danish ecosystem?
An obvious area of opportunity would be in green solutions and technology. We have a very ambitious government that has set a 70 percent reduction goal in carbon dioxide emissions. A substantial amount of Danish energy comes from renewables. There was a climate action law passed in parliament backed by almost every member that is implemented through concrete climate action plans. The Danish government is aiming to create framework conditions that are stable and allow companies to use the market to test, develop and scale green solutions.
We have significant offshore wind investments, which affords us cheap green electricity and a very stable grid that is interconnected with the rest of Europe. Because of this, Denmark has been successful in attracting investments in power-2-x technology. The same goes for carbon capture and utilization. We have strong connections to Germany who have adopted an ambitious strategy to use green hydrogen to decarbonize heavy freight, shipping and airborne traffic. Denmark recently finalized a tender for the Thor offshore windfarm, which was won by Germany's RWE. It will be Denmark's largest windfarm. It is historically relevant because it the first time the state will be paid for the authorization to build an offshore wind farm. The competitive price is impressive; for the first time the bidder must pay for the landing cables and grid connection. This is promising for future tendering projects in Denmark as it shows competitive prices and capacity to create gigawatts of renewable energy in Denmark.
Denmark's life sciences sector also presents opportunities, particularly in clinical trials. A law was recently passed in Denmark concerning medicinal cannabis. The Danish government created framework conditions to enable companies to produce cannabis for medicinal purposes. This has attracted a lot of investments into Denmark. Because Denmark is a very digitalized society, patient records are very comprehensive. Our rich data sets make Denmark an attractive place to test medtech and digital health solutions.
We also do very well in terms of education and skills. We have strong basic skills but are now at a crossroads in specialized information and communication technology skills. We must continue to invest in this and research and development, which the government is doing. Denmark made a lot of investments 20 years ago to digitize its public services and we are now reaping the benefits; we are ahead of the curve. Part of our recently agreed on annual budget is allocated towards further digital innovation in 2022. We also have a strong research and development ecosystem within quantum technology. This area is significant in providing cybersecurity; it can create encryptions that are unbreakable. The technology can also help us with the green transition and development of new life science solutions. Quantum technology will enable models and calculations beyond the reach of our largest supercomputers. We are aware there are synergies to be had from foreign investments. Foreign investments not only create jobs but also foster innovation. Companies bring highly skilled labor and knowhow and skills to Denmark. The interface between research and development ecosystems and foreign companies is key. Research and development is dependent on state-of-the-art companies coupled with supportive framework conditions. We have a highly subsidized economy and a population that is well suited to test innovation and fresh solutions. This marriage checks a lot of boxes.
What impact has the COVID-19 crisis had on foreign direct investment into Denmark and the region?
The pandemic had a huge impact. All European countries saw a 70 percent drop in foreign direct investment flows in 2020, which was devastating. However, foreign direct investment stock in Denmark was relatively robust. On average we saw an increase in foreign direct investment stock of around 10 percent per year from 2018 to 2019. From 2020 to 2021, we saw only a 4 percent increase. While this is not a brilliant result, it shows we are robust. We managed not to have a negative result. Our focus is staying the course in the current situation.
How significant is the U.S. market in terms of investment into Denmark?
We cover the entire North American market. We are represented in New York, Silicon Valley and Toronto. The U.S. is a very big market in terms of foreign direct investment flows. The U.S. accounts for 25 percent of inward foreign direct investment flows into Denmark, making it the largest contributor. Areas such as medicinal cannabis, clinical trials, pharmaceuticals, biotech and green technology take up major parts of these inflows. In 2018, half of all foreign investments into Denmark were in the life science sector. In the digital tech field, the U.S. has a lot of innovative and interesting companies providing digital solutions that will help us succeed with our green transformation. They look to Denmark because of our robust framework conditions. We also have more traditional tech investments but are increasingly seeing a combination of investments in technology enabling the sustainable transition.
What efforts has Invest in Denmark done to promote investment flows in and out of Denmark?
Just before the pandemic we launched a new strategy that focuses on attracting investments to foster productivity and innovation. From a strategic point of view, we count the quality of investments as opposed to the quantity. Foreign investments in Denmark create jobs, foster innovation, connect Danish to international companies and make them competitive on the global market. We also want investments that support the green transition. We want foreign companies that can help us fulfill our ambitious sustainable targets. Another priority is attracting investments across Denmark. We are not an investment promotion agency for Copenhagen only; we attract investments all over Denmark.
How important is it for Denmark to remain vigilant in improving its investment propositions?
The environment we operate in is intensely competitive. Many developed and European countries were hit hard by the pandemic and are working to regain lost ground and attract investments. We must be very ambitious in attracting investments and make sure the Danish market remains the best possible vantage point. We need to grow the number of foreign direct investments into Denmark while not compromising on their quality. We had a 25-percent target for green investments in 2021 and a 50-percent target for high-quality investments that promote productivity and innovation. We would like to set the bar even higher. We are in a good place, but we need to continue to invest. Attracting foreign investment is fiercely competitive and we need to stay at the top of our game.