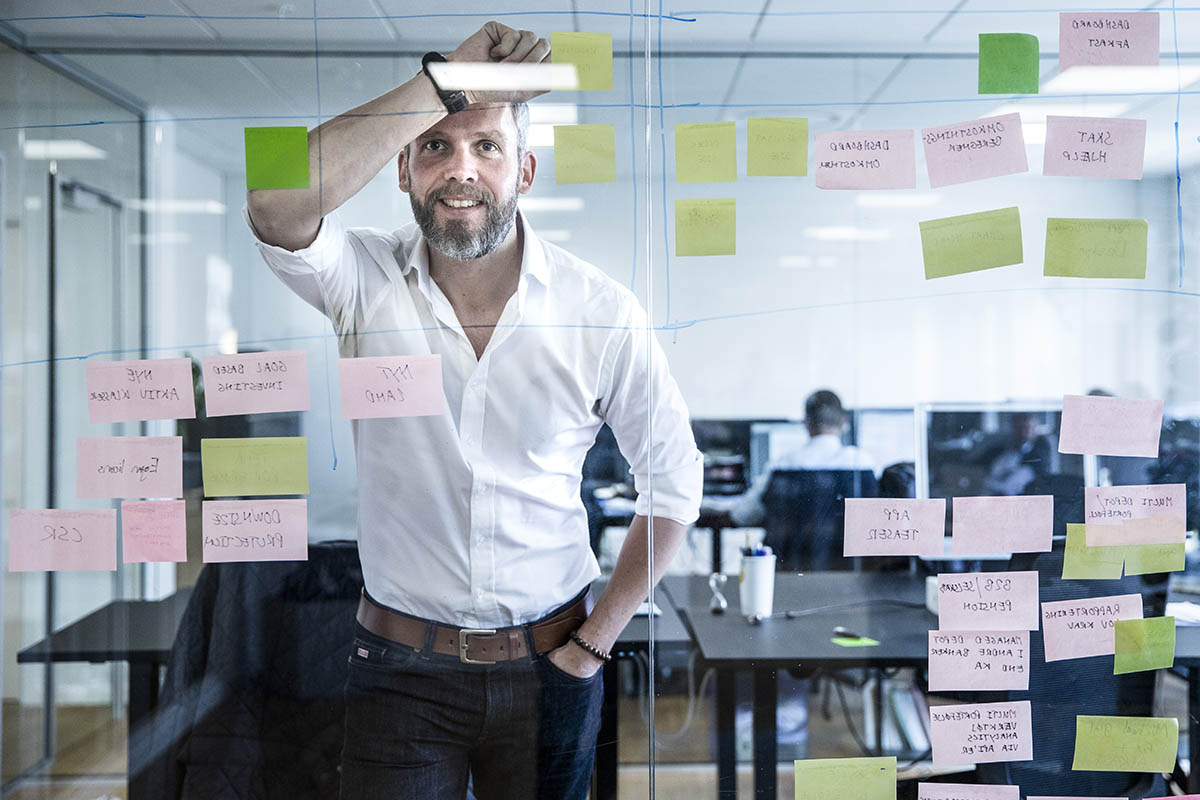 23 Jan

Denmark's thriving fintech ecosystem rests on global connectivity
Thomas Krogh Jensen, CEO, Copenhagen Fintech, talks about the reasons Denmark has such a successful fintech sector and what the organization is doing to promote growth through its connections to intelligent funding and international markets.
What factors have led to Denmark's high digital transformation and growth in its burgeoning fintech sector?
Denmark is a highly digitized country in terms of infrastructure. We rank high on the list of innovative nations. Additionally, Denmark, Norway, Sweden and Finland are always among the top five in terms of sustainability rankings. Our tenacious focus on sustainability has fueled a great deal of innovation in the sustainable finance area in Denmark. Another great accelerator of digitalization is our small and medium-sized enterprise (SME) sector that has seen growth throughout the COVID-19 crisis. Much of our growth in technology comes back to our Made in Denmark trust-by-design stamp of quality that comes with a high level of confidence and security. There is strong faith in Danish-built technology solutions because they are built on the same principles our society is built on. People trust that what comes out of Denmark is good and for the greater good. Another of Denmark's strengths is its research and development ecosystem. The country has a vibrant artificial intelligence scene closely linked to universities. We have some exceptional, high-ranking universities where research is being commercialized to deal with real challenges, such as reaching sustainability goals. Denmark has strong research capabilities through the European Blockchain Center out of the IT University of Copenhagen and Concordium Blockchain Research Centre at Aarhus University that opened in February 2019. The latter center researches blockchain technology with focus on security, transparency and usability.
A key realization in focusing on the fintech sector in Denmark five years ago was that we would never be the largest sector because we are a small country. We thought instead we could become the most connected. The fintech sector does not happen in just one country; it is done on a more regional and global basis. We made an important decision to build a shared ecosystem with other global hubs—such as New York, London, Berlin and Singapore—so Danish-born companies could be internationally scaled based on our highly digitized infrastructure and innovative abilities. Another element that has driven our fintech industry is our interest in SMEs. Ninety-nine percent of businesses in the EU and Denmark fall into this category. The fintech SME space has been substantially neglected by the establishment because there are too many and it is very difficult to provide services in an analog world. Targeting SMEs and understanding how technology can be scaled present huge opportunities for fintech. The final element is Denmark's design tradition that dates to the furniture and architecture sectors in the 1950s and 1960s that focused on human-centered design and problem solving. The formula of combining our highly digitized infrastructure, our focus on SMEs and sustainability and human-centered design solutions is the basis for growth of Denmark's fintech sector.
What recent shining stars stand out in Denmark's fintech sector?
We are seeing companies incubate and grow from Denmark and then scale outwards, but also founders choosing to grow in other markets and then scale back into Denmark. It is an interesting trend. We have a significant challenger bank, Lunar, created by Danish and foreign investors that is a unicorn in the country. Their home market is the Nordic region and they target both private customers and SMEs. It is built on the vision of creating a new customer experience, especially for the younger segments. Another good example is Pleo Technologies, which is Danish founded and headquartered in Copenhagen. They help SMEs manage their expenses. We are seeing a trend in tech unicorns and big companies focusing on the business-to-business segment coming from Denmark. In such a small country, it makes sense to lay one's attention inwards in this segment. Chainalysis and Public.com are two noteworthy examples. Chainalysis is an interesting company within the blockchain and crypto space that is helping law enforcement and global banks create transparency and be compliant in the crypto economy. Chainalysis' work with blockchain solutions has created a fertile ground for other blockchain companies to follow. They are also helping law enforcement and intelligence agencies investigate money laundering, weapons dealing or other illicit activities that happen in the crypto arena. They were one of the first residents in the Copenhagen Fintech Lab and are now headquartered out of New York with close to 500 people on staff. Public.com is the biggest competitor to Robinhood Markets in the U.S. They have a Danish co-founder, Jannick Malling. They are building much of their tech out of Denmark and have a Danish chief technology officer.
What must be done to meet the world's sustainability targets and what kind of example does Denmark provide in this area?
Denmark has a longstanding tradition of holistic and sustainable solutions, which have followed their way into the financial industry. To create a more sustainable world one must change its target investments. Instead of concentrating on flying or driving less or eating less meat, statistics show that it is 27 times more effective to shift investments toward more sustainable industries than any other action. Finance drives sustainable development, and to close the financial gap we need to direct funding towards the right industries. We currently require $2.5 trillion annually to fill the financing gap to reach the United Nations' Sustainable Development Goals. We must remove any constraints to the supply of and demand for capital. This requires scalability, and one prerequisite for that is technology. We must combine financing and technology and invest in the top sustainable companies and projects.
A good foundation for getting the data we require to make informed investment decisions comes from screening companies and their activities. We need to create data sets about not just a single company but the entire supply chain. For example, how do we make sure that wood for our furniture does not come from illegal deforestation in the Brazilian rainforest? How can we be sure all we do and all we buy is sustainable? Data is extremely important in finding the right projects and companies to invest in. We must consider data protection and privacy, gender and diversity, employee engagement, community relations, human rights and labor standards. We must also look at board composition, bribery and corruption, executive compensation, lobbying and political contributions. When it comes to environmental, social and corporate governance, it is most popular to discuss environmental issues. However, the other two elements are just as important in Denmark. Every fintech entity in Denmark and the Nordic region is looking to make specific impacts with the solutions they have. At the end of the day, one must ask if the product or service makes a positive impact and if the world will be a better place if the company succeeds. We are trying to infuse these sustainable values in the whole ecosystem, from investors to fintech companies and the established industry.
What kind of relationship does the larger financial industry have with fintech companies and what synergies are being created between the two sectors?
Globally the largest investor in new technology outside of the tech sector itself is the financial industry. It spends the most on information technology than any other sector and fuels a lot of research and development. The insurance industry is a huge platform for use cases of the internet of things. The financial industry is one of the most data rich industries, and this data is highly sensitive and of the utmost importance for the established industry and fintech players. The current focus for financial services is on privacy, security and trust, and this needs to continue as we scale technologies. Denmark is ranked as one of the countries with the most open public data. The Payment Services Directive 2 is an EU directive that gives third parties access to payment data in open banking scenarios, areas in which the Nordics and Denmark are leaders. It is no coincidence companies like Chainalysis are helping governments and large financial institutions investigate unlawful activities in crypto and to be compliant. Much work in this area comes from Denmark because we have a fierce focus on these kinds of parameters. The new generation of tech solutions is laser focused on cybersecurity. They are hyper aware of the need for privacy of sensitive information. Our financial services subsector has driven a lot of our digitization. For example, the national identification system is being managed through a collaboration between the state and the financial industry, which is in line with our long-standing tradition of public-private partnerships.
How does Copenhagen Fintech differentiate itself from other organizations and what kind of services does it provide?
Denmark's model is unique, and our tradition of collaborating comes together in Copenhagen Fintech. Unlike other places, we come from established banks, pension funds and insurance companies. They were the original initiative takers in the organization together with Financial Services Union Denmark. We were later joined by the Confederation of Danish Industry, Insurance & Pension Denmark and the Danish Growth Fund. We now cover all main stakeholders in the ecosystem. Combining with funding from the public sector, we have created a not-for-profit, public-private partnership with the aim of creating jobs and growth in the fintech sector, attracting investments and helping companies scale for the benefit of society and the industry. We provide incubation for early-stage founders and companies coming from universities or established industries. We accompany them while they accelerate and scale regionally or globally. We help these entities attract investments, validate their ideas with local, regional and global financial institutions and other tech companies. In our efforts, we partner with universities and global investors. Having access to capital is just as important as being intelligent with what we do with it. Companies require a global network, knowledge and competencies to help them scale. We have built a community-fueled organization that works as a networking platform for companies. We create critical connections, especially in the early stages. Our global community of diverse institutions, companies and investors has accelerated the ecosystem profoundly. We can now validate ideas and match technologies with investors in a very short period.
What is the organization doing to help the Danish fintech market overcome its major challenges?
Our two main goals as an organization are to fulfill our key performance indicators and grow employment in the Danish ecosystem. What drives the growth of any ecosystem is access to talent and capital. The shortage of talent is one of the biggest challenges in the global context, particularly for qualified talent in technological fields. We are working closely with the government, the established industry and the union to make Denmark an attractive hub for talent. Despite Denmark being a smaller country, it is now a powerful ecosystem. We have become a thoroughly validated test bed for new solutions by major global players due to our adapted digital society. Solutions can be run through not only Danish or Nordic banks but also our global network of tech companies and financial institutions. Denmark is a low-risk country for companies looking to scale in the Nordic region and Europe. From here ideas can be taken to the rest of Europe and beyond. Consider yourself invited to join us.