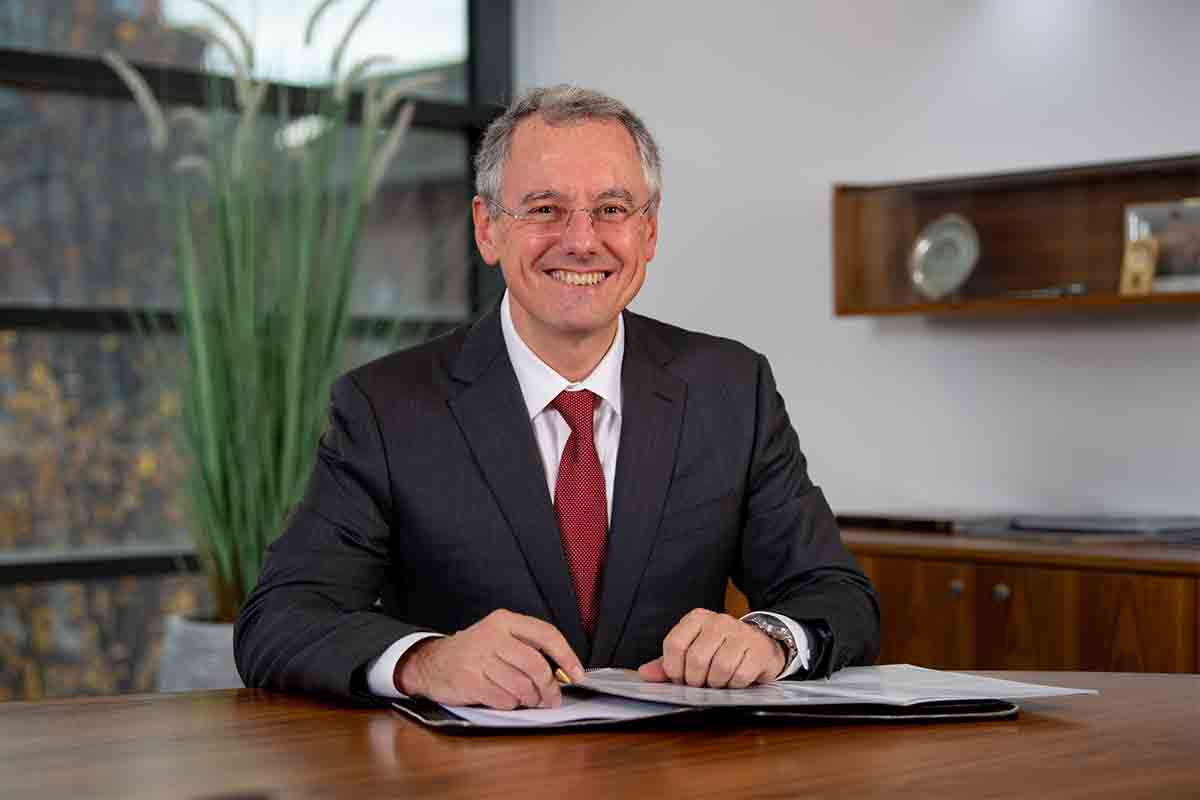 02 Sep

Economic development agency helps facilitate the ease of doing business
Kevin Holland, CEO, Invest Northern Ireland, describes how the development agency helps shepherd businesses and foreign investors through the entire growth process, emphasizing Norther Ireland's talent pool and unique place between the U.K. and Europe.
Northern Ireland celebrated its 100th anniversary this year against a challenging background with the COVID pandemic, Brexit and growing internal tensions. To start, can you give us an overview of Northern Ireland's business and investment environment? How attractive and competitive is it today? How would you summarize the transformation and achievements of the past 100 years?
Northern Ireland is quite a hidden place, with a lot of undiscovered talent. It is an attractive location for investors and for businesses to set up acting as an accelerator for businesses to move quickly from small to medium, medium to large, and large to very large. I think that is the most attractive reason for companies to come here.
Behind that are three key drivers. The first one is the great talent here, available at multiple levels. When businesses come, they are very impressed with the quality of talent. The second is our world class technology—in cybersecurity, FinTech, advanced composites, life sciences, clinical research, etc. Thirdly, it is a great place to do business. Employees enjoy a high quality of life here: you can live, hire and retain talent here in a quality environment with a fairly low cost of operation for your business. Combined with modern business rules and interesting tax rates, that makes for an interesting place to live for businesses.
Invest Northern Ireland is a very unusual economic development agency in that we are able to accompany businesses the right way through. We cover the whole range from innovation, access to finance, working with export and trade, classical trade and investment work. Often we work in 10, 15 or 20 year partnerships with companies. Working with the same agency is one thing that doesn't happen in many places, and can explain many of the successes we had over the last 20 or 30 years. Innovation, technology and economic recovery in Northern Ireland is both potent and strong. There is a very interesting pathway for how we are going to be successful in the future.
Taking this year aside, what have been some of the key prevailing economic trends over the last few years that deserve most interest—in terms of investment policy, infrastructure development, innovation or taxes? How had Northern Ireland's economy been performing over the last few years prior to the pandemic?
2019 had been a great year. We grew exports in every region around the world – Europe, Britain, Asia, IMEA and the Americas. A perfect score in terms of growth. 100 new investors came into Northern Ireland. Pre-COVID, there had been interesting growth in some of the sectors. Northern Ireland has built some interesting profiles in FinTech and cybersecurity, attracting novel companies; the kind of companies that didn't exist, in markets that were not there, five years ago. Northern Ireland has really picked up the skills needed to build those markets and grow them very quickly. On top of that, some of the advanced manufacturing sectors that have been further developed here: from aircraft wings through to hard drives. Parts of a fifth of global hard drives are made in Northern Ireland. We are advanced in computer technology here. We have got a very strong advanced manufacturing sector. The other area that has seen a lot of growth is life sciences. If you look at the number of global drugs which are brought to market, a very high proportion of them go through the pre-clinical stage with Northern Irish companies. There has been strong growth based across a number of sectors.
Talent and tech are two main elements and USPs of Northern Ireland. In addition to that, the region is working hard to strengthen its innovation input, through 10X Economic vision, the various City Deal schemes, and the work of the two universities, Queen's University Belfast and Ulster University, to trigger more R&D. What are they main schemes, programs and incentives that NI has put in place to promote innovation and R&D? In particular, how does Northern Ireland promote local entrepreneurship and start-up development?
We have a very broad approach to innovation which we are going to amplify that in the future. Over the last few years we have done a lot work with companies across Northern Ireland. Innovation happens not just in universities and big companies but is spread across the market. As an economic development agency, we start with things like innovation vouchers, which are notional in terms of value. It's £5,000 per business, but businesses do not compete to get them. They can also be used to gain access to experts who will really help take an nacsent idea towards market. We do this kind of feeding at the lower end of the pyramid with many companies across Northern Ireland.
We've seen a real drive for innovation. Over the last five years, we've invested around a £100 million through a grant for R&D programs. This has brought over £400 million of R&D investment from companies based here. Companies can invest with the money we are able to provide as a government. Some of this has been transformational in terms of helping companies design new technology and position strategically for the longer term. Invest Northern Ireland is a fairly unique agency in that we are doing that as well as helping companies get the access to the finance they may need to grow their businesses. We provide equity and funding, loan funding and start-up funding. They get the idea, develop the idea with us, but also, we are able to help access to funding to help it come commercially to market. That is a very powerful part of the portfolio.
Innovation is fantastic, but it is much more interesting when you can commercialize it afterwards. We have been very active in the entrepreneurial space, helping create locations where entrepreneurs can meet and learn from each other, mentoring, all the classic ways of trying to help grow more businesses and help them to expand. There are more businesses in Northern Ireland now than there were three or four years ago, so despite Brexit and COVID and some of the challenges that have been out there, Northern Ireland is still growing and building businesses.
The last 16 months have been like no other, with the COVID-19 pandemic indiscriminately hitting all economies on the planet. Reflecting on this period, on its challenges and opportunities, how has NI tackled the pandemic? What have been some of the main lessons learnt? How can the country accelerate economic recovery? What's key to propel growth and confidence?
Northern Ireland has managed very well during the pandemic. The business response has been tremendous. Businesses have really shown resilience. This is very unique to Northern Ireland. Northern Irish people just get on with stuff, so faced with the challenges of COVID, they get home, take their laptop, get online and get on with it. Companies manufacturing for a sector which is having difficulty changing what they make will switch to making something completely different, while the company keeps functioning. We saw companies here adapt from making parts for airplanes to making personal protective equipment and other things needed during the pandemic.
From the government side, we have had sound local decision making with regard to the pandemic and restrictions. Businesses here have been able to access multiple mechanisms of support, including financial expertise to get through the pandemic. Some of that has come from Westminster in the UK, such as job support and the furlough schemes, but Northern Ireland has also done targeted support to groups and businesses. We have delivered £140 million in cash support to businesses in need and have made over 3,300 business appraised offers to help through. For example, we have been helping them improve productivity and have been helping them access markets further away by taking what was before a physical face-to-face sell and turning it into a digital online sell. The Northern Irish government has funded those kinds of transitions. As a government agency, we have put together a proposal and then worked one-by-one with businesses to bring those to life. Over the last year we have worked directly with over 18,000 businesses in Northern Irelandabout 20 to 30 percent of all the businesses in in the country—so it has been a pretty exciting year.
The NI protocol has brought some much-needed relief to the Brexit issue. Interestingly, in a recent interview you mentioned that NI attracted a high level of interest from overseas investors in the five months since the introduction of the protocol. What has been the immediate impact of Brexit, how have NI's businesses and InvestNI prepared for it?
Brexit has not reduced the flow of foreign investment for Northern Ireland. In fact, we have a very high level of interest in 2021, whether it is because of Brexit or COVID or the fragmentation of global supply chains we saw post-COVID. It is hard to know which is the driver but certainly the interest level right now is very high. I think a lot of it is COVID driven and the response that Northern Ireland showed. If you look at the 3.5 year journey to Brexit, certainly there was confusion at times. Our role was to inform businesses as to what was going on and see what may happen next. We have run webinars, workshops and given one-to-one advice. We have made everything available for businesses, so you have a one stop shop of where you go to find out what Brexit means and to try and help businesses walk through the preperation process. That has been a key part of the journey.
Some companies faced friction in the beginning. There was a lot of media coverage in the early days. Companies were rating as first-time importers or exporters, given the change of the United Kingdom leaving the European Union. Certainly the first six weeks to two months there was a lot of friction for people. Much of that has been resolved and some companies have found work arounds. There are still some areas that need to transition the smooth flow that people intended in the post-Brexit environment. Given that Northern Ireland has this dual access to both the United Kingdom and to Europe—as well as being in a great location for trade with Asia to the east and the Americas to the west—it is a unique place that can be used for companies to set up a manufacturing base. Interesting discussions are being held in that regard at the moment.
How has the Brexit changed InvestNI's communication strategy and its investment narrative? How are you positioning the region as an appealing post-Brexit location?
The conversations we have with investors around the world always start with talent. First, the access to talent here, the level of education: from our primary school level math education, which ranks the best in Europe and the 7th best in the world, through to the number of PHDs we have in cyber security and master classes in artificial intelligence. Investors first look at the talent pipeline when they come to a new location. Second is usually world-class technology. Some areas in life sciences, such as diagnostics and FinTech, are truly world class. Composites are a very interesting area for us. We make light weight composites for Airbus, used in wings and fuselages, because we have some very unique technology no one else has. The third factor is quality of life and cost of living. Usually, the fourth thing we cover after these three key aspects is the local markets, how you interact with sales into Europe and into Britain. Both Britain and Europe are very much global markets themselves. The uniqueness of Northern Ireland in having this dual access is the bit of the narrative that has been additional over the last 12 months. The rest has been here for years.
From an economic standpoint, how do you view Northern Ireland's path going forward? What's your analysis of the region's key business challenges, advantages and opportunities at the time being with the Northern Ireland protocol?
The opportunities have come from many different directions, not just the dual access. During the worst of the pandemic there was probably a 10 percent reduction in economic activity in Northern Ireland. Like every country, we were hit hard when factories stopped and no one could predict what would happen with health and transmissions of infection. For me, we moved out of that 10 percent drop into what is the 10X plan. The question became, how do we really make the big leap forward? How do we come out of this ambitiously and quickly? The global environment is going to be very competitive as many countries and companies fight for new market share in new markets. What we are looking at in this 10X vision are the areas that are really going to succeed. There are a number of sectors where we will be very successful and a number of sectors that, even in this overall economic drop, have been very powerful here. Some of that is due to access to new markets and some of it is global organizations really seeing what Northern Irish operations can do. You couldn't necessarily do outsourced work where you have to set up support services in other countries around the world that are less capable at moving workers to home operations.
President Joe Biden was visiting the EU and U.K. and having some promising discussions with Boris Johnson. How vital is the U.S. market for Invest NI? What specific programs or actions have your planned for the U.S. market in the coming months?
The U.S. is incredibly important for Northern Ireland. There is a great deal of affection and interest in Northern Ireland from the U.S. community. The business community certainly invests over here, and we are the number one here are a number of large American companies who have operations here. Often they have started small but have then grown quickly into some quite large operations once they see the depth of talent and technology we have over here. The U.S. is also an important trading partner. We sell over a billion pounds a year from Northern Ireland to the U.S. I still think that it is quite an untapped market. Right now we are looking at where to get the next 5 billion pounds of export sales for Northern Ireland, and I believe a large portion of that can be with the US. Given that we have President Biden in charge, and that he has demonstrated an interest and affection for things with the island of Ireland, for Northern Ireland the scene is ripe for American businesses to interact with us, both as an investor in and an importer of Northern Irish goods and services.
What makes InvestNI differ from other agencies? What's unique to it? What are some of the moments you are most proud of?
We are very unique, with a different model to other countries, including the Republic of Ireland. One of the unique things we do is follow the journey of our investors for the next 10 to 15 years until whatever greatness aspired to is reached. We have a breadth of operations that are like no other economic agency. Some countries have a dedicated team who will talk to you as an investor, but they don't work with the domestic businesses or universities. We fund university research, helping them with early-stage proof of concept research as well as spin-out. It is much easier for us to facilitate a special eco-system here where we have businesses, universities, councils, government and economic development agencies harnessed through Invest Northern Ireland. That makes it easy for foreign investors to have single point of contact, understand what the offering is and make the most of it. If you look at the companies that have come over here, they came to start small, grow big, learn more, get funding and support, get the expertise that we can facilitate for them and start working in R&D. That eco-system is really unique, unlike many any other countries or regions around the world.
You came to Northern Ireland as an expatriate, after a global experience that took you through France, China and other locations. What is your own experience as an expatriate here?
Without a doubt Northern Ireland is the most welcoming place in the world, and I have worked in very exciting locations with great scenery, food and dynamism. Northern Ireland is very special in terms of the welcome you get from the people. Investors really feel that. If you come in as an expatriate landing here, you feel the warmth and the welcome of the people. The environment is stunning. I have been to some great places around the world, but I defy anyone to drive the coast road around the east of Northern Ireland and not be truly inspired with the views they see, the food in the local restaurants and all the local produce. The livability here is very high. For people who come to Belfast from Paris, Frankfurt, London or Dublin, you can buy houses for 20 or 30 percent of the price in those other cities.
What's your final message to our readers?
Come and talk to us. Come and take a look at Northern Ireland. Investors come for the talent and learn just how good it is when they get here. They come for the world-class technology. Come and have a look at what it is like to build and run a business here. Our economic development agency is very strong and will accompany you on your journey through the process, from cost of operations to quality of life. The ease of doing business is paramount here. I think it can be a very attractive place in terms of global expansion or refiguring global supply chains.