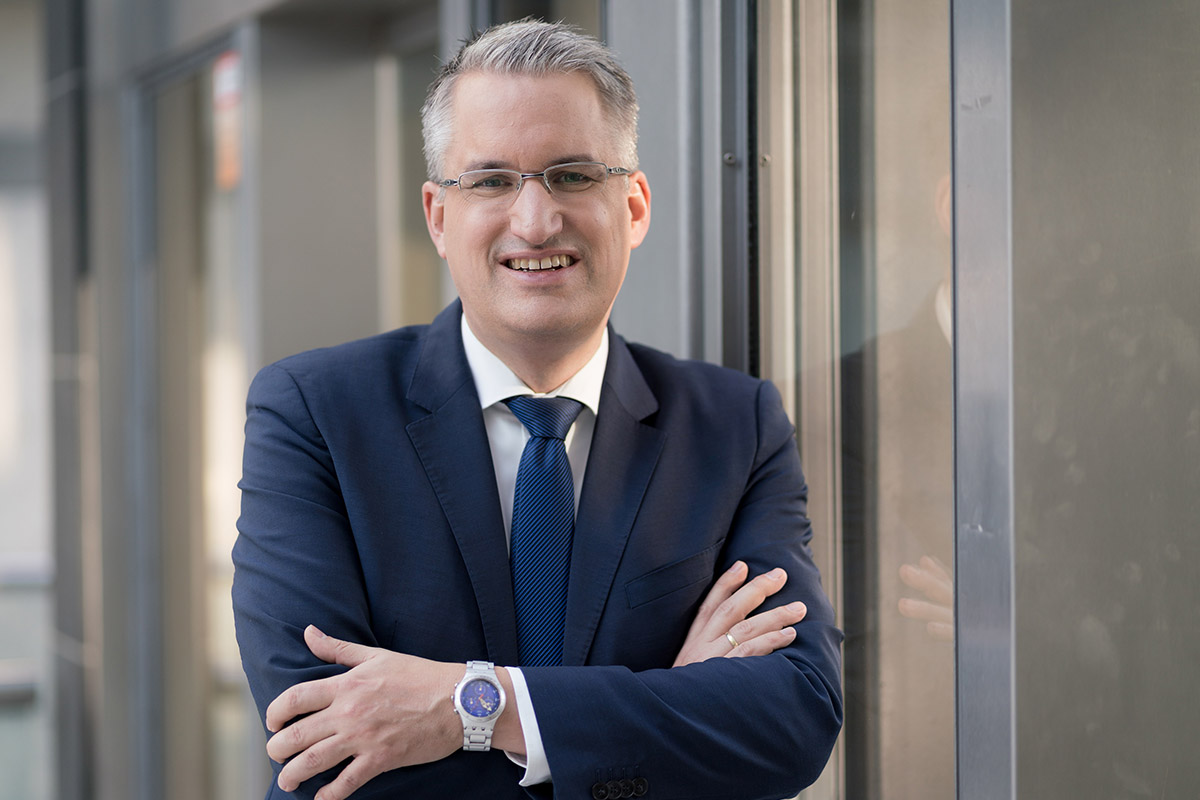 13 Jun

Europe's center for high-tech and green investments
Thomas Einsfelder, Managing Director, Investment and Marketing Corporation (IMG) Saxony-Anhalt, presents a new hotspot for investors
While the Bundesbank has lowered its growth forecast for Germany's overall gross domestic product to 4.2 percent in 2022, the federal state of Saxony-Anhalt continues to attract investment, with its robust chemical and manufacturing sectors plus emerging renewable and green-tech industries supporting the local economy. As head of the economic development agency IMG Saxony-Anhalt, could you give us an overview of the state's main strengths?
To put it succinctly, I would describe Saxony-Anhalt as an up-and-coming federal state in Germany that has undergone tremendous development. We have been an industrial location for more than 150 years and have always been very strong in mechanical engineering, automotive and chemical industries, which have continued to advance here over the years.
We have highly trained specialists in those sectors and an immensely strong scientific landscape, with a rich density of research institutions. For instance, we have two prominent universities in the cities of Magdeburg and Halle that focus extensively on mathematics, engineering, medical science and computer science. As a result, Saxony-Anhalt is home to a very technology-savvy landscape. In this regard, our business and science sectors are closely connected and intertwined in their innovative programs.
Another advantage is that we are extremely conveniently located at the heart of Germany and Europe. Alongside that, we have very modern infrastructure when it comes to motorways, railways and waterways, and we also host Germany's second-largest cargo hub after Frankfurt, which is the airport of Leipzig-Halle. In fact, this huge airport is well on its way to becoming Germany's largest cargo hub by 2030. Our central location between Berlin and Hanover, plus the presence of this hub in our region, has attracted a lot of international investments, as has the very high quality of life that Saxony-Anhalt offers.
How is the state's economy changing and expanding?
I would like to provide some figures in order to flesh out our success story. Just 10 years ago, we had a gross domestic product of roughly €50 billion. By the end of 2021, that had risen by about 20 percent to €63 billion. That is exceptionally solid development over such a short period.
Within the last five years, we have also attracted 272 new investment projects worth €3.2 billion that have created 7,776 new jobs and there are a variety of factors that have contributed to that. For example, we are strong in some business sectors that are forward looking and innovative, such as our chemical industries and our booming bioeconomy industries. It is a combination of strengths that is not commonly found in other locations and makes Saxony-Anhalt attractive to investors.
The combined presence of those sectors gives enterprises in the state a head start in terms of making the chemical industry green—as an illustration, some bioeconomy-based businesses here are working together with practitioners in the chemical industry on ways to replace fossil fuels with alternatives like wood or sugar in the manufacturing of plastics and other processes.
Saxony-Anhalt offers the right conditions to scale up processes like this and a lot of investments are currently being made in these areas. One that we are particularly proud of was an investment of €550 million by Finnish company UPM in 2020. UPM is developing one of Europe's most modern bio-refineries in Saxony-Anhalt and that project is among the cornerstones of our expanding bioeconomy. There are numerous other examples of exciting investments that are being made, but I would like to highlight this one as it clearly demonstrates that our small federal state is well positioned against international competition in certain sectors.
IMG provides a variety of services to investors looking to set up shop in the region. What sort of feedback do you get from companies once they have established themselves in the state?
We see ourselves as a partner for all potential and established investors, who can expect excellent advice from our side regarding signposting and information about potential partners for technology, funding, financing and market intelligence. This is just a small illustration of the wide range of services that we provide.
Something that always delights us is when investors praise Saxony-Anhalt for the speed and flexibility of its investment and business processes. This is due to the fact that we are a small state with approximately 2.2 million inhabitants, which means that our government and institutions can be agile. In this regard, we have an advantage over the bigger federal states in Germany.
In addition, investors repeatedly tell us that they were unaware of the amount of industrial space that is available here for large-scale investments. What is even more interesting for these investors is that there is highly skilled talent available for their projects as well, as the result of our excellent local universities.
As managing director of IMG, you oversee both the region's investment and promotional strategies, after having spent decades as an expert in international investor relations. What advantages does the state present to global investors that are increasingly shifting their priorities toward environmental goals?
60 percent of the energy produced in Saxony-Anhalt is green, as we generate substantial amounts of wind and solar energy. Energy costs here are cheap and at a par with what you typically find in Germany, however our energy mix is much greener. In addition, our large industrial parks, such as Chemical Site Leuna and Bitterfeld-Wolfen Chemical Park, have their own green-energy plants
Another huge advantage is the state's focus on hydrogen technologies. There is significant research and development expertise in hydrogen here and we offer plug-and-play hydrogen infrastructure. For example, we have a large hydrogen pipeline and there is a platform for manufacturers to test new hydrogen electrolyzers at Chemical Site Leuna. To put it simply, Saxony-Anhalt has the means to make production processes green.
The electric-vehicle (EV) revolution continues to gather pace—can Germany's famous automotive industry keep its competitive edge globally?
As part of Saxony-Anhalt's industrial heritage, we have a network here of 300 automotive industry suppliers—there is a saying in Germany that every car in the country contains a piece of Saxony-Anhalt—and we have attracted a lot of investment projects that are connected to electric mobility, particularly in relation to lithium. That is mainly because you need a central location to produce and distribute lithium and batteries, and we are close to huge EV production facilities of Tesla and Volkswagen. As well as our proximity to big vehicle manufacturers, investments are being driven by our green energy, plus the vast chemical engineering and green production know-how of our universities.
Our downstream e-battery industry is also quite remarkable: we have a strong thread of research going on in battery recycling and great battery testing facilities. Last but not least, our region offers the dynamic of good partnerships across the value chain and IMG can help investors find the right technology, business or marketing partners to fulfill their needs.
2021 saw a record number of investors moving into Saxony-Anhalt. IMG was involved in 68 new projects, most of which concerned high-tech industries. Is that trend continuing in 2022?
This trend is certainly continuing as Saxony-Anhalt has become interesting for major investments by global companies that now recognize it as a region of future technologies and the government has set up a special unit to offer optimal support for this type of project. This March, we were thrilled when Intel decided that our capital Magdeburg is the right location for a new mega semiconductor factory: worth $17 billion, two state-of-the-art facilities will cover 1,000 square hectares and will be 100-percent powered by green energy. It's among the largest inward investments Germany, and indeed the European Union, has ever seen.
According to Christin Eisenschmid, managing director of Intel Germany, our skilled workforce, central geographical location and existing ecosystem of suppliers and customers were important elements in Intel's decision to base the cutting-edge factory in Saxony-Anhalt. Magdeburg also provides the necessary infrastructure and space Intel needs, plus it scored highly for its close proximity to universities and quality of life.
In February, leading U.S. technology company Avnet also revealed it is investing over €225 million in a high-performance distribution center for semiconductors and electronic components here. On a site covering around 190,000 square meters, this eco-certified logistics center will serve Europe's growing market for these products. Avnet has stated that the main factors behind it choosing the city of Bernburg for the facility were Saxony-Anhalt's central European location and the convenient connection to Leipzig-Halle airport, while IMG's rapid assistance on planning requirements for the site paid off as well.
Both leisure and business tourism are key industries in Saxony-Anhalt, which is home to important exhibition centers like Messe in the city of Halle. COVID-19 had a big impact on global trade fair activities—has IMG adapted its processes and the way it engages with foreign investors as a result?
With regard to COVID-19, it is worth mentioning that in 2020 we designed a substantial funding and financing program for companies in Saxony-Anhalt as well as for international investors coming here. This was the largest support program we have introduced since German reunification and it was implemented to support smaller companies through the pandemic.
Right at the beginning of the pandemic, a task force was set up to keep our tourism partners up to date with the evolving situation and to coordinate safety measures for the sector. We at IMG have strengthened our network and we have initiated several digital conferences since the beginning of 2020. Currently, together with our neighboring states of Saxony and Thuringia, we are designing a virtual trade fair for international investors in the tourism industry, which will launch in the second half of this year.
Our experience has been that advice, based on partnership and having an open ear to problems, is just as important as monetary support. As always, it is collaboration that counts and IMG sees itself as a partner and companion in this regard. We will continue to monitor the situation and are determined to do our best to put the economy and tourism back on track.
How attractive are Saxony-Anhalt's cities for those considering investing, living or working in the state?
I would like to illustrate this by looking at Halle. Within that city is Germany's second-largest park for tech industries, the Weinberg Campus Technology Park, which is strong in biotechnology, life sciences and pharmaceuticals. This park is right in the center of the city, so you can live in Halle, work there and it is also a splendid place for a holiday. It is a beautiful, green city, with the River Saale flowing through it and it has a picturesque, historic landscape. If you are a fan of architecture, you can find great buildings from every century, from medieval Gothic to Renaissance Baroque and contemporary industrial style. Halle is also a university city that is full of culture, art, a lively social scene and cozy co-working spaces. It is easily traversable by bicycle and easy to reach from the airport or by motorway from Berlin. Saxony-Anhalt as a whole is the perfect place to live and work.
Do you have any final comments for our readers?
All investors that come to Saxony-Anhalt profit from our infrastructure, know-how and talented people. IMG is ambitious to become one of the best economic development agencies in Europe and to maintain Saxony-Anhalt in its rightful position as a hotspot for industry and scientific research.