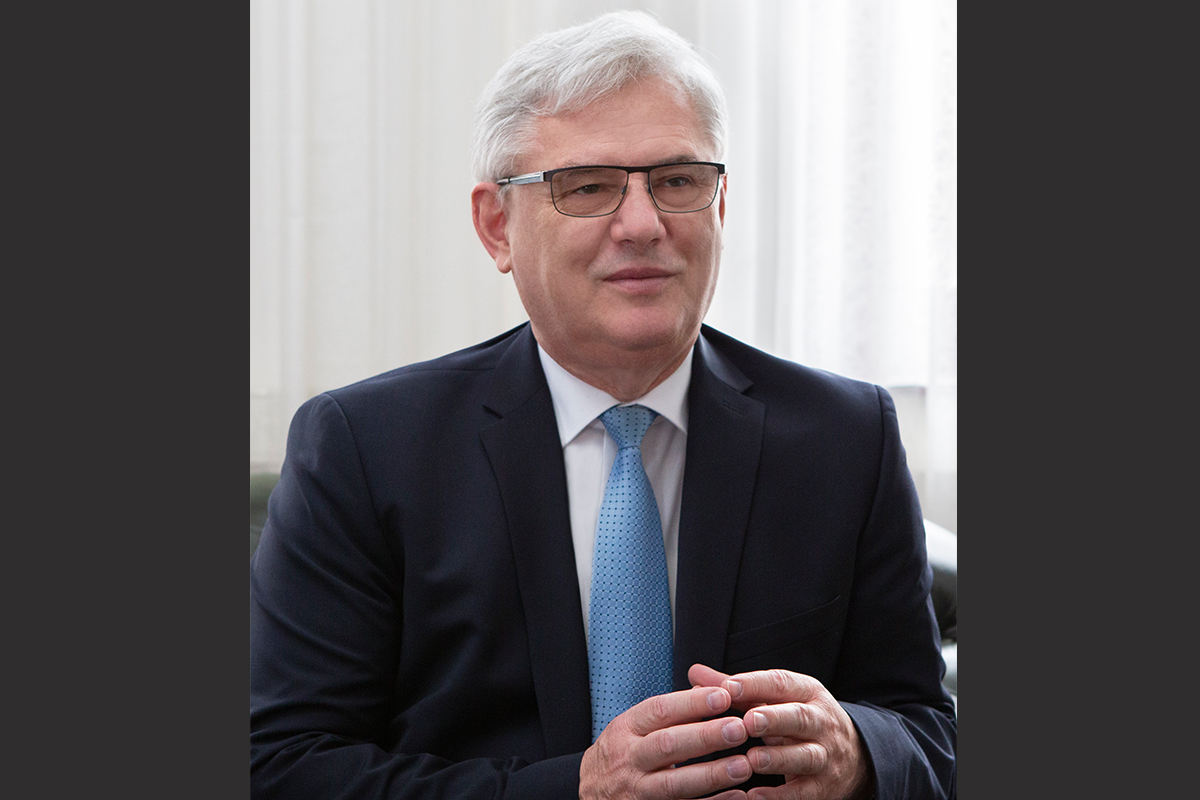 15 Jan

From garage to skyrise: Hungary's persistence in life sciences tech now a worldwide brand
József Kern, Managing Partner, Diagon, relates his local company's steady rise to becoming a world leader in hospital tech and in vitro diagnostics
How has Diagon grown to become an internationally recognized provider of hematology products?
Diagon was founded in 1989 by two friends, a chemist and a pharmacist, who began developing and manufacturing in vitro diagnostics (IVD) hematology reagents from their garage. The company's turnover in the first year barely reached $300. Since then, Diagon has grown to be a renowned global manufacturer and supplier of IVD hematology and coagulation instrumentation, reagents and control materials.
In 2019, Diagon had a team of 350 employees worldwide, an average annual growth rate of 5-10 percent and a $90 million turnover. In 2020, value-added productivity per employee at Diagon was around $72,000, which is similar to the average of foreign-owned businesses in Hungary, and almost three times higher than Hungarian-owned companies.
The company is a products and services supplier to more than 75,000 labs in more than 150 countries. We are a private label contract manufacturer for IVD companies in Japan, Germany, Spain and Belgium. We have localized manufacturing in India, Russia and Belarus, and factories in Hungary, Austria, Brazil and Indonesia. Our production processes comply with ISO 9001, ISO 13485, and ISO 14001 standards. All products manufactured by Diagon are CE certified.
Diagon brand products are sold through subsidiaries and more than 75 distributors in our primary markets, Russia, Mexico, Turkey, Egypt and Vietnam. We contract large IVD companies as both original equipment modifiers and original design manufacturers in many markets, including Belgium, Japan, Germany and Spain. We also supply raw materials for localization projects in Russia, China and Belarus. Finally, we take part in technology transfer and licensing projects in Russia and India. Diagon is now recognized as the fifth largest manufacturer of IVD hematology reagents and among the top five international manufacturers of IVD hemostasis systems.
What major milestones is the company most proud of?
We sold our first hematology reagent in 1991, opened our Indonesian hematology factory in Jakarta in 1995 and launched our Brazilian manufacturing site in Belo Horizonte in 1999. It was also exciting to reach our millionth reagent pack sales in 2000. In 2019 we received compliance from the Medical Device Single Audit Program for our hemostasis products, a landmark achievement and the first step to selling in the U.S., Canada, Japan, Australia and Brazil.
What specific products does your company provide?
Diagon offers products in three principal areas: comprehensive system solutions, generic reagents and quality control materials. Our first area includes fully integrated instrumentation, reagents, controls and calibrators for uses varying anywhere from point-of-care test systems for clinical and veterinary use to automated systems for high-throughput clinical laboratories.
In terms of generic reagents, Diagon develops and manufactures components for use with third-party instruments from major international manufacturers. Diagon is the only provider of reagents and control products compatible with all hematological and coagulation machines.
Our quality control materials are developed and manufactured entirely in-house. These include our multi-platform hematological quality control products for daily internal control and maximum blood cell counters, and tools suitable for quality control and proficiency programs for laboratories. The company also provides specialists and information technology solutions to attend to the needs of our wide-ranging customer base.
How does your company leverage its research and development (R&D) department to create new innovations and stay ahead of the competition?
At Diagon, continuous innovation and new product developments are a top priority. We spend about 10-12 percent of our annual revenue on R&D. Advances in information technology and digital diagnostics are the future of our industry. Our company has driven innovations in molecular biology and artificial intelligence with a focus on integrating clinical chemistry and information technology platforms. Our work has resulted in several patents.
Diagon recently developed a digital peripheral blood smear analyzer based on augmented artificial intelligence using deep-learning neural network image analysis. It is targeted at small clinics and large labs in clinical and veterinary settings and provides fast and accurate results at significantly lowered costs. Additionally, this analyzer has a faster turnaround time compared to microscopic procedures, and its usage will mean less chance of missing malignancies and abnormalities. It can also be used for education purposes. It is positioned for developing countries and will come with thorough training materials.
In 2021 we will develop three more coagulation tests to analyze the causes of bleeding disorders and monitor their treatment. We are also launching a new system in our Cellagon automated hematology instrument line. Additionally, we are expanding our point-of-care platform with a new test application aid related to patient testing.
What has Diagon done to overcome Hungary's labor shortage?
Diagon has been innovative in coming up with strategies to deal with the current labor challenge. We depend on close contact with universities when searching for new candidates. We take on talented young applicants, but also reciprocate by sending universities new students. We provide our employees with education through grants for PhD degrees. We also offer in-house education and training at other diagnostic manufacturers.
What are Diagon's short-term plans and priorities?
One challenge we face is the continuous change and complexity of international medical device regulatory and registration requirements, with many countries adopting similar changing rules. These intricacies increase both cost and longer lead times to launch our products. A key priority for Diagon is continued compliance with the European Union's medical device and in vitro diagnostic regulation.
The company is also working on a new sales and services structure that prioritizes training. Clients need support from their suppliers, be it for maintenance, information technology or education of the product. Diagon makes it a point to establish regional offices and training centers for regional distributors.
Part of our global business development rests on building strategic alliances and collaborations with our partners for the supply of vital components and with universities and key opinion leaders for clinical studies and evaluations. These relationships are fundamental in our production and distribution network. Diagon covers a wide spectrum of activities and roles in global collaboration in our field.
We would like for Diagon to be associated with the slogan 'Invented in Hungary' rather than 'Made in Hungary.' In our evolution over the past 30-plus years, our innovation and pursuit of excellence has taken us from a simple reagent supplier to a leading innovator and systems provider that is revolutionizing hematology and IVD sectors. The Diagon brand is now synonymous with the latest technology in the field.