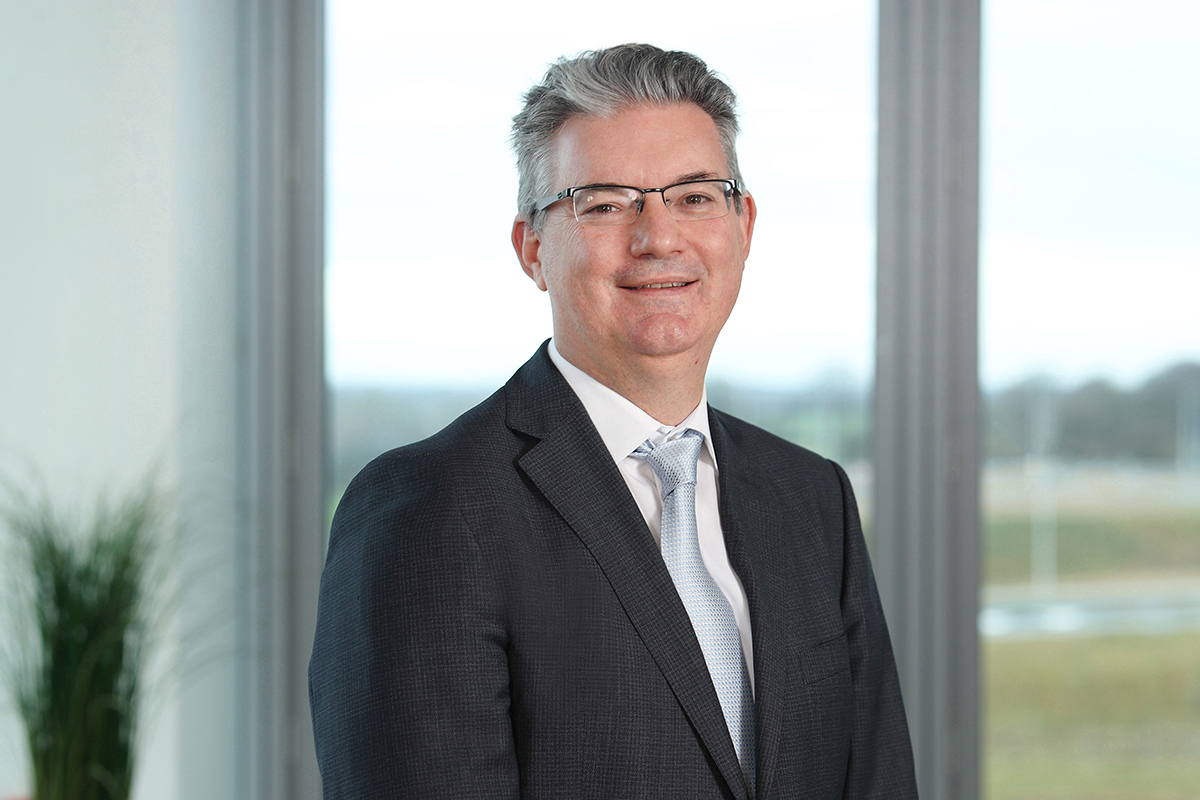 01 Apr

From Ireland's green fields: global food sector sees bright future through technology
Edmond Scanlon, CEO, Kerry Group, outlines the latest trends in the food and beverage sector and what the company is doing to evolve with the market
Why is Ireland's agri-food industry considered to be so strong?
The island of Ireland has 5 million inhabitants but could feed up to 50 million people. The Irish agriculture and food sector has been on a journey of constant evolution. Having spent a significant part of my career outside of Ireland, traveling from the U.S. and then China, I can testify to its growth. Ireland was a true pioneer with the Origin Green program that began in 2012. This program was exactly what customers and consumers were interested in and enabled us to engage with growing consumer trends such as traceability, food safety and sustainability. The ecosystem that has developed over the last decade in Ireland–through primary producers and farmers, processors, government agencies and universities–lends itself to a demand that is right at the heart of what consumers are looking for globally. While Ireland has done well, in many respects we have better days ahead.
Can you give us an overview of your company's operations and goals?
We started out as a farmer-owned cooperative in 1972 and became a public company in 1986. Like the industry, our story has been one of constant evolution. When I look back at the Kerry of four to five years ago it is quite different to the Kerry of today, and similar changes will happen in the future. Our job is to help customers meet the needs of their consumers. We are constantly looking at what consumers are looking for and where they are headed to remain relevant. It is important for us to have the appropriate technology portfolio, capability, local footprint and business model to meet the needs of consumers.
We have 1,000 highly skilled food scientists and nutritionists all over the world who work with customers to improve the nutritional profile of products. For example, we make foods with less sugar, salt or calories without compromising on taste; go from artificial flavors to natural flavors or artificial preservation to natural preservation; and utilize ingredients and technologies that maintain healthy digestion and immunity. Improving the sustainability and nutritional profile of our products is important to us.
How is Kerry Group pushing innovation in foods to meet current and upcoming trends?
A lot of innovation is developed around the four following areas: natural taste, preservation, proactive health and food waste. These are key priorities from an investment standpoint in terms of organic investment, mergers and acquisition investment, capital investment and reallocation of resources. Consumers are keen to enhance the natural taste of products. While everybody wants products that are going to be more nutritious, nobody wants to compromise on taste; taste is the number one driver for repeat purchases. We have invested heavily in areas like sugar and salt reduction to improve the taste of products while increasing nutritional value. In areas such as immunity and proactive health, we are looking at heart and bone health. We are investing in particular technologies that support the aging community. We see significant opportunities in plant-based proteins. We are in the early stage of this trend.
We invested in an immunity technology in 2015 called Wellmune, which enhances and maintains a healthy immune system. When we invested in that business, it was small and only present in a handful of applications in the U.S. market. However, it had huge potential. We developed the technology so it could be incorporated into many applications. For instance, we launched a product with a popular convenience store in Singapore that paired an immunity shot with a hot dispensed beverage and sold it to consumers who wished to maintain their immunity. Immunity was already trending for consumers pre-COVID, and that has only accelerated. Kerry is good at identifying, evaluating and integrating acquisitions, and subsequently generating value from them. This will continue to happen.
Another new area of innovation is probiotic technology. When one thinks about probiotics, they usually think about dairy-based products or supplements. We advanced a technology that puts probiotics in frozen food, tea, coffee and soups while maintaining its efficacy. Consumers can receive digestive aid through taking an ambient or chilled drink, snack product or tea that has probiotics.
Our pharmaceutical vertical has two distinct areas of focus: creating non-active ingredients for tablets or excipients and manufacturing proteins and amino acids used in cell culture and fermentation applications. The development times on the pharmaceuticals side are much longer; it typically takes five to 10 years to develop a new drug or vaccine. It is an area we like and will continue to be in. Up until now our primary investments have been organic as opposed to mergers and acquisitions.
What are the key elements of the company's sustainability campaign?
We launched our new Beyond the Horizon 2030 sustainability strategy at the end of 2020. It was preceded by our Towards 2020 strategy. Our business today is more than 40 percent bigger than it was 10 years ago, yet we have managed to reduce our carbon emissions by 30 percent in the same time frame. We are committed to reducing our carbon emissions by a third by 2030 and have net zero emissions by 2050 in line with the Paris Accord and the Irish government. Sustainability is embedded into Kerry's innovation strategy. Sustainability is not something new for us; it is embedded into the way we run the company. We have been doing lifecycle analysis of our portfolio, which has helped us work with customers to meet both their nutritional requirements and put environmental metrics on packaging. Imagine a scenario where products have both nutritional metrics as well as sustainability metrics on the front or back of the package. This is something that consumers would be interested in, although we will not get there overnight.
How important is the U.S. market to Kerry Group's global portfolio and what kind of strategy does the company take in tackling large markets?
The U.S. is an important market. We are excited for the post-COVID narrative to switch from bouncing back to snapping back. We expect that the out-of-home consumption and food service market will see a significant surge and recovery. On the retail side of things, we could see a shift towards premiumization in the short term. We are optimistic about the U.S. market in the second half of 2021.
We have 150 manufacturing facilities spread all over the world by design. Our philosophy is to have local strategies where we source and manufacture in the same geography when possible. Obviously, that is not always possible in the food industry as different ingredients come from different places. When we moved to the U.S. market in the late 1970s, we had the following mindset: we aimed to be an American company in the U.S., not Irish one. We follow the same strategy in other countries. While there might be a few Irish people in the backdrop, our mindset is to be as local as possible. We are excited about China. We have 1,500 people in the country and five manufacturing facilities, with future acquisitions in the planning stages. We have several investments going on in Africa, which is an area we will continue to invest in.
How has Brexit affected Kerry Group's operations?
The investments that we made in people, processes and systems to prepare for Brexit paid off; we have not seen any significant impact on our business. There were complexities, costs, overheads, document charges, administration costs and some delays because of the different procedures that were introduced. All these challenges required active management. As a global organization we advocate for the EU and U.K. to maintain as close a trading relationship as possible and be particularly mindful in divergences that relate to food and beverage and quality regulations to avoid adding further frictions or complexities.
What are your personal goals for the company and how are you meeting them?
This is my 25th year at Kerry. I have seen the company significantly evolve over that time frame. When I was appointed as CEO, the first thing I kicked off was a doubling down on what we call Kerry culture or the Kerry way, which is helping and enabling our people to understand, know and live our purpose. This has energized the organization. Keeping our way of working, principles, purpose, vision and values in front of us at all times is important. A second goal is setting a new bar for customer intimacy. We are in this business for the long haul and ultimately aim to be embedded into our customers' supply chains to the extent that they would outsource their innovation to us and trust our ability to launch new products quickly. A third goal is focusing on technology and innovation and building a best-in-class technical capability around our 1,000 scientists. A fourth focus is fostering talent. We want to be the first choice for the best talent in the industry whether it be graduates or executive-level applicants.
I am optimistic about the future of the food and beverage industry and Kerry's position within it. While the COVID-19 pandemic has changed many things and had a major impact on all our lives, it has brought to the fore things that are important to people, such as health, wellness and sustainability. Both Kerry and Ireland are well positioned to meet these trends; this is our strength.