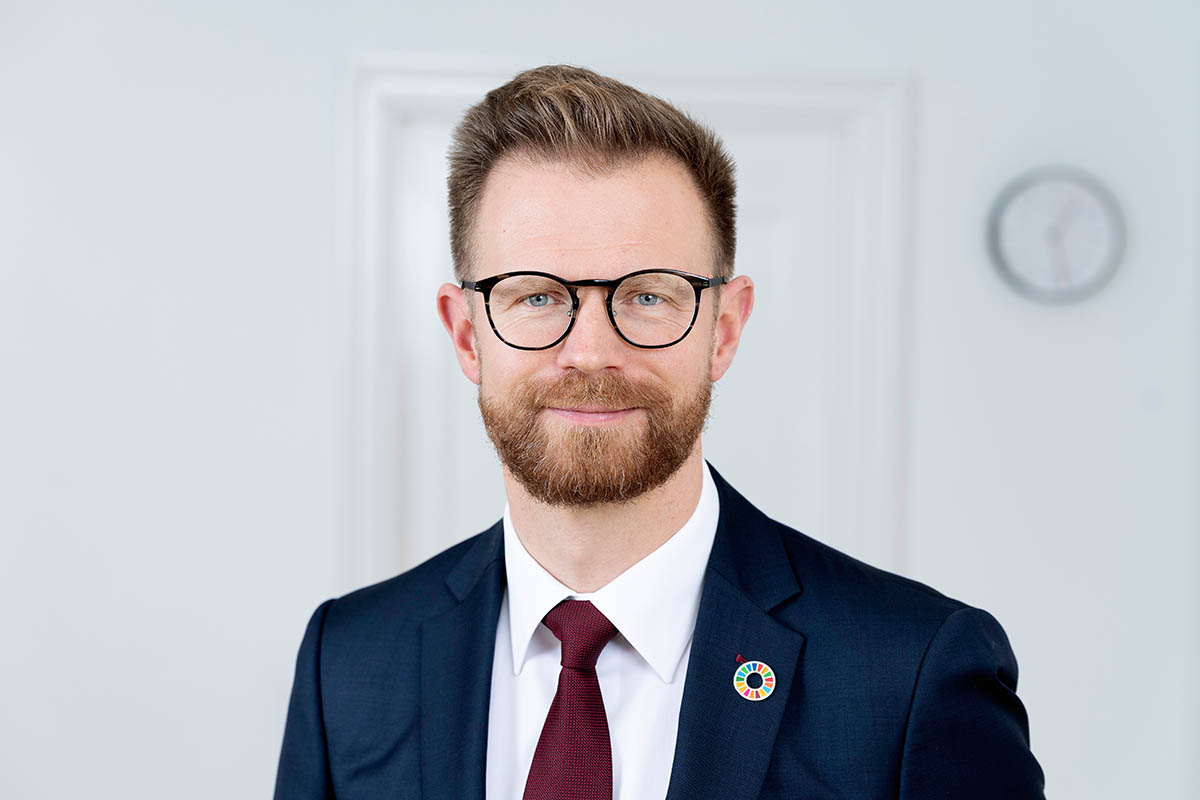 02 Feb

Green logistics: making sure energy transition happens in the transport sector
Benny Engelbrecht, Former Minister of Transport, Denmark, talks about how the pandemic shed light on certain logistical challenges and the country's drive to lower carbon dioxide emissions in from its vehicles
What challenges did the COVID-19 pandemic bring to Europe?
During a crisis like a pandemic, it is extremely important that countries make sure their value chain is functioning, supplies continue to be moved into stores and the healthcare system remains supported. During the COVID-19 crisis, we saw several European borders deal with many challenges. The most extreme example occurred on the border between Poland and Germany where there were lines of trucks waiting for days to cross. One of our most important early duties was to make sure these operation lines worked as well as possible. Road traffic in terms of passenger vehicles was almost nonexistent due to the number of people in lockdown. However, when it came to heavy-duty vehicles, it was quite the opposite. There were a high number of supplies that needed to move, and people were receiving massive amounts of home deliveries. This dynamic pushed our systems to the limit. We needed to take special precautions in the initial phases, such as making sure drivers could work with prolonged resting time. All in all, we had no major issues. Throughout the crisis, only the office jobs were in lockdown. Production was in full-scale operation due to its importance for our Scandinavian neighbors. Finland depends heavily on export and import lines that go through Denmark.
The second major challenge was in public transportation systems. Although we went from mass transit to having a couple of people on the bus, we needed to make sure the number of trains, buses and metros were still at the same level. Even though there were huge vacancies from one day to the next, the people using public transport were highly dependent on it. One might see a bus going through Copenhagen with only two passengers in it, which might seem excessive, but most probably one of them is a nurse and the other works at the local supermarket. Key personnel needed to get to work. This cost us a significant amount because we needed to operate at normal rates despite a heavy decrease in ticket income. The task at hand is to make sure all passengers return to public transport, otherwise there will be massive congestion issues in the streets. Everyone is now commuting again; we have roughly 85-90 percent of our passengers back. The challenge is to get that 10-15 percent back.
Other current challenges in logistics may be to make sure airline traffic returns to something that looks normal and address the high prices of freight. The latter issue is quite challenging but is what happens in any market when there is an extended demand. Large shipping company Maersk is doing well in terms of revenue.
What is Denmark doing with pandemic recovery funds to boost its transportation infrastructure?
Some of my ministerial counterparts in Europe have used recovery funds for charging infrastructure for electric cars. Since we already had a plan in this regard, we are using our funds to change the way that ferries to our islands are working. Although Denmark is small, we do have many islands and our fair share of ferries. It is complicated to transition these assets to become emission free. Denmark is a frontrunner when it comes to electrifying ships. We created a government incentive that cuts the price for new electric ferries by 25 percent, eliminating the difference between having an electrified ferry and a diesel-driven vessel. We expect that a large number of vessels will be changed over a very short period.
While it will not make millions of tons of carbon dioxide emissions disappear, it is a significant step. It is very important for Danish industry; once you have a whole market, it is easier to export your technologies. If we can ensure that future electrified ships all over the world come with Danish technology that would be a tremendous win. We recognize Denmark has a special strength when it comes to exports, and we must invest in it. For example, wind turbines have been a strategic investment objective for years for Denmark, both on land and offshore, more so now with the decision to make energy islands. A key focus is making sure that wind turbines coming from our companies do well.
We are not only thinking of using money to reduce carbon dioxide emissions. We are also thinking about how we can use these investments to help others. At the moment, the price of an electrified ferry is significantly higher than a traditional one. However, once demand increases prices will fall. Two years ago, we knew that the price for an electrified bus was around 10 percent more than a diesel-driven bus. Now, 27 of our municipalities have shifted completely to zero-emission vehicles and the price has dropped. They are as cheap as diesel and their capacity has increased significantly. Our buses charge once a day, and then operate for 18 hours at the same price as a diesel bus. The whole point of making smart investments is to make sure prices decrease.
What is Denmark doing to reach its targets to have net-zero carbon emissions by 2050?
We recently created a vast investment plan that spans until 2035. The core of this plan is the electrification of all public transport, including railways and buses. Road transport is the largest contributor of carbon dioxide emissions and needs our focus. While carbon dioxide emissions mainly come from airlines, this sector makes up less than 0.5 percent of Denmark's total emissions. Airlines will play an insignificant role in terms of reaching our 70 percent reduction target by 2030. We plan on cutting carbon dioxide emissions by more than two million tons per year by 2030 through our focus on road transport. We are looking at blended vehicles for heavy transport and a significant increase in the number of electrified and zero-emission vehicles.
Our target is to reach one million electrified cars by 2030. We currently have a little more than 100,000. We are doing well, but more investment is necessary. The sale of electrified cars is skyrocketing, and we have accelerated investments in charging infrastructure. In August 2021, we had a 16 percent increase in charging points in Denmark; in one month we had more than 600 new charging points. However, the number of electric vehicles has increased compared to charging points. In 2018 we had four electric cars per charging point whereas we now have 11. We need to invest. Our aim is to not have long-haul drivers taking detours to charge vehicles and have wait times at charging stations no longer than 10 minutes, even in rush hours. To do this we need a high number of superchargers. We need 50 charging stations with around 650 super chargers distributed throughout Denmark. Electrification of private cars has huge potential to grow even further. We will reevaluate the whole tax structure and reform we made in December 2020 in 2025. There may be a significant cut to carbon dioxide emissions in this part of the sector.
The largest challenge is heavy-duty vehicles. We made a step forward in terms of blending fuels, but we need to make sure we can electrify heavy-duty vehicles either directly or indirectly. We require the development of trucks that can operate on batteries or through power lines. Alternatively, we could develop a sustainable fuel that could be used in conventional cars. We have prepared for upcoming infrastructure in our investment plan, but we will need to wait to see what kind of developments will come. Technology might overtake us if we decide on something too soon.
We made an important decision to tax carbon dioxide in road transport. All heavy-duty vehicles as of January 2025 will be charged. Today, regardless of whether it is a Danish truck or an international truck, one must pay a flat fee per day to drive on our roadways. We are changing this to a kilometer-based and carbon-dioxide-dependent tax. The basic principle is that one receives a 75 percent discount if one does not emit carbon dioxide. If you are driving a diesel truck, you will pay per kilometer plus a surcharge, which is equivalent to the approximate cost per ton of carbon dioxide that you emit. This will be the first true carbon dioxide tax in Denmark. It has been heavily debated because it does increase the price for trucks operating on diesel. The whole point is to incentivize the lowering of emissions and transitioning to emissions-free vehicles. The details still need to be ironed out, such as paying more for driving in cities rather than on remote roads. The full plan will be announced in 2022. We predict a 2-million-ton decrease in emissions from road transport. However, we know that there is potential to go even further, which will be tackled in our upcoming roadmap to reach our 70 percent target.
What is Denmark doing to lower carbon emissions from railway transport and improve related infrastructure?
We need to make all railroads in Denmark emissions free through electrification. In Denmark we are behind in decision making in this area. Many European countries have fully electrified their main networks. Although decisions have been made, there have been delays in the roll out of these initiatives. All trains operating in Denmark will be carbon dioxide neutral; we will electrify our core network and equip it with a digital signaling system that is up to European Rail Traffic Management System standards. Denmark will be the first country to have a total rollout of this system, albeit nine years behind the rest. All regional and local lines will be electrified as well. To save on costs, we are employing battery-run trains rather than running power lines throughout the whole network. We have been discussing this on and off since the 1950s. In the past, they decided it was too expensive and went with diesel. Additionally, the country purchased coal locomotives that were in operation until the 1970s. They tried to electrify the train lines in the 1970s through an investment plan complete with legislation, but the initiative was cut during the economic crisis in the 1980s. We are still paying for that decision but have finally decided to electrify the entire system.
What current infrastructure projects will have a significant impact on logistics in Denmark?
We need to increase mass transit systems in our largest cities such as Aalborg, Århus, Odense and Copenhagen. Our major focus is on Copenhagen where everything is centralized around the Copenhagen Central Station. Those traveling in and out of Copenhagen must pass through this central station, which creates a massive bottleneck. If one train is delayed, everyone is delayed. The idea is to have several central hubs that can be shifted between different types of train lines, for instance regional trains and metros and international and national trains. We are building a new southern central railroad station in Copenhagen that will be used for international trains, high-capacity bus rapid transit lines and light rail lines running the perimeter of the city. This way one does not have to go all the way into the city to travel across the suburbs.
At the same time, regional trains that operate in the greater Copenhagen area will go into driverless operation, which means one does not need to look at timetables. Trains will pass every five minutes, which will make a huge difference in people's lives. Increasing capacity and making public transport more accessible for commuters is important. We also want to increase the number of night trains going across Europe. Together with the Swedish government we have come up with a plan in this regard for cities like Brussels, for example. Unfortunately, we put out a tender in August that no one bid on. This is because the international framework makes it impossible to go through Germany with a public service obligation contract. Germany is a major bottleneck when it comes to night trains; crossing Germany is a real problem for the rest of Europe.
Can you give us details on the construction of the Fehmarn Belt Tunnel?
When it comes to moving goods from road to rail, it is crucial we finalize the link between Denmark and Germany. The project commenced in January 2021, although it has been in preparation for more than 20 years. It is on the same scale as the Brenner Base Tunnel, which is a critical link on the way from Scandinavia to the Mediterranean. These projects will provide significant opportunity to move more goods by rail. Funding for the Fehmarn Belt Tunnel is interesting in that it is user financed, a typical Danish way of doing a project. The people driving through the tunnel are the ones paying for it. We did the two following large investment projects in the same manner: the Great Belt Bridge, which is a combined train and vehicle connection, and the Øresund connection between Denmark and Sweden. The model is a proven method of financing. Even with conservative calculations, we will have returns on these large investments within a 30-year period. There have been many issues regarding approvals by both the European Commission when it comes to safety rules and environmental concerns. The Danish environmental process was ready around eight years ago, but in Germany processes are somewhat slower. We only obtained the building permit in late 2020, and we began construction in January 2021. The plan is to be operational in 2029.
They are digging out the location of the tunnel on the seafloor. We are done with our part of the work on the land site. We need a few things on the rail side but apart from that we are ready for the 2029 launch. On the German side they are only in the initial phases of the work and need to finalize motorways and rail. Denmark took on full risk of the project; we financed our inland investments on road and rail with future revenue from these connections. On the German side, they will have to finance it through public funds. Nevertheless, the project is now underway, and permits are now in place in both Denmark and Germany.
How significant is Maersk's strategy to shift to using green fuel in its large vessels?
The potential of the strategy is mind blowing. They made an order for eight gigantic vessels to be operated using e-methanol. To make such huge amounts of artificial fuel for these eight vessels is an immense task, and the potential of such a large capacity of power to exist is intriguing. It makes one question where else we could use methanol as fuel, such as ferries that we cannot directly electrify.
One such ferry in Denmark goes to the island of Bornholm in the middle of the Baltic Sea, a location that is quite isolated and far from the rest of the country. To make sure they are a part of Denmark we have a high-speed ferry line that runs from the harbor of Ystad in Sweden. This ferry has high carbon dioxide emissions. This would be an interesting place to shift to green, fossil-free propulsion. Electrification is not possible because it requires too much power, and such batteries are not yet feasible. However, methanol based on the power-to-x technology could be a solution. The potential of Maersk's investment is tremendously interesting.
How can citizens and the public sector help the logistics industry switch to using sustainable transport?
There is much we can do ourselves to support energy transition, such as switching to an electric vehicle and using public transport systems and bikes. If you are in an urban area, you do not need to start your car. Riding a bike is good for you and for society; it is a real win-win situation. Internationally we need to make sure manufacturers of automobiles are changing their production lines. Ambitious automotive producers such as Fiat and Volvo that have set 2030 deadlines to halt production on internal combustion engines. As politicians we should set an end date for internal combustion engine cars, preferably by 2030 along with these companies.