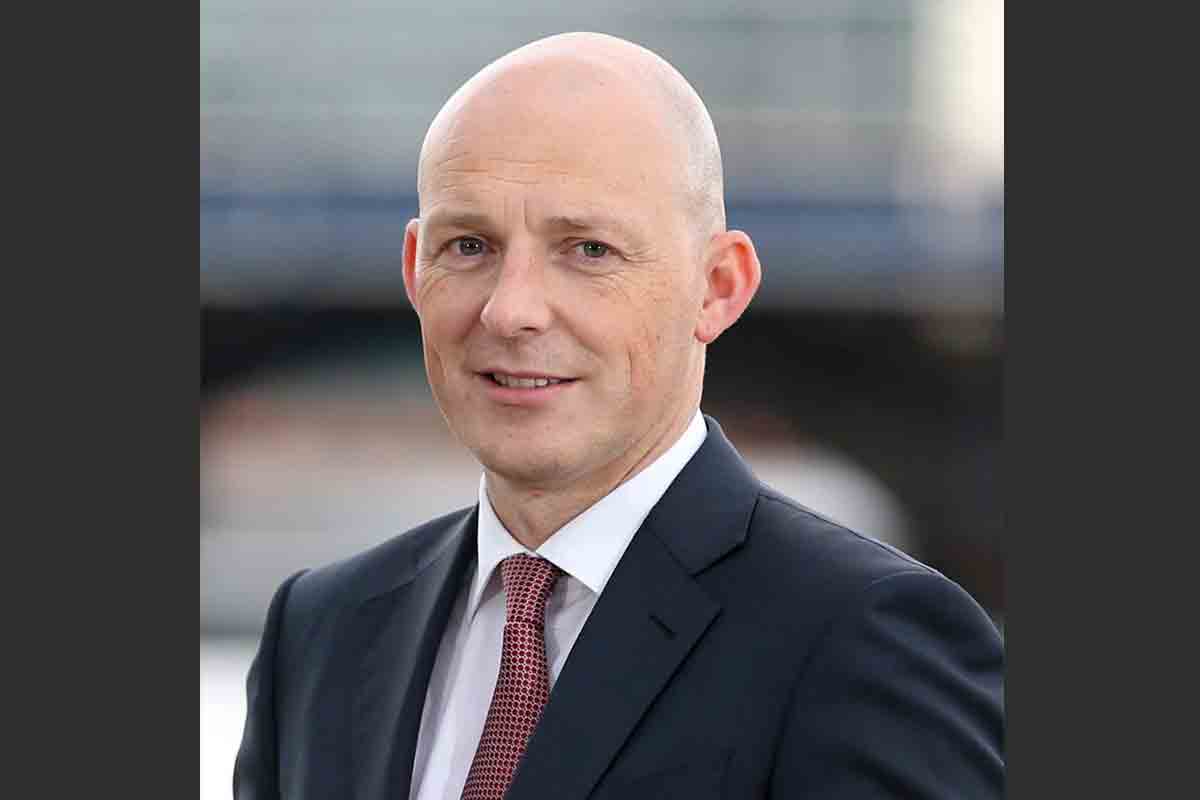 01 Sep

Having faith in a place of growth and excellence
Johnny Hanna, Partner in Charge Belfast, KPMG Northern Ireland, is capitalizing on the potential of the country which has become a lot more viable since the Brexit protocol opened botht the U.k. and European markets.
Northern Ireland's business and investment environment had been on an upward trajectory prior to the pandemic, with an energetic startup ecosystem, a wealth of innovative small and medium-sized enterprises (SMEs) and a growing number of indigenous corporates competing on a global stage. That has been complimented by a hugely successful foreign direct investment campaign which has drawn considerable investment from many blue-chip names such as Citi, Baker McKenzie, Allstate and many others. It says a lot about their experience that 70% of inward investors to Northern Ireland have gone on to reinvest many times over.
While there's been a lot of success, there is still a long way to go in terms of dealing with some of the more fundamental challenges Northern Ireland faces around economic inactivity and low productivity levels. There are some regional imbalances with pockets of Northern Ireland where unemployment is high. Those areas of Northern Ireland need more effort to address some of those structural challenges.
Despite those headwinds, Northern Ireland has a huge amount of potential provided by a young, educated population; high quality of life; a unique position with both U.K. and European Union market access post Brexit; and a range of city deals which are set to oil the wheels when it comes to starting and scaling businesses large and small. We're now focused on how we can harness that potential over the next 10-to-20- year period to maximize the opportunities for everybody in Northern Ireland.
Center of Excellence
The announcement of the KPMG Digital Center of Excellence earlier this year was big news for the firm and for Northern Ireland, coming as it did in the midst of the pandemic. The Center of Excellence is creating 200 new jobs and will deliver a range of digital consultancy services in growing areas such as cybersecurity, applied intelligence and digital transformation. KPMG has been in Northern Ireland since 1974, focused on audit, tax and advisory services and the rationale for the new Digital Centre of Excellence is to service the growing need from our clients for digital services, not just from local clients but from those across the U.K., Ireland and globally. That demand become much greater in the last four months given the amount of digitization and remote working which has emerged because of the pandemic.
We put forward a very compelling case for the Center of Excellence to be in Northern Ireland versus other locations. We are hugely confident about the potential for the offering given the high caliber of graduates we see coming to us from all disciplines in Northern Ireland. There is clearly a depth of technology talent already around areas like cybersecurity, AI and digitalization. Additionally, the support we got from the Department for the Economy and InvestNI was hugely helpful, not just around fiscal incentives but also around some of the pre-employment training.
The Assured Skills Academy is a real differentiator in terms of the Department for the Economy and Northern Ireland's offer. It can take really bright and educated graduates from all disciplines and, in conjunction with employers and local colleges, put together a bespoke program that quickly trains them to our needs. Since we opened the Center of Excellence in February, we've launched three separate Assured Skills Academies and have been really impressed by the caliber of graduate, by their hunger and drive to reskill and move into a totally new and different area. That has been hugely beneficial.
Smart technologies
Northern Ireland is taking the lead on smart technologies and building up a global reputation as a hub for everything from blockchain to cybersecurity. Like us, Northern Ireland companies are responding to the growing need for digitization around the world. In our annual KPMG CEO Outlook Survey digitization and smart technologies have risen up the agenda to become one of the most important priorities for leaders in every corner of the globe. That has created increased demand for the smart technology services in which Northern Ireland specializes, particularly for businesses like ours. As we and others upskill the workforce, that will improve the depth of local talent further.
KPMG CEO Outlook Survey
The prioritization of climate issues and ESG were one of the most interesting findings from the latest KPMG CEO Outlook Survey. That has become the number one priority for Global CEO's and a real differentiator, both in terms of suppliers, customers, but also for the workforce.
The survey found that CEOs have focused on the acceleration of digitalization in their businesses, particularly as a consequence of the COVID pandemic. Many businesses weren't planning on a 12-month rapid journey with digitization, but they have now done it and should reap the benefits in the future.
On the back of that, the survey found the use of data has risen in prominence and gives businesses valuable insight into customer behavior and experiences. That has allowed businesses to pivot and move into different areas which match changing customer needs.
Meanwhile, cybersecurity has also jumped up the CEO agenda in terms of threats to the business and leaders are much more alive to the danger cyber breaches pose.
Brexit
The impact of Brexit on Northern Ireland companies differs depending on where they trade.
For those which trade primarily north/south across the island of Ireland – a very significant number of businesses – there should be no change as a consequence of the Northern Ireland Protocol. It is effectively a continuation of the status quo.
For those which trade primarily with Britain, there are particular challenges in importing goods from Britain, due to various new requirements around VAT and customs. That has raised lots of issues that are, in many cases, practical day-to-day challenges. It is causing friction where there wasn't friction before. But there has been a lot of discussion between the U.K. and EU and a recognition that there is a need to try and address some of those challenges and come up with workable, pragmatic solutions that deal with these issues. If we can do that, then I'm confident and very optimistic that there will be a lot of opportunities for Northern Ireland given our access to both the U.K. and EU markets.
Opportunities
A big differentiator is the fact that, due to the Protocol, businesses established in Northern Ireland will have an ability to access both the EU market and also the U.K. market. That unfettered ability to sell into both markets is a unique benefit. For example, if you're establishing a company in Northern Ireland and comparing the landscape to a competitor based in Britain which wants to sell into France or Germany, a Northern Ireland -based business should have a big advantage. Similarly, if you're a business in France, Germany or the Republic of Ireland, and you're selling into the UK market, there will be lots of customs checks, requirements and other procedures because of Brexit. But, again, if they're based in Northern Ireland, there would be an ability to sell into the U.K. market unfettered.
Future developments around the global tax agenda will also be relevant for Northern Ireland's competitive offering in the future.
Earlier this year, the U.K. government announced an increase in the standard corporation tax rate to 25 percent with effect from 2023, with very significant U.S. tax reforms also in the pipeline. It also looks increasingly likely that a consensus will be reached regarding proposals for a global minimum effective tax rate of at least 15 percent. That may ultimately lead to pressure on the Republic of Ireland to increase its highly competitive 12.5 percent corporation tax rate on trading profits however even an increased rate of 15 percent would still be considerably more attractive that a UK rate of 25 percent, which of course would also apply to Northern Ireland.
These changes may however present Northern Ireland with an opportunity to further enhance its appeal to foreign direct investment if the Northern Ireland Executive can make a compelling cost-benefit analysis to reduce it corporation tax to a rate equivalent to that applicable in Republic of Ireland. That would level the business tax playing field on the island of Ireland while also giving the region a competitive edge over the rest of the U.K., especially when combined with the unique unfettered access to both the EU and UK markets. It would be a very powerful pitch particularly when you stand back and look at some of the other attributes that Northern Ireland has, such as a very pro-business environment and operating costs that are significantly cheaper than some of the other markets.
Northern Ireland has a number of listed companies including Kainos, First Derivatives and Diaceutics and they have provided good role models to the host of high potential businesses emerging at present. If we can get more companies following their lead, I'm confident we'll be able to grow the number of Northern Ireland businesses going down the capital markets route. M&A has been busy within Northern Ireland despite the pandemic and will continue to be so with both institutional funds and private equity prevalent as active investors in many of our largest businesses.
Outlook
Northern Ireland has always been hugely resilient and will bounce back economically in the coming months as lockdowns hopefully ease and the world returns to a greater degree of normality. Irrespective of the initial issues with Brexit and the protocol and local political issues, we've had lots of businesses which have been hugely successful throughout that period, with InvestNI doing a good job at encouraging foreign direct investment.
But we have to recognize that there are a lot of businesses which have struggled in the last 12 months, in particular in hospitality and tourism, and which are very reliant on current government support. It is going to be really important that support gets withdrawn in an appropriate and timely fashion.
There is then an opportunity for us to sell the Northern Ireland story on the back of our dual market access, the people, the quality of life, those strategic centers of excellence and of course the talent. That's one of the reasons why KPMG took the decision to reinvest here and it's certainly one of the reasons why I expect many others to do so in the future.
And finally, come and visit!
It's only when you actually spend time in Northern Ireland you realize the friendliness of the people, the pro-business culture and appreciate the quality of life. You realize that you can leave your office and be in beautiful countryside in minutes, you can play golf on world class courses, you can visit the Mourne Mountains: it's family friendly, our cities are vibrant and there are a lot of things on your doorstep. There are huge opportunities in Northern Ireland for business: there's an abundance of talent, some fantastic companies are established here, both indigenous and international investors which took a leap of faith on Northern Ireland many years ago and which are now firmly part of the business landscape having reinvested many times. That is quite an endorsement.
"Our big differentiator is the fact we will have that ability to access both the EU market and also the U.K. market. That unfettered ability to sell into both markets is a very unique benefit."
"There are huge opportunities in Northern Ireland for business: there's an abundance of talent, some fantastic companies are established here, both indigenous and international investors which took a leap of faith on Northern Ireland many years ago and which are now firmly part of the business landscape having reinvested many times. That is quite an endorsement."
"Northern Ireland has a huge amount of potential provided by a young, educated population; high quality of life; unique position with both U.K. and European Union market access post Brexit; and a range of city deals which are set to oil the wheels when it comes to starting and scaling businesses large and small."
"We put forward a very compelling case for why the KPMG Center of Excellence should be in Northern Ireland versus some of the other locations. We are hugely confident about the potential for the offering given the high caliber of graduates we see coming to us from all disciplines in Northern Ireland."