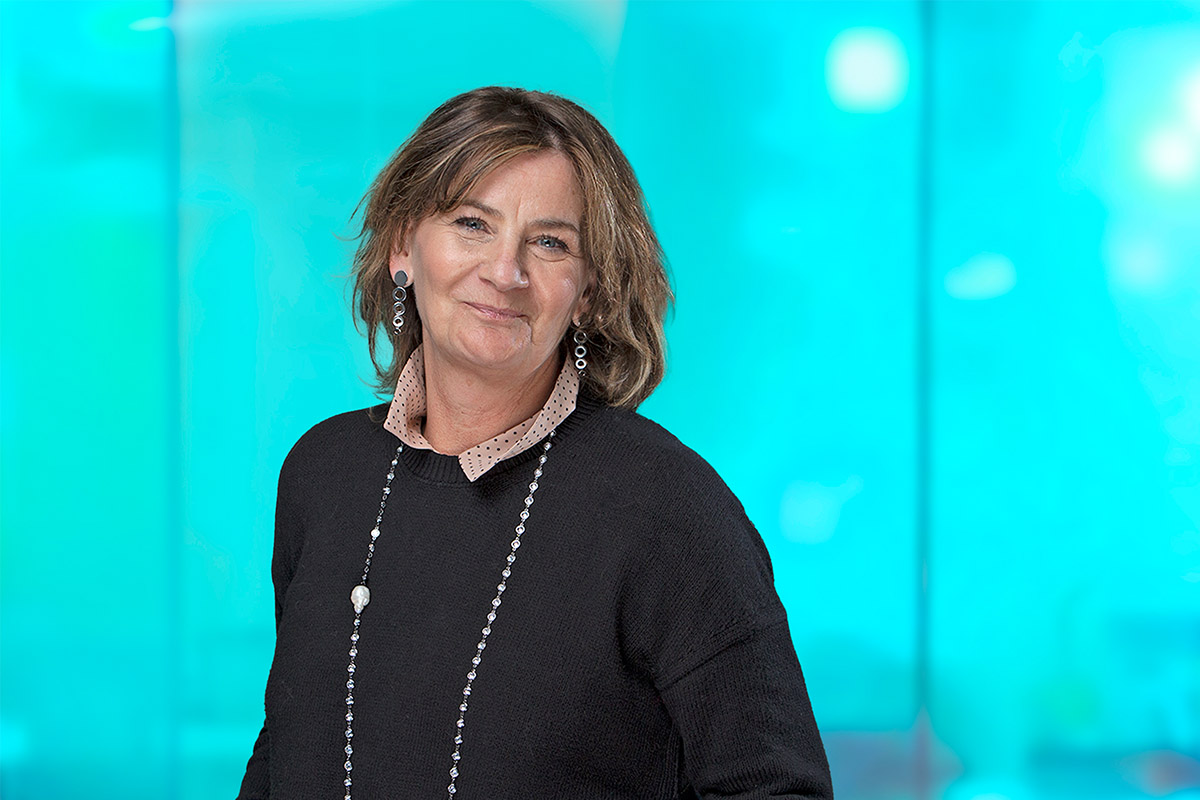 20 Mar

Historically conscious decarbonization
Colette Cohen, CEO, Net Zero Technology Centre, knows that Rome was not built in a day, but that his company's goal to harness the North Sea to spur decarbonization is a worthy one.
You founded Net Zero Technology Centre in 2017 as part of the Aberdeen City Regional Deal, with significant backing from the Scottish and U.K. governments to support the oil and gas industry, and to diversify and pursue emerging opportunities in and around Scotland and the North Sea. Could you give us an overview of the center, and of the main projects you have been involved in over the last 5 years?
The Net Zero Technology Centre was created in 2017 as part of the Aberdeen City Region Deal, with both U.K. and Scottish government funding. While we are based in the northeast of Scotland, our reach goes far beyond, and we actually serve the energy industry for the whole of the U.K. Our initial aim was to maximize the potential of the North Sea, with a focus around decommissioning, well intervention and asset integrity, but that very quickly evolved to championing and driving the energy transition. We engaged with industry about how they were going to transition; how they would start managing their carbon emissions; and how they were going to start looking at the reuse of their facilities. It has become a story of what does the North Sea look like in 10 to 15 years, how the oil and gas industry will be part of that story, but also how to transition to deliver the next generation of energy into the U.K. We are an advanced basin with respect to both the maturity of the basin, but also in its attitude toward net zero. My hope is that the technology we develop and deploy will be usable in other basins, as they also recognize this need to evolve into more of a net zero carbon basin.
The technologies we develop and deploy now focus on emissions reduction, energy system integration and driving a digital, automated future. We are looking at how to facilitate integration through energy hubs, for example wind with oil and gas. Bringing the skills so that the facilities that are most suited to being reused for things like carbon sequestration may be ushered into the next generation of energy.
We have made great progress with digitization: building digital twins, enabling production optimization and smart management of asset systems using predictive analytics. The success of this is also down to adoption of technology and getting industry to accept that there is a different way of operating assets and equipment. A number of companies with onshore operating facilities have been able to reduce the number of people offshore while having more expertise onshore that actually manages the facility. We're also playing a key role in developing next generation robotics. Currently, we have a robot that spent a year onshore in a refinery and is now offshore, pushing what's possible and changing the way we work offshore.
There is a bigger picture. We all think data is simple to work with, but you need a whole architecture for data to talk to each other and for assets to share the data. We really want to create the first smart basin in the North Sea that not only has all the oil and gas data that can be shared, but includes data from wind farms and pipelines for hydrogen transport. All the data that has been collected for the last decade on a continuous basis is not being used that effectively yet.  We want to get to a point where we can simulate and visualize it. That helps us be more intentional about where we put the next wind farms, the kinds of designs we use, and the impact on the environment.
All of that needs to be much more proactively handled, and that is some of the stuff that we are doing now in our center. The technologies we need for this transition already exist but are not competitive or affordable. Everybody has recognized that we need to get to net zero and we are not getting there fast enough because it is not economic. Ultimately, the role of the Net Zero Technology Centre is to innovate and deliver technologies that really accelerate an affordable transition to net zero.
The U.K.'s energy industry has decarbonized by two-thirds over the last decade. The center has already commercialized 20 technologies. How are you working alongside the startups, research centers and the R&D arms of oil and gas players to pursue the net zero objective
We have a strong industrial, academic, and entrepreneurial network, and have successfully run three accelerator programs through TechX, our entrepreneurship engine with 33 startup alumni. We are helping these small young companies to develop not only their technology, but their business skills to be able to commercialize, build and grow. Through the main center we invest more in individual technologies, so we connect entrepreneurs, new technologies and companies with an existing market and investors. We have a number of projects now where two or three of these companies have come together to work. For instance, Mocean with EC-OG are now testing a smarter system for waves and storage. It's exciting to create this opportunity for these companies, not only through investment but also by helping connect them with each other.
We have an active engagement with academic research organizations, like the U.K.'s Catapult program. We work very closely with a number of those catapults, particularly the Offshore Renewable Energy Catapult (OREC). There is a large program across a number of Catapults looking at hydrogen end-to-end that we have been championing. Our role is to be more outward looking on behalf of our industry, to get great ideas, bring them in and bring them to life. We have an industrial panel and an academic panel which source people from different industries and different academic areas to bring in their ideas and challenge us.
What are some of the most promising technologies that you have been involved with that you see playing a global role in other countries' net zero targets?
Some of the technologies that you get most excited about are quite early stage, so you do not know whether they will actually be successful. However, we have some really interesting green hydrogen technologies that are totally disruptive in both their size and efficiency. If they move forward, they will not only be great for the U.K., but they would be great globally. No one has conquered floating wind yet, so some of the floating wind technologies are going to be very exciting in diversifying the existing supply chain and the skills we have in oil and gas, but also in bringing the next generation of wind that we need globally.
Then there is the traditional technology, which is also important. We're in a transition and need to decarbonize high emitting industries. It's important that we reduce the carbon footprint of our existing oil and gas industry. There are nice solutions like electrification of offshore facilities that can be combined with a green electricity solution onshore via cable. However, that only works for very big and long-life facilities because it is expensive. Modular floating electrical solutions which can be applicable anywhere in the globe could really help decarbonize hydrocarbon basins.
Practicality, affordability and return on investment are central considerations in the net zero energy drive around the world. So too, increased polemic around energy price inflation and the instability of supply from renewables are raising questions over a just transition. When engaging with net zero sceptics, how do you approach the conversation concerning the energy transition and how it may impact established players and investor wallets?
It is a real challenge because it is exactly that—a transition. We have to transition away from a heavy reliance on oil and gas which is a gradual process. We must provide energy security for the U.K. and ensure we're not reliant on imports. We have to start educating people that to deliver a wind turbine, to deliver wind blades, and to deliver a hydrogen electrolyzer, things that currently require the capability and facilities provided by oil and gas. Furthermore, for us to get to a point where it is affordable for society, we need to get things like green hydrogen and the next generation of wind at a price point that is less than coal. Otherwise, it is just not going to work.
This is why I believe centers like ours have such a key role to play because we innovate to enable the transition and achieve net zero. This innovation and adoption of technology is incredibly important to bring down the cost. Investors should push an expectation that any company you are investing in has an aspiration and a plan to get to a net zero footprint.
We have to start finding solutions that are both lower cost but also recyclable and reusable. With our current wind solution, none of the existing wind farms today can be recycled. That's not acceptable if we are going to push out a generation that is going to be 100 times the volume that we currently have today.
Big data, automation and digital solutions have, amidst COVID-19, drastically picked up the pace. At COP26, you played the role of a leading voice in driving these types of solutions into the energy space. Where are the major challenges and bottlenecks still in the net-zero tech space and what key investments need to be made in the next few years to accomplish net zero?
Some of the things I mentioned earlier about creating the right framework and structure to allow data to be used, shared, and managed is super important. There are two projects we've recently kicked off: one around the smart basin and one around data for net zero, which assembles a proper pool of that data, easily accessible and easily usable. Everybody talks about getting to net zero by 2030, 2040 or 2050, but then we have to continue to evolve and maintain it from there. Thus, we have to put the right infrastructure in place.
The next step is about partnering with companies like Amazon and Microsoft who are advanced in the digital space. Somehow we have to find a way to merge our skills, our needs and figure out a way to effectively bring in the large digital houses to work with us. It is even more important for those smaller operators, many of which are in the North Sea, who do not have the in-house facilities or the finances to be able to build that next digital platform.
It becomes important to work through companies or organizations like ours, who cannot only try to connect them but also provides a service to a certain extent on behalf of the government and industry to create these next generation service centers that handle data or handle robotics. If you are a small operator and want to automate and bring robotics to your platform, where do you go to understand the servicing, the facilities, the capabilities and an unbiased guide to tell you what would work on your platform? There are a lot of conditions that need to be created to ensure that we move into a digital, truly unmanned and automated North Sea more effectively. That is investment that needs to be done today. To truly get to net zero, beyond digital, there is a need for integrated onshore operating centers to control platforms and facilities. We need to be clever about how we are doing all the asset management and inspection, even on the new generation of wind farms. This should all be automated from onshore. There is a vast opportunity for investment in that space.
Then the big element is the whole electrification of the North Sea. The offshore wind industry talks about the North Sea as a grid in the future, however, if we really imagine the North Sea as an integrated energy system, it is a grid that connects oil and gas with offshore wind. If you have wind across the whole of the North Sea, it is going to be blowing somewhere all the time. As a result, if you combine that with cost effective storage, you create a much more robust and resilient energy basin for the U.K. Focusing on those things is really important for the future.
How would you summarize your organization's agenda and priorities for 2022?
We would really like to build on the momentum that we have seen over the last 18 months. COP26 highlighted the urgency, the level of investment needed, the expectation, and secured further commitment from nations around the globe. The Net Zero Technology Centre will continue to work toward making these ambitions a reality. We will continue to champion the delivery of net zero for high emitting industries, particularly oil and gas related, whether it is refining or offshore, by developing and deploying technology for an affordable net zero energy industry.
You have about 25 years of experience working in the oil and gas industry. What are some of your personal aspirations, dreams or ambitions? Where would you like to take the center in the next five years?
I love the oil and gas industry. It has truly been a great career. At the Net Zero Technology Center, we have over 50 percent women in the leadership team and are a highly technical organization.
Going forward, we have just launched our fourth accelerator cohort. One of our big requirements was to see a higher level of female founders. Across the globe, female entrepreneurs are at somewhere between eight and 14 percent. We want to drive that up to 25 or 30 percent. Our current cohort is represented by 40 percent of female leaders.  In the next few years, I want to encourage this next energy transition to be a more diverse transition, where we get diversity in our teams.
Do you have any final comments for the readers of Newsweek magazine?
The energy transition is a massive opportunity for everybody. It is an opportunity for companies to really build diverse teams, to meet the next generation of technology and to create a net zero future. We have come through these different industrial revolutions, and we are really at an amazingly exciting one now which combines not only industrial change, but a behavioral change in the way we live and work. We need to seize it and really imagine the future we want for ourselves, for our children and for our planet. All of us need to engage.