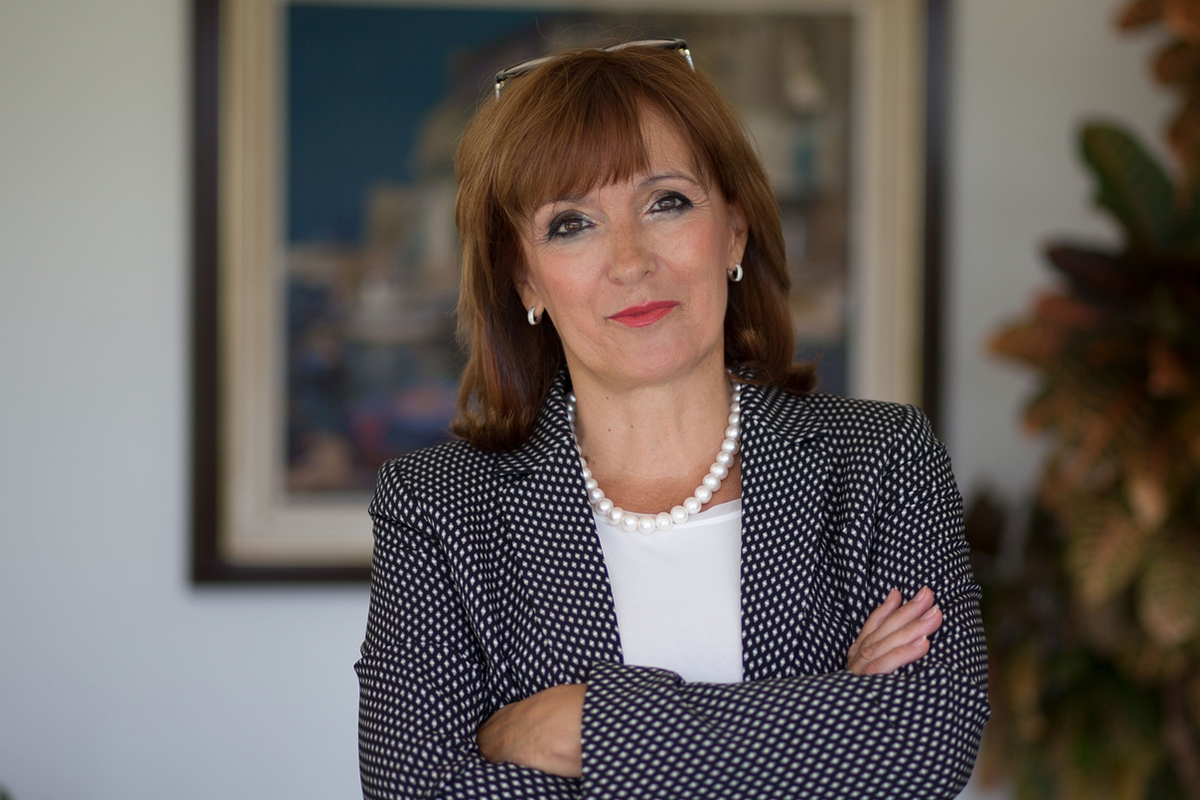 15 Jan

Hungarian opportunities for fast, agile and digitally focused financial service providers
Éva Hegedüs, Chairperson and CEO, Gránit Bank, sees continued success from a banking model based on digital retail innovations plus conservative SME and corporate lending activities
Gránit Bank was established in 2010 with the goal of providing high-quality and uncomplicated financial services to Hungary's enterprises and retail clients. What is your assessment of the Hungarian banking industry today and how is it supporting the country's open economy at the moment?
Before the pandemic, the Hungarian economy was on a stable and dynamic growth path and the financial sector was able to promote growth effectively. In the last decade, the banking system's shock-absorption capability was significantly strengthened. Risk caused by FX-denominated loans was eliminated from the financial system, and banks had built up an adequate capital buffer and significant liquidity reserves over the last ten years. In the meantime, competition strengthened among the players—therefore, clients experienced an improving service level. Furthermore, loan supply was growing in line with demand.
As the pandemic has a negative impact on the economy—and the economy and the banking system are well connected—COVID-19 will have a negative impact on the banking sector as well. However, the Hungarian banking system is stable and has a strong capital structure, which makes it quite resilient.
The Central Bank of Hungary—Magyar Nemzeti Bank (MNB)—and the government quickly introduced several measures to ease the negative effect of coronavirus. Firstly, a payment moratorium was offered to corporates and private individuals until 31 December 2020. Clients could decide to pay their installment, partly pay their installment by paying the interest but not the principal, or they could decide not pay in the period of moratorium. The moratorium was then extended in a targeted manner until 30 June 2021. According to MNB, 15–20 percent of credit institutions' corporate loan portfolio is related to high-risk companies that participate in the moratorium, while 5–10 percent of household borrowers can be considered vulnerable, based on their income situation.
Secondly, companies have been relieved from paying several types of taxes, VAT was reduced and wage subsidies introduced in selected sectors. Thirdly, the Funding for Growth Scheme (FGS Go!)—known as NHP Hajrá in Hungarian—aims to provide loans for corporates to be able to maintain business activity and to preserve the lending activity of financial institutions. Thirdly, the government introduced state-guarantee programs, which are fully in line with European Union (EU) regulations. This scheme was extended to support the expansion of lending and mitigate risk costs for credit institutions. State guarantees worth more than €1.4 billion (HUF 500 billion) were introduced through a number of schemes: Széchenyi Job Retention Loan, Eximbank's Compensation Loan Program, MFB's Competitiveness Loan Program, Agricultural Széchenyi Card and Garantiqa Crisis Guarantee Program. Finally, MNB introduced long-term covered loans and asset purchase programs in order to increase the banking system's operational liquidity buffer.
These measures effectively offset the negative effects of the pandemic and contribute to preserve economic capacity.
Could you give us a general overview of Gránit Bank? How has it developed in the last 10 years, what makes it stand out from other banks in the country and how does it contribute to economic progress?
Gránit Bank is the fastest-growing mid-sized Hungarian bank. Our unique business model is based on two pillars: digital retail innovations, and conservative small- and medium-sized enterprise (SME) and corporate lending activity.
Gránit Bank was founded in 2010, achieved profitability in its fourth year of operation and has managed to grow its balance sheet by over 50 percent annually in the last 10 years to its current €1.6 billion (HUF 573 billion). The bank manages nearly €665 million (HUF 239 billion) in receivables from customers, more than €992 million (HUF 357 billion) in liabilities to customers and its latest pre-tax profit amounted to €5.6 million (HUF 2.0 billion, preliminary data). Over the last decade, Gránit Bank grew significantly faster than the average in the banking sector and it has become a medium-sized bank from a small digital bank. The bank's return on equity is over 10 percent—calculated from profit before taxes—which is considered outstanding internationally for a recently launched bank. Gránit Bank's equity has grown tenfold since 2010; currently standing at €65.3 million (HUF 23.5 billion), there are plans for an IPO in the near future.
Since its establishment in 2010, Gránit Bank has been implementing a digital model in the retail sector, where it serves its customers through electronic channels without a branch network. However, Gránit Bank does have two branches in Budapest to serve our customers who still require these services. With more and more innovative digital payment services every year, the bank helps retail customers to manage their finances more conveniently, even from home, without traveling or queuing in a branch.
The two key drivers of Gránit Bank's successes are: firstly, the digital business model provides a significant cost advantage compared to other "traditional" banks—OPEX/BS is 1.0 percent compared to the 2.6 percent market average in Hungary. While the model also attracts digitally affluent customers: Gránit Bank manages more than 72,000 accounts and, last year, over 70 percent of retail accounts were opened fully online. Secondly, conservative and high-quality SME portfolio building provides a strong and profitable foundation of the operation. Gránit Bank's SME credit market share grew from zero in 2010 to over 2 percent in 2020, while its non-performing loan ratio is 0.04 percent compared to the 5.3-percent market average in Hungary.
I believe Gránit Bank is uniquely well positioned to be the champion of the Hungarian digital banking revolution for the following reasons. Our tailored products and services fulfill every relevant financial need of our targeted retail and SME/corporate segments, our online signing and video-sales technology enables us to digitalize our services, such as mortgages, significantly faster and cheaper than other banks. In addition, Gránit Bank is a well-known and trusted bank in Hungary with strong and experienced management and an expert team; our digital business model provides significant pricing advantage compared to other banks and attracts customers; and Gránit Bank provides a wider product range than fintechs, with competitive pricing and excellent customer experience.
As a result of our digital strategy, we have introduced many innovations to the Hungarian banking market—such as online account opening, personal financial management, video-chat-based customer service and we were the first bank in Europe to offer new-generation mobile payment services in a close cooperation with MasterCard.
Currently, we provide end-to-end (E2E) online video or selfie-based account opening, current accounts services with several Mastercard card products, Apple Pay, the Gránit Pay mobile payment system for Android devices, online treasury bond purchase services and VideoBank, a video-chat-based secure online branch. Moreover, we provide mortgages and a special state-supplemented "baby loan" that are almost E2E digital, although the contract signing has to happen offline according to the current legislation. We also provide corporate lending, including treasury services.
How well has the bank been able to mitigate the impacts of the COVID-19 pandemic on itself, its clients and the economy?
The capital structure of the bank is strong, the loan quality is excellent, and the negative impact of COVID-19 is significantly smaller than the banking average, because the majority of our clients are operating in industries that are less hit by the pandemic. The bank's resilience is further strengthened by our operational efficiency, driven by the digital business model, and our speed of innovation. The latter is driven by our agile way of working and our own fintech and digital product development company: GB Solutions.
Due to the digital banking business model, Gránit Bank was able to adapt to the new situation very quickly. We managed to set up a completely new operational method within days and the majority of our employees can work from home effectively. The service level remained the same as it was before the breakout of COVID. The transition to the new work method was seamless, so customers have not noticed any change. What we have noticed is that customers preferred digital channels even more than previously. Online account opening jumped to over 95 percent compared to the above 70 percent level seen before the pandemic. We offer all the available support measures to customers that have been introduced by either the government or the central bank, such as the payment moratorium, FGS Go! and subsidy products for helping companies to survive with a 90-percent institutional guarantee. In the first month of introducing FGS Go!, Gránit Bank disbursed almost 25 percent of all loans in this scheme due to our very quickly releasing an online application tool.
I sincerely hope that the pandemic will end soon and we can return to a new normal. Along with the entire staff of the bank, I am personally fully dedicated to contributing to the restart of the economy in the highest degree of our maximum capacity.
In your opinion, how will the crisis accelerate changes in the banking environment and is it shaping new long-lasting trends? What are the main threats, opportunities and lessons for Hungary's banking industry as a result of the coronavirus crisis?
As a result of the pandemic, we have completed 2-3 years of development in terms of digitalization in half year. Lots of cautious people—who would not have tried it until much later—experienced that digital banking services are more comfortable, simpler, quicker and, in the first place, more secure. Digitalization is huge opportunity for all players, traditional banks, challenger banks and non-banking entities as well. For traditional banks it is also a must.
I believe that there are two core opportunities for the Hungarian banking sector. Firstly, the depth of the banking sector—for example, the loan-to-GDP ratio is still low compared to EU average—provides an organic growth opportunity. Secondly, digitalization is less developed in Hungary than in several Western European countries, which creates growth opportunities for faster, more agile, more digitally focused players such as Gránit Bank.
Threats mainly come from the non-banking players such as big-tech firms and fintech companies. I think the competition will strengthen in the coming years, which is very good news for customers, as they can get better and better services. It is very important that all the providers have to comply with the same rules when providing a particular service.
I can only hope that we learned from the pandemic that we can only survive if we unite our forces, increase efficiency and build a sustainable economy in which competition is regulated equally and in a forward-looking way.
How important is innovation to Gránit Bank and what are some of the most noticeable innovations the bank has introduced to Hungary?
As a digital bank, innovation and digitalization are the core focus in our strategy. Each year, our aim is to introduce brand new services to the Hungarian banking market that have the potential to create significant value for our customers. This year, we introduced major developments in account opening, mobile payments, mortgage lending, video-chat-based customer service and SME loans.
On October 1 2020, an amendment to Hungarian legislation made it possible to open a bank account with only a selfie, using highly developed artificial-intelligence technology to analyze the selfie and the ID picture of the customer, and Gránit Bank was the first to announce the launch of such service on October 16 with its in-house developed software solution. As of today, we are still the only Hungarian bank to provide such service.
In the field of mobile payments, we have introduced several innovations. One of them was Gránit Digital Card Service, w we introduced to the Hungarian market at the end of October last year. This service enables customers to use mobile payments a day after their accounts are opened, with no plastic card required. We are the only bank that provides such a service. In 2020, the Instant Payment System—with all its amenities—was implemented in the Gránit eBank mobile application that enables the processing of money transfers within a maximum of 5 seconds at any hour of a weekday or weekend. It also allows customers to set up a secondary account identifier—for example, an email address or mobile number—for payments and to initiate a payment request for fast cash collection or loan requests, and to generate and scan a QR code for mobile payments.
Another major area of development for us was the digitization of mortgage processes. As a first step, we introduced our online loan calculator and credit-worthiness check, through which the customer can calculate the exact volume of the loan they can apply for and we perform an initial credit check in seconds—which previously was typically performed during in person meetings lasting hours. This is also a unique value proposition in the market, which was developed in house by our fintech firm. This year, we will extend this solution with an online and easy mortgage application tool. This solution simplifies the process of applying for a loan significantly and makes it unnecessary for anyone to deal with agents. Since last year, our customers can apply to the government-subsidized childbirth-incentive loan fully digitally, which we will supplement with an online contracting solution in the first quarter of 2021—again, this is fully developed in-house.
Our VideoBank service—a secure online video-chat-based customer service solution—plays an important role in our customer services strategy. This Europe-wide pioneering solution started in 2012 and has undergone significant improvements in recent years. The importance of VideoBank lies in its ability to provide the sense of personal interactions that are significant when it comes to financial services. On the corporate side, we tried to ease the burden SMEs have to carry, so we made our SME loan, which is refinanced by the Hungarian central bank, available easily, with our online pre-screening and online application process.
We are proud of our acknowledgments: we won three first prizes at Mastercard's Bank of the Year event, including most innovative bank of the year, the best premium banking service of the year and the sustainable bank of the year. We also won a silver in the digital banking services of the year and socially responsible bank of the year categories. Furthermore, we received an excellence award from the central bank for our SME loan.
In terms of new technologies, where do you see the next disruptions emerging for the financial services industry, what is your vision for the sector's future and how is Gránit Bank leveraging the local fintech ecosystem to pioneer new fields?
We see PSD2, the European regulation for electronic payment services, as a good opportunity to strengthen competition, improve customer experience and thus, indirectly and in the longer term, provide more attractive services to customers. Gránit Bank believes that in 2021 this process will accelerate in Hungary. Examining the international markets, it can be seen that in England, for example, this process grew stronger only a year ago, the number of API calls was still low for a long time after the opening of this area. As for the domestic market, favorable processes will start if banking operators keep in mind mandatory compliance with the directive and also open the gate to their account details in a truly helpful and customer-friendly way. Gránit Bank is open to cooperate with the local fintech ecosystem, however we founded our own fintech and digital product company—GB Solutions—to further increase the speed of innovation.
Going forward, what are your priority focuses for taking Gránit Bank to the next level?
The results of the last ten and a half years have confirmed that the implementation of the conservative portfolio building and digital banking strategy launched by the bank's group in 2010 has been successful, and that the business model has been well received by customers. Accordingly, in the 2021 business year, the group will continue its business operations in accordance with the approved 10-year strategic plan. The most important objective is to increase shareholder value through sustainable, balanced business and profit growth over the long term. Along with the digital strategy already launched, the group will continue to strengthen its market role, and increase its market share and its recognition.
The bank's operations and results in 2020 will, whatever the case, be affected by the measures introduced due to the pandemic referred to above and by the slowdown in economic growth. Gránit Bank has implemented an entirely digital model, meaning that the servicing of customers runs smoothly even in emergencies and more than 80 percent of banking procedures can be performed from home. Thus, in the current situation, the digital business model is more valuable than ever. The bank is continuously monitoring changes in its customers' financial situation and, in accordance with government and MNB measures, is aiming to serve the changing needs of customers and to play an active role in the economy. The bank aims to use all available means to help restart the economy after the pandemic is over, and we sincerely hope that this time will come soon.
We are planning to introduce next-generation personal financial management tools. Primarily though, we are working on the digitization of the mortgage process, aligning with the domestic legislation. We want to make further progress in this area, and we will continue the development started in December with the mortgage calculator—to additional mortgage loan products, including applications for a house-renovation loan that has been announced by the Hungarian government.
We are also preparing for further development in relation to the state-subsidized childbirth-incentive loan. Because of a change in legislation, the process will become completely online and the conclusion of a contract will be possible without a person being present—for example, through VideoBank.
Do you have a final message for the readers of Newsweek?
I personally believe in three principles that form the basis of Gránit Bank's strategy and which will drive us in the following years as well. First of all, only real value creation can lead to sustainable, above-market returns, and only hard work, commitment and focus can create real value. Secondly, simplicity is the ultimate goal we need to achieve, because this is what creates real value to the customers. To achieve simplicity, we need to leverage deep expertise and out-of-the-box thinking at the same time, which is a difficult cultural challenge. Thirdly, not the strongest or the biggest, but the most adaptive player wins the competition in the long term. To achieve that, we need to be agile, quick and honest in evaluating our own performance and changing what needs to be changed.
I would also like to mention that digitalization is reshaping the whole economy and even the ways of social life. The pandemic forced us to adapt to unexpected circumstances and also gave a boost to digitalization. In terms of digitalization, we should raise the economy to a whole new level of effectiveness and it must reach a sustainable level to secure a blissful future for the next generations. In the meantime, changing of human thinking and behavior is also necessary to seize this opportunity, while humankind should become more cooperative, emphatic, unselfish and continuously strive for optimum equilibrium.
For more information please check:
https://granitbank.hu/bankunk/en/
https://en.wikipedia.org/wiki/Eva_Hegedus