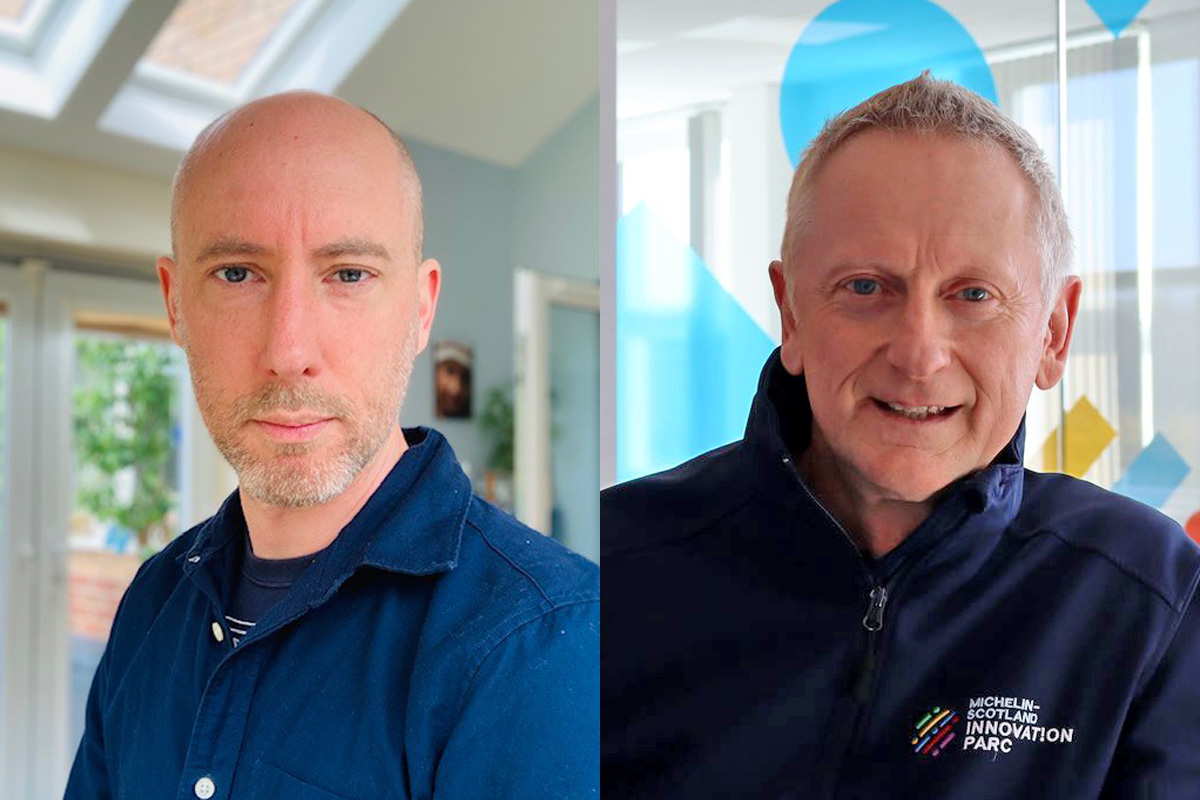 04 Apr

Innovation is the name
Stuart Greig, Director, Low Carbon Economy at Transport Scotland, and Greig Coull, CEO, Michelin Scotland Innovation Parc (MSIP), explain that, as the world moves forward, so must our energy sources.
Scotland and the U.K. have specified their net zero ambitions with targets set for 2030. A large part of the low carbon future involves transforming the transportation industry and decarbonizing the road network. Would you offer us a backdrop to the historic role of the transportation industry in pollution and climate change and highlight why the option of doing things as we've always done them is no longer viable for transport players?
Stuart Greig: The transport sector is one of those pivotal sectors in the transition because it touches on everyone's life, every day. People are very connected to it. The journey that we are on here in Scotland is the same one that everyone is on now. It is that race to avoid all the most damaging effects of climate change. The uniqueness of Scotland is our focus on how to redesign the transport system to move things around in a way which does not have all those negative impacts, both in terms of climate, but also socially. This includes more walking, more active travel, cycling, and giving people the most extensive options and the easiest choices for public transport that we possibly can. Where those are not an option, it is about making sure there are zero emission technologies embedded in the transport system, and that means that we can get around safely and cleanly. That is not evolution. This is proper, deep innovation, revolutionizing what we have been used to for around a century. We absolutely know the challenge and have a great picture in Scotland of the progress we are making here. There is a profound awareness of how we need to work together to make that happen. Government works closely with the commercial sector, the private sector, the finance sector, the energy sector, the innovators, the disruptors, and the people that are going to ultimately make this happen, which is the public.
I spend a lot of time talking to other officials and experts in other countries, and it is clear that what we are doing here is different because we are not just focused on the technology. Technology, innovation and breakthroughs are really important. However, it is the design of the transport system that needs to change. We have a commitment to reduce transport car miles by 20 percent in Scotland, which is a hugely ambitious target, but it is a signal of the kind of change we know needs to happen. To support that, we are doing things like massively upping our investment in active travel options. Over the next few years, that will be 10 percent of the budget of Transport Scotland. That includes cycling routes and all the infrastructure that we need. We have one of the best EV charging networks around, in which we have invested progressively over the last seven or eight years. We are now working to leverage commercial finance into it. We just launched free bus travel for people under 22. Millions of people across Scotland now have access to free bus travel. These things are having a combined effect of encouraging this big shift in how we view and use the transport system.
You have highlighted in public forums, including at COP26, the role of technology in decarbonizing the road network, and how net zero can and should be maintained in the design, construction and management phases. What are some of the main initiatives being led by Transport Scotland in deploying technologies to tackle decarbonization?
Stuart Greig: We have a target to decarbonize our rail system by 2035, with a combination of electrification and hydrogen. In fact, we have one of the world's first hydrogen demonstration trains under development, closely aligned with Michelin Scotland Innovation Parc and St. Andrews University. On electric vehicles, we are working on the harder to reach ones that really need the technology breakthroughs. In Scotland, we have the largest investment in zero emissions in garbage trucks. They may not be exciting, but everyone needs them. There we have supported the rollout of some of the first in the world hydrogen fueled garbage trucks. The same with ambulances and emergency services vehicles, which is another hard-to-reach area for zero-emission vehicles. We are supporting perhaps the world's first, certainly Europe's first, emissions free fire engines.
Casting our gaze around these different challenges, we help support them by either direct finance that will give the companies that are investing in these areas that push, or by creating demand. The public sector uses a lot of vehicles. Hence, we are really innovative around how we use our procurement to encourage the growth in markets. This gives confidence to companies to invest in these new technologies and get them on the road. The aviation airports in the north of Scotland are under the umbrella of HIAL, Highlands and Islands Airports Limited, and there we have supported a short haul test facility. Zero-emission flights in Scotland is a captivating area, because we have so many islands and they are closely connected. It is a perfect test place for small battery electric or hydrogen prop planes. It is all these technologies that will ultimately need to come together. What we have got in Scotland is a kind of breeding ground for innovation and technology testing, and people coming together to break down that tech or deployment challenge. It is a fascinating place and I feel really privileged to be working in it.
The UK's energy demand by 2030 could be down by 15 percent but up by 8 percent in Scotland. Green tech solutions will therefore be critical to assist Scotland in ensuring the needs of a dynamic and thriving economy are met. Tell us more about where the Michelin Scotland Innovation Parc hopes to fit into Scotland Transport's matrix and the challenges it addresses?
Grieg Coull: Scotland is the ideal breeding ground to move things forward at scale. We are just the right size, and we have a collective ambition that gives us the impetus to drive things, and for public and private to work closely in harmony.
In terms of green tech, some of the solutions have not yet been found to meet the challenges we have and the ambitions which are inscribed in law of being 75 percent down in 2030 as compared with 1990. Therefore, it is very important that we give companies, entrepreneurs and academics the opportunity to meet, ideate, prototype, test and then, hopefully, develop and scale, so they can get to market quick enough to meet these challenges. Scotland is blessed with a lot of natural resources, and that gives us the opportunity to do live testing and try things in a big way quite quickly.
Michelin Scotland Innovation Parc has been set up to move these initiatives forward as quickly as possible and to provide a melting pot where industry academics and investors can all get together to spark the fire. Not only that, what we need to do is provide the skills to satisfy these new technologies. It is not necessarily obvious how you go about servicing a wind turbine, or how to put together and service a battery pack or a fuel cell. So part of our offer is going to be a Skills Academy, which will welcome about 250 learners or re-learners each year. As the dependence on fossil fuels reduces, the workforce from those areas will naturally want to transfer across into other growing sectors. Challenges are there and we work closely with Stuart and his colleagues at Transport Scotland to ensure that everyone is persuaded to go in this direction, and that there is enough incentive there to help everybody jump together. If we do it all sequentially in series, we will get there, but slowly. If everybody metaphorically holds hands and jumps together, then we will get there much quicker.
What incentives are being worked on to achieve this, either at the Parc or in Scotland, to trigger this innovation and investment, especially around sustainable mobility?
Greig Coull: In terms of incentives, there is significant funding available for organizations who can demonstrate that they have the right ideas, technologies, and concepts to go forward. We do not directly fund, but we facilitate the use of those funds by providing the environment and the ecosystem at MSIP. Furthermore, we are helping organizations, who are perhaps very early on in their technology and manufacturing readiness level, to be prepared to scale up and then to go into the investment market and to attract funding. They learn the benefits as well as the risks of doing that, and they can go out and make a more appealing call for funding. There is a great deal of funding and investment available. The main thing we can do is help companies understand what is out there.
Stuart Greig: Through the Scottish government there is also a range of incentives out there to support businesses investing in Scotland or businesses diversifying, and there are very targeted measures, particularly around the automotive sectors. There are innovation funds that are run through our enterprise agencies, and we also have funding streams helping academia connect in different ways, which is crucial. In fact, the transport system and the energy system are coming together now in a really fascinating way, and that is where the real disruption is. Energy storage is not something that happens outside of the transport system. It can be a core part of the transport system, either through the batteries in vehicles, the intelligence and the data that is generated, or the hydrogen that is produced for heat being used for transport and energy storage. The fundamental breakthrough point is how the energy and transport systems are going to come together over the next decade and this is cemented in the very way a place like Michelin Scotland Innovation Parc works. It is all about the energy and the transport transition, and that is that mindset that we are helping bring in Scotland. Funding to specific innovation centers, whether at Michelin or at St Andrews, or in Strathclyde, is all about bringing together expertise from those different fields, and that is that magic space where innovation is born.
It is just fascinating to look back over the history of where Scotland has been in this space. One of the very first electric vehicles in the world was designed and invented in Scotland by Robert Anderson. You cannot really call it a car. It was more like an electric carriage that had a replaceable battery. It is hard to believe the number of critical breakthroughs that have come through Scotland. Our colleague here from Michelin will tell you that pneumatic tires were another breakthrough in this country. It is creating the space for creativity now to get exactly the same kind of breakthroughs but get them in a way where they scale up so much quicker than they have done at any other point in history. That is absolutely our focus.
As the green economic transformation gains traction, the adoption of 4th industrial technologies like big data, AI, IoT, and different digitization efforts is also helping traditional players drastically cut their emissions. How are these technologies—including, of course, smart apps for public transport and cycling—helping to alleviate the footprint of the transportation industry, and how are you encouraging these developments?
Stuart Greig: Speaking of the coming together of sectors, the other sector that is converging here is definitely the digital sector. That sweet spot between digital energy and transport is absolutely where all the innovation is going to be. A practical example is going to be this space where you have electric vehicle charging. The entire car park of vehicles will be one giant battery. The breakthroughs are how to get those cloud-based data systems so that we understand, at any moment in time, what is happening and how to maximize the utility of either the batteries in that vehicle or deal with the demand pressure that is over here. Ultimately, it will get connected to households. We have data centers in Edinburgh that are really focused on this area, along with the Transport Research Institute, Heriot-Watt, Napier and Aberdeen.
Getting around needs to be as easy as possible. We want to be able to get to a place, whether it be by bus, train, even airplane, or your car through a simple app or a card in a fully integrated system. We are on a journey to get there in Scotland. We are not there yet, but each year we are taking steps to get there.
Public advocacy is a central consideration for Transport Scotland. Ensuring that business and investment communities, as well as the general public, buy into your initiatives is crucial for the success of programs such as Michelin Scotland Innovation Parc. How are you advocating for a different mindset among commuters in Scotland's cities and making it more advantageous for them to choose low carbon mobility options?
Stuart Greig: Working from home has brought challenges, but it has also brought with it some benefits, such as flexibility, particularly to those who have limited time or resources. Supporting innovation in local work hubs, and giving people more choice and access to those sorts of facilities, is a big part of this. We have also been very focused on 20-minute neighborhoods in Scotland, rethinking the purpose of city and town centers and how to redesign how people get about. It is not just about the journeys you make, but it is why you are making those journeys and how much the things you need are at your fingertips, whether it is your shopping, your doctor, your care needs, and so forth. A big part of it is helping give a picture to the public of the unique opportunity to capitalize on some of the disruption and change we have been through.
Grieg Coull: From our perspective at MSIP, first of all we have got Michelin in the name, which gives us quite a bit of credibility and reach. We also have an exceptional team who are working in our marketing department, particularly on engagement through social media. We are growing quite considerably there, which allows us to put messages out there to educate and to introduce certain ideas. Secondly, we do a lot of STEM engagement and a lot for our Skills Academy. We will have a dedicated STEM space to which we hope to welcome about 500 schoolchildren per year into our Innovation Parc to give them a bit of a feel for what is going on. That is part of our general community involvement as well. Thirdly, we are trying to develop a lot of technology which will help with things like range anxiety. There is some very innovative battery technology which is being scaled here and some technology which aims to reuse and recycle some of these products as well. This has always been quite a thorny issue. In November, along with COP26, we used two of our big warehouses to provide a demonstrator area for manufacturers and innovators to show what they are doing, not only just showcase to the general audience but also to start to collaborate among themselves and understand together the opportunities they could build.
Last but not least, we have a very close association with the Victoria and Albert, the V&A Dundee Museum, which is a center of excellence for design and which has a lot of credibility as well. Stuart and I are working together with them to move things forward in terms of the whole customer journey associated with electric vehicle needs.