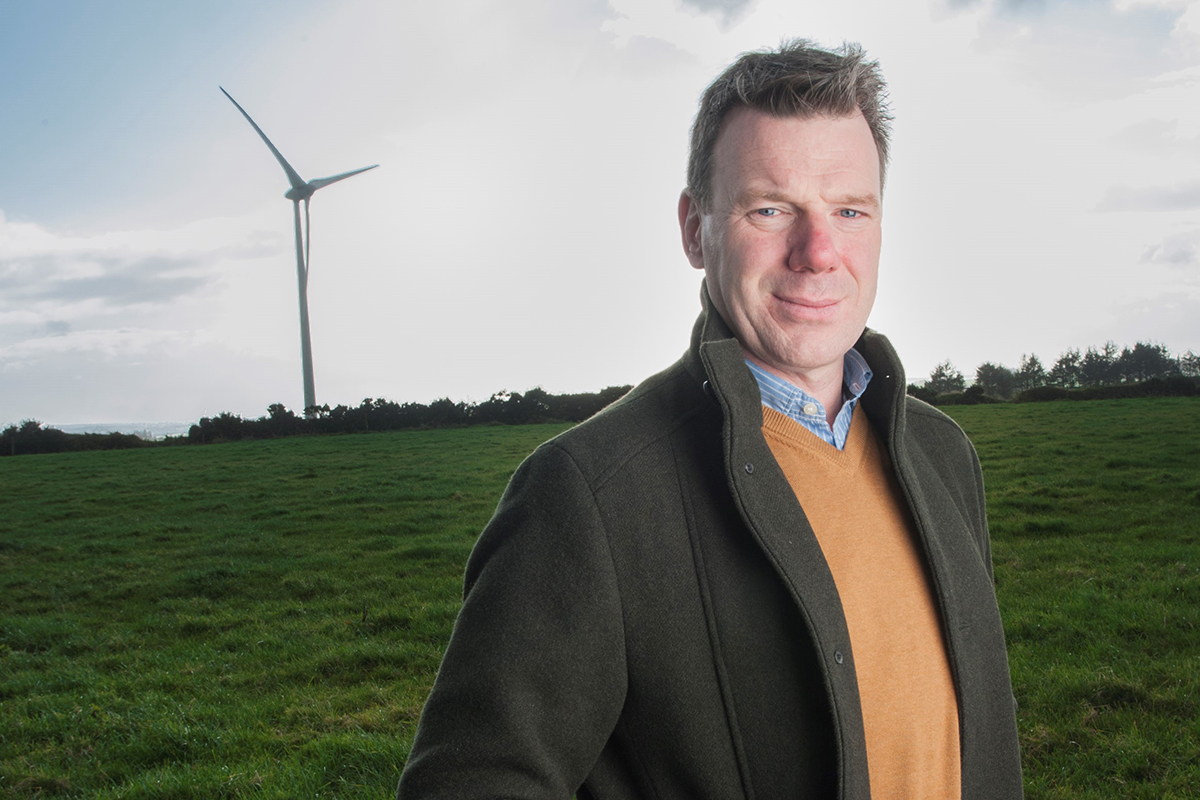 04 Apr

Ireland targets energy mix as green as its hills
Kevin O'Donovan, Managing Director, Statkraft, details the evolution of Ireland's successful energy transition towards renewable sources and how the country will meet its new ambitious targets set to decarbonize the economy
What services does Statkraft provide to the Irish market?
Statkraft is an interesting company with a long history of producing renewable energy, mainly through hydro power. A few years ago, Statkraft made the move from only hydro to becoming a global energy player in all renewable sectors. We saw the potential for wind and solar in the Irish market and acquired Element Power. After consolidating Element Power's operations, the Irish government published its Climate Action Plan, which was the first time Ireland communicated its vision for lowering carbon emissions and fighting climate change. The government's plan matched Statkraft's vision; it aims to grow renewables significantly. Another activity we do is energy trading. We are one of the biggest traders of renewable energy in the Nordic, German and U.K. markets, and quite a few other European markets as well. We also aim to electrify the transport and heat sectors. We want to take part in the electric vehicle (EV) market across Europe. Statkraft sits at the center of the transition to a low-carbon economy. Our role is both power generation and market integration.
How great is the potential for renewable energy in Ireland?
Ireland has yet to grasp the full potential and capability of its renewable sector. Before the government published its Climate Action Plan, the country did not know exactly where it stood on decarbonizing its economy. It has been a successful catalyst. At the end of 2020, Ireland met 40 percent of its electricity demand from renewables, which makes it a world leader. Ireland's resources–particularly onshore and offshore wind–are far greater than the demand. The country has the capacity to create an energy sector that efficiently produces and exports energy around the world, just as it has done in creating a robust agri-food sector. Although it will take time, we are on the path towards fully harnessing our energy potential.
Ireland is an interesting market filled with a lot of new technologies and concepts that will be required to help countries transition to a low-carbon economy. In a way, Ireland is a guinea pig for the rest of Europe. We are an island system with a high amount of renewable energy supplying power. The challenges that our power system faces in upping its renewable sources will be the same ones faced by other European countries. Ireland is groundbreaking in terms of what we are aiming to do in the next decade.
Statkraft is going to be at the forefront of developing these new technologies and new ways of working to provide energy. It will then be possible to replicate our process and technologies in other markets such as Spain, Germany or France. Wind and solar power are the cheapest form of power generation in most markets; it is the obvious thing to do. Everything Statkraft does in Ireland is research and development for other markets, especially in the medium term in battery storage solutions, EVs and the use of hydrogen. We are heavily focused on hydrogen and have done several partnered initiatives in this arena.
What projects is your company currently engaged in?
Ireland ran its first renewable energy auction last year. Statkraft secured the largest amount of capacity in the auction of any renewable developer. All projects are either already in construction or are beginning in the next few months. As we develop more and more of our projects, we will pivot towards doing corporate power purchase agreements (PPAs). The government wants 15 percent of renewable energy in its 2030 target to be made of power purchase agreements with large consumers. Statkraft is in a strong position to do this. Not only do we generate power, but we can provide a package of energy supply for large electricity consumers such as large data centers. Our first wave of projects will go into construction just as our next wave of projects will be participating in future auctions and PPAs.
We are also engaged in energy storage. Ireland wants 70 percent of electricity demand to be met by renewables by 2030. This will require variable renewables as the sun is not always going to shine and the wind is not always going to blow. We need a balanced system. Statkraft developed and constructed the first commercial-scale battery project in Ireland that went live over a year ago. We bought a second one quite recently. These are critical in keeping our power generation system stable. We plan to do more storage and system services projects in the coming years. Storage is going to be a big part of what Ireland will need to be able to transition to this high penetration of renewable energy. We want to not just generate renewable power but actively support the system that supplies energy to the Irish consumer.
Our first batch of projects is built to provide instant energy to the grid to keep the system stable. We are now working towards combining longer-term storage batteries with our renewable generation facilities so that we can cover long breaks between lower power from renewable projects. We are also looking at other ways of electrifying the system, whether that be through transport or heating.
Why will solar energy play an important role in Ireland's power generation mix?
Ireland is focused on onshore wind because we have a high amount of wind potential that can produce power cheaply. We are utilizing about half of our onshore wind potential because technology has become more efficient, and the cost of energy has plummeted. However, solar also has an important part to contribute, even though our potential may not be as high as in Southern Europe. What is important about solar in Ireland is that it provides perfectly timed power generation, particularly in warm summer periods when onshore wind is less available. While solar may not be as cost competitive as wind, combining both will create a more secure generation and demand profile.
What other opportunities do you see for Ireland's energy sector?
There is a lot of opportunity in Ireland for an offshore energy sector. Our fixed platform turbines are a proven technology. There are many projects up and down the west coast of the U.K., but we have none on our side yet. Statkraft is producing the first wave of these projects off the east coast. As floating offshore technology evolves, the potential in Ireland grows higher and higher. There is no doubt it will be a successful sector and bring us to the next stage of Ireland exporting energy and producing hydrogen.
There is also potential in using biomass and biogas in our agricultural sector. Ireland has a large dairy industry, and it can be quite profitable. Ireland needs to be innovative in ensuring our agricultural sector grows and finds ways of addressing emissions. However, while biogas is an interesting opportunity, we are focusing on unlocking Ireland's onshore and offshore wind and solar potential.
What is your assessment of the way Ireland has handled its energy transition?
Ireland has witnessed an evolution in renewable energy from the end of the 1990s into the early 2000s. There have been many challenges and stages where we felt we could not achieve our 40-percent target for renewables in our energy mix by 2020. Even the strongest advocates of renewables thought we may not achieve our goals. This gives me confidence that we will overcome future challenges. While I cannot be sure that we will hit our target of having 70 percent of our energy coming from renewables by 2030, I am confident we will get there in time. The country is recognized as flexible, innovative and forward looking, not to mention a good country to live in. As an Irish citizen I am proud of the direction the country is going.