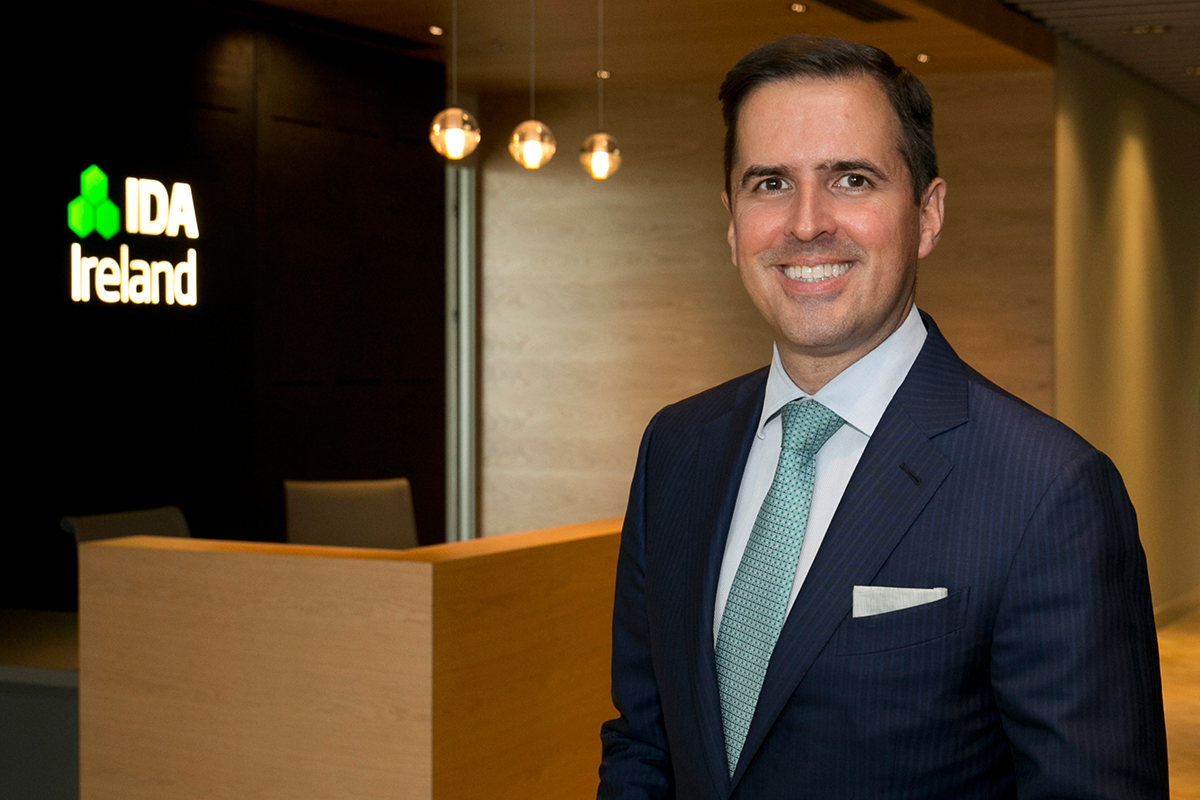 18 May

Ireland's FDI-based economy sees resilience in trying times
Martin Shanahan, CEO, IDA Ireland, talks about foreign direct investment as a pillar in levelling Ireland's economy and the agency's strategies in attracting substantial foreign interest in Ireland
Where does IDA Ireland fit into the government's plan to regrow the country's economy?
There are three strands to Ireland's industrial policy. The first mandate is to grow Irish businesses and help them export and internationalize, which is handled by economic development agency Enterprise Ireland. Second, we want to invest in research, development and innovation, which is managed by Science Foundation Ireland. Last, we want to attract foreign direct investment (FDI) and aid in its growth and success. This is where IDA comes in.
Why is Ireland such an attractive place for FDI?
The evolution of the Irish economy is largely connected to FDI. Having started as an inward-looking, protectionist economy, Ireland began to look outwards for trade and investment in the 1950s. The IDA was formed 72 years ago and since then FDI has proven to be a positive element for Ireland, especially recently. FDI now dominates the financial services, tech, pharma and life sciences sectors, and has largely driven Ireland's recovery from the financial crisis in 2008. Between 2015 and 2019, Ireland had its strongest run of FDI wins in 72 years.
Ireland's availability of talent is the number one criterion we hear from investors for choosing the market. Our talent is a result of a strong education system; Ireland has one of the highest participation rates in third-level education in the Organisation for Economic Co-operation and Development. Ireland has also been successful at attracting talent from Europe and further afield. Ireland is extraordinarily stable from a policy perspective. Our industrial policy has been maintained over decades, which is important for investors. We are one of the most open and outward-looking economies in the world. Additionally, our membership in the European Union allows us to attract investment geared towards the European market. Being an English-speaking nation is an advantage and has allowed us to attract a lot of investment from North America. Ireland has one of the most consistent, competitive and transparent taxation regimes in the world, although this is by no means the only reason investors are interested in the country.
Additionally, Ireland has invested a lot in sector-related research centres. Supporting companies directly in R&D is within the IDA's toolbox. Additionally, Ireland has an attractive R&D tax credit of 25 percent and a developed patent box. These elements are all key in attracting companies to undertake their R&D in Ireland. It is a core part of our mission.
Ireland and the agency's approach to attracting FDI is to work with investors past the moment of investment to make sure they are successful in the market. We have companies who have established facilities in Ireland that are critical to their global operations. We continue to work with companies who have evolved in the market for long periods, such as Intel, IBM, Apple who has been here since the 1980s and Liebherr who has been here since 1949.
How robust has Ireland's FDI sector been throughout the COVID-19 pandemic?
FDI has proven to be stable in terms of existing investments and new ones during the pandemic. Existing investors were able to continue to operate. Many companies involved in manufacturing activities were designated essential services by the government. The flow of inward investment into Ireland continued throughout 2020 unlike other markets where FDI was subdued. By the end of 2020, IDA won 246 investments for Ireland, which was only marginally down from the previous year of 250 investments.
The reason for our resilience is the strong momentum that Ireland had coming into 2020 based on preparatory efforts by IDA colleagues across the world who worked with potential investors to sell Ireland's strong track record and our existing base of investors. The corporation tax held up during this period, largely driven by multinationals who contribute more than two thirds of it. Employment in the FDI sector grew in 2020, although not at the same pace as the previous five years. This supports the economy as employees in the multinational sector tend to be higher-paid and thus pay a larger share of income taxes. The presence of multinationals in Ireland enabled us to mitigate the impact of the pandemic in Ireland.
However, competition in the FDI sector is more significant now than ever. All countries large and small require investment. We see a lot of countries upping their game. Ireland has been active for quite some time. FDI is a contact sport; one must be out in the market, meeting people and engaging with existing and prospective clients. IDA has had great historical success. We focus on understanding companies' needs and priorities and ensuring our offering is aligned. It is not light-touch sales or marketing; it requires deep analysis.
What changes has the pandemic had on the way your agency is run?
We have had to adjust as an agency, as everybody else has. Most of our work pivoted to a virtual model. We have been quite successfully at making the transition. We made a significant investment in information technology in 2019, and we are used to working with our 24 offices across the globe.
One of our key selling points is bringing investors to Ireland and showing them what is available. As a result of COVID, we developed a virtual itinerary so investors could still see what Ireland has to offer, which has proven successful. Over the last year, we engaged closely with our client companies, both here and with their overseas headquarters. It is more challenging than an in-person visit, particularly with newer investors who may not be acquainted with IDA's strong track record of attracting, winning and retaining FDI.
Given the uncertain future due to the upset economy, what is IDA's new strategy going forward?
We have developed a new strategy that outlines IDA Ireland's priorities for the next four years. We have set ambitious targets for investment and job creation. It is a very uncertain time and developing a strategy in the middle of a global pandemic is challenging. We cannot predict the behavior of the virus in Ireland or elsewhere. We have devised a central scenario that we will adapt and adjust as required. We believe the fundamentals of what investors are looking for have not changed; education, consistency of policy, pro-enterprise thinking and a focus on innovation and research are still things we need to double down on.
Our new strategy is anchored around five pillars. The first is accelerating growth. We want to help companies get through this challenging period and continue to attract investment. The second is transformation. As the pandemic accelerates digitization, IDA is active in supporting client companies engaged in Industry 4.0, in particular areas we need to develop in capacity, for example cell gene therapy for the pharmaceutical sector. Third, we want to focus on regional growth. In recent years we have managed to increase dispersion and we want to continue doing this. Our fourth pillar is pushing sustainability. Although this is not new, we have renewed our focus in this area and are supporting efforts of investors to decarbonize. We are working to increase the level of green investments in Ireland. Within IDA itself, we are doing everything we can to support climate action. Our last pillar is to improve the impact of FDI. We are fortunate in Ireland to have global leaders in many sectors based here. We are leveraging the multinational presence here to grow our indigenous economy and make certain the spillover effect from FDI is felt in all parts of the economy, particularly Irish indigenous small and medium-sized enterprises.
What impact has Brexit had on companies looking to invest in Ireland?
We began to feel the impact of Brexit the day after the 2016 referendum. Once investors knew the UK's position, they started making decisions. From that point, IDA was quite active in ensuring that Ireland was in the running for any mobile investment resulting from Brexit. We have seen significant investment into Ireland over the intervening period because of Brexit. Our analysis shows that more than 90 companies made investment decisions directly because of Brexit, with more than 6,000 jobs connected to these investments. The financial services sector was the fastest to move because Brexit was a larger threat to their business; if they did not secure a footprint within the EU, it would be difficult to push their products and services into Europe. We have also seen movement from companies in the pharmaceutical sector in areas such as quality assurance and ratings. Many companies require a presence or a qualified person to sign off in the EU.
Investors post-Brexit have the following choice: they can invest in Ireland, where there is unfettered access to the European market, or they can invest in the UK, where we have a co-operation agreement. I believe the UK will remain attractive. The UK has been a significant recipient of FDI over the last number of years. It will remain attractive because it is a large market. Whether it will remain attractive post-Brexit remains to be seen.
How significant are Irish-American relations in terms of FDI and what impact will the new American administration have on Ireland?
The U.S. is critical to IDA and FDI in Ireland. The U.S. has been a significant source market for IDA for decades. Although we have diversified our source markets in recent years, the U.S. represents more than 60 percent of our FDI. We also have a large presence in the U.S. IDA has seven offices across the U.S. and a significant number of people deployed there. The new administration will bring some change. President Biden's administration will have a more original multilateral approach that is welcomed by Ireland. As U.S. companies think about internationalizing–which is what successful companies do–we want Ireland to be their number one choice.