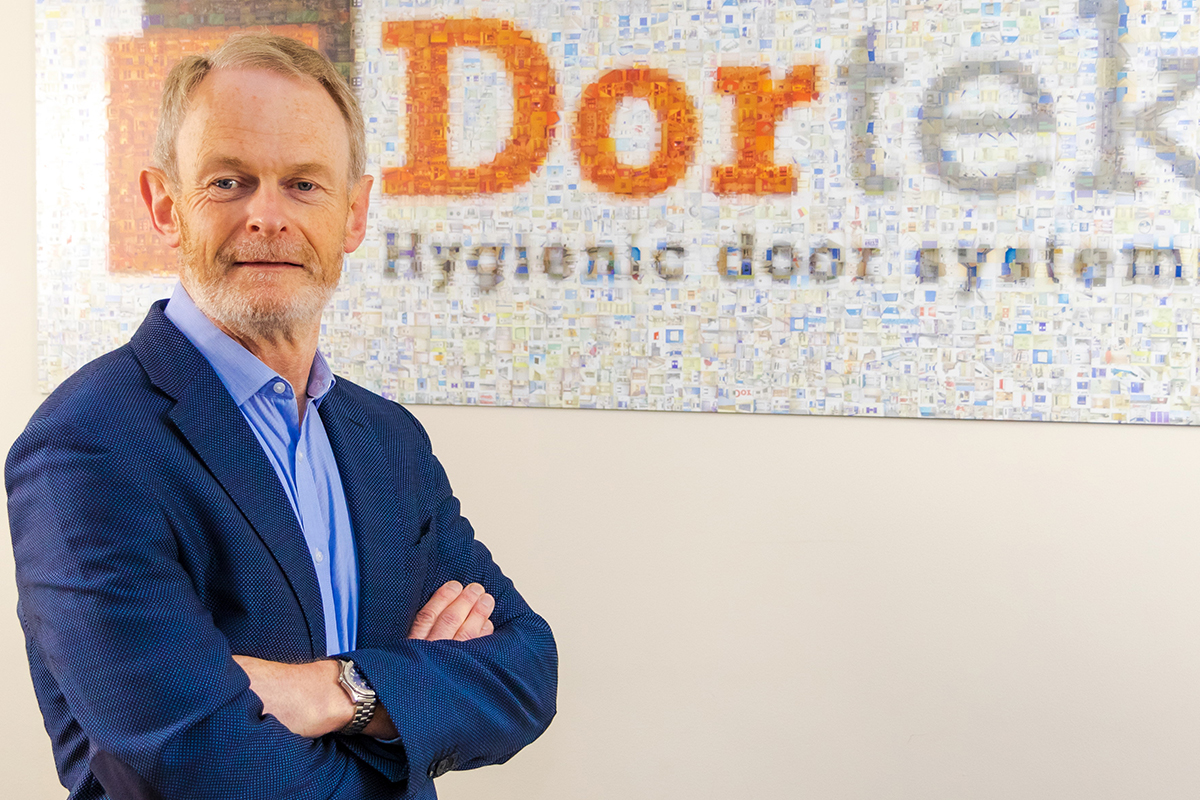 01 Apr

Irish company opens the gate to the complex world of door manufacturing
Alan O'Keane CEO, Dortek, talks about his company's provision of specialty doors all over the world and reasons for changing market trends
What services does Dortek provide?
Dortek is a clean-room doors specialist. We manufacture all kind of clean-room doors ranging from basic clean-room doors to sliding, hermetic, acoustic, x-ray and automatic doors. There are many variations we can install. Our team has the most extensive expertise in the market. We partner with building contractors, architects and end users to design bespoke doors. We understand requirements and often end up leading the client to identify disadvantages and pain points. Our fire compliant products are probably better in the market. We have over 60 independent fire test certifications spread over many countries and geographic regions. Companies like Nestlé, Pfizer and Merck & Co. use us in multiple locations as they would otherwise need a different door supplier due to fire regulations. Our clients know they can use the same solution in Singapore, North Carolina, Ireland or Melbourne, which explains Dortek's excellent global track record, particularly in the pharmaceuticals sector. We often receive emergency projects. For example, we quickly supplied doors to one of Moderna's facilities in the U.S. and a Pfizer facility in Belgium in addition to many other vaccine facilities in the past nine months. Dortek has a turnover of $30.5 million, with approximately 40 percent of that coming from the U.K., 20-25 percent from the U.S. and 10 percent from Asia.
How does Dortek leverage its research and development team to innovate its products?
The basic essential products that we make are glass reinforced polyester or–as they say in the U.S.–fiber reinforced plastic. The door leaf looks as it did 20 years ago, but it is constantly evolving. As new and stronger materials come on stream, we incorporate these into our product. Another way we innovate is by broadening our solutions. The basic product is what we call a hinge or swing door that opens in and out. Following that we have hermetic doors, which can be sliding, bi-parting automated, hermetically sealed and acoustic, fire and laser resistant. In the past you might have required two or more doors to achieve the same requirements. This represents a real gain in valuable workspace.
Almost everyone that comes to Dortek has the perception that doors are inherently simple. Clients realize quite quickly that doors are complex, especially in the areas we work in. It is one of the only parts of a building that moves and end users interact with–the rest is walls, wall panels or ceilings. Equipment, people and air pass through these doors. This is significant in maximizing energy, containment and cleanliness.
How has the COVID-19 pandemic affected demand for tailored doors?
The pandemic has had four different effects. First would be an effect of scale. There will be more hospitals and intensive care units required, and some countries may choose to have hospitals that are only used in the event of a pandemic. Ireland's stock of intensive care units is much lower per hundred thousand people than Germany, for example. We hit capacity in Ireland far too quickly; we cannot let that happen again. Second, there will be additional capacity built in by vaccine manufacturers. During the pandemic, vaccines were developed quite quickly, and manufacturers struggled to scale up. The U.S., the U.K., Europe, Australia, China and Russia are all major economies that require additional space for vaccine manufacturing. Third is location. Countries like the U.S., the U.K., France and Germany will no longer allow themselves to be dependent on supply chains from other sides of the world, which will require local manufacturing. Finally, we will see a rise in modular setups, whether it be a modular clean room, a modular intensive care unit or a modular vaccine manufacturing facility. Modular building companies will do well as they can provide capacity faster than traditional building companies. Additionally, research facilities will likely scale up as they try to understand pandemics and develop solutions. Overall market demand will increase, although perhaps not overnight.
We are increasing our manufacturing capacity. Because we are a specialized manufacturer, we need to also increase our design, project management and installation abilities. We intend to expand over the next two to three years. If a major pharmaceutical company, healthcare provider, research facility, architect or contractor thinks of the best possible door anywhere in the world, we would like them to think of Dortek. We have a good company culture because we are constantly evolving and doing something new. Dortek even surprises people within Dortek.
How has Brexit affected Dortek's operations?
The U.K. is a fantastic market. We have seen a real uptick in sales in the market in the last three or four years. The U.K. government constantly invests in life sciences and health care and requires new facilities and upgrades of existing facilities. The Grenfell Tower fire led to increased requirements for independently tested fire doors and a rise in demand. Ireland and the U.K. were always going to sort out the Brexit crisis. Both economies are dependent on each other. Irish companies have quickly adapted to changes. The only real impact we have seen since January 1st has been shipping delays. Things will get better in time; suppliers are getting used to it. We do not want to blame Brexit for not getting doors to a site on time, which means we have had to work harder. At the end of the day, any inconvenience must be our inconvenience–it cannot be our customers'. Another possible impact is a shift in perception towards non-British products. However, we have yet to see that. When Brexit finally happened, the world did not come to an end. Things are getting back to normal quickly.
How significant is the U.S. market in your company's portfolio?
The U.S. is a natural market for us and always has been. We were a bit late getting there and probably should have started to look at the U.S. earlier. It is a straightforward but very demanding market. We need to be ready to supply the market intelligently and correctly because we are a new entrant surrounded by previously sitting players. However, we are ambitious. We want to grow our brand in the U.S. and grow our relationships with architects, engineering houses and end users.
We have good strategic partners in the U.S. Partners are important in this market as they represent us. Similarly, customers in the U.S. take a partnership approach. If you work, communicate, perform and deliver well, you will continue to get business. Not every market is like that. In some markets you are only as competitive as your last price and customers move constantly from supplier to supplier.
In 2020 we completed a large installation for St. Jude Children's Research Hospital in Memphis, Tennessee. It was one of the biggest projects that Dortek has undertaken. It was successful and is something we are immensely proud of.
Why is the Irish market attractive for investors?
Ireland is a fantastic location to do business. Irish people and companies are resourceful, innovative and business friendly. We have always depended on exports; our capability in successful supply and partnership building is proven across the world. Irish people work in key positions all over the globe because we have the innate ability to bridge cultures and adapt to changing locations through our natural ability to communicate.