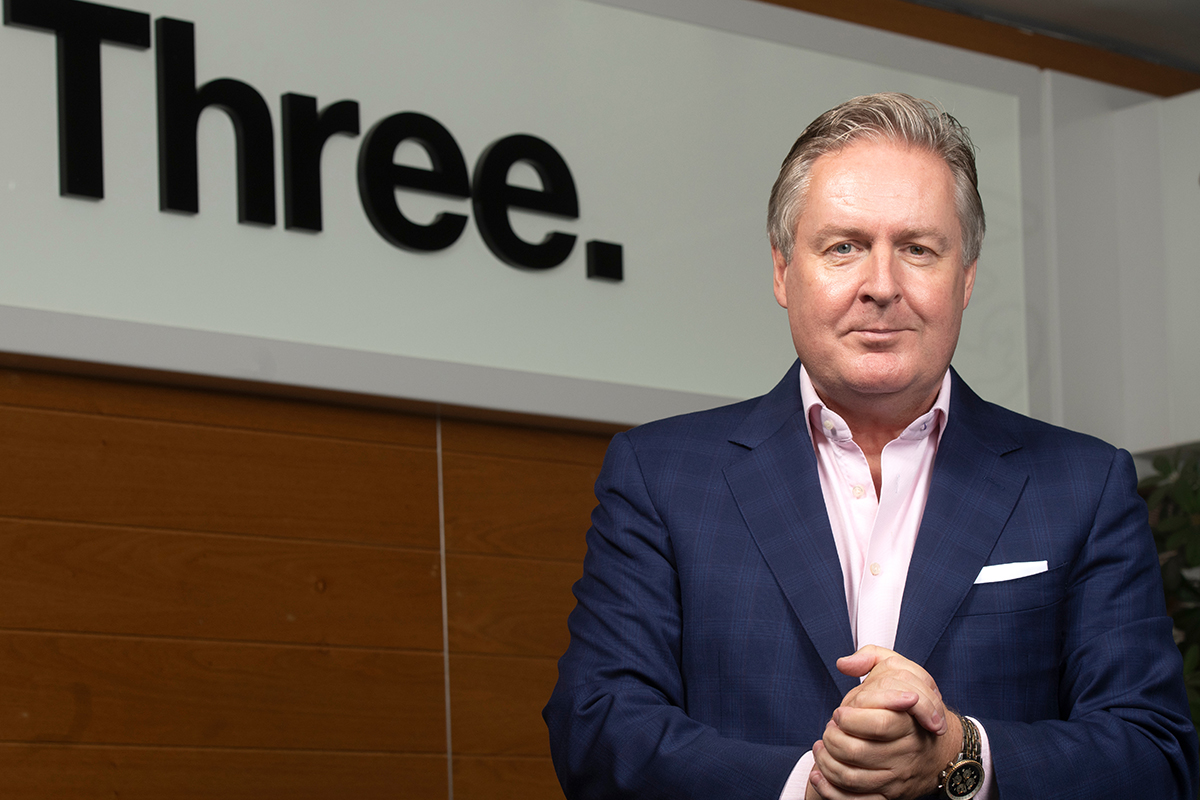 01 Apr

Irish telecommunication sector underlines the importance of connectivity in the modern world
Robert Finnegan, CEO, Three Ireland, discusses the important role internet connectivity has had during the COVID-19 pandemic and how the company has upgraded its network and operations to meet this huge demand
What does Three Ireland provide to the Irish market?
Three Ireland is one of the leading mobile telecommunications companies in the country, with a market share of more than 36 percent. We have the fastest mobile network in Ireland, as verified by Ookla Speedtest Awards, which is important for us. During the pandemic, the quality of our network was such that our customer experience continued to get stronger. This is a result of an ongoing programme of investment in our network across Ireland since we acquired O2 in 2015. Our network carries more than 60 percent of all mobile data in Ireland–more than all other operators combined. We understand the importance of data for our customers, and we are committed to delivering the ultimate connectivity experience to them, which is why we now have 99 percent 4G population coverage in the country. In September 2020, we evolved our network with the launch of 5G. We are the only operator to have a ubiquitous holding of 5G spectrum across the country between rural and urban areas with no differentiation between the two. This means our customers in rural Ireland have access to the same high-quality connectivity we have in urban settings. Three was the first network in Ireland to provide 5G in every county for both prepay and bill-pay customers. For us, 5G is an enabler of our purpose to provide a better-connected life for our customers.
What milestones has Three Ireland recently passed?
2020 was an incredibly challenging year for all businesses. I am extremely proud of the team at Three who kept our customers connected during this difficult time. COVID-19 presented new challenges for all parts of Irish society, and we were delighted to play a role in providing the connectivity that Irish private sectors, public sectors and society needed to survive. Despite the difficult environment and the closure of our retail stores for many months, our performance in the last 12 months has been strong. We are pleased to be able to deliver year-on-year growth of 3% in earnings before interest, taxes, depreciation and amortization. We made $265 million. Despite the various challenges of 2020 we successfully maintained our investment in infrastructure. Last year we committed more than $159 million, and we will continue to do that this year and next year. This is critical to ensure we are ahead of the demand and provide our customers the highest level of connectivity.
How significant is the move to 5G for customers and the country?
2G was about voice, 3G was about accessing data on your handset, 4G was about much faster speeds, but 5G was about so much more. Speed is important. Given that 5G speeds are comparable with fibre, our customers will be able to stream content, have video calls, use connected devices and game with extremely low latency. 5G has the power to be truly transformational for businesses. It has the potential to radically transform productivity and prosperity in Ireland as a home to the world's largest technology companies. Ireland is working to become an innovation leader and requires a strong 5G network as it quickly becomes the standard mobile technology across the world.  Where fibre is not accessible, 5G offers a viable alternative and the pace of our rollout means soon it will have a positive impact on every town and village in the country.
According to Amarach Research, 5G has a multiplier effect. Every $1.00 spent directly on 5G capacity, such as infrastructure and networks, generates more than $2.50 in extra benefits to businesses, consumers and the government according to Ireland's Amarach Research. We recognise the opportunity and potential it provides to the whole of Ireland. We will maintain our momentum as 5G solutions are developed and as the internet of things becomes more accessible. Irish businesses will be enabled to maximise opportunities, whether it is smart manufacturing, augmented reality learning or autonomous vehicles.
Connectivity has a role to play in the development of society. For example, a couple of years ago Three partnered with Arranmore, an island off the coast of County Donegal, to make it the most connected island in the world and turn the tide of population decimation in the area. We brought industry leading connectivity to the island and with it came an increase in business, tourism and population.
How did the COVID-19 pandemic affect your operations?
We immediately realized that connectivity was to be a key enabler of how Ireland would survive the COVID-19 pandemic. We implemented a thorough strategy that evolved as the situation required whether it was in providing education, our customer care channels or adapting the rollout of our network.
Although we turned on our 5G network in September 2020 when we had a critical mass of infrastructure across the country, we began our rollout at the beginning of that year. Internally–just like other companies–we had to change how we work. The majority of our 1,400 employees have been working remotely for more than a year now and most of our rollout took place with workers online. If anything, the pandemic motivated our people further because of how crucial connectivity became. Most organizations, including Three, are now looking at a hybrid working model of two to three days in the office and two to three days working from home, depending on the job and position. The pace of digitalization was expedited during COVID, changing the future of work, shifting the economy and rebalancing it from urban-centric to a more urban and rural approach. We played our part by having telecommunications infrastructure already in place. I am proud of how we enabled this change.
What did Three Ireland do to support the community during lockdown?
While virtual connections cannot completely replace in-person teaching, it can ensure children are able to learn from the safety of their homes during a pandemic. We delivered 10,000 free SIM cards to school students across Ireland to assist with remote education. We also waived the cost to access health and education websites. Similarly, we were able to support our charity partners Aware, Age Action and An Cosán in the work they did during the COVID-19 lockdowns by providing SIM cards and handsets to help them do their job and support vulnerable members of society. We also worked with the Irish regulator and government to put in place a program to help customers who have financial difficulties because of the pandemic so they can continue to enjoy the services we provide.
How has Three Ireland updated its operations through new digital technologies and how is it using them to assist the country's government and infrastructure?
Over the last three years we went through a massive digitization initiative that has changed how we serve our customers. We are going to continue with this change as we move forward. We adopted artificial intelligence and cognitive learning in our customer service centres to change how we reach out to our customers and communicate with them. We see what works, we learn from that and we tweak our communications to meet demand tailored to customer's needs. Internally we are launching initiatives like AIA Engage that will turbocharge our customer relationship management and enable us to drive better cross selling, retention and customer engagement.
We are always seeking rich data sets that provide deeper insights and allow for better business decisions. This is particularly important during COVID where people's behaviour is rapidly changing. We use a solution called Journey Analytics, which uses the most advanced artificial intelligence and machine learning developed for transport analysis. This provides accurate, reliable and timely mobility intelligence based on anonymous aggregated mobile network data. One example of this would be our work with the Health Services Executive providing data to the department of health to support the government's response to the pandemic and its efforts to protect people. The Staying Local Indicator is based on statistical analysis of anonymised and aggregated mobile phone activity records. Data is aggregated at the electoral division and provided to the Department of Health. This data feeds into a wider selection of data used as part of the COVID-19 response.
Our research and development focuses on our technology and how we can best serve our customers, whether it is in terms of 5G or the internet of things. We are working closely with many big companies in Ireland with a focus on smart services that will disrupt communities in a positive way. We recently won a tender for a smart metering program with the Electricity Supplier Board, which is the main government-owned electricity company.
We are proud of the work we do with many of Ireland's small to medium-sized enterprises (SMEs) and large corporations. We have over 40 percent of the business market. During the pandemic, several CEOs of big multinational companies gave us feedback about how pleased they were with the support they were getting from us as a telecommunications provider and enabling their employees to continue to perform required work remotely. We felt that we had a duty to keep the country connected, and we succeeded.
What impact did Brexit have on your operations?
Our business in Ireland is domestic. We have a business in Ireland, and we serve customers in Ireland. When they roam abroad, they interact with other networks internationally. We are slightly different to other industries that would be importing or exporting. For us, it was important that complications on products coming through the U.K. do not lead to a shortage of supply for handsets or spare parts for our network. We worked with our suppliers and providers to ensure they had sufficient stocks and contingency plans for air freight if products were required. The impact that Brexit has had on our business is little to none.
We announced in 2019 that we would not be making changes to our roaming packages. We were the first network to do so, and that will continue. This was particularly important because from a Northern Ireland point, which falls under the jurisdiction of the Office of Communication and the U.K., we wanted to ensure that people crossing the border or living on the border were not impacted by Brexit. We are delighted to be able to do that. It is important people understand that there will be no massive changes in their lives in terms of cost.
What is Three Ireland's strategy for the future?
We are continuing to grow our position. Our share in the market is growing. We see 5G as an opportunity for growth and a substitute for fibre. People are paying a large cost for fast connectivity that we can deliver at the same speed–around 400 megabytes per second. We also see significant opportunities for growth with our broadband products and the internet of things. The latter consists of high-volume and low-cost opportunities and can deliver significant outcomes. We will continue to attract more customers to Three as people see the strength of our offering, our brand and our network. My ambition for our business in Ireland is to be the number one telecommunication provider, which we are quite close to achieving. We are certainly number one in network quality and customer service, and we strive to be number one in terms of innovative products.