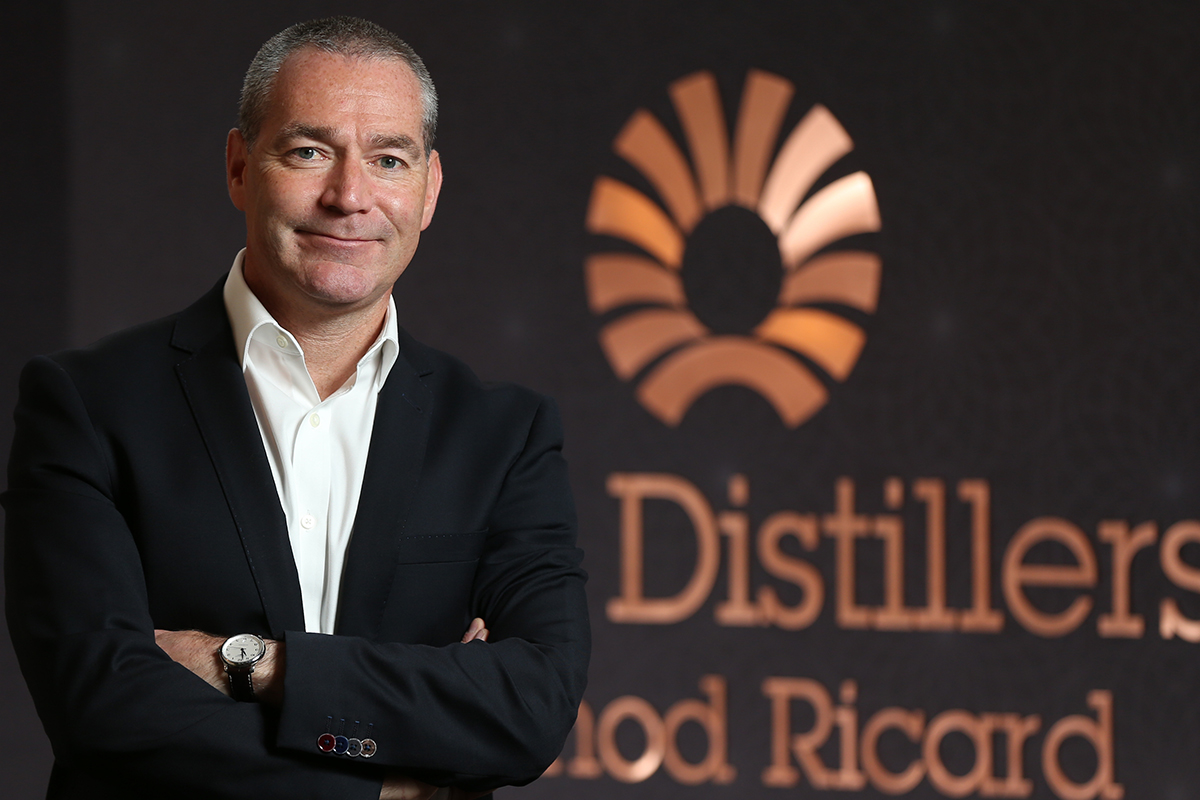 02 Apr

Irish whiskey sees boom on the global stage headed by the world's favorite brand
Brendan Buckley, International Marketing Director, Irish Distillers, explains why Jameson is the world's leading Irish whiskey and what efforts the company is taking to grow its customer base in the U.S. and the world over
Can you give us a history of your company and the Irish whiskey industry?
Irish Distillers was formed in 1966 when the three following rival whiskey families merged: the Jameson family, the Powers family from Dublin and the Murphy family who owned the Cork Distillery Company in County Cork. They merged at a point in history when Irish whiskey was on its knees. This category of Irish whiskey was previously the most popular style of whiskey in the world; it was more successful and popular than scotch or bourbon. However, a sequence of events led to the implosion of the Irish whiskey industry due to the arrival of prohibition in the 1920s in the U.S., the Irish Civil War, the Irish War of Independence, the subsequent trade war with the U.K. and the Second World War. Over 60 years the Irish whiskey industry went from the top of the pile to almost extinct. In the early 1970s, the merged company made the choice of picking one brand to put out on the world stage as the leading Irish whiskey brand. This was the beginning of Jameson becoming a global, iconic Irish brand.
The real inflection point in the evolution of Irish Distillers and Jameson was when Irish Distillers became part of the Pernod Ricard family in 1988, gaining access to unprecedented levels of investment and an extensive global distribution network. Today, Jameson is one of the top five whiskeys in the world and on the cusp of becoming one of the top ten international premium spirit brands. The Jameson success story is something that we at Irish Distillers hold dear. Few brands can match our growth in the same timeframe. Led by Jameson, our brands have been the driving force behind the global renaissance of Irish whiskey. Jameson is now the world's bestselling Irish whiskey and has experienced 30 consecutive years of growth. Sales of Jameson cases hit 7.6 million in the 2020 financial year, up from just 500,000 cases in the mid-1990s.
For a long time, there were only a few distilleries in Ireland making whiskey, but this has grown significantly over the past decade, hitting a 120-year high in 2019 with 38 up-and-running distilleries. There are an estimated 175 brands of Irish whiskey, and we welcome the competition. If you look at the scotch industry, there are big brands like Johnny Walker, but the industry is now mostly made up of many smaller and diverse brands and producers that contribute 100 million cases annually. We have also seen an explosion in craft whiskey in America over the past ten years, and Ireland is following a similar trajectory.
Why has the Jameson brand been so successful?
Each brand has its own unique story to tell. We have the following simple mantra for Jameson: it is serious whiskey that does not take itself too seriously. We are serious about how we make Jameson. However, many whiskeys take an elitist and exclusionary approach. The success of Jameson is that it is a high-quality product with real craft in its making, but it is without pretense. It is also the most shareable whiskey in the world. Certain styles of whiskey require a mature palate to enjoy. Traditionally, whiskey is a male-dominated category, but Jameson has always bucked this trend. When you look at our consumer make up around the world, it is almost 50 percent men and 50 percent female. The personality of Ireland comes through our brands. Irish people are welcoming, easy to get on with and do not take life too seriously. These qualities are reflected in our brand.
How does the taste of your whiskey differentiate itself from others on the market?
For Jameson, the taste and quality has been critical to our success. We make a unique blended style of whiskey that is accessible. Jameson is triple distilled. A hallmark of a triple-distilled whiskey is that it is a little smoother. For consumers who want to enter the world of whiskey, it is a very amenable entry point. As the market has grown, we are seeing different styles of whiskeys, but in Irish whiskeys tend to be more accessible. It is what differentiates us from scotch, for example. Scotch tends to use peat and is typically smokier compared to Irish whiskey as they tend to use open fires when they malt their barley. At Irish Distillers, we do not use open fires; we use closed kilns to malt our barley. Most Scotch whiskies are double distilled, and the majority of Irish whiskeys are triple distilled. There is a slight difference in the way they are made.
What are the reasons signature whiskeys such as your Redbreast label are doing so well?
The single pot still Irish whiskey category continues its resurgence, driven by Redbreast. It is a different style of whiskey from Jameson. Jameson is a blend. Single pot still Irish whiskey is considered by most as the traditional and quintessential style of Irish whiskey. If you had a whiskey in Ireland 100 years ago, it was almost certainly going to be single pot still Irish whiskey. It fell out of fashion because it was seen as heavier and less accessible. As consumers begin to develop their palate, they gravitate toward whiskeys that have a bit more complexity. That is where Redbreast shines. It is a more layered and nuanced style of whiskey. It is made in the traditional way of batch pot still distillation using malted and unmalted barley unique to Ireland. In the 1990s, Midleton Distillery was the only distillery in Ireland that still produced single pot still Irish whiskey. The only two brands to survive were Redbreast and Green Spot. Today, they are absolutely booming. Sales of Redbreast grew 33 percent in the first half of the 2021 financial year. Redbreast and our prestige portfolio of whiskeys have boomed throughout the COVID pandemic because many have improved their palates. It has been a challenge to keep up with demand because these are age-statement whiskeys. To sell a Redbreast today, we need to have made it 12 years ago. It is a complex supply chain to manage. We need to plan 25 or 30 years ahead to meet future demand.
We are actively exploring other possible opportunities to add incremental growth to the brand and recruit new consumers. We are having huge success with some of our high-end expressions like Jameson Black Barrel, which saw annual volume growth of 30 percent globally. Changing lifestyles and consumption habits of whiskey drinkers, increases in disposable income, rising affordability, consumer preference towards premium whiskey and a new generation defying whiskey-drinking stereotypes are all factors in the global growth of the market.
How important is the U.S. market for Irish Distillers?
The U.S. is a hugely important market for us, and it is critical that we maintain momentum. We have had an unbelievable growth trajectory over the past 20 years. However, as Jameson gets bigger and bigger, maintaining this growth will become more difficult. There will come a time when we reach a certain scale in distribution and penetration, but there is still quite a lot of room for growth. We are approaching the export of 3.5 million cases per year or thereabouts to the U.S., but there are brands like Jack Daniels and Crown Royal that are selling 8 million cases per year. We can drill into certain states. For example, we are one of the top-selling whiskeys in the state of California, with over half a million cases per year. In Texas, however, we sell only 150,000 cases per year, whereas Crown Royal sells 800,000 cases. On a state-by-state basis there are pockets where Jameson is still in its early stage of growth. We treat the U.S. as 50 countries. We have a mature market in New York, Illinois, Pennsylvania and California, but we are only starting in Florida and Texas. Our strategy in the U.S. is to continue to build brand awareness.
Equally, innovation plays a role. The U.S. is a very innovation-driven market and consumers are interested in new products. Flavoured whiskey is a new phenomenon. It now takes up almost one-third of whiskey sales in the U.S. We have begun to explore opportunities in flavored whiskey. Last year, we launched a new line extension called Jameson Cold Brew, which is Jameson blended with cold-brew coffee; it is a modern interpretation of the classic Irish coffee. Unfortunately, we launched it the week the pandemic hit. Despite that, it has performed quite well. We are hopeful that once we have come out of the pandemic, we will reset and relaunch Jameson Cold Brew again.
How has the pandemic changed the way customers purchase alcohol?
Consumers are deferring to trusted brands. People know what they want and are no longer cruising shelves as they would have done normally. A lot of tried and tested brands got an initial boost, and Jameson was one of them. As we moved into the latter half of the lockdown there was an acceleration of premiumization. Consumers realized the pandemic was a long-term challenge and that they would not be going to a restaurant or pub any time soon. We saw a rise of at-home cocktail making through a surge in sales of mixers and cocktail ingredients. Some of the producers of cocktail ingredients saw sales go through the roof as people began recreating the bar environment at home.
E-commerce has also gone through the roof, with direct-to-consumer sales booming through our website. People are buying our standard product coupled with cocktail kits. People are also buying through local and specialist online retailers who have seen a similar boom in sales. We developed more exclusives for the e-commerce space. For example, we launched a special edition of Redbreast, a Redbreast 10-year-old, and produced 7,000 bottles. They were sold out in four hours.
How important is sustainability and supporting the local community for Irish Distillers?
We recently signed up to the Business in the Community low carbon pledge, which is a great initiative. At Irish Distillers, we understand the importance of protecting our communities and environment, which is why sustainability and responsibility are fundamental elements of our business strategy. Since 2010, we invested more than $122 million in Midleton Distillery to improve efficiencies and reduce the environmental impact of our operations. We have achieved a 33 percent reduction in energy consumption, 35 percent reduction in water consumption and 47 percent reduction in scope one carbon emissions. 100 percent of the electricity used at our sites is certified as green electricity.
We are committed to sourcing barley in Ireland, and we recently launched a tailored sustainability scheme for our barley growers. Barley is an important raw material, and it should be used in a full circular approach. Once the barley is used, the byproduct is passed on to make animal feed. We have zero waste going to landfills from our production sites. All our raw materials are 100-percent certified and traceable. We also have numerous biodiversity projects underway at the distillery in partnership with our barley growers.
We also take use and misuse of alcohol seriously. All employees do mandatory training annually around alcohol use. We will be unveiling some brand-specific responsibility initiatives next year, which are in development right now. Many of our brands, particularly Jameson, will take a serious stance in responsible alcohol drinking. We believe in fairness, integrity and community coupled with a deep respect for the environment.