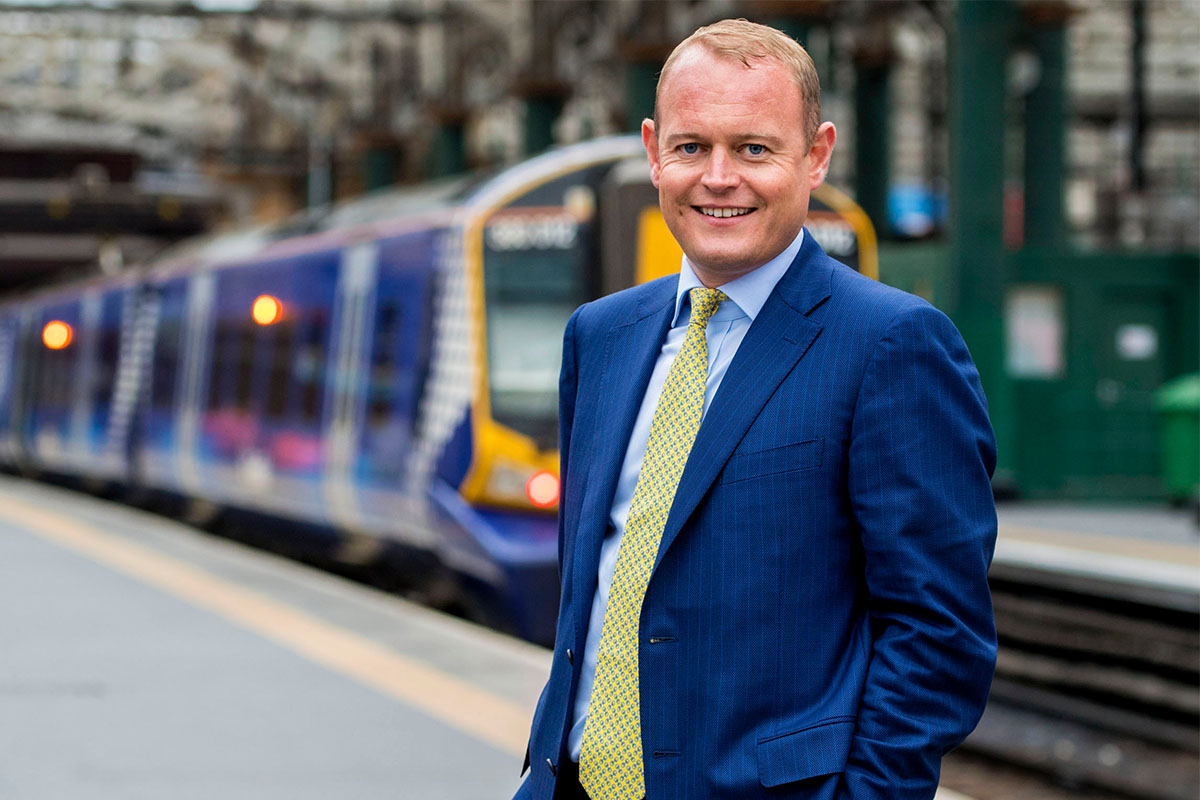 03 Apr

Keeping track of trends
Alex Hynes, Managing Director, ScotRail, discusses the company's pathway to modernize and decarbonize Scotland's logistics sector and its plans to meet new trends in the post-pandemic era.
What key objectives do you have in revitalizing the nation's railway services?
We do not invest in railways because we like railways; we invest in railways because we like what railways do. They connect people with places, drive economic growth, allow people to buy affordable homes and commute into city centers and decarbonize the transport system. To these ends, the Scottish government transport agency, Transport Scotland, has asked ScotRail and Network Rail to work together under a single managing director. I have three priorities as managing director of Scotland's railway. The first is to keep everyone safe. On August 12, 2020, we had a terrible accident at Stonehaven near Aberdeenshire following an extreme rainfall. Three people lost their lives. It was a terrible tragedy and a cruel reminder of how climate change is affecting us. Last summer, hundreds of people died in Germany, a rich country with great infrastructure. The second priority is acknowledging the gap between revenue and previous incomes. The pandemic caused passenger numbers to lower, and, in turn, our subsidy has gone up. Scotland carries about 50 percent of the passengers we had in 2019. Reducing the net cost of the railway back to its pre-pandemic levels is imperative. The COVID-19 pandemic changed our behavior; inevitably, we are going to have to change our railway. It may be more focused on leisure travel than in the past. We plan to implement a new timetable in which more trains run on Saturday than on Monday to Friday because leisure has bounced back more quickly than commuter and business operations. There is no way people will go back to working in an office five days a week; we must change our railway accordingly. The third priority is decarbonizing our railway by 2035 by removing diesel trains. We will do this by electrifying the railway.
Electrification only really works well when there is a certain frequency of service, and Scotland is quite a rural country. While Scotland is a third of Great Britain's landmass, only five million people live here. Most of the population in Scotland live in the Central Belt. For the more rural fringes of the network, we will most likely not electrify the railway and look instead towards battery and hydrogen trains. In 2017 we used to have three-carriage diesel trains. Between Network Rail and ScotRail, we spent almost £2 billion improving the rail network, about £1.5 billion on infrastructure and about £475 million on new and upgraded trains. Trains between Edinburgh and Glasgow are now eight-carriage electric trains. We have not just decarbonized transport, we have made it vastly better. It is modern, clean and consistent. Electric trains are three times more dependable than their diesel counterparts. They are fast and frequent. Our job is to bring this level of quality to other parts of Scotland. Currently, electrification runs out near Stirling, one of Scotland's seven cities. The rail network further north in areas such as Aberdeen, Inverness and Perth is not electrified. Electrification will enable us to decarbonize and invest in more reliable and modern trains.
Scotland is an amazing place to live, work, visit and study. When you come to Scotland, you should take the world's most beautiful railway journey on the West Highland line between Glasgow and Fort William. Scotland is a modern and ambitious country and a leader in climate change. We have ambitious plans to help Scotland be a better place to live and save the planet. We want to welcome the world to Glasgow, give passengers an enjoyable experience and deliver on our promises to the planet. I would like to see a railway that is fully decarbonized, safe, on time and accessible for all. We want our railway to be busier than it is now.
How are Scotland's railways contributing to the nation's sustainability goals?
There is an alignment between the nation's objectives surrounding sustainable economic growth. For example, rail fares in Scotland are about 20 percent cheaper than they are south of the border. This enables people to afford rail travel. Our punctuality tends to be better and most of the electrification of Britain's railways in the last few years has happened in Scotland. Scotland was one of the first nations in the world to declare a climate change crisis. Net-zero carbon emission targets are now in law in both Scotland and the U.K., with an overall target of 2050 in the U.K. and 2045 in Scotland. In July 2020, the Scottish government published their decarbonization action plan that includes the removal of all diesel trains from the Scottish rail network by 2035, which is only 14 years away. Decarbonization commitments are sometimes enshrined in law while others are simply promises. In truth, our short-term milestones are more difficult to hit. Behavioral changes by 2030 is more difficult to achieve rather than simply having net-zero carbon emissions by 2045.
We are currently building a new railway in Fife across the water from Edinburgh. The Levenmouth branch will be an electric railway. We are currently electrifying the railway between Glasgow and East Kilbride and Barrhead as part of our rolling program of electrification. A total of 76 percent of passenger services are decarbonized in Scotland. For freight, 45 percent of services are electrified. Network Rail, who buys the electricity and charges train operating companies, buys its electricity from carbon-zero sources. There is an investigation underway to see whether we can buy our electricity from fully renewable sources rather than rely on nuclear power. The Scottish government is not in favor of nuclear power. In addition to decarbonizing our own operations, we can help everyone else decarbonize private transport and heavy goods vehicles.
How did the 2021 United Nations Climate Change Conference (COP26) accelerate Scotland and ScotRail's sustainability agenda?
COP26 was the largest event that Scotland has ever hosted and the largest gathering that Britain has ever hosted. Fortunately, we had an extra year to plan for it. It was a big opportunity for us but also represented a significant risk in terms of transport. We had the three following objectives for COP26: having a safe and reliable railway for customers, showcasing our rail's green credentials and winning new customers. We delivered on all three priorities. Our team set ourselves up at Glasgow Central Station and welcomed the world to the city. We had Greta Thunberg, Leonardo DiCaprio, Boris Johnson, Prince Charles and Prince William and Kate Middleton. There was a battery train in the station doing runs and a hydrogen train on demonstration. There was a real buzz about the place. COP26 was an enormous success. We received positive feedback from international delegates on how much they loved Scotland, the friendliness of the people and the train network. By all reports our staff were helpful and trains were clean and on time. It was really encouraging.
What effect did the COVID-19 crisis have on the railway network?
We have spent considerable time in the last 18 months managing the impacts of the pandemic. We need to look at both our costs and revenues. One of the big drivers in running a train operating company is timetable. Pre-pandemic, we were operating a lot of services, and we allocated a good deal of extra investment towards them. However, we were not increasing demand at the same rate as costs and many of our seats were unoccupied. We tried to run more services on a network that was essentially the same size. In the end, punctuality suffered. When the pandemic hit, passenger numbers dropped by 92 percent. We saw a massive increase in punctuality because we were operating fewer trains with fewer passengers. While public opinion was largely negative, we received a great deal of data. Although passenger numbers have bounced back slightly, we have added more services and maintained our high punctuality. Services are running at about 80 percent, which is the biggest driver of customer satisfaction. We are not going to try and operate too many trains on a congested rail network, particularly if seats are empty. We now have a better match between passenger numbers and seats while boosting customer satisfaction through punctuality.
The post-pandemic rail market is going to be far more elastic than it was in pre-pandemic times. With the new telecommuting option, commuters are not the same captive market they were in the past; passengers are now discretionary travelers. People are not going to stand on trains when they could be sitting at home being productive. We need to keep hold of our higher punctuality levels and make it easier for people to buy tickets when they are not traveling as frequently. People used to buy season tickets designed for five-day-a-week commuting, which has become obsolete. We have launched our Flexipass system to mark on the trend. Passengers can buy 10 tickets for the price of nine and have three months to use them. Additionally, nearly everyone has gone cashless. The U.K. cashless contact limit has been raised to £100. The mobile ticket service was launched in July 2021 and 16 percent of customers are using it.
The way we plan engineering work is also undergoing a change. For example, in the olden days we used to keep the railway open Monday to Friday and perform our engineering work on the weekend. We have increased pressure to stop this practice since Saturday is now our busiest day on the rail network. For example, Christmas is traditionally a huge period for engineering work, but we had only one big closure in Scotland. Our railway is open for business, which is great because people still want to travel for leisure. Our job as railway managers is to respond to the changed market.
What is ScotRail doing to make freight movements more efficient?
Rail freight is massive. Each freight train takes 76 trucks off the road. Scotland exports wool, water, wood and whiskey. We collaborate with producers and freight operating companies to get these movements onto the rail network. Transport Scotland has a strategy for rail freight. Timber is transported by rail freight. We recently built a connection to the rail network for a mineral water company called Highland Spring in Perthshire. They created a rail facility that will open in 2022. Rather than employing 76 trucks, they will be able to move their mineral water by freight train on a dual carriageway, the A9, which is the main north-south corridor in Scotland. This will have a huge impact on the environment and safety. In an environment where there are slightly fewer passenger services, there is more space on the network for freight. One of the reasons we are so keen on electrifying our rail network in Scotland is because big freight trains move slowly, and the following passenger trains catch up to them. If we electrify the network, we can speed up the movement of freight trains and enhance overall capacity on the track. Rail electrification is good for movement of both passengers and freight.
What kind if innovations is ScotRail implementing to keep up with growing trends?
The U.K. rail sector is not the most innovative sector in the world; the normal workings of a rail company are performed in the same way as in yesteryear. However, the COVID-19 pandemic forced us to innovate. If we are going to decarbonize transport, we need to travel less. Most journeys are less than five miles in length. We are going to need more people taking active travel and public transport. In the summer of 2021, we launched the Highland Explorer, which are carriages dedicated to bikes. One of the most beautiful rail journeys in the world is from Glasgow up the West Highland line to a place called Fort William. This journey is a bucket list must. It is extremely busy in the summer with cyclists and people engaging in mountaineering. The trains get rather full. We procured these extra carriages and stuck them on the end of passenger trains. One can now load 24-inch bikes onto the tracks with an e-bike charging point on board. We are also recreating an intercity network for rail services in Scotland. What customers want is a quality intercity experience. To that end, we procured 25 high-speed trains, upgraded them and made them fit for purpose in Scotland. The seats are aligned with the windows so passengers get spectacular views up to Aberdeen, along the coast and on the Highland main line through Cairngorms National Park. The three-carriage trains have been replaced with four- or five-carriage high-speed trains.
What is ScotRail doing to bolster the nation's tourism sector?
A big part of the Scottish rail brand is tourism. It is one of the most beautiful countries in the world and being able to see it by train is magical. We are changing our product to get customers what they want, which is experiences rather than heading to work at a crowded office. As part of our decarbonization plan we have worked out when the trains will require replacement. Different fleets expire at different dates, and we need to synchronize our infrastructure plans. For example, the West Highland line, the Far North line and the Kyle line are stunning scenic rural railways currently run on diesel trains. We need to modernize this transport using hydrogen trains. We should replace them with scenic trains and charge a premium to tourists who want to buy the touring product. We need to think about carrying our fare-paying passengers on lifeline services and attract the high-spending tourist market.