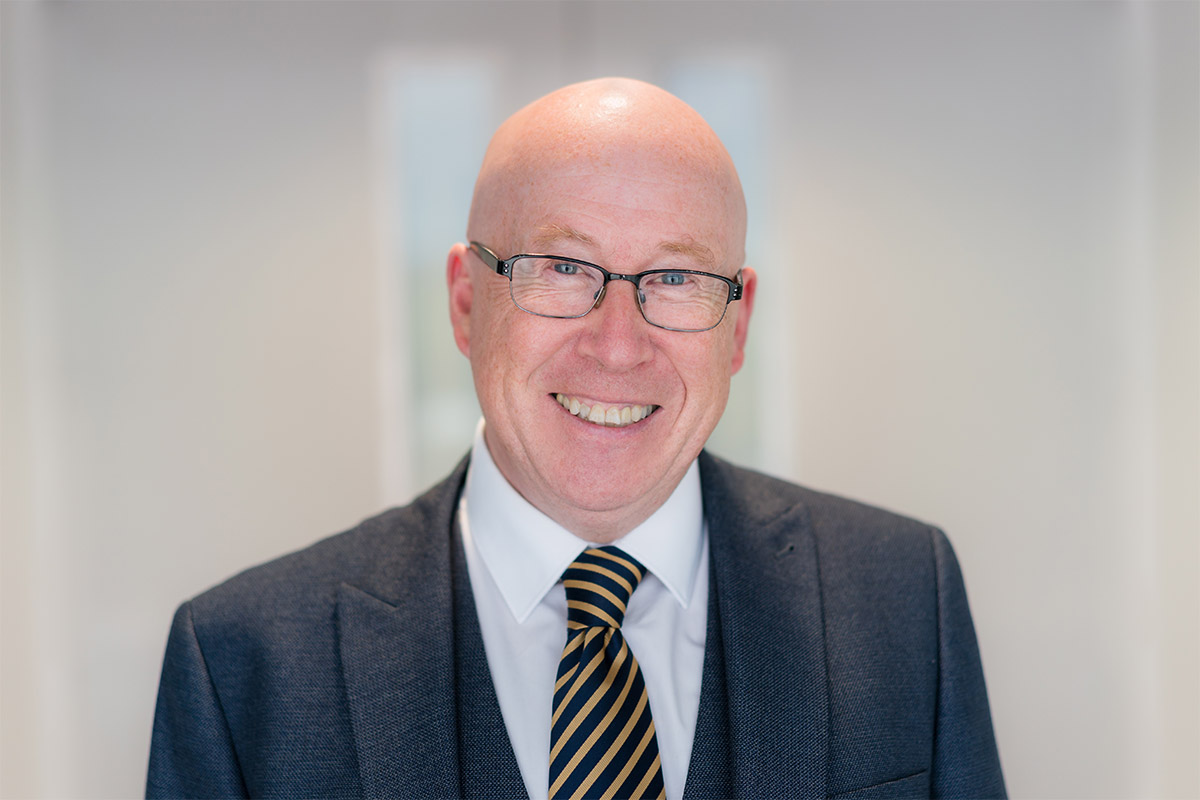 24 Mar

Making the world a better place
Sir Paul Grice, Principal, Queen Margaret University (QMU) of Edinburgh, describes an institution charged with a social mission that seeks to change the world for the better.
Can you give me a brief overview of the Scottish higher education landscape? In your opinion, how does it stand out from other global markets?
The plurality of the Scottish higher education sector is remarkable. Scottish universities do not just have that deep expertise in classic university areas, such as science and engineering, but across the range. Something I have observed, having worked both at the U.K. and Scottish level, is the extent to which the sector is integrated as part of Scottish society. It is not that there is no connection between higher education and politics in the rest of the U.K. Of course, there is. However, it is more intimately integrated in Scotland. The relative weight of the sector compared to other economic sectors in Scotland puts universities right up there with some of Scotland's major industries like whisky, oil and finance as absolute engines of economic growth.
Can you give me a brief overview of the university today, its significance and positioning in the country, its impact and your contribution to the region for the past 150 years?
A real distinctive feature lies in our origins as a university that began supporting working-class women to improve their career opportunities and life chances. To this day, we are still focusing on widening access to higher education and we are very proud of that.
We are a university that does not try to do everything. Instead, we aim to be brilliant at the things that we do.
One of the real strengths in our provision in the health area is that we cover such a wide range of specialisms. It is not just nursing but encompasses physiotherapy, psychotherapies, radiography, and so on. We are able to bring all that together. When you look at the challenges facing the world and society, they are not narrow. You need a wide lens. The broad scope of our teaching and research in health reflects that.
At QMU, we talk about being person-centered. Because of the scale of our university, with around four and a half thousand students on our campus, we are big enough to make an impact, but we are small enough that you really do feel treated as an individual, whether you are a student, a member of staff, or a partner of the university. That is something that is extremely important to us.
We aim to send our students out in the world ready to start work or to continue researching. It's a rounded education: you leave hopefully with a professional qualification or a deep understanding, for example, of the arts or psychology, but, more than anything, we hope and expect that you will be ready for the world of work. Around 97 percent of our students are in graduate-level jobs 15 months after they leave. We think that is a critical part of our offer.
The other point is that we collaborate. A very significant number of our students study for our degrees in other countries, through our transnational education partnerships, for instance in Greece, India, and Egypt. That also gives us that international perspective, which is tremendously important, both for our developing academic work and the culture it brings to the university. It might sound like a cliche, but we want our students to be citizens of the world, and we think having a campus and a reach that is truly international but not dominated by any one country is hugely important. At QMU, there is no particular country of origin that dominates our student population other than obviously being a Scottish-based university. Beyond that, we have students from literally all over the world, which is marvelous.
Can you outline for us some of the main elements and strategic goals that you pursue in the discipline? Where does the university hope to make the biggest difference?
I would say in three areas. First, there is a massive challenge around skills. Even before the pandemic, but particularly after. So, what are the skills we need? We think it is a combination of having the right technical skills, whether it be in health, education, business, digital and so on, but also having that classic ability to solve problems and to look ahead. Genuinely, we are sending people out into the world with that combination of hard and soft skills.
Second, we at QMU are dealing with two of the biggest areas of challenge in Scotland and in the U.K.—health and education. We educate the health workers of the future, and we are educating the teachers of the future, but we are trying to do it in a novel way. For example, in our teacher education, we are looking at blending not just traditional teacher education but outdoor learning and digital. We have all learned a lot through the pandemic about the value of spending time outdoors, for example. Consequently, we have just recently created an outdoor learning hub and planted something called a 'wee forest.' We have a lovely campus and quite a lot of land, so the idea is to create spaces where people can learn outside and learn to teach others outside. This is not just for the teachers for the future, but also for, say, creative arts or psychology majors. Why not learn outside? It is good for resilience and there is strong evidence that it is good for people's wellbeing.
In focusing on teaching and research in key areas of challenges, our thinking here is that ultimately, we want to make society a better place, and while having a successful economy is part of it, society's problems go far deeper than the economy. We are trying to send people out in the world with the ability to make connections across disciplines and help make the world a better place.
Thirdly, we are making a difference in the broad area of food and wellbeing, with food a big part of the Scottish economy. Our focus on food also links into climate change and sustainability. We are building an innovation hub and a broader innovation park just next door to the campus, with the hub focusing principally on food. We see a real opportunity, not just to look at the quality and origins of food, but linking it to the whole wellbeing agenda, whether it is tackling obesity, or looking at alternatives to products that are felt to be damaging or which have a high impact on the environment.
These are three areas to which we genuinely feel at Queen Margaret we can contribute, beyond our central ethos of person-centeredness.
What are some of your biggest research breakthroughs and examples of indigenous innovations made at the university and the impact they have brought?
Our university is focused on applied research rather than 'blue skies' research. We are doing some really interesting research around food science. For example, we are looking at a substitute for palm oil in the food industry, with palm oil hugely important, almost ubiquitous ingredient, though it causes real environmental problems. We do a lot of impactful research in health too, for instance in biomechanics. For example, people with multiple sclerosis can experience something called foot drop. Just as it sounds, this means they struggle to keep their feet in place as you or I may be able to do. Hence, we design footwear that allows people with multiple sclerosis to walk better. There is also work being done around a para sports called frame running. And we have world-leading research in global health. Our Institute for Global Health and Development is recognized across the world for its work in health care systems, in fragile economies and in the issues that are facing refugees. One particular area of research has been to look at the psychosocial impacts of being a refugee. Quite rightly, there is a long tradition of research focused on feeding and dealing with the medical challenges of refugees, but perhaps not enough thought was given to the psychological trauma and impact. Working with specific groups, our team have produced really interesting research there to help understand what psychosocial interventions are needed.
Additionally, we lead on in research in person-centered practice in healthcare. This is about putting new policies and practices back into the health service to help support people better on their journeys in and through health care.
How are you working as well to build closer academic-industry relationships and narrow the gap between the research world and the corporate world and enhance the impact of your research?
Work has already begun on our innovation hub and innovation park, which is a development that provides lots of opportunities to partner with industry. One specific area we see as really important, and where we can make a real difference, is supporting SMEs, with such businesses making up a big part of the Scottish economy.  We have had a lot of success working with small businesses, particularly female-led businesses, and encouraging entrepreneurship. We often work with businesses starting from scratch at the early stage of their development, some of which are graduate start-ups. Those businesses often struggle to find the resources to innovate, because they do not have the capacity to do so. To help them with this, we have a business innovation zone right on the campus. If you are a business, you can literally come onto the campus, and we will give you very practical support. We help businesses understand how to get started, get finance, access research and grow. We also provide such businesses a direct route into the academic expertise on campus.
I mentioned that a lot of the businesses we work with our female-led.  There is strong evidence that women do not tend to grow their businesses as much as men do and that not enough entrepreneurs are women. We think that is a missed opportunity for the whole of the U.K., never mind Scotland. We cannot solve all of that, but we do think we can make an important contribution to help redress the balance, by supporting women entrepreneurs particularly, while supporting entrepreneurs more generally.
How important is sustainability at a QMU level? What kind of initiatives have you taken in that regard, and globally speaking, how do you view the role of universities in this area?
Universities play a vital role in combating climate change. It is vital. We must show leadership. Universities are engines of change, and we have the intellectual and creative resources to deploy. We are keen as a university to do so. There is a twofold approach at Queen Margaret University. We are fortunate to have quite a modern campus that was built with sustainability in mind. It is very efficient. However, beyond that, we have a commitment to achieving net zero, along with the other Scottish universities and in line with the Scottish government's ask, and we were all inspired and challenged by COP26. Thus, we are looking at a whole range of things, starting, for example, by a desire to be a part of an ambitious regional project around securing heat from waste initially to supply a district heating system. This will be a great way to massively reduce our dependence on fossil fuels for heating and power, and to serve the heating needs of a whole part of Edinburgh, not just the university.
And universities can demonstrate how things can be done. We have amazing student populations, so simply encouraging them to walk and cycle and do all these things helps create that sense of what can happen.
The other thing we are doing is embedding sustainability throughout our whole curriculum. Whether you are studying nursing, acting or sociology, giving you that knowledge, understanding, confidence and that sense of responsibility for the environment is super powerful. We are sending thousands of people out into the world, and if they each go with that confidence and that knowledge, they are going to make a difference. We want our graduates to be those kinds of entrepreneurs, or people in public policy in government, or employees, who have the confidence and the drive to make sure that the COP26 agenda is delivered.
On the international front, how would you describe the university's strategy to internationalize to craft new partnerships, collaborations and student exchange programs?
Actually, a large percentage of our students are studying for our degrees abroad through our transnational educational partners rather than in Edinburgh. We have several thousand students who study with our partners across the world, ranging from India and Nepal to Egypt and Greece. Queen Margaret University has a very strong international reach, and we work closely with our international partners. Our reach internationally means a lot of that teaching can be done in-country, and we are also developing new collaborations using digital technologies, which has liberated us to develop a whole new suite of programs and partners where we are teaching people digitally.
What key markets are you targeting more specifically? Do you have any interest in the North American market?
We have quite a strong presence in Canada that we would like to develop more. Certainly, we are interested in North America more broadly, and the market in India is also very important to us. We already have a strong presence with a partner in India, and it is obviously a country of enormous importance, with a fantastic tradition and heritage in education and valuing education. Of course, the U.K. has some natural advantages in terms of language and links. We also have a presence in Nepal.  So, in short, India and North America are both key markets for us.
How has Brexit affected your strategy, and what are some of the key moves that are making?
Brexit has impacted all Scottish universities. Home undergraduates do not pay fees in Scotland, meaning that, before Brexit, people living in the European Union were able to come to Scotland and study without paying fees. That was a strong incentive. With Brexit, all that changed: those students are not coming in the numbers they did, understandably. Hence, we are looking at ways of rebuilding some of those markets through developing partnerships in continental Europe, whether that be in, say, Spain or Luxembourg, or in Greece where we have a strong partnership already. We are looking to consolidate and build on our links.
We are hugely committed to Europe, and, with over 2000 students studying with us through our Greek partners, we feel very connected and we are determined to maintain and build on that.
How would you summarize your personal vision, your priorities, your biggest dreams words that you have most at heart to accomplish for the next three to five years?
I want us to be a really confident university and one that never forgets that we have a social purpose. At the end of the day, the purpose of a university is to try to improve society. I want us to be a university that really does make a difference. We also need to be a university that really tries to be, if not on the cusp of, certainly leading in terms of thinking about how we exploit digital technologies; and how we connect subjects like health and wellbeing together. And although economic success is important, we need to demonstrate that if you want a sustainable happy society, you have to look at health and wellbeing and social issues as well. As a university that is where I want us to be, and I want people to talk about Queen Margaret University as a place that contributes to making the world a better place.
And as well being regarded as one of the organizations that makes a lasting contribution, I want to continue to send students out into the world who have just had a wonderful time. We get fantastic feedback that our students are happy. They then become ambassadors for the university, for our country, and, hopefully, for the kind of society and values that we want.
What's your final message for the readers of Newsweek magazine?
Queen Margaret University and, indeed, Scotland, is a place where education is valued and prized. And higher education has an absolutely vital role in creating the kind of society that we all want to live in.