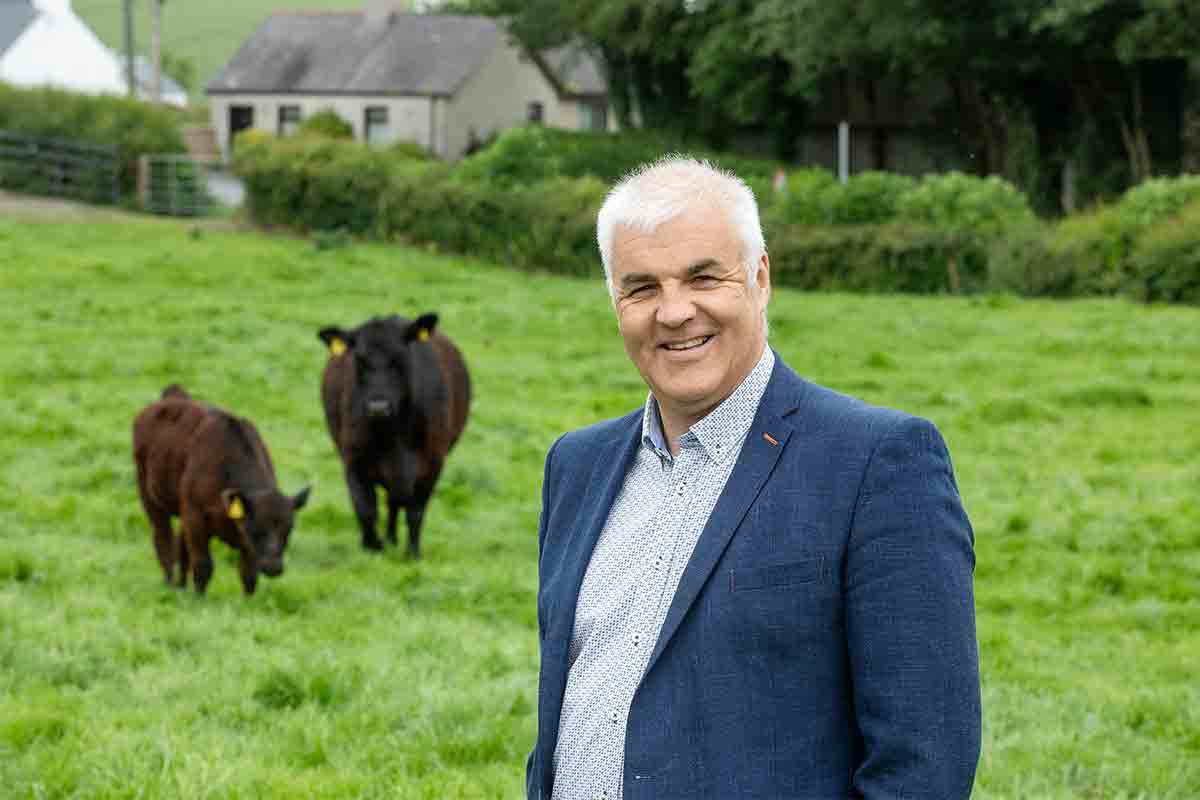 01 Sep

Northern Ireland brings the world a sustainable food future
Richard Kennedy, Chief Executive, Devenish, foresees a world where people will eat more healthily, and the research and development his company provides is working to be agreat avatar in that change.
Devenish is one of Northern Ireland's best success stories in the agricultural sector. The company was founded in 1952 and has developed from being a trading-based company to manufacturing its own, added value and science-based sustainable feeding solutions, now sold in 40 countries. In the past 20 years under your leadership, the company experienced huge growth and was steered from $7 million in turnover and 23 employees in 1997, to over $312 million turnover and 750 employees. To start, can you give us a rapid overview of Devenish. How does the company position itself in the global food market today?
The Devenish business was started in 1952 before being acquired by the current management in 1997. As a group, we came together and saw there was an opportunity to disrupt the market. Devenish operates in a very competitive field, but we felt that we could go about addressing it from a different place and in a different way. At our core, we are animal nutritionists. Over the years, we realized that nutrients flow throughout the food production value chain and, as we directed and deployed those nutrients supplied to animals, we found they go beyond animal nutrition. We developed our strategy to reflect that. Devenish's ethos is to influence the utilization of nutrients. As nutritionists, we develop and deploy solutions which ensure the most effective and efficient utilization of nutrients in the production of food. We do that by focusing on research, development and innovation, ensuring that the solutions we provide are cutting edge, as well as commercially applicable.
We have always used our science and expertise to lead and provide new and innovative ways to produce food. That has led us to have a total focus on sustainable food production, a key trend today. Ultimately, we have a portfolio of technologies which enable the realization of the UN's sustainability development goals. Sustainability is at our core and our focus is very much on the effective and efficient utilization of nutrients. We term our strategy, "One health from soil to society." That is based on the effective and efficient utilization of nutrients delivering better animal health, human health, soil health and environmental health.
How unique is this approach, and what type of added value does it bring in terms of environment protection, in terms of human and animal health and wellbeing? How do your technologies and products respond to customers' demands for authenticity and transparency in the food chain?
Consumers today are not just demanding authentic transparency around food production—including around the use of antibiotics and antibiotic resistance—but also more clarity on sustainability to ensure that we leave the world in a better place than we found it.
Our position on the supply chain is very unique. We have a really good story to tell on food production. Northern Ireland is recognized as producing quality food for consumers across the UK, Europe and the world. Our engineering history has helped by giving us a mindset of we've got to find a way to deliver a solution for every problem. That ethos runs deep in the Northern Ireland's psyche in terms of business, in terms of the universities, and in terms of the young people. Being headquartered in Northern Ireland has motivated our enthusiastic solutions-driven culture and ethos, helping us focus on being commercially applicable and delivering for the customer. That has been fundamental to our success.
Since the current management acquired the company in 1997, major investments have been made in plant and machinery as well as in developing research and technical capabilities. Devenish Nutrition has introduced a number of innovative specialized products, such the world's first chicken enriched with omega-3 fatty acids. So, tell us a bit about Devenish's R&D efforts: What are some of the biggest innovation breakthroughs you have introduced over the years, or some of the key products you brought to the market?
We've just announced a joint venture with Mara Renewables, called Humanativ. Through our work with The Royal College of Surgeons, we have proven that Omega-3 has a very significant positive impact on health. As such, we have developed unique technology which, when fed to animals, can deliver increased levels of Omega-3 DHA to the consumer via meat or eggs. Omega-3 is normally found in fatty fish but not everybody likes to eat fish and it can be difficult and expensive to source. However, chicken and eggs are cheaper and more freely available. It has huge benefits to the consumer, particularly those with less income. Proactive health is hugely important, but fundamentally, our business strategy has always been, and will always be, a culture of research, development and innovation. Indeed, the European Investment Bank recognized that when they invested in our company. We endeavour to bring that RD&I to the market as quickly as possible. All this involves investment and the right culture and people.
Humanativ will provide us with the springboard to really commercialize the technology and globalize the solution. It is unique because we have a health solution which is cost effective and proactive, unlike most health solutions which are reactive.
In terms of other research, we've always been at the forefront of antibiotic-free production. We also focus on sustainable production and know how we can help farmers produce carbon neutral meat, milk and beef through our latest business launch Agrinewal. Working with Accenture, Agrinewal is a farm management system which allows farmers to calculate how much carbon their farm emits and how much it sequesters, giving them a carbon balance. They are then able to tweak their farming practises to quickly reach net zero carbon, a significant boost for the environment and a competitive advantage for producers in a crowded market. We've been working on Agrinewal for the last 8-10 years and have now brought it to the market.
Our technologies can be globalized and have huge impact. We have products that lower the carbon footprint of pork by 17 to 18 percent. We have products that are antibiotic free, improve animal welfare and also deliver on improved efficiencies.
Devenish also invests in the development of Performance Houses, where trials are conducted and have led to a range of innovative products in the areas of fatty acids, protein digestion/utilisation, energy, mycotoxin binding and yeasts. Are you partnering with local universities or research centres for example?
From the very start of our journey back in 1997, we partnered with both Queen's University Belfast and University College Dublin, as well as the other universities throughout Northern Ireland and GB. We're totally focused on R&D. We have over 50 PhDs working with us directly who are engaged with customers, not just sitting in a lab.
Our Performance Houses are based on a partnership approach with our customers and show what can be done through targeted animal nutrition, bringing technology to the market in real time rather than waiting years. We publish to one standard that we can measure to a statistically significant level, so the answers generated are accurate and dependable.
Today your products are sold and delivered to over 40 countries worldwide and to over 20 states within the U.S. As part of its geographical expansion, Devenish Nutrition acquired two manufacturing plants in the U.S, as well as a number of key distributors throughout Europe, Asia, the Middle and Far East. Tell us about Devenish's global growth strategy: which markets do you see as priority, how are your distribution sites organized, and how is the company looking to enhance its partnership and distribution network in order to further expand?
We have a large portfolio of technologies and are continually bringing more products to the market, both in our existing markets and also new markets. Partnership has been our core from the very start. We've done that with some of our M&A acquisitions, operating them on a 50-50 basis, not 51-49 because that's what a true partnership is. We also look at licensing our technologies, providing and then developing partnerships with like-minded industries and businesses throughout the world. So, if there are businesses out there that are looking for a synergistic relationship, that's where we feel we have some real potential. We've done that in the U.S., in Turkey, and in other parts of the globe. Our focus is to develop partnerships.
What are your plans specifically when it comes to the U.S. market?
We started in the US in 1998, very soon after we acquired Devenish, and we've established a very strong business there which we see growing in the future. The team in the U.S. have worked extremely hard to develop our brand and we're now well recognized within our sector, even though we're a small business by global terms. In the animal nutrition market, we have a very strong brand which will allow us to develop and grow opportunities around sustainable solutions. Consumers in the U.S. are demanding sustainability and the food industry there is going to change very quickly, in a similar fashion to how it rapidly shifted towards antibiotic free. We're on the cusp of that wave: we think the sustainable solutions that we have will now become very relevant and significant. The U.S. market has a great opportunity. It will.
Northern Ireland, like most economies has been of course highly impacted by the COVID pandemic, and Brexit has only added to the difficulties and hurdles, even though the Northern Ireland protocol has brought some relief. How has a company like Devenish been impacted both by the pandemic, the supply chain disruption and by Brexit?
Uncertainty remained prior to the implementation of Brexit as we didn't know whether there was going to be a deal or not. Yet once the deal was agreed on, the challenge of Brexit was over. Subsequently, we welcomed the Northern Ireland protocol, as most businesses in Northern Ireland are export focused and involved in international business. The Northern Ireland protocol is the best of both worlds because we have access to the European Union for products and to the U.K. For Devenish, the Northern Ireland protocol is really positive, and without it I think COVID would have been much more difficult. It was difficult enough to continue to work with international business without being able to travel.
COVID has been tough. In some parts of our business, it has given rise to increased sales, and in others it has hurt us, especially in our international business. We've met our requirements, we've delivered for our customers, but we had to reset a lot. Furthermore, in addition to COVID, we had a very significant fire in November 2018, which had a huge impact on our business; much greater than COVID.
To what extend do you think the pandemic has raised awareness of the importance of health and nutrition, and how do you expect this to eventually benefit your business in the long term?
I think the pandemic has absolutely raised awareness around the benefits of nutrition. It has also shown the benefit of science when many people had previously disregarded it. Everybody is entitled to their own opinion, but none of us are entitled to our own facts. When science was applied to the challenge of the pandemic, it got us to a solution through vaccines and vaccination protocols, through research around COVID and how the virus was transmitted.
We don't know what the long-term impacts of COVID on people's bodies is; that's going to require more science. We can only advocate that we take a proactive health strategy, around nutrients for instance. 80 percent of the population of the world is deficient in Omega-3, which has a hugely positive impact on our health, since they are scientifically proven to be help us to fight disease and infection. Proactive health around Omega-3 has huge potential to help the world fight against this pandemic and other pandemics.
In a recent interview you said that "Ireland has an extremely strong and well-regarded position globally in terms of production and provision of quality food. It is a reputation now that we must fight to hold on to." How is Devenish working to build and maintain its reputation as a company that delivers sustainable, authentic and transparent food solutions? From a marketing and communication perspective how important is it to communicate with and educate the consumer?
It is vitally important. It's a journey that the world population demands every day. People require nutrients and we need to provide nutrients for people to work, to sustain and live the best life they possibly can. That means proactive health solutions. It means that when we produce food and nutrients for consumers, we must do that in a sustainable and non-detrimental manner, that we add to the land, to the earth, to the world, to the environment. That is something which is my absolute goal in terms of the focus on research, development and innovation at Devenish. We see that not just as an opportunity but an absolute responsibility. That authentic transparency across the supply chain must work for everyone, and if one link is weaker or stronger, there's an imbalance. The potential is there to do this. We know that there are people who have an appetite for it, we now must have the courage and determination to deliver that. I would love Devenish to follow through on that. It's going to take new and unique collaborative networks, but if every day was going to be the same, we wouldn't be very excited about working.
What's your final message to our readers to conclude this interview?
Proactive, positive and collaborative strategies in the food industry have the potential to transform our world, bringing in more sustainability and delivering one health, from soil to society.