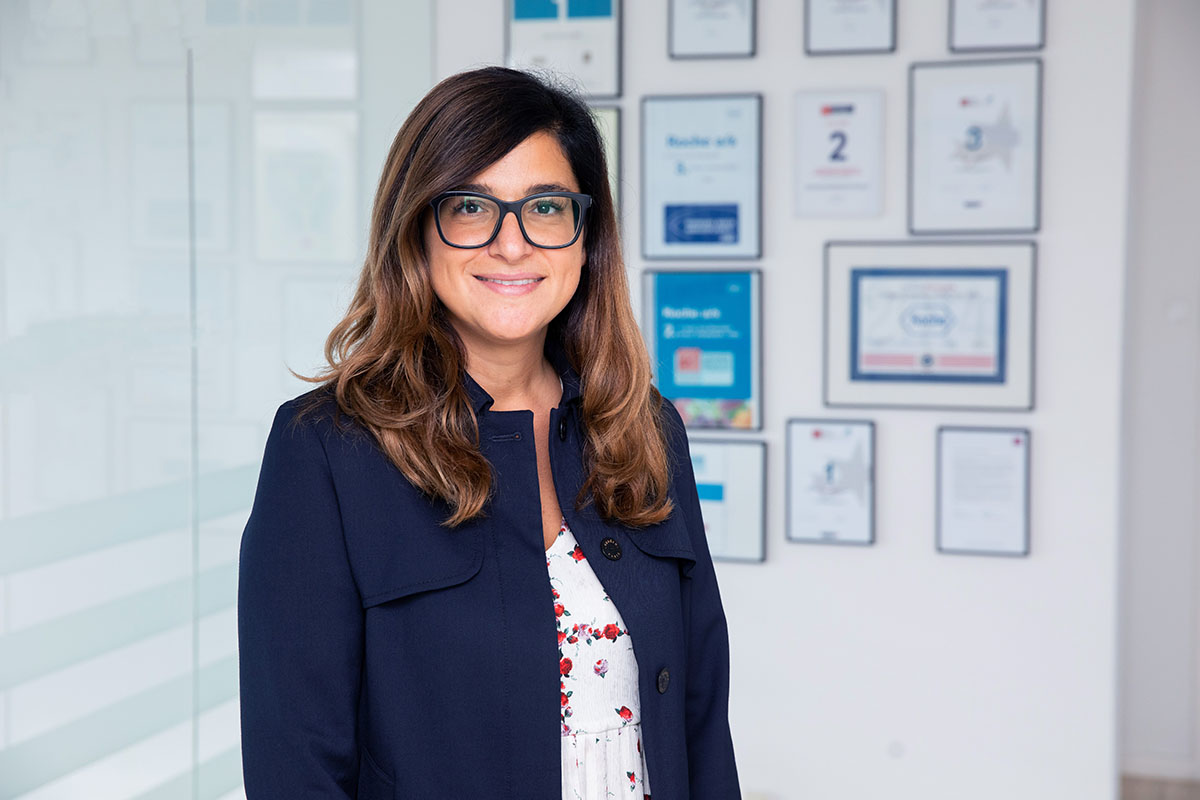 16 Jan

On the road to sustainable healthcare
Darine Ghanem, General Manager, Roche Pharmaceuticals, talks about the company's contributions to healthcare sectors in Denmark and the world and the importance of collaboration when tackling new challenges society is facing.
Can you give us an overview of your Roche Denmark's operations?
Last year, Roche celebrated its 125th anniversary. It is a family company that invests in innovation and research and development in many areas of healthcare, from cancer to ophthalmology, neuroscience, rheumatoid arthritis and infectious diseases. What is unique about Roche Denmark is that our approach covers the entire value chain. After the acquisition of Santaris Pharma in 2014, Roche Innovation Center Copenhagen (RICC) was founded as one of Roche's seven innovation centers across the world. RICC focuses on advancement in ribonucleic acid technology. Roche Diagnostics is focusing on accelerating the use of diagnostics for early diagnoses, prevention, early support and better patient care. Roche Pharmaceuticals looks at treatments with our more than 16,000 patients that have severe and life-threatening diseases such as rheumatoid arthritis, multiple sclerosis and cancer. Between 2017 and 2021, we introduced more than 15 plus new innovative treatments to Danish patients in our pharmaceutical portfolio. In 2019, Roche Denmark contributed $244 million to the Danish gross domestic product and supplied 2,800 jobs. For every Danish krone spent through guided contribution, we generate more than three times that towards the Danish economy.
What shifts in focus does your new 2030 strategy take?
We designed our 2030 strategy around doubling our medical advances and investment in research and development. We are proud to have one of the most robust and promising pipelines in the industry. We contribute to sustainable healthcare by providing two to five times more patient benefits at half the cost. We can no longer take isolated approaches of diagnostics separately from treatments. We need to create a more personalized healthcare approach, understand the type of data essential for us in understanding diseases and better diagnose patients. We need to give them the right treatment supported by the right data at the right time. Our strategy has shifted towards taking patient-journey and disease-lens approaches versus a product approach. We are partnering with the healthcare sector to solve common challenges; we cannot do this alone. We have partnerships with all universities in Denmark. We see universities as a center of building the future workforce; we invest a lot in these partnerships to cross fertilize the talent and expertise we need. We also announced a partnership with Rigshospitalet before the end of 2021 to build the next generation of diagnostics. It is focused on innovation in diagnostic labs. We are tackling partnerships from different angles, all directed towards the challenges society and healthcare face.
Additionally, sustainability is critical in our goals as an organization. We are looking to transform through new and agile ways of working. As part of reducing our carbon footprint, we introduced new approaches to reducing travel through digitalization and introducing new policies around cars, such as moving towards electric vehicles or having car-free sites. We are focused on what we call our five Ps: patients, partnerships, people, planet and prosperity.
How significant is Denmark's life sciences sector?
Between 2008 and 2020, total exports of life science goods from Denmark increased 182 percent. In 2020, the total exports of life science goods were worth $23 billion, equal to 21.5 percent of the total exports of goods. In 2018, the life sciences industry invested over $2.44 billion in research and development in Denmark, which represents approximately 35 percent of the private sector's investment in research and development in Denmark. In the last few years, the number of employees has increased by more than 23 percent. Denmark is one of the most important countries in running our clinical trials. We run our phase one, two and three clinical trials across oncology and all the new therapeutic areas. Denmark hosts the most clinical trials per capita in the world. In 2021, Denmark was one of the most research and development intensive countries in the world and is continuously one of the best in Europe regarding researcher concentration. In terms of research and development, we consider Denmark as a core country for us.
The government has put an emphasis on prioritizing the development of the life science industry. In 2021, the government launched an ambitious life science strategy, including 38 specific and tangible projects partnered across different sectors that will ultimately enable the right investments towards sustainable healthcare.  The state also invested more than $41 million for better framework conditions along the entire value chain of the industry. Besides fostering collaboration between universities and the small and medium-sized life science startups and enterprises, it aims to attract foreign investments and skilled talent to support export of Danish life science goods and services. It will ensure that the Danish healthcare sector becomes a showroom for advanced health services and innovative diagnostics solutions. Their ambition is to transform the life science industry into one of the most prosperous industries in Denmark. The life science sector plays a significant role in Danish healthcare and—most importantly—for Danish patients.
How has the COVID-19 pandemic highlighted important areas in the global healthcare system?
We have faced three years of staggering demographics, with increased burden of disease leading to budget constraints. We need to rethink how we are organizing our healthcare sector and act on it. The COVID-19 pandemic has provided valuable learnings in terms of the power of the collective and the joining the public and private sectors in Denmark and the world. We have been able to sort through things together to accelerate access to innovation and how we fight pandemics and chronic diseases. These issues will be increasingly prevalent as we become older and live longer; chronic diseases will be a crucial challenge to overcome from a societal perspective.
Raising awareness of the importance of early diagnosis and early testing is essential not only for COVID-19 but for all chronic diseases. The biggest challenge we face is that we are treating diseases late, which generates heightened costs. The investments we have made as an organization in the diagnostic space are being put towards being more precise through earlier and more advanced diagnostics in infectious diseases, such as with COVID-19 and the flu, and in oncology and neuroscience. These diseases do not disappear. If you cannot detect and prevent them early, we will not be able to act on them early enough to have a healthier economy.
Roche believes that developing a more sustainable healthcare sector depends on public-private partnerships. The life science strategy in Denmark is a solid example of such partnerships. There has been a concerted effort between public and private entities to agree on a strategy and implement it. The government is quite supportive. The creation of the Life Science Council at the end of 2021 was a testimony of the state's awareness that we need to collaborate. Achievements made during the COVID-19 pandemic have highlighted the importance of accelerated partnered action. In joining forces, we can drive towards a vision based on prevention, early detection, early diagnosis and early treatment.
How can Denmark fine tune its robust healthcare data to advance healthcare practices?
Denmark is highly advanced in data and digitalization, and it is important we enable better use of our data in informing healthcare decisions and accelerating innovation. With the pandemic, we saw large differentiations between countries that did not have data and digital infrastructure and countries that did. Solid access to data, access to new testing early on and updated diagnostics are crucial in building a more personalized and sustainable healthcare system. A lot of research and development failures happen because we do not yet understand diseases. We are working on different technologies and new modalities, be it ribonucleic acid technology or gene therapy. We are trying to achieve a better understanding of diseases and the unknown. For example, genomics can help us better understand the makeup of cancer and which treatments benefit which patients. We are taking a similar approach across the entire disease arena. Understanding types of data, whether it be imaging, genomics, proteomics or microbiomics data, is essential for us to better understand diseases. We are involved in the lighthouse initiative One Stop Shop for Clinical Research project that involves working through public-private partnerships to explore how we can create value by accessing and using our unique Danish health data. I am passionate about the potential we have in Denmark. It is a country that has the foundations to move towards sustainable healthcare. I see Denmark being a lighthouse for innovation for Europe and other countries. We have a unique opportunity to realize our ambitions by partnering together and learning, failing and scaling fast. We need to invest in health and collaborate to build sustainable societies and economies.