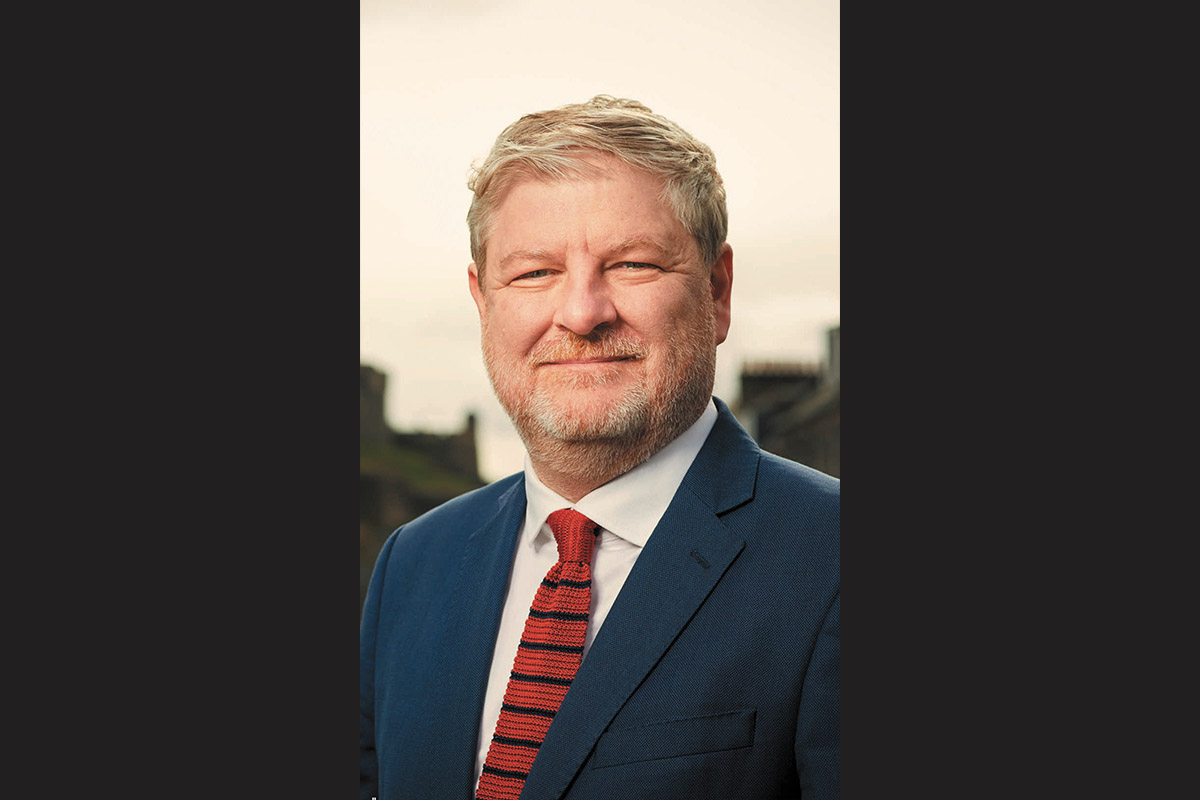 21 Mar

Pushing the nation's strengths
Angus Robertson, Cabinet Secretary for the Constitution, External Affairs and Culture, Scotland, talks about a country with a rejuvenated culture and a rejuvenated sense of self.
Would you share with us some of the Cabinet's main economic objectives for the Scottish people in 2022 and the role of your portfolio in realizing some of these ambitions, particularly regarding external relations, global networking and cross-governmental co-ordination?
We are all emerging from the pandemic hoping to recover, see economic growth restored, and to see our economies functioning as successfully as possible. As the cabinet secretary for the Scottish government with responsibility for constitution, external affairs and culture, there are a number of ways in which that is extremely relevant to me. On our international priorities this year, Scotland is increasing its international footprint of offices that we have in global capital cities. At present, we have Scotland House representations from Washington, D.C. to Paris, Berlin, Brussels, Ireland, and London, to name a few. This year we are opening in Copenhagen to have direct Scottish representation in our Northern European neighborhood region that we share with Denmark, Sweden, Norway, Finland and Iceland. During this parliamentary term, we will also be opening a representative office in Warsaw because of the importance of Central Europe to us.
Essentially, we are very ambitious about how we are seeking to promote Scotland internationally and economically, but also culturally, which is my other main area of responsibility in the Scottish government. The arts community in all countries has had a very challenging time. Concerts have had to be canceled or delayed. Theaters have been shut to the public, and we have not been able to socialize how we would normally. This is the year that we can go back and enjoy Scotland's amazing cultural offerings. There are several highlights for us in 2022. Every year in Scotland's cultural life, we have a designated year. 2022 is the year of storytelling for us, inspired by our strong literary scene, and we are going to be celebrating stories of all kinds. This is also an important anniversary year as we celebrate 75 years of the foundation of the Edinburgh International Festival. It is just one part of a family of festivals that takes place in the capital city, including the Fringe Festival, the Edinburgh International Film Festival, the Edinburgh Book Festival, the Edinburgh Jazz and Blues Festival, and the list goes on. There are several festivals that take place in Edinburgh. In fact, it is the biggest arts festival in the world. There is a lot that is going to be taking place in Edinburgh during the summer months.
That corresponds also with the International Culture Summit, hosted in Edinburgh at the same time, which will bring together culture ministers and top-level decision makers from around the world. No doubt, we are going to be concentrating a lot of our thinking on how we help see the cultural sector here. There is one significant new development in the cultural sector for us, which is hugely encouraging, and that is the burgeoning success of the screen sector in Scotland. Sadly, for decades we have suffered with an absence of studios able to produce top level television and film output. That has now all changed, and we have a growing number of film studios working at full speed, producing amazing content for international streaming, from Netflix to Amazon and others. We also have the big Hollywood companies producing; for example, Batgirl, was filmed in Glasgow earlier this year, and more will come. The Scottish Government and our agencies that promote culture and screen, Creative Scotland and Screen Scotland, are working very hard to make sure that we are also supporting the indigenous Scottish television and film sector in addition to the international content which we are producing at the highest level. Newsweek readers will be aware of the world-famous Scottish actors and actresses who are successful in the biggest budget productions in the world, but most often they have had to go to the United States or to England to be successful. Now these films are being made in Scotland, which is a huge success story.
What are your main ambitions for Scotland's creative industries in the year ahead and can you share some interesting projects to look forward to in 2022?
The first thing is to recognize how incredibly difficult the pandemic has been for people in cultural sectors everywhere. Most people in the performing arts do not make a fortune and have found it very difficult to keep their heads above water. The Scottish Government has worked very hard and has provided hundreds of millions of pounds of support to help people in the cultural community. One of the biggest challenges has been for younger people in the performing arts. They have suffered as a result of Brexit, which has made it much more difficult for them to tour and work internationally across Europe. The Scottish Government is pro-European, and we are opposed to Brexit. We have had to work quite hard to try to limit the damaging impact that it has had on younger people, particularly in the cultural sector.
Having said that, earlier this year, I enjoyed going to the Young Traditional Musician of the Year awards in Scotland, which displayed the next generation of talent that we have. I am optimistic that, notwithstanding the impact of the pandemic, we have a new generation that is coming to the fore who are incredibly talented. Despite being a country of just over five million people, Scotland punches well above its weight internationally in producing amazing talent in music, in the performing arts and across the cultural space. My ambition is that the Scottish government will continue to develop a cultural diplomacy strategy that will maximize the opportunity for Scotland's artistic community to internationalize their presence, but also for the rest of the world to see what is happening here because there is so much of which we can be proud. The agenda for this year of what is happening on stages in music, in theater, in orchestral works, in cinema, and in television is absolutely fantastic.
Building on that, how are you empowering local talent while incentivizing international financing for productions?
The big opportunity and the big challenge we have is making sure that we offer the best possible training for young people in Scotland who want to work in the screen sector. Now we have studios where people can work on ongoing projects. There is a very large film studio in Edinburgh, a very large film studio opening in Glasgow, and we have a number of studios between our two main cities. Therefore, there is an opportunity for people, whether they want to be in front of the camera or working behind the camera. We want to make sure that our young people have the opportunities to get jobs working in these studios, working on projects for these film companies, or, because they are themselves creative filmmakers, that they can start their own productions. Unfortunately, we have been disadvantaged in Scotland, because of the under commissioning by our public service broadcasters. Both the BBC and Channel 4 have, in the past, commissioned far less in content from Scotland than the Scottish television viewers have, in the case of the BBC, been paying in license fees. The BBC acknowledges that. Channel 4 also realizes that they have not been commissioning enough in Scotland and both are now working to make sure that they commission more work in Scotland. What government needs to do is make sure that we are providing the circumstances so that young people who want to work in the sector have all the training opportunities they need—whether that is through our established colleges and universities or through learning by doing, by working at these studios where you have inbuilt training elements. That, to me, is one vital transformational change that we are currently going through.
As Scotland redefines itself to the world in the post-Brexit space, which cultural branding strengths are you pushing as promotional material on the global stage?
We have a pretty unique approach in Scotland, which sees our brand operating to support all the areas that we seek to promote as Scotland not only in terms of culture, but also in the economy and reflecting the multifaceted country that we are. At the same time, we are a country with tremendous history, which is something that people around the world know something about, but also an extremely contemporary and cutting-edge country. The material that promotes Scotland looks and feels reflective of both.
Government and Scotland have been very keen to further human rights of all kinds and the rights of all citizens living in Scotland. We are a very multinational country, and we are also a country that cares about being inclusive; for example, for our LGBTQ community and cultures we represent. If one looks at the contemporary picture of Scotland in terms of our branding, you will see Scotland in all of its glory—the beautiful vistas, the countryside that people know, the products for which we are famous (from whiskey to golf), the history of engineering prowess that we experienced throughout the 19th century, and now as we have moved into the 21st century, a country that is on the cutting edge of modern technology, not the least in renewables. In terms of dealing with the climate crisis, Scotland is uniquely placed as an extraordinarily blessed country with renewable energy potential, of which we make the most. We are doing our bit to save the environment, but also furthering and producing the technology that is then used throughout the world to make sure that we are not harming the environment. That will be a big part of Scotland's story in the 21st century, whether it is from wind and wave power or vertical farm technology which will transform agriculture around the world.
You are also responsible for the New Scot strategy, engaging with the diaspora and Scottish Cities of Refuge initiatives. What message are you aiming to convey to an international audience about Scotland in 2022?
The most important thing is that Scotland is an international, outward looking nation. We value people who come to Scotland. Scottish nationality is not about where you are born, but about where your home is. If Scotland is your home, you are as Scottish as anybody else in Scotland. In recent months, we have been doing everything that we can to help the latest round of refugees from Afghanistan who have come to Scotland. Prior to that, it was people who came from Syria, and if you look throughout Scotland's history, we have gone through waves of people of different backgrounds. In fact, that is my own heritage too on my mother's side, coming from continental Europe as a refugee during the Second World War. We are a country of many languages and many backgrounds, and we view that as a strength.
The message to the world is that Scotland is not full, and we want people of the brightest talents. That will be made a lot easier by Scotland becoming an independent country, so that we can make all the normal decisions, including immigration. We intend to hold a referendum on Scotland's independence during 2023 and look forward to rejoining the European Union as a member state, taking up our seat in the United Nations and all other international bodies, just like every other normal country does.
How are you working to capitalize on COP26 and take advantage of the momentum to raise awareness around Scotland's amazing culture and value proposition?
Scotland has a very ambitious agenda around building on COP26. If we leave it to decision-makers to meet every few years to realize that we are in challenging environmental circumstances, and then leave it again for a number of years, we will not sort out the challenge that faces us. That is why there is a continuous dialogue that takes place. In the Scottish government, we are doing a lot to develop and share technology and ambition. We have to be a country that is self-sufficient in energy through renewables. That is our potential. That is what we want to achieve, and we want to help everybody do that. We have a lot of bilateral and multilateral partnerships through which we are trying to do that. The international footprint of Scotland House representative offices where we foster those relations is growing steadily. All of that will become even easier once we are an independent member state and have a full diplomatic network around the world where we will promote the highest environmental standards, support for human rights and international cooperation.
How are you driving cross-governmental and international research and collaboration partnerships around green tech and the other dynamic fields of today?
Government has a big role to do to make sure we are supporting industries, innovative technologies and the solutions for the future; but we also need the entrepreneurship, the insight of research, scientists and specialists. That is something for which Scotland has been world renowned for a long time. The good news is that we have some amazingly talented people who are working on these innovative technologies.
Vertical farming is a very good example of that. The Scottish based company, Intelligent Growth Solutions, is a leading provider and developer of vertical farming solutions, namely the ability to produce fruit and vegetables in pretty much any setting anywhere in the world. They are well on their way to transforming an aspect of agriculture, just as population levels continue to grow. Then, in terms of hydrogen technology that so many countries are looking at, Scotland is a country that is not short of water nor of the technology. Between the wind and the tidal technology, which will allow us to produce renewable energy around our coastline and in several other ways, we are going to be a world leading center for renewable technology in the future, and we look forward to working with other countries that share the same aims.
Do you have any final comments for the readers of Newsweek magazine?
Scotland is an old and beautiful country which people around the world know and want to visit. At the same time, it is a contemporary and forward-looking nation, both in terms of the skills and technology that are being developed here and our ambition to be at the fore of renewable technology. Additionally, it is a country that welcomes people from elsewhere. Underlining all of that is a change that I fully expect Scotland to undergo in the coming years as we strive to become an independent member of the international community.