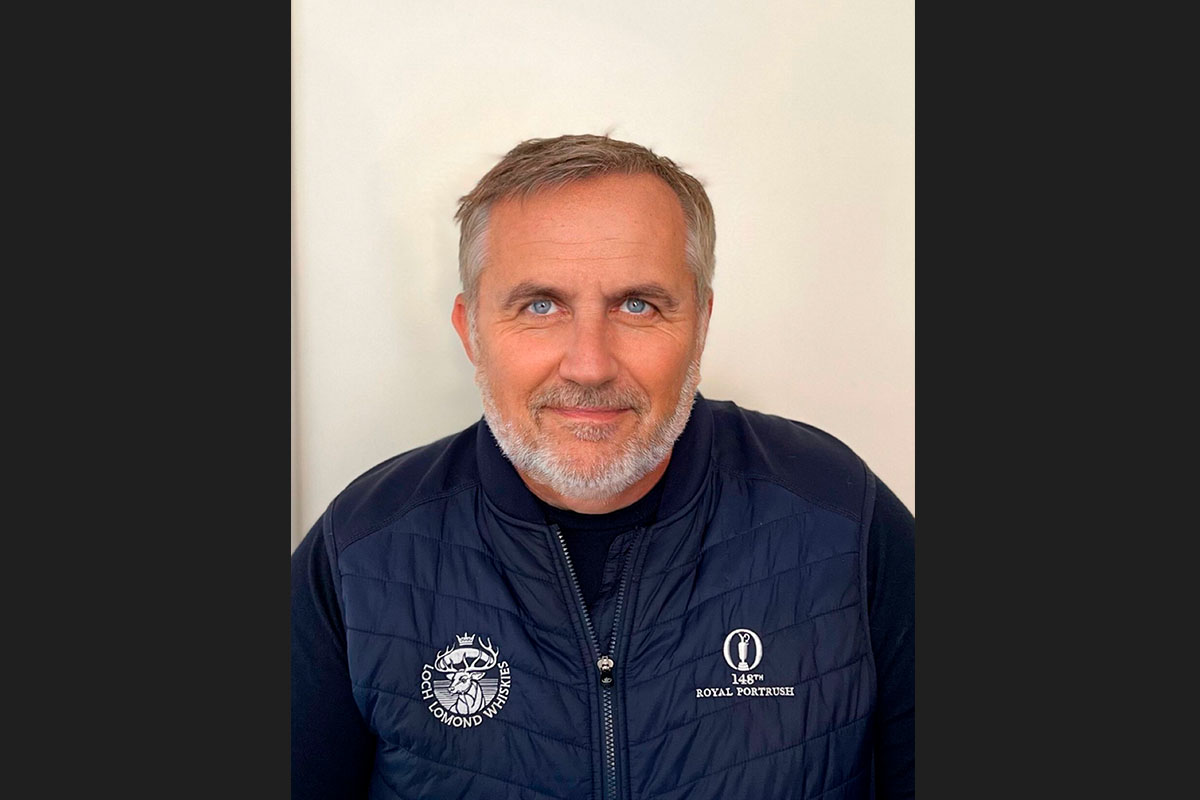 01 Apr

Raising a glass to Scotland
Colin Matthews, CEO, Loch Lomond Group, expands upon one of the nation's most popular exports—whisky—and why the taste for it will not be going anywhere any time soon.
How would you evaluate the performance Scotland's whisky industry amidst both the pandemic and Brexit, and what impact these may have had on your international presence?
The pandemic was a very difficult time for everyone across the world including the Scotch whisky industry. We obviously needed to make a lot of changes to our business and how we operated once we realized how serious the pandemic was. It was especially difficult trying to get many raw materials, not necessarily for producing the whisky we were selling (as we had already produced that several years before) but for the whisky we were distilling and bottling during the pandemic. Buying most things—including capsules, bottles, corks, labels and packaging—was challenging as all of our suppliers across the world were also experiencing their own pandemic challenges. Transport to our customers was a huge challenge because of the global lockdown and absence of many workforces. It was a perfect storm, but I have a fantastic team in all areas of my business around me who all worked tremendously hard and went above and beyond to make sure our business continued to operate successfully. We suffered from some of our staff being sick with Covid and others isolating and very sadly we did have a Covid related death in the business of a well-liked colleague.
Fortunately, consumers around the world were not necessarily consuming less. Although business in on-trade—namely bars, cafes, restaurants, and hotels—were closed down for a long period, effecting these businesses terribly, the off-trade in supermarkets, independent retail and wholesalers kept going strongly. In fact, it grew in certain areas with especially strong growth coming from our e-commerce platform. Consumption at home also increased with some people having a bit more time to stay and work at home and enjoy some beautiful summer days in the garden with a drink.
It was a bit of a challenge at the beginning because of the massive challenges in running our supply chains and our operations with social distancing etc. but, overall, we just kept finding ways to do it.
Overall, our business performed strongly during the COVID-19 crisis and that is thanks to all of my teams across the business being incredibly entrepreneurial, dedicated and determined and wanting to make sure that their business came out the other end as strongly as possible.  We had time to reflect on how it was to work from home compared to working from the office too. Generally, it seemed to work quite well with a few adjustments although I think everyone is now happy to be back physically at work and collaborating strongly all together.
We were very much helped and encouraged by the fact that in May 2021 we were awarded the incredible recognition of being "The Best Whisky in the World" (for Glen Scotia, 25 year old) by the prestigious San Francisco Whisky Awards as well as being "The Scottish Whisky  Distillery of the Year " awarded during the Scotch Whisky Awards in December. These awards gave everyone a huge boost and filled us all with pride.
Also, one of our main strategies has been to continue to invest in sports sponsorship. We have very successfully been a key sponsor of The Open Golf Championship and Women's British Open for 5 years now. As well, we have sponsored other golf tournaments and the PGA. We also sponsor Rugby League with The Super League, URC Rugby, the Scottish Professional Football League for all of Scottish Football as well as a handful of individual clubs. Even with no fans in stadiums for a large part of the pandemic, the sports kept going, and we kept working hard on our digital media campaigns, with relevant content and reaching out to all of the fans… our consumers!
Because there was so little to do for some at different points during the pandemic, fans got more involved in supporting their teams, new supporters were getting involved too and, in general, more people were both supporting and participating in sport. With such a keen focus on "pandemic sport" our brands took on perhaps a slightly more visible profile than they had before. I genuinely believe that real sports fans not only appreciate sponsors' investments into their sport and their teams, but they also recognize the value of sponsors and what they bring, so in turn they choose to support the sponsors brands! We have received many thousands of "thank you" messages in all forms from many fans across all the sports and teams that we partner with and that means a great deal for us.
With all of that going on as well as our winning of both "The Best Whisky in the World" and "The Scotch Whisky Distillery of the Year" accolades in 2021, I believe our brands are stronger and much more visible than they were before. Now it is our job to capitalize on that and make it even better. There are many exciting new developments coming soon!
I am also very proud that very early on in the pandemic and thanks to some incredible members of my team, we managed successfully to transform some of our production capacity to making significant quantities of desperately needed hand sanitizer which we supplied for free to many worthy organizations in the U.K. and around the world. With such big shortages in the early days of Covid, many in our industry did the same and should be proud of themselves for doing so! Many organizations to whom the sanitizer was donated to were incredibly grateful and thankful for the supply.
Can you give us a rapid tour of the distillery, with a couple of facts and figures to illustrate the performance of Loch Lomond in the past few years and how you stand out in the market?
We are a Scotch whisky business, with award winning scotch whisky brands—including Loch Lomond, Glen Scotia, Littlemill, Spearhead and High Commissioner—but we are also very proud to have a strong vodka and gin business with multi-award-winning brands. We are also in the process of completing the acquisition of a very interesting Champagne business and brand based in Epernay, France. It is a delicious high-quality Champagne of the absolute highest quality that we will be introducing to our worldwide distribution network later this year.
Our iconic Glens Vodka brand is the number one spirit brand in Scotland and the number two vodka brand across the whole of the U.K. and Ireland, selling over 2 million cases a year. We have a very loyal following and incredibly loyal consumers for which we are extremely grateful. Whilst Glens Vodka is a value vodka, we have fundamentally changed consumers' perception of the brand over the last 10 years from just being at an affordable price to tasting great too. We have come out right on top of many blind tasting events and competitions over the last few.
Our Ben Lomond Scottish Premium Gin has also experienced very strong growth over the last few years and now comes in a number of extremely tasty flavors. Great for summer drinks and cocktails! All of the botanical ingredients of Ben Lomond are hand-picked on Ben Lomond overlooking Loch Lomond, encompassing all that is great from the beautiful and wild Loch Lomond Region
We have three distilleries and the last remaining valuable stocks from Scotland's oldest licensed distillery, Littlemill, which is no longer standing. A grain distillery and a malt distillery on the same site at Loch Lomond, which is unique and, of course, our iconic Glen Scotia Distillery in Campbeltown, which produces not only "the best whisky in the world" but is also "The Scotch Whisky distillery of the Year." Well worth a visit if you are in the Campbeltown area.
Grain whisky is used for blended whisky and malt is used for both single malts and for blending. Between these three distilleries, there is a theoretic annual capacity of about 22 million liters of alcohol, which is quite large in comparison to many in our industry.
We make all the whiskies for our own brands ourselves, so it's a really integrated process, which is very interesting because it also makes us the most flexible whisky business in Scotland. Because of the different types of stills we have, we can manage our flavor profiles very actively and create several different and interesting flavors. The key flavor profile for Loch Lomond is fruit, honey, with a tiny bit of soft smoke, while at our Campbeltown distillery, Glen Scotia, the flavor profile is fruit, caramel and sea spray. Campbeltown in the past was a huge whisky town with over 35 distilleries. It is now the smallest of the scotch whisky regions, with only three distilleries left although, encouragingly, there are a couple new distillery projects under consideration.
Over the last few years, we have made significant capital investments into our three distilleries and our bottling plant so that today they are all of a world class standard. We do however still use many traditional whisky making and blending methods but we're absolutely not against using some more modern methods and practices allowing us to continue to further improve the quality and our processes and make the absolutely very best whisky we can. I am committed to continue to invest in the business and our products over the coming years as we work hard to continually improve our carbon footprint using cleaner energy and better processes but still making sure all of our consumers continue to enjoy incredible quality for all of our award-winning products.
Today in 2022, we are all very proud that our brands are now available and well distributed in a meaningful way in 128 countries around the world. Incredible progress in a relatively short period of time. We now have strong distribution partners across the U.K. & Ireland, Europe, Asia, Australasia, Africa, Middle East and North & South America, and we continue to work very hard with all of them to improve our availability and focus on our sales and marketing programs every year. In our key markets of the U.K., U.S., Australasia, China, Singapore, the Middle and Near East, we have established our own structures with our own management, which gives us an additional level of dynamism and entrepreneurialism to drive our business forward there.
We also supply a limited quantity of younger whisky liquids to some international partner companies with whom we have longstanding relationships who do not have their own distilleries but have their own whisky brands. This part of our business has intentionally become smaller over the last few years as we have focused keenly on growing our own brands.
With so much diversification, how do you maintain the core strength of your brand?
Our operations, sales and marketing teams are truly world-class, and we are all extremely focused. At the beginning of my journey in the spirits business in 2012, I recognized the need to have a world class team who would have the skills required to drive the whole business forward quickly and strongly and I was absolutely focused on recruiting the right people and putting together the right team and then completely empowering them. My team did all I asked of them and expected of them and I am proud of them all. The team has grown a lot now since the early days and I am happy there are now many different nationalities and cultures involved in the business across the world.
What interesting trends have you picked up on among U.S. consumers and how are you targeting growth in the USA alongside Blue Ridge, your U.S. sales and marketing partner?
The U.S. market has been very challenging over the last couple of years with the U.S. government applying punitive and damaging tariffs to single malt Scotch whiskies for a trade dispute between aircraft manufacturers in the USA and the EU, something that had absolutely nothing to do with the scotch whisky industry. This made single malts uncompetitive compared to other products in the U.S., so malt scotch volumes fell off a cliff for a while. The weird thing was the tariffs were only applied on malts, not on blends and not Irish whiskey (also part of the EU).  Hard to understand the reasoning apart from being very political… but it wasn't good. The whole industry including our trade body, the SWA, lobbied very hard for this to be corrected and after 2 years it finally was.
The good news is that U.S. consumers still love Scotch whisky. It is still a huge market and consumers have very strong purchasing power, so the opportunity and what's possible there is very exciting.
We have built a fantastic relationship with the Blueridge team (who are all very entrepreneurial) over the last year and we are both very excited for our future in the U.S. market with them. It's a big and complex market with their three-tier system and with every state being like an individual country with their own rules, regulations, and taxes; so success in the U.S. is not overnight and we all have to work very hard at it. So far so good and we have some very exciting plans in place for 2022 and beyond.
What values and attributes, do you see tied closely to the Loch Lomond brand in events such as The Open Golf Championship, and how do you expect to benefit from such partnerships?
All of our sponsoring partnerships have been incredibly interesting and useful for us. The Open is the oldest and most important championship in golf, and, of the four major events, it is the original one. "The One" as the R&A so eloquently communicate! It is the only one which is truly open, in that you do not need a special invite to play in it, and the courses are the most challenging you will probably ever find. It is the true challenge and recognized as such across the world. When we looked at the markets which enjoyed both consuming Scotch whisky and enjoyed playing golf, there was a fairly tight correlation between some of the biggest and most important world whisky markets and golf! A perfect match! By entering a partnership with the R&A for The Open, which we have now been doing for five years very successfully, we have benefitted greatly from its extensive reach and what it stands for.
No matter how smart you are and no matter how much you study it, it is very hard to measure exactly how much any particular sponsorship improves your sales, although we all absolutely believe that there is a positive impact from sponsorship if it is activated correctly. We tend to make sure that we are generating a real return on physical sales, which we can count. We are happy with these returns to date and our sales volumes over the last years have grown exponentially.
We do try to measure the number of people who either buy or are aware of our brands and we have seen some outstanding results here. This clear information together with the fact that our brands' physical sales numbers have grown very strongly over the last years gives us a great deal of comfort that sponsorships do work, provided that we remain absolutely focused on our activation activities and that they are genuinely appealing and interesting for both whisky consumers and consumers of other spirits. We continue to look out for new and interesting sponsorship opportunities that we think could work for our brands.
As such a unique distillery producing both malt and grain whisky under one roof, what is your outlook for not just the recovery of the hospitality sector but also tourism in Scotland?
Scotland is a spectacularly beautiful place. The people are generous, friendly, funny and incredibly resilient. Even the food is terrific.  I grew up in Scotland and went to both school and university here before having a career and living in Africa, Asia and across Europe for 25 years. I never actually had the chance to see my own country properly growing up. Now owning a business in Scotland, and with that business growing, I have had the opportunity and the privilege to really discover it, and it is amazing. I have had many friends visit Scotland from all over and they all genuinely love being here despite the weather sometimes! I have not heard of anybody who has not enjoyed their time here.
How are you incorporating sustainability values across your operations and enterprise?
We are trying to be as energy efficient as we can as a relatively small business. That ranges from working with our suppliers in terms of looking at the way they do business and their own energy efficiency credentials producing the raw materials even before they arrive with us. Most businesses are working hard now at improving their green credentials. We have several ongoing projects where we are also conserving energy, generating less waste, using fewer plastics and less energy than we have done in the past. This includes projects where we can even produce some of our own energy using our whisky by-products as fuel. There are further significant investments to be made in this area and we are doing as much as we can.