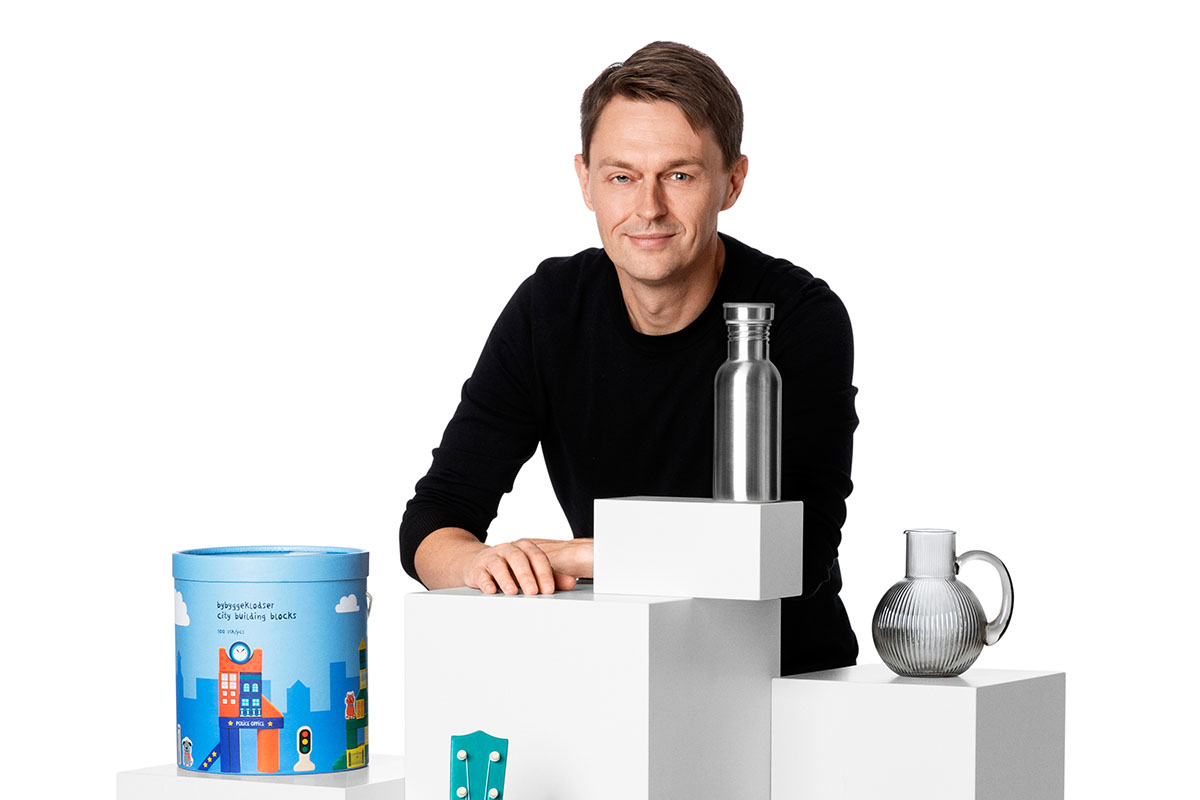 05 Jan

Retailer takes sustainability seriously
Martin Jermiin, CEO, Flying Tiger Copenhagen, charts the company's successes and its plans for global expansion as well as the company's efforts to promote sustainability as a core value in its operations.
Can you give us an overview of Flying Tiger Copenhagen's operations?
Flying Tiger Copenhagen is built on our Danish heritage; it is the essence of what we are. We offer a unique product experience based on what the products mean to own rather than just the products themselves. This inspiration is what makes it worthwhile for us. When customers enter our stores, they cannot help but smile and show our products to the person they are with; that is when we know we have delivered the Flying Tiger experience. We offer unique products you never knew existed and do it in a design-led, simplistic and sustainable way. We now have more than 900 stores across 26 markets. A lot of work goes into our products and designs, but also a lot of fundamental culture. Both company and Danish cultures are in play as we engage the product team to develop our goods. There is no single silver bullet or magic in it; we drive moments that really matter and see through the social interactions we all have. We look at events across the season and in our lives that matter. We imagine how we want to play with our kids, which translates into our product design. Our office is designed to be playful and inspiring, and this shows in our products. Danish social interactions drive what we deliver. One of our corporate values is cake; we have cake constantly. However, it is not about the cake. The cake is our excuse to spend time together in a socially informal way and share a good laugh. The spirit of the company is translated to the customer. They pick up our products and smile because we were smiling when designing it.
We recently expanded our digital capacities to make sure we have a digital presence in more than 20 markets. Our growth is a testament to the strength of our value-led and experience-led brand. There are many inspirations around the world, from local delivery to live shopping. In the context of taking a different direction, we are implementing artificial intelligence in our product selection, development and merchandising. Very soon we will adapt the technology in our allocation and replenishment side of our operations. This is something we could not have thought of two years ago. We see massive potential from something that is not visible to everyone on the outside.
What impact has the COVID-19 pandemic had on the company's operations?
It has been interesting. The COVID-19 pandemic hit every retailer hard. The safety of our customers was our first concern, along with the safety of our staff. We made the most of it and transformed the business towards digital through classical e-commerce, local delivery and our click-and-collect services we offer with our partner Glovo. Flying Tiger Copenhagen has embarked on a large digital expansion to move our company from having a good base to having a leading role in the market. We went live with an e-commerce pilot in January 2020 in Denmark. We wanted to make sure we had a sustainable way of doing e-commerce, so we took a soft step forward in doing our pilot. The pandemic hit in that quarter and showed the full potential of what e-commerce could do for a business model like ours. Now, we are present in 20 countries with a skyrocketing e-commerce business. The physical stores have a fantastic role, and we want more of them, but we can use them in a much broader sense than we have historically done. We have around 900 stores in most major cities in Europe, which provides us a massive opportunity to deliver on a customer-centric front by using our stores as a fulfillment mechanism. This has been tested and has fantastic potential. We are increasingly leveraging digital channels and increasing our interactions on social media. It is more of an ecosystem than a singular process. We are well positioned given our large footprint in the densely populated share of Europe. Since we are a brand with high product engagement, we can be channel agnostic and interact with customers across all channels, whether it ends up in a sale or not.
What has Flying Tiger Copenhagen done to promote sustainability in its operations
Sustainability is not just a project, but a way of being. Denmark is a leader in sustainability, and we have taken it upon ourselves to lead more. It is something we implement and consider in every single business decision from coming to work to things that are visible and tangible for our customers. We are fortunate to be a front runner in the green movement and sustainability. We want to understand everything and get the facts right. We have done a lot of work on mapping out our impact on the environment and carbon emissions. We are focused on renewability and recyclability across our entire value chain. We have signed up and sought out the very best in every dimension of sustainability. We signed up to the Paris Agreement's targets. Our targets have been validated by the Science Based Targets initiative. We are doing very well in this area, which is highly motivating for us, both culturally and in what we deliver to our customers. We are integrated retailers; we can touch everything ourselves, which has huge benefits. We design products in a way that greatly reduces impact on the environment, from material choices to packaging and suppliers. We plan to reduce our plastic usage by half. We plan to eliminate half of all single-use items and reduce our overall emissions by more than 30% by 2026. We use Forest Stewardship Council wood and paper in our products and take part in the Better Cotton Initiative with our textiles. We searched and worked with non-governmental organizations and other organizations that are at the top of their field in sustainability. There is a long journey ahead to having zero emission globally, but we will get there. We promise to get there faster than most. It is a race to win, not against peers but to save the planet. It is daunting but inspiring.
What are the company's expansion plans and what markets is the company targeting?
In terms of reach, we want to bring the brand to as many people as we possibly can to share our experience and inspiration. This means bringing it to more countries through our franchise partners and digitally. We are fortunate to be a brand that has many fans around the world. We are often surprised at the reach of our brand, given there are many markets we do not have stores in. We are humbled and inspired by this. There are many world-class partners who want to bring our brand to their markets. In Europe, we own and operate most of our network and have some local partnerships and 50:50 joint venture partners that we work with seamlessly. Beyond Europe we do not have local market knowledge to operate in terms of real estate, labor or merchandising. We have partnered with international experts to go to markets where we lack local knowledge. We have been lucky to sign powerful partnerships in Israel, UAE and Saudi Arabia. We will be opening in the Middle East in Q1 2022. We plan to grow to more than 500 stores in the coming years. This plan is in constant evolution because of our strong pipeline. We are eyeing the North American market. We want to make sure we have the right partners to enter the market in the right way. This requires a lot of investment on our side to do it right. We do not want to get ahead of ourselves just for the sake of expansion. We are very excited to bring our brand to more people around the world. More so now with what is going on!
Picture courtesy of Flying Tiger Copenhagen