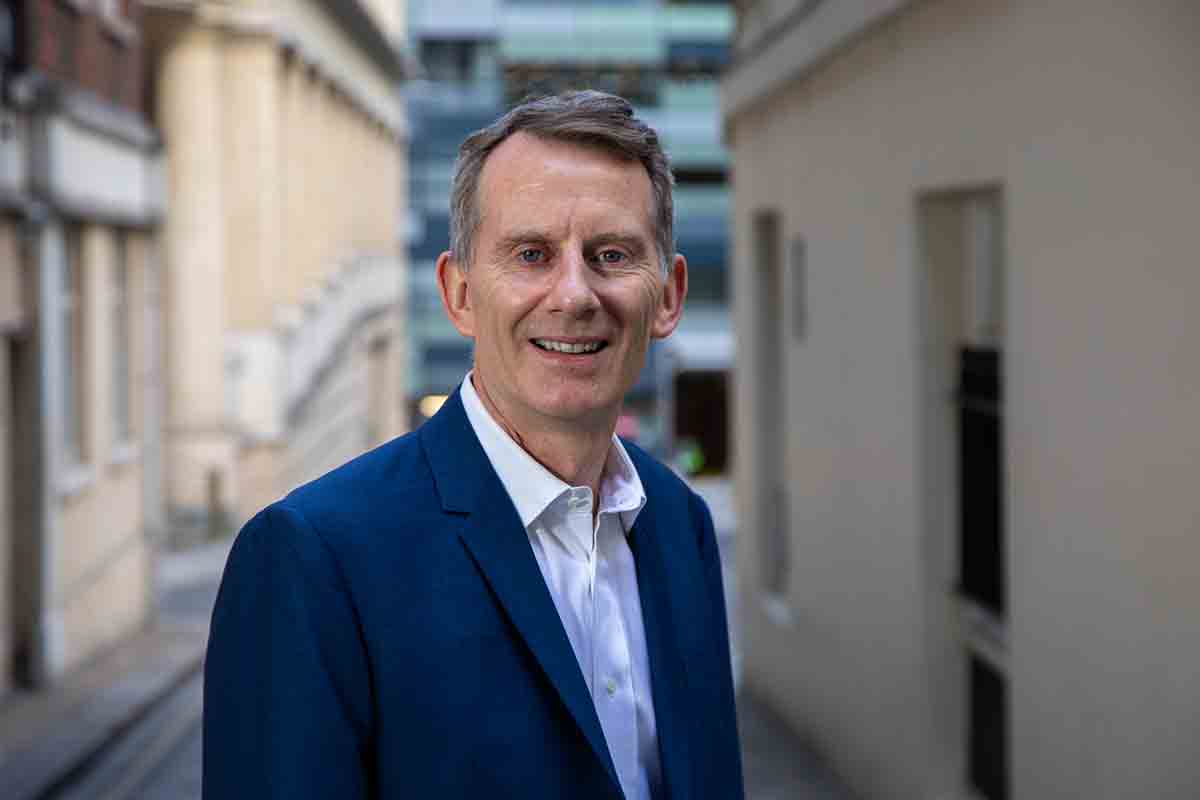 01 Sep

The use of data in the furtherance of economic growth
Séamus Keating, CEO, FD Technologies, hastening the use of data to digitally transform the economy, has seen a year where the pandemic put his company in the driver's seat and businesses are seeing exponential benefit as a result.
FD Technologies is a major success story in Northern Ireland's technology industry and a great example of illustrating the capacities of the region in the software and fintech environment. Can you give us a quick tour of your company. How has it garnered such success, what have been the major milestones, and how does it standout in the industry?
SFD Technologies was founded in 1996 and was one of the early pioneers of FinTech and consulting in Northern Ireland. It was one of the early businesses that saw the opportunity. We are going through an interesting period where we are positioning the business for the next 25 years of success.
Our early business model was to hire some of the brightest graduates from across the island of Ireland—it was always an all-Ireland business—to teach them something of the world of capital markets and technology. We would then send them across the world working, principally for some of the largest investment banks in the world, supporting problems around the front and mid-office areas as well as some important trading areas of the bank. As a consequence of that activity, the company got to be familiar with software packages that were deployed across those banks, one of the most notable being a software called KX. We became very close to the KX business and ultimately acquired it. That is our software business and it's the underlying technology that powers trading decisions, manages market data, identifies fraud and ensures regulatory compliance for clients in capital markets across the globe. We started to take it outside of capital markets because what we realized was that the opportunity here was to help businesses to use their real-time data to make faster, better decisions and generate significant return. Fundamentally it was dealing with the same type of problem: to take in any volume of data, mix it with all the relevant historical data and make a decision on what to do next. The ultimate end of intelligence is knowing what to do next given all the data. That is what we do, whether it is in the world of capital markets, automotive, manufacturing, telecoms or utilities.
As part of this development, we have now established ourselves as three business units: the software business called KX; the consulting business, First Derivative; and Market Resource Partners (MRP), which is a digital platform focusing on predictive analytics in the world of digital marketing, using the power of our software as an application in digital marketing and foresight to drive organizations forward. We bring in lots of data around potential customers and help them to figure out where best to spend their marketing and sales money this quarter or month based on who is looking for their products.
High-speed analytics driving intelligence around decision making is absolutely at the vanguard of digital transformation. Digital transformation first referred to simply having a website, then it meant being able to transact business virtually, but now it means being able to understand what is happening in the moment and able to act critically on those insights. As a group of data-driven businesses, we help clients unlock the value of insight, hindsight and foresight to enhance operational performance and competitive differentiation.
FD Technologies is a 2,500 people strong, and we continue to grow. Importantly, we continue to invest in each one of our businesses. The biggest investment is in our software business, KX, where we just announced an increased investment in research and development, marketing and sales to bring the benefit of using real-time data to a much wider population of customers around the world. Half our business is in North America. We have significant business in South-East Asia. In the world of automation and manufacturing, there are significant opportunities with technology like ours.
The real-time streaming analytics market is valued at over $37 billion, growing at 30% a year. How is FD Technologies accelerating its technology roadmap and developing its commercial strategy to position KX system as the market-leading technology as real-time streaming analytics for businesses?
We are doing that by making investments in Research and Development. That means taking the power and innovation of the core of our technology, which has been independently verified as the fastest time series database in the world, and taking it to the sectors we are not in today, through a combination of having a cloud first approach to the market. The future of enterprise software is being delivered through the cloud. Our first investment is in cloud first.
In addition to that, we are making our technology easy for most developers in the world to use. Historically, we worked in a proprietary language which was part of the secret sauce of the speed and performance of our technology. In this phase of investment, we are able to take that performance and make it available to a much wider group of developers, those who are used to working in languages like Python, C++. Now these can access the power of the technology. Investment to enable that means expanding the team and getting some new skills into the team. We recently hired a new technology officer who comes with that cloud experience.
Beyond that, we are working to tell the world about KX, which is a really important activity. We have put significant extra investment into marketing and sales, working with some of the industry analysts so that they understand our technology relative to some other technologies that are out there. Some of these industry analysts—like Gartner or Forrester—are investing in helping them to understand who we are and what we do. They are investing in events to attract the potential buyers, helping them understand the technology and how we can help them. Finally, we are putting more feet on the street. Sales reps are going out prospecting and following up leads on a very international basis, which is a significant investment. We have added to our team this year, creating a presence in France, Germany, the Nordics, Singapore, Hong Kong and the U.S. Increasing our footprint shows our commitment to this new technology.
We have also added significant strength to our board of directors by bringing in people with that strong experience in growing and scaling software businesses. We have Steve Fisher who is the former CTO of eBay. We have Ayman Sayed who is the current CEO of BMC Software, a very large global software business. We're bringing that expertise to our board so that they can help us as we make the investment decisions, challenge us to make sure we're doing it as well as can be.
One of the clear effects of the Covid 19 pandemic has been the acceleration of digitalization in banks, education and e-commerce. To what extend has FD Technologies benefited from this digital shift? Has this made any sizeable difference to your business?
We are seeing an acceleration of trends that were already evident. We have achieved ten years of digital transformation in the last two years. It has certainly been accelerated. The areas that we see with quite strong potential is in the automation of production, by which I mean the world of high-tech manufacturing, where the ability to analyze and monitor change and adapt without human intervention is becoming more important. You can see that coming right across the production chain, the distribution chain, the marketing chain. It increases opportunity there for us. In the world of utilities, I think the acceleration of the smart meter plays to our strength, where you have much data needing to be measured and managed more frequently. The pandemic accelerating these trends are favorable to us in the long term.
I am sure in the short term there have been some areas that have been a bit slower, some of our customers in automotive or energy were quite slow during last year to make decisions. They wanted to be a bit more confident in what their future demands would look like and how their customers were doing. I think we are now past all of that. In addition to that, you probably have a post-pandemic recovery that is underway in a lot of economies today. We see our business driving much more quickly this year. We are already seeing this in demand for things such as our digital marketing platform.
As a service company, how has FD Technologies been affected by Brexit, and, going forward, which new directions are you looking at?
In the long term, we don't see a material effect for us around Brexit. In the short term, and that has been over the last couple of years extending out through this year, it has probably driven quite a lot of change in our customers. Change is usually good for consultants because they have to manage it. Banks for example have had to figure out what their post-Brexit arrangements are, particularly around some of the risk and regulatory functions, and some of them moving to Dublin, Paris or Amsterdam. We have probably had some additional work as a consequence of that change. That has been good for us. Dublin is a particular growth area for us over the last few years, driven partly by that Brexit change. As a service company, many of our people have got European passports, and mobility isn't a significant issue for us. We are not typically affected by some of the workers rights issues that some other businesses have been affected by. We see it as almost business as usual. A big part of our business is outside of the UK, Ireland, with 50 percent in North America. We are probably less affected than some other local businesses.
How is the company growing in the U.S., what are some of your biggest achievements there?
Our big achievements in the U.S. have been our concentration in the major investment banks, many of which are U.S. domiciles. Every one of the top 20 global investments banks are our customers. Our other significant achievements in the U.S. have been some breakthroughs outside of the capital markets, working in the world of automotive, energy, and, increasingly, in the world of telco. We see the U.S. as being the biggest single slice of that streaming analytics market, which at the moment is growing more quickly than the other markets. It is also a relatively earlier adopter in more advanced technologies. The propensity to adopt early is high there. All of that plays in our favor. We have been recruiting heavily in North America, to make sure we are in a good place for that.
How instrumental will the new branding be to gain market share and further consolidate your position as a world leading technology for real-time streaming analytics?
We are asking our shareholders to approve the name change at our AGM on the 8th of July. That is an important milestone. Behind that we have already put significant additional investment into the KX brand because that doesn't change irrespective of the outcome of the group name. We are already working hard on that, and they are doing things like screen display advertising, content syndication, and very heavily working with press and talking to people about the company to make sure they understand it. We see a significant increase in our share of voice as we have been doing that during the past year.
We are planning the launch of the consulting business, First Derivative, in July. We have already been talking about it, but, from next month, we will push on with awareness and events to support that brand.
Market Resource Partners, MRP for short, is already quite a strong brand in the digital marketing world. We continue to develop that and to make the investments behind it. All of this really to give each of the business units a really clear identity in its own market. Each is selling to a different buyer in the customer organization. It is helpful that each company continues to develop its own identity.
To what extent are you working to expand your products and systems to support other industries?
The strong point about our technology is that it increasingly gives us a horizontal platform which is almost industry agnostic. We are solving the same types of problem, whether it is on a manufacturing plant, a trade system, or a telco, and we are doing this by taking in lots of fast-moving data, combining it with the other relevant data and making a decision on it. We are making that horizontal platform increasingly easy to use in those different sectors. The activity of taking in data is very simple. Building the appropriate analytics for that particular industry is intuitive and then you are immediately getting the power of the platform delivered across any one of the cloud platforms. It is about making people aware of the power of the platform. We are not trying to build complex solutions for each of those industries, we are giving them the tools so that they can have the time series database underneath to get that performance.
Are you planning on making any new acquisitions in the next couple of years as part of your growth strategy?
No. This is a truly organic strategy, which, I think, creates more value in the longer term. I think it allows us to go faster because whenever you acquire, you have to digest, integrate and then move on again, whereas our organic growth strategy can just be built on each year. You retain the important culture in the organization, and you don't have to slow down.
You've been appointed as CEO of the group in January 2020, succeeding to founder Brian Conlon who passed away, and you have led the ship in what's been certainly one of the most challenging years in the past decade. What new strategic management style or directions are you hoping to implement, and what new trademark or new direction would like to leave?
Our culture is very important. It's what our success has been built on: a culture of wanting to deliver for customers, enjoying working, learning and collaborating, having a challenger mentality, and punching above our weight because we are better in terms of people, technology and skills. Maintaining that spirit and can-do attitude as we become bigger in scale is really important, and it's a key challenge. We are keenly focused in our hiring to look for people who have got these attitudes. You have to have very good filters to identify them and bring them in. Our training is also very important. I don't want to lose any of that, I want to build on it. I want to build more modern systems and processes that will double our revenue. It is constantly keeping that balance between the importance of strong infrastructure to enable growth and the importance of culture to drive that growth.
How do you value Northern Ireland in terms of talent development, particularly in the software, IT and fintech world? Do you find who you are looking for?
There are some very strong educational establishments. Originally, we were taking a lot of our people from Queen's University Belfast. It has obviously expanded from there to all of the Universities across both Ireland and England, and as the company has grown we increasingly brought people in with other skills and languages from all parts of North America and Euroe. We are in a period of exciting growth and demand. We have always prided ourselves on giving people opportunity in their careers and challenging them more than they might be challenged were they to go to a bigger organization. We have great opportunities for people to travel, and the sort of opportunities that excite people to join us.
What's your final message to our readers?
We are a group of data driven businesses. We see ourselves at the vanguard of the digital transformation. We are using real-time data to make a difference, to make decisions. We believe we are one of the best in the world at doing that, a genuinely world class business. We are very proud of our roots in Northern Ireland and happy to continue to contribute to the development of technology skills in Northern Ireland and to continue to contribute to the growth of the economy there.