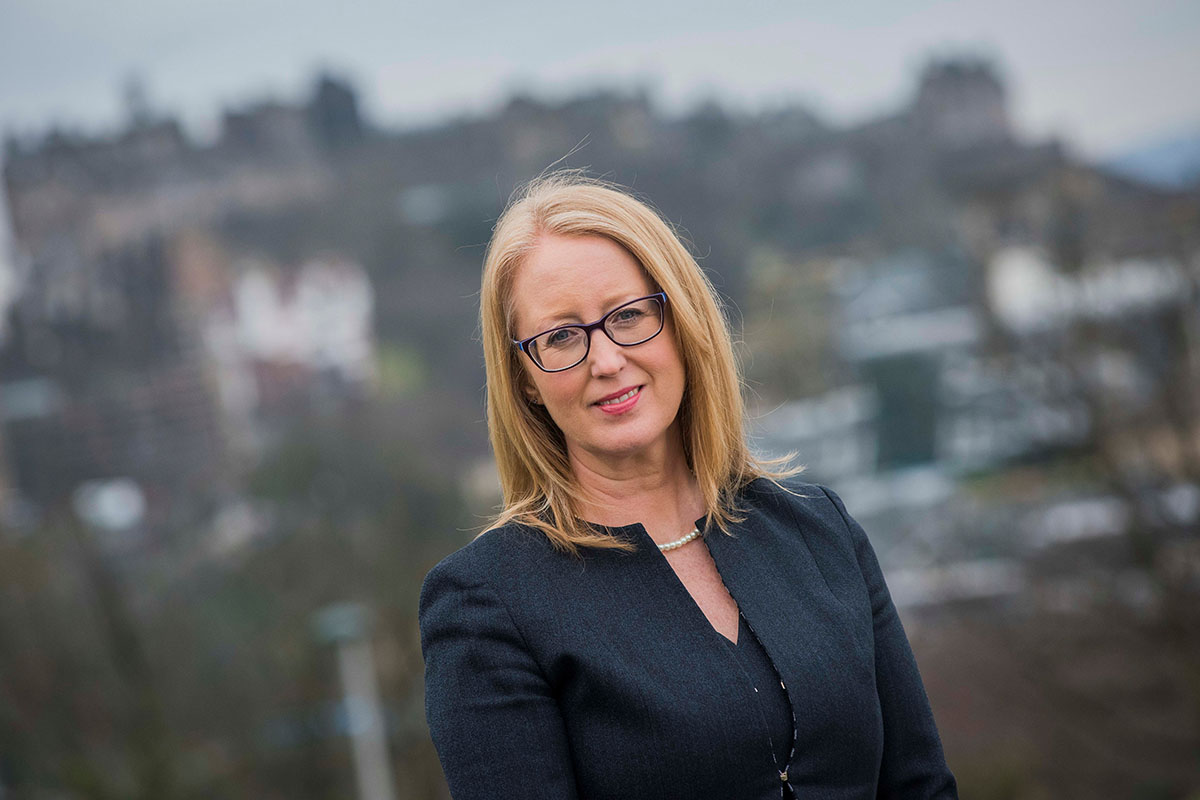 10 Apr

Scotland's financial services sector bands together for green transition
Sue Dawe, Managing Partner and Head of Financial Services, EY Scotland, describes Scotland's resilience despite challenges raised by the COVID-19 crisis and Brexit and underlines the importance of the country's financial services sector in supporting the nation's transition to net-zero carbon emissions.

For what reasons has Scotland seen recent success despite the challenges caused by the COVID-19 pandemic?
Scotland, like everywhere, has been challenged over the last 20 months. It is difficult to assess the overall impact at this point since we are still working through the pandemic. However, there are many indications that Scotland will be in a position of strength. A valuable barometer is the EY Attractiveness Survey. The findings show that foreign direct investment increased by 6 percent in Scotland during 2020, which is exceptionally encouraging. Even more so if you look at that result in the context of a 12 percent fall in foreign direct investment in the U.K. and a 13 percent fall in Europe. The report also found that Scotland's attractiveness to overseas investors is at its highest recorded level. Many factors contribute to that, particularly access to skills and talent. We have a network of excellent universities in Scotland that are focused on innovation in important growth sectors such as technology and life sciences. Our Attractiveness Survey found Scotland to be the most attractive location in the U.K. outside of London. Scotland also offers good incentives to establish operations in the country compared to other locations of similar scope. The country has an excellent startup market; we continue to see strong startups supported by an available robust ecosystem. We are very proud of the success stories coming out of EY's Entrepreneur of the Year program. A recent U.K. winner, Ooni, came from Scotland. The outdoor oven company was founded by a husband and wife in a small town in Scotland and has now gone global. Despite challenging markets and uncertain times, we have seen incredible success stories.
The COVID-19 pandemic has highlighted Scotland's position of strength.  The financial services sector moved quickly to working from home and provided tremendous support to businesses, individuals and communities in Scotland. At the 2021 Scottish Financial Services awards we saw a high number of nominations from companies that supported communities at the height of the pandemic. Barclays won the positive impact award for their support to local communities through their COVID-19 recovery package. EY's Attractiveness Survey reflects that—despite everything that is going on and being a relatively small market—we are outperforming other locations. Scotland's attractiveness has tripled over the last two years. The pandemic showed us how quickly we can adapt and respond in areas such as technology and sustainability and highlighted issues we need to look at for future growth. The financial services sector will be key to the recovery through a focus on collaboration in future growth areas.
What key strengths characterize Scotland's financial services sector?
Scotland has a globally recognized financial services industry. We have hundreds of years of experience in banking, insurance and wealth and asset management. The sector has a solid foundation and is forward looking. It is gaining global recognition in emerging areas of increasing importance, such as technology and sustainability. Two thirds of people working in the U.K.'s financial services are based outside of London. There is a lot of competition from the rest of the country, which has benefited Scotland's growth. The high level of investment into financial services in Scotland is optimistic for the country's outlook. EY produced a report in 2021 on Scotland's financial services sector. We interviewed 21 senior representatives from the financial services industry and analyzed data points. Scotland is a great place to live and work, which has inevitably impacted the value and reputation of the sector. Cost of living is lower, which benefits those living here from a value point of view. We compared the sector to other financial services locations globally and found that setup costs in Scotland are also considerably lower. EY concluded that Scotland's success comes down to the following three unique strengths: availability of skills and talent, quality of life and capabilities in the sector itself.
Another key contributor to our ongoing success is the extent to which the sector collaborates, which you can see in practice. Strategic partnerships are common, and Scottish Financial Enterprise plays a huge role in this. It recently launched a financial services strategy focused on leading the journey to net-zero carbon emissions, supporting economic recovery, developing skills and inclusion and responding to changing customer needs. Skills and talent are currently huge attractors in Scotland, but we must maintain it. We need to have the right skills and talents and the right number of people to meet changing demand. This can be done in the two following ways: making sure we attract the right talent from universities, schools and colleges, and retraining people whose jobs have become less relevant due to the digital economy. As a sector, we need to showcase Scotland more on the global stage because there are so many remarkable things about it. Scotland's financial services sector has been the heart of our economic and business landscape for centuries. In the modern-day context it is having an immensely positive impact on the economy and will continue to play that role in 2022 and beyond.
What effect has Brexit had on Scotland's economy and how will it affect the nation's future outlook?
There is still so much to work through and many decisions to be made. However, financial services organizations planned very well for Brexit. Most have been planning for many years and put structures and operations in place to deal with the break. EY developed a Brexit Tracker that looks at 222 large financial services organizations who have operations in the U.K. and tracks public statements the organizations make about people, operations and locations. The last one carried out in August 2021 found that the number of jobs that were moving remained quite flat. Looking ahead, location strategies will be driven by attracting and retaining investment and talent. We have the opportunity to look more globally. There are always opportunities that arise from challenges. However, where Scotland and the U.K. currently stand with Brexit and the COVID-19 crisis—the two overlap in terms of knock-on effect for companies flexing and adapting—there are too many moving and changeable parts to accurately make long-term predictions. Our focus should remain working through the pandemic with cautious optimism to maintain our position of strength.
How has Scotland maximized its potential with disruptive technologies as the digital revolution comes to head?
As a result of the pandemic there has been a massive shift towards digital technologies. From an investment point of view there is huge demand for technology companies and related skills. Scotland is becoming increasingly famous in these areas. We have seen a shift towards payment services because consumers are moving online. This was already a growth area due to a general transition to a cashless society, but it has been greatly accelerated by the pandemic. There is huge demand for organizations that can facilitate online payments. Open banking is a key aspect in understanding consumer trends and meeting customer needs. However, data and consumers need to be protected. Organizations need to find ways to make sure consumers are protected, which involves regulating the technology space. The Global Open Finance Centre of Excellence is focusing on infrastructure for open banking and what must be done to protect customers. The center is based in Edinburgh and further highlights Scotland's fantastic support system for emerging growth sectors. Another part of the ecosystem is FinTech Scotland, which supports financial technology companies and helps secure Scotland's place as a leading global fintech hub. We are seeing many collaborations between FinTech Scotland and organizations like Scottish Financial Enterprise. We are also seeing collaborations between fintech and larger financial services organizations, especially those that may not have the capabilities to deal with parts of the ever-changing landscape.
How has the 2021 United Nations Climate Change Conference (COP26) highlighted reforms necessary to meet global net-zero carbon emission goals?
The combination of COP26 and increased focus on a green recovery has accelerated thinking on the role organizations play in sustainability. There is a fundamental shift in how important sustainability is for future plans and the value it can bring. Companies are now putting it front and center, making public commitments and appointing chief sustainability officers that report directly to the CEO. Scotland has a fantastic opportunity to lead the green transition from the front. On top of our world-class financial services sector, we also have a world-class energy sector. By combining the two, Scotland can set itself apart. Collaboration with universities and other institutions exploring innovative technologies will also help the nation lead the way in funding and developing research, innovation and technology to support the global green transition. The Scottish Business Climate Collaboration is a group of Scotland's largest organizations, including EY, that established a forum prior to COP26 to consider the difference organizations can make towards our ambitions for net-zero carbon emissions. Different sectors must share best practices and learn from each other.
We all need to play our part—no matter the sector—to collectively be effective. EY has been ambitious and was one of the first firms to come out with our own public commitments in this area. Our people are passionate about it and want to know what the firm is doing to make a difference. EY announced last year that the global firm is already carbon negative and have further committed to having net-zero carbon emissions by 2025. We were also one of the first firms to appoint a global head of sustainability tasked with bringing the global capability of the firm to help clients with the transition journey. EY is working with companies of all sizes to map out their own journeys towards net-zero emissions. The company is involved in many initiatives, such as Sustainable Markets Initiative. We co-chair the S30 Forum consisting of chief sustainability officers. By leveraging our combined knowledge and expertise we can bring sectors together to understand clients' problems and deliver the best solutions.