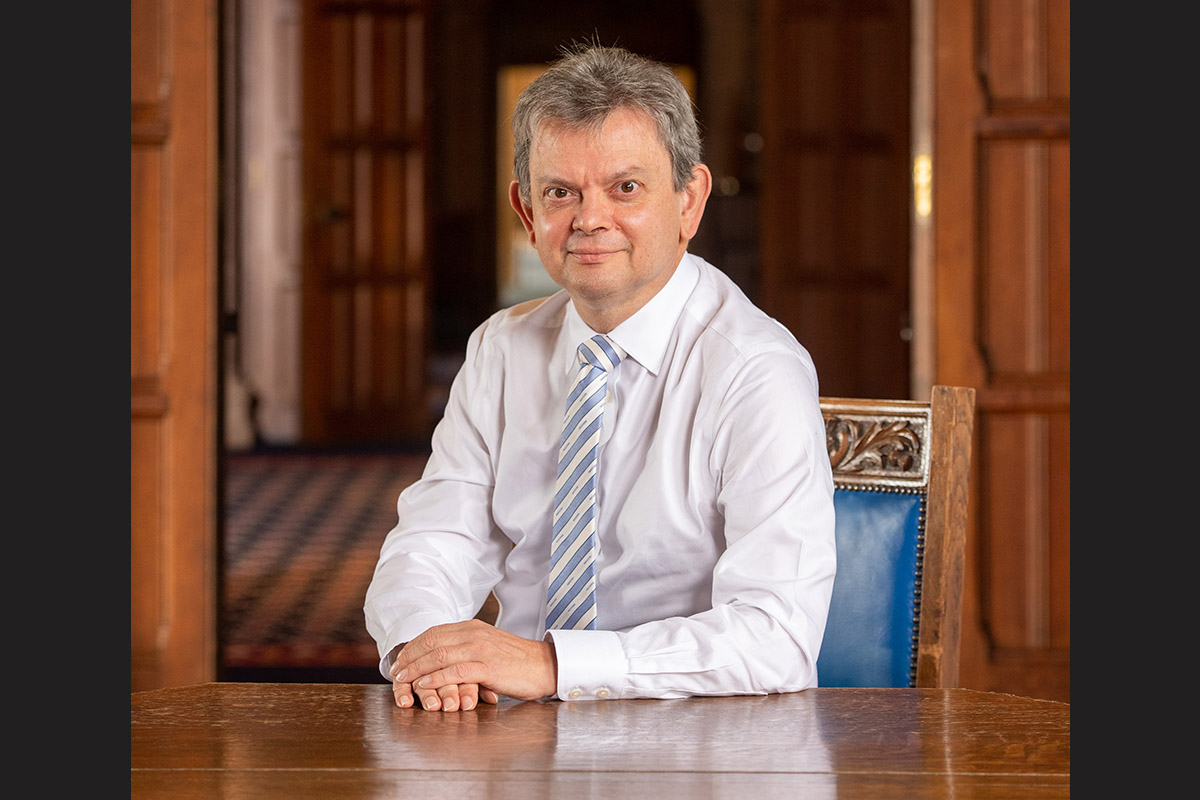 28 Mar

Scottish house of learning continues to spread global influence
Anton Muscatelli, Principal and Vice-Chancellor, University of Glasgow, details the reasons for the institution's growth over the COVID-19 pandemic and its efforts to support Scotland's industrial development and green transition.
How does University of Glasgow differentiate from other international universities?
Scotland punches above its weight in terms of higher education and research in the U.K. We have many institutions and some of the best universities in the world. University of Glasgow and University of Edinburgh are in the Russell Group of Universities, the U.K. equivalent of Ivy League schools. They both consistently rank in the top 100 universities in the world. University of Glasgow ranked 73rd in the QS world ranking and 86th in the Times Higher Education World University Rankings. We were also recently named Scottish University of the Year by The Time & Sunday Times' Good University Guide 2022. We are a broad-based university, meaning we have every discipline ranging from the arts and humanities to business and law, science and engineering, biomedicine and veterinary medicine. We have always been a world-changing university. Numerous Nobel laureates have come out of the University of Glasgow, including last year's Nobel Prize winner in chemistry. We want to keep having this continuous presence and help tackle problems like climate change and the post-COVID recovery.
We are one of the most international universities in the U.K.; roughly 35 percent of our students come from outside the nation. Of our more than 30,000 students, 11,000 are international students. We attract students from more than 140 countries and have a global alumni community of more than 219,000 people. We work with 420 study abroad and exchange partners. As one of the world's top 100 universities, we are an increasingly popular choice for international students. Our international student population has more than doubled in the past decade. University of Glasgow has always played a role in widening access to higher education. Around 27 percent of our Scottish undergraduate students are from the most socioeconomically deprived areas in Scotland. We heartily believe that education can be a route to social mobility.
Additionally, we have a large focus on research. In a recent economic impact study, based on 2018-2019 data, University of Glasgow has a $6-billion impact on the Scottish and U.K. economy. We have grown throughout the pandemic and increased our impact. We are among the top universities in the U.K. in research intensity and in the top two in Scotland. We are in the top five in the U.K. in terms of the number of patents granted and the number of patents filed by external parties that named us as an inventor. We embody a powerful combination of skills, research and innovation that positively impacts our economy and society.
What are the university's key strengths in research and development?
Our beacon areas include precision medicine and chronic diseases, which makes us one of the strongest universities in the U.K. in life sciences and biomedicine. We are exceptional in quantum technologies, including sensors and imaging, and contribute to innovative manufacturing, biomedical technologies and the green transition.Another solid area for us is in the interface between the physical and life sciences, a theme we call Technologies Touching Life, which covers areas such as chemistry, biomedical engineering and new medical devices and treatments for everything from dementia to virus research. In virus research, we host the MRC University of Glasgow Centre for Virus Research in conjunction with the Medical Research Council, one of the U.K.'s largest research bodies. During the pandemic, it played a major role in sequencing the virus. In the post-pandemic era, it will continue to prepare us for what might come next. We are on the leading edge and work around COVID-19 in therapies, vaccines and monitoring the effectiveness of vaccines. Engineering is also one of our strong suits. We host the James Watts School of Engineering, one of the largest engineering schools in the U.K. We have specific expertise in 5G, 6G, heating and water. We also have the Adam Smith Business School, which is ranked by the Financial Times as one of the top 100 schools in Europe. It is one of the largest in the U.K. We are among a handful of veterinary schools that exist in the U.K. Our other social sciences do not fall far behind. We are a leader in creative industries in the U.K. Our overall offering is vast.
What collaborative efforts has the university made with Glasgow's industry to support development?
Over the last five to 10 years, we have developed physical space around the university to facilitate greater interaction between communities. The Glasgow Riverside Innovation District is located both on our campus in the west end of Glasgow and south of the river towards an area called Govan where Europe's largest acute hospital, Queen Elizabeth University Hospital, sits. It houses part of our clinical innovation zone. With this innovation district we have developed spaces to allow industry to collocate with us and spaces for our active spinout companies, particularly in life sciences and biomedicine. Furthermore, we are developing active entrepreneurship programs for our students, particularly in technology with our school of computing science. We have been working with a lot of businesses to scale up this segment. We are about to open an Advanced Research Centre next to an innovation cluster we are creating in the west of the city. This will act as an incubator for spinouts and local small and medium-sized enterprises. It is a $157-million facility and one of the biggest research buildings in the U.K. It houses many interdisciplinary themes that interact with industry. We also make things easier and faster in terms of technology transfer with companies that liaise with us and beyond. We support people in creating spinoff companies directly from research work, which contrasts with many universities. Working with industry helps us climb the academic ladder. Culturally, we look highly upon the application of research in business.
We also collaborate strongly with industry by providing greater skills. We are one of the first in the U.K. and Scotland to set up a graduate apprenticeship scheme in software engineering. This is aligned with executive education, namely students who are not in university but who are working in companies. Glasgow has a thriving financial district that is home to companies like Barclays, Morgan Stanley and J.P. Morgan. Many of our participants also work in areas where technology and software development are critical. We teach them while they are working and they leave with the same degree as if they were to attend university, though linked to their place of work. We are more present in the vocational sphere than we were a few years ago.
How is the university contributing to Scotland's sustainability goals?
Our Glasgow Green plan is hugely important to us because it is important to our community and the city in which we sit. Glasgow as a city is heavily committed to decarbonization. As universities, we must be on the frontline. Glasgow Green is an ambitious plan to reach net-zero carbon emissions by 2030, with clear and viable staging posts to achieve it. It is probably the most ambitious of all the university plans in the U.K., alongside University College London's roadmap. Our plan involves rapid decarbonization of our scope one and two emissions. We continue to reduce our carbon dioxide emissions from our campus and build a more sustainable environment. We are investing about $1.37 billion in the campus for some fantastic new facilities. The aforementioned advanced research facility will allow us to reduce emissions exponentially as it is a more efficient building. We also have an extremely ambitious transport plan to ensure business travel is heavily reduced over the next decade. While international students will continue to come to Glasgow, we will commit to a gold standard basis to offset some of the emissions generated from their travel.
The University of Glasgow is also committed to contributing towards the United Nations' 17 Sustainable Development Goals in tackling the most pressing global challenges facing humanity and the natural world, including the climate emergency. As a reflection of our commitment to the Sustainable Development Goals, Glasgow was the first U.K. University to declare it would divest from fossil fuels within a decade and the first in Scotland to declare a climate emergency.  Sustainability is placed at the heart of everything we do.
How has the university contributed towards mitigating challenges caused by the COVID-19 pandemic?
We have had a huge impact in tackling the COVID-19 crisis at various levels. At the scientific level, the MRC University of Glasgow Centre for Virus Research has helped in a variety of areas, including surveillance of the virus and its variants and heavy participation in U.K.-based studies around understanding new variants and how they behave. One of the major studies that was recently published shows the Omicron variant behaving quite differently in terms of how it affects cells compared with the Delta and the previous variants and infects patients. The center is also working on understanding where future trends might be. They published an interesting paper in Science that discusses new models—including machine learning and AI models—to assess potentially dangerous viruses present in bats and similar species that may be more likely to transition from animal to human. Another example of our contributions comes from our Institute for Infection, Immunity & Inflammation. The U.K.'s Observational Cohort Trial–T–cells Antibodies and Vaccine Efficacy in SARS-CoV-2 study tries to understand to what extent vaccines protect vulnerable individuals, such as those with immunosuppressive diseases like arthritis or cancer. We have made huge contributions through our influence in biomedicine. Colleagues have also played a key role in researching the impact of COVID-19 on vulnerable communities and populations. We have worked closely with our partners in the Global South to understand the direct impact of the pandemic on these communities.
Our colleagues and students have risen to meet the challenges posed by the pandemic. At the beginning of the pandemic, the U.K. did not have enough testing capacity. We worked with the U.K.'s Department of Health and Social Care to establish one of the first Lighthouse laboratories, which now effectively processes around 150,000 tests per day, passing a milestone recently of 25 million tests processed since April 2020. The people who staffed this laboratory were initially all volunteers. They were our researchers who recognized we were in a national emergency and dropped everything to give their services to the national effort. We now employ over 700 people at the center and are the only U.K. university to currently run one of these major testing facilities. It is the only Lighthouse laboratory in Scotland. This came about through our community spirit. The pandemic has helped to bring us closer together as a scientific and learning community.
What impact has the COVID-19 pandemic had on the way the university is run?

Some of the trends brought up during this period are here to stay, such as new ways of doing assessments and having smaller classes. If you come on campus now, you will see one of our new buildings, the James McCune Smith Learning Hub, in which we have lecture amphitheaters, smaller group classes and a lot of social learning space. It is brimming with students because they want to be together. People want a campus experience, and that will never disappear. Most students prefer large lectures online to learn in their own time, but also want to be there in person in smaller groups and learn together in an active format where they can contribute. Fortunately, the pandemic has not affected our student numbers. In fact, we have grown rapidly over this period, attracting even more students from the U.K. and abroad.
At Glasgow, we already had a learning and teaching strategy that was pushing toward what we call active learning in smaller groups and away from the passive learning of large lectures that can lack dialogue. We strongly believe that developing work skills is done more through collaborative working. People can contribute substantially more in this way to their own learning as opposed to simply being in the receiving mode. We are still operating in a hybrid approach this academic year. We teach in classes of up to 150, which allows us to do more small group teaching. Larger classes are done online. We have also been able to make huge advances in smarter assessment techniques. It must be different because much of it must be done online. It is not simply about testing knowledge, rather it is about testing critical thinking skills. In short, the pandemic accelerated a trend toward a better higher education system; we are teaching, assessing, and learning better.
How has Brexit affected the U.K.'s education sector?
The biggest risk for us is that we attract fewer students from Europe. Previously, they were classified as home students. Because Scotland does not charge fees for home undergraduates, they could study here free of charge. Numbers have dropped considerably. Obviously, we are very keen to attract talented students to Glasgow and are increasing our scholarship opportunities substantially for international students. Another challenge is the debate as to whether both the U.K. and Switzerland will associate with Horizon Europe, the new research area program for European funding. It is tied to the Brexit process and there is still some uncertainty. We have received assurances from the U.K. government that if it falls through, we will still receive funding directly from them. We have always attracted some fantastic research grants and done tremendous collaborations across Europe. We need to safeguard those alliances. To offset this, we have established more strategic partnerships across Europe, including a new partnership in Germany. This has allowed us to have the joint European Center for Advanced Studies with Lower Saxony, which secures our continued work with our colleagues there. We are exploring all options to make sure we do not lose this valuable network.
How has the university raised its global footprint?
Glasgow University has transformed in the last 10 years. We are now much more of an international university, both in terms of students studying in Glasgow and in terms of our linkages. We have created many more international partnerships and are a part of several global networks. For example, we belong to Universitas 21, an impressive network of global research universities. We have strategic alliances with universities such as University of Sydney, Columbia University, University of Hong Kong and many others. We have also set up three transnational education hubs—one in Singapore and two in China—where we teach University of Glasgow degrees jointly with partner institutions. We also have a huge presence in countries working on international development. For example, we are working in Malawi in our wheelhouse area of chronic diseases. Local scientists and scientists from Glasgow are working in a new laboratory facility established in Blantyre on similar diseases that affect both countries, such as diabetes and the COVID-19 virus/ We are currently starting a clinical trial project.
As a global university, we know we learn more by working with the very best across the world. We want to promote international exchange and want all our students to have an international experience. Before the pandemic, we significantly ramped up the number of students that had some international experience while studying here, whether that be a period abroad, working for a company or doing a semester. That number increased to around 24 percent of our student population. The pandemic reduced that slightly, but we have been doing a lot through virtual secondments and exchanges. We plan to increase that to 50 percent by 2025.
Europe is on our doorstep. Despite Brexit, we need to continue to collaborate as we always have. We are proud to be one of only two Scottish universities together with the University of Edinburgh to have become members of European university alliances. We are a member of CIVIS, a joining of universities such as Université libre de Bruxelles, Stockholm University, Aix-Marseille University, Sapienza University of Rome, the Autonomous University of Madrid and a number more. We also have one of the largest numbers of Erasmus Mundus collaborative masters degrees, not just with European universities but with universities across the world. We are going from nine to 11 of these programs where students can study at more than one university. This is directly aligned with our aim of attracting the very best talent from around the world to Glasgow.