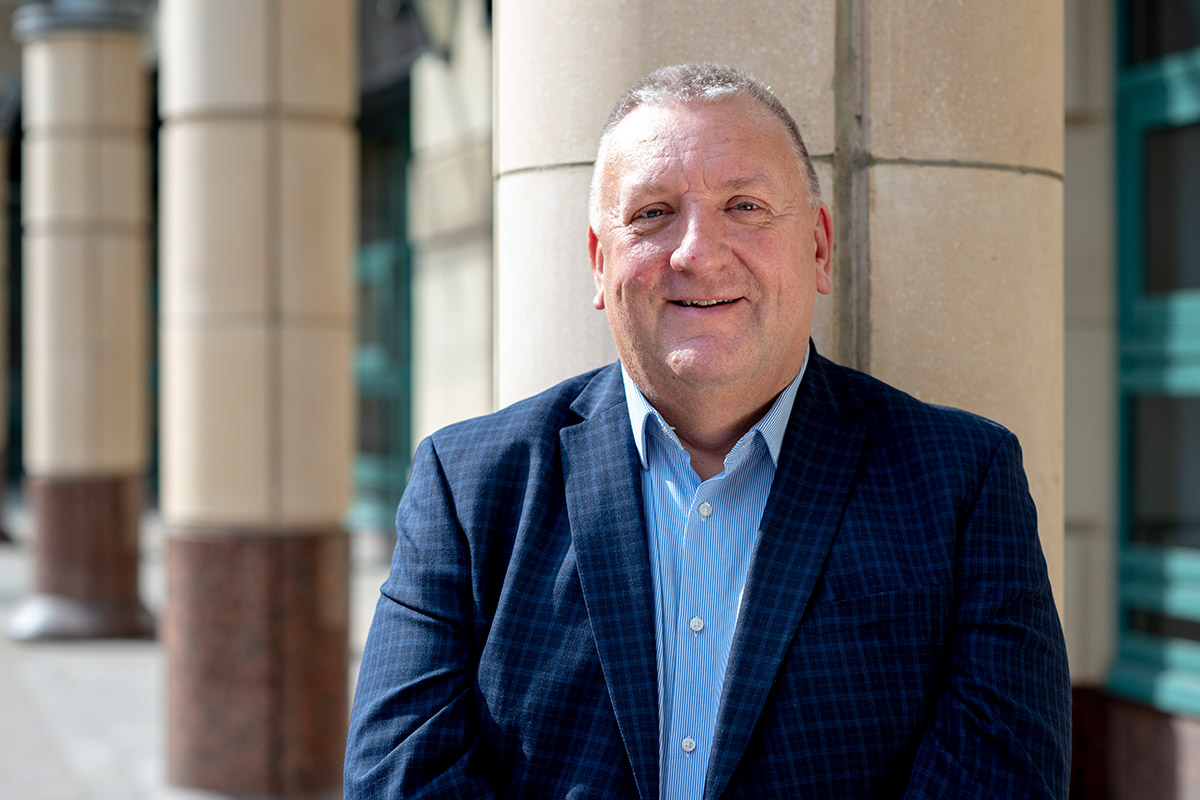 29 Mar

Strong tradition, bright future
Paul Denton, CEO, Scottish Building Society (SBS), tells us what Scotland's oldest building society is doing to stay new.
The Scottish building society is the world's oldest mutual, member-owned society with such a long and illustrious history—174 years to be exact. Would you give a rapid overview of your organization and share with us its key singularities?
We are indeed the oldest remaining building society in the world. Scottish Building Society was founded in 1848, and we have stuck very true to our original business model of being a savings and mortgage business, one that offers a fair rate of return to our savers. We have no shareholders, because of the mutual model, so there are no dividends paid out to corporate institutions or to individual investors. All of our profits are either kept for future investment or are paid out to our savers. The second part of our business model is mortgages for residential lending. We focus on members' main residences, not commercial lending or inter-business.
This strategy has stood us through meaningful change. We have lived through the Spanish flu, the Great Depression, two world wars and the financial crisis. Although COVID-19 was clearly alarming and disruptive, it is not necessarily something new from the point of view of the society's history.  Over the course of the last 174 years, we have grown sustainably over that period, and, more recently, the mutual model has really been welcomed within Scotland and across the U.K. as a whole. Despite having record low interest rates, 2021 will be our most successful year ever for profits, which is a great testament to the business model. It is one based on simplicity, but equally based on a true focus of being member owned.
What have been some of the key drivers that explain this exceptional performance amid the COVID-19 pandemic?
Fortunately, we had been doing a fair bit of work regarding the brand of Scottish Building Society at the end of 2019. Going into 2020, perhaps we had good timing, but our brand was on a growth trajectory. In the early part of the pandemic, or certainly through the summer period, the U.K. and Scottish governments sought to keep the housing market open. There was relief offered via stamp duty, and that created a surge in demand for new homes and new mortgages across the U.K. We were able to stay open. Unlike many of the large banks, we were not distracted because we did not have payments or business lending, and our model was simple.
Savers or most households could not go on vacation; they were not commuting to work; and they were not living their normal lives of entertaining. In fact, the vast majority of households in the U.K. actually increased their savings during that period and that helped our funding. At the same time, the government stimulated the housing market through tax relief. We essentially had both funding and the demand coming through within the housing market. Frankly, we would like to think that we had done the legwork concerning our own brand ahead of the outbreak.
In 2020, the society grew its mortgage book by 22 percent in one year alone. Of the 40 city building societies in the U.K., we had the number one growth by percentage. I would quickly preface that by saying that we are not the biggest building society in the U.K., but our percentage growth in 2020 was the highest.
Glasgow has been at the center of global attention with COP 26, an important moment as Scotland has been earmarked as being highly vulnerable to the impacts of rising sea levels and extreme weather, which will have a damning impact on gross domestic product. How is SBS playing its part in the transition to a greener, more sustainable economy?
We have several focus areas or themes that we look at when we are looking at our own commitment to climate. We are clearly a member of the community, so we measure our own carbon footprint. We chose not to measure it last year because we felt it would have been a bit of a cheat, because with people working from home, we did not have the same level of consumption. However, in 2019 we calculated our carbon footprint and we sought to offset that by investing in Trees for Life, which is a charity that rewilds the Scottish Highlands. While that made us carbon neutral, it did not make us carbon zero. We are looking at our overall property strategy internally, referring to how we can continue to reduce our carbon footprint.
As a lender, there are two aspects to what we are doing. First, regarding the rising temperatures and sea level, we have partnered with a company called Ambiental,h who have taken every single property that we lend on and have been able to forecast them forward over 30-to-50-year horizons, based on the different temperature increases and the scenarios that have been outlined both globally and by the U.K. regulator. That has given us a good sign as to what level or what percentage of our lending book may have issues. I am pleased to say that it is relatively small, but there is no question that over that long-term horizon, you do see the impact of growing temperatures. The work that we have done with Ambiental, who has been doing this for years for the insurance industry, has been incredibly insightful for us.
Perhaps much more importantly, how do we, as a lender, play our part to help households to reduce their carbon footprint individually? We pride ourselves on being a very personal and flexible lender. We do not look at mortgages on an algorithmic or scoring level. Every case is personally reviewed and underwritten. Therefore, we understand not only the property that is being bought, but, equally, the improvements that a customer would like to make to them. We can offer finance on a flexible level to help customers who want to upgrade their house, either at the time of purchase or if they are an existing owner; and we can help with equity release for retrofit activities, whether it be solar panels or heat pumps.
Similarly, we also do self-build mortgage lending. This is very popular in Scotland, particularly in the northern region and out on the islands, where there is a good deal of traditional or large-scale home builders. Many houses are built on an individual basis and, as such, what we find is that many consumers take their carbon footprint incredibly seriously. As a significant lender in the self-build market, we like to think that we offer that flexibility for new homes from now on.
We are also active in Scottish financial enterprise and, equally, you may have seen that the Scottish government aligned with the U.K. government, with the timing around COP, created some relevant government policies. The Scottish government initiative is referred to as the Heat in Buildings Strategy, whereby all homes over the course of the next 10 years need to move toward a Band C energy performance. That will be challenging but, nevertheless, as a lender we will support our members, and any potential new members, with their home improvements to help move towards a minimum of Band C. There are quite a few different things that we have both underway, and more that will come through in the future, as well.
You also opened a new office in Aberdeen recently, which is against the trend. What are your intentions with this sizable investment and why is this important for SBS?
We recognize that branch banking has changed considerably. I have been a banker now for 33 years. Much of my time has been involved in retail distribution or branch banking, and I have seen momentous change over that period, as well as observed the opportunity of what a branch should be going forward. In the past, a typical bank was very transactional, and that is why people came in, queued at counters, and made relatively fast, but short transactions. Much more now, that has all moved online, and, when a customer comes into a bank or a building society, it is generally because they are looking for advice or they want to talk to somebody in person. For me, that is moving it from transactional banking to relationship banking.
Although we opened up a new office in Aberdeen, it actually comprises armchairs and only a couple of desks in the back-office area. If you come in as a customer, you will be seated in a very comfortable area having a cup of coffee talking to us in almost a living room or a lounge type environment. You may come in to, unfortunately, discuss a bereavement or a complaint or you will come in to get advice on a new mortgage or moving home, just to name a few scenarios. Whatever the case may be, it is not just a two-minute transaction. The situation is more about offering advice or help. We have positioned ourselves strategically across the key cities in Scotland. Our offices in Glasgow, Edinburgh, Inverness and now Aberdeen give us the footprint for those infrequent but hugely significant branch visits. When you do come, it will be a comfortable relationship feel, rather than a fast transactional encounter.
In this digitalized world, how do you see the necessity for a hybrid approach with many people perhaps preferring face-to-face interaction still. How do you see that balance going forward?
It has been talked about for some time, but we still absolutely need to offer the customers a choice, and we do that proudly here at Scottish Building Society. We still have a considerable proportion of our customers who hold their savings in passbook accounts, meaning they physically have a small book which records their transactions. That is very popular with our customers. However, equally to be sustainable going forward, we want to attract a new generation to our building society, but we also need to offer flexibility across channels. It is not just about younger people wanting digital and older people wanting face-to-face. Actually, it is a combination of the two. We find that our younger members want to transact with us digitally, but take their advice in person because they are less experienced in financial matters. On the other hand, our older customers enjoy the experience of actually coming in and speaking to us in the relationship format that I mentioned earlier. SBS runs with a dual strategy which we foresee happening for at least the next five to 10 years, fostering physical relationships while offering online capability as well.
SBS recently scooped up the Building Society of the Year award for the third year in a row, and you were named Business Leader of the Year at the Scottish Mortgage Awards. With a 33-year career in various board and management positions, what have been the main objectives during your time at the helm of SBS, and what ambitions might you have going forward?
I am quite proud of those accolades. We have been around for over 170 years, but the digital revolution which we are living through now means that we do require to change. Although we will retain the dual approach I have just described around physical relationships whilst offering online service, the background resilience of our core frame or our data has had to be upgraded substantially. We have moved the vast majority of our systems into a cloud environment now and we will be fully cloud by mid-2022. Therefore, there is a lot that our membership does not see, such as a significant upgrading from a digital cloud perspective, something creating the infrastructure that will take us forward. Over the course of the last three years, our balance sheet has increased by 40 percent, so we genuinely have a level of momentum going within the brand now.
What is your outlook for 2022? How optimistic are you about the Scottish economy and its recovery for the next couple of years?
There are clearly a number of pressures, but I am going to make the forecast on the basis that the vaccine remains successful, and with my fingers very much crossed on that, but if we can sustain health, the economy will continue to improve over the course of the next few years. Thankfully, unemployment has not risen to the extent that people feared after the various COVID-19 issues. Scotland is a beautiful country, and I am sure, as international travel opens up, we will see our tourist industry flourish again.
As we look to next year, and we are preparing our own five-year cycle, we are anticipating that the economy will still grow. From a building society or bank perspective, we are not expecting arrears to rise, and that is an important thing for the people. They should have low unemployment and low levels of financial distress. I suppose the one grey area that we have on the cloud, and this is a global picture rather than just one that we have here in Scotland, is whether inflation will come through with everything that is happening across energy prices and various other things. We are foreseeing higher levels of pay rises linked to inflation, and that is probably the one area in which we have the greatest level of uncertainty and perhaps concern going into next year.
Do I have confidence that the Scottish economy will come through this strong? Yes. Through the support that the government has provided, but proportionately just the underlying entrepreneurship that continues to remain here within Scotland, I believe it will.
Do you have any final comments for the readers of Newsweek magazine?
Scotland is a beautiful country. We look forward to you all coming back to visit us soon. Scotland has a history of innovation and entrepreneurship when you look back over a long period of time. For this, I am exceptionally confident that this standard will continue going forward. Anybody looking to invest in Scotland only has to look at our history as the source of confidence that they would need.