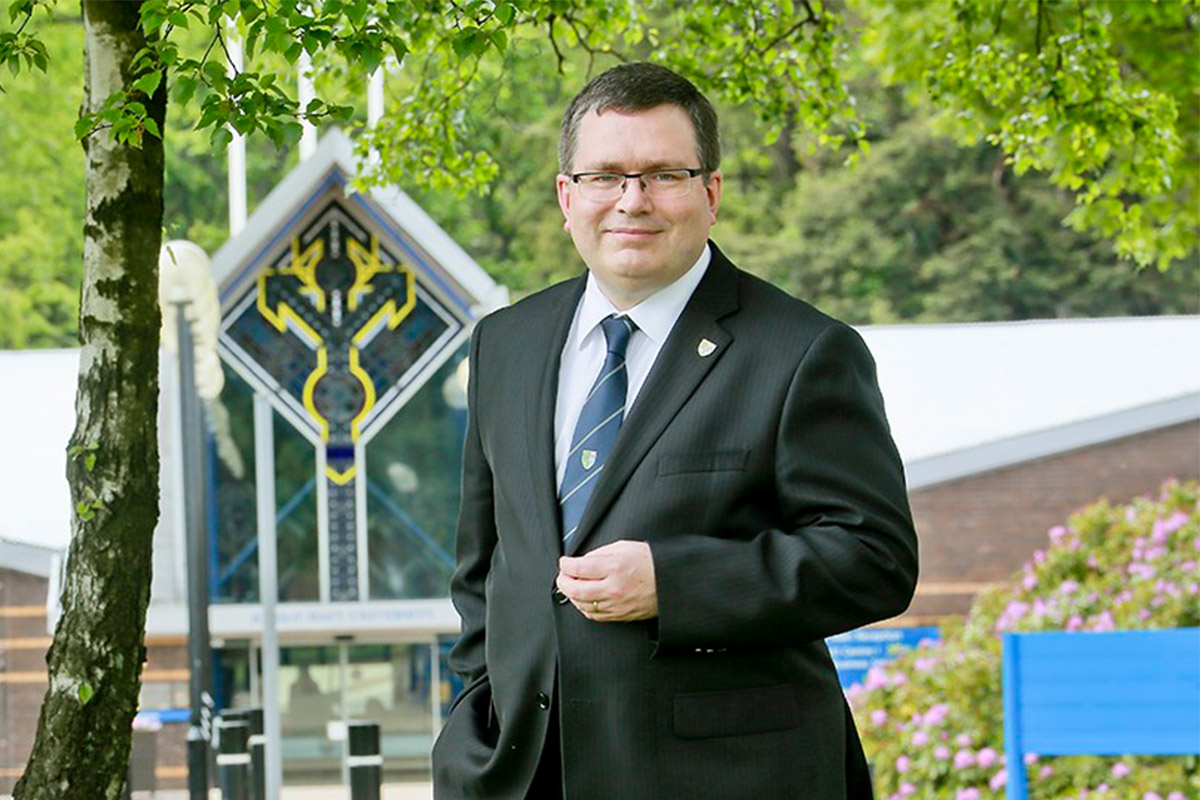 06 Mar

Tapping into heritage, mapping the future
Richard A. Williams, Principal, Heriot-Watt University, explains why his institution, borne of the Scottish Enlightenment, is well-suited to lead the charge into the future.
Can you give us a rapid overview of the university? How would you describe its heritage and expertise? How would you evaluate its impact and contribution over the past 200 years?
Heriot-Watt began 200 years ago in 1821, borne out of the Scottish Enlightenment. Today we are a global university with campuses in Scotland, Dubai and Malaysia. From the beginning the university has really been very outward looking and pioneering in pursuit of knowledge. We are a charity—like every university in Scotland—so we look to pursue knowledge for the benefit of society and the world. About one-third of our students are in Scotland, two-thirds are not in Scotland, and 40 percent of our students are learning from work or home. Even before the pandemic, we were always strongly work focused, just as we started as a night school in 1821. Yet we sit in the league of the Russell Group of universities and the top 25 percent of UK universities,  30th in UK and, in the QS survey, 270th in the world.
At this University we are focused on having a scholarly depth in certain areas and aim to be very impactful. In the last UK Government review, we were the top university in Scotland for the impact of our research. A few months ago, Hitachi Finance did a review of 8.5 million graduates in the U.K., and Heriot-Watt was cited as producing the highest number of CEOs of any other university in Scotland.
We were formed as this sort of technical night school through philanthropy from the citizens of Edinburgh because, in 1821, everybody wanted a clock and a watch, and there was not enough talent to design them. Thus, the originator of a certain shop got together with someone else and said, we need to give extra education to people in Edinburgh, and they formed the Edinburgh School of Arts. It taught exclusively technical subjects. That initiated the first ever mechanics institute, which became a global movement and expanded to hundreds and, eventually, approximately 7,000 locations around the world. That is the start of Heriot-Watt. It started that movement for technical education which was provided locally for people who were working. We are very proud of our heritage.
Unique to us is that we do not operate a branch campus model, rather we operate as a wholly integrated university. Our students can spend time in any location, in Dubai and Malaysia and undertake their degree in different locations. Our degrees do not say the location where our students studied. We have one senate, one management board and we operate over an eight-hour time difference, which means there are lots of activities early in the morning over here. We are taking Scottish culture, history and values to all the locations. That is quite important for the economy. The UAE is Scotland's third biggest export partner surprisingly, mainly through salmon, whisky and technology exports. We are very proud to advocate and present Scotland, and its industrial sector, through our university and through our alumni.
How does the Scottish higher education system stand out?
In Scotland, we have 19 higher education institutes for a population of just over 5 million. This terrific heritage of invention and leadership has impacted the world. Universities are at the forefront of creating jobs, technologies, products and services. We are really the creators of new economies because what all our economies need to grow are people trained in the right things. You can have new ideas and then you suddenly find there is a skills gap, but universities are training people in areas for the future. It is not sufficiently recognized. We have a responsibility to shape the future and train people for that future, and Scottish universities are certainly at the forefront of doing that. I see universities as a lighthouse shining its light out, scanning, illuminating, and showing the way. As Heriot-Watt looks forward, we will be working even more strongly in partnership with others to find dynamic and innovative solutions to some of the biggest challenges facing global society. People come to us to talk about innovation, research and talent in a single conversation. We are well placed to do that, not least because about 40 percent of our students are working from business, from work.
Several years ago, Heriot-Watt University bought the home of Adam Smith, the renowned economist, in the centre of Edinburgh. It was rundown. Through our Edinburgh Business School, we have spent the last few years carrying out extensive renovations, leading to renewed interest in the historic property, which stands at the center of the enlightenment period. We see our responsibility to recreate the forward-looking vision for the economy in Scotland through this. Now the home, which is called Panmure House, is a place where leaders come together. It is a neutral place the Scottish government uses when they host business and world leaders. We are developing Panmure House as a place that will really encourage debate around the future economy, not just in Scotland but around the world. We talk about the theory of moral sentiments and how Adam Smith would have regarded the economy.  One message that has always stuck with me is Smith's advice to act as if someone is always looking at what you are doing. That is an important social message as we go forward. To promote that, we have had a series on environment and sustainability. It is an interesting framework of how we, as a university, have decided we want to meet with people in a different sort of space and get to talk about the future.
What are the main priorities under your strategic plan 2019-2025? Which new strategic directions has the university taken over the past few years, and what is there to achieve by 2025?
We did not rush into producing a sustainability plan to say we are going to be sustainable by this date. Essentially, we want to be net zero as soon as we can. If we were thinking of spending a pound in a way that would maximize the reduction of CO2 in the world, how should we spend that pound? A pound spent on education is going to have a massive impact. Educating our own community and our own alumni in carbon literacy is very important. That is an element of the strategy because that will have a disproportionate impact. Then, how can we spend money on research that will have CO2 reduction implication? We are mapping the research that we do, and we already do a quite a lot of work identifying what could reduce CO2, in terms of carbon capture technology, in terms of aviation fuel technology, in terms of new forms of logistics and transport, how our own research. Getting people to understand that data and the impact of our research and doing more research that would be impactful for climate challenges is a core part of our strategy.
In our operations, like every other institution, we want to decarbonize our own organization. That goes without saying. There are many ways of doing that, and we are committed to it. However, our global sustainability strategy has to be more than just around our own multinational organization. It really needs to be how we can assure there is ethical sustainability. I believe that we need to be able to trade with countries in Africa. That means that we need to find ways of decarbonizing transport. If any nation was just to say we are just going to become net zero, that would have very little effect on the world on the climate change agenda. We have to take on a responsibility for a global net zero world. That is the challenge that we need to address, even through our own institutional sustainability strategy.
Tell us a bit about the university's research strategy. Where are you most active, how is the university working to build closer academic industry partnerships? How are you working to enhance entrepreneurship? You mentioned you have the highest proportion of CEOs coming from the university. How do you achieve this kind of ranking?
Richard A. Williams: I would say we have achieved this ranking by being selective in those areas where we have scholarly depth and yet, an ambition to impact for our research. Science and application absolutely go hand in hand, and, in our research areas, we are able hit the highest scholarly attributes and yet look at deployment of that knowledge. That has been a characteristic of the university, given our heritage. We have been fortunate. You could say we are a boutique engineering university, although of course we have significant business activity that has impacted society in a positive way and will continue to do so.
As one of the leading universities in the world for oil and gas technology, we are also absolutely at the forefront of renewable technologies and their adoption. The companies who we have worked with, and who we will choose to work with in the future, are absolutely committed to rapid transition. The big opportunity in the area of geosciences are those companies who are exploring new renewable opportunities in thermal systems that require holes to be drilled deep, for example. We are involved with research projects in Iceland and Africa around boring into the center of the earth to look at heat recovery from the magma, or through activities in Orkney, where we have had a campus for 33 years. Orkney has been a leader, particularly in floating renewables. It has some of the biggest tidal devices in the world at two megawatts. The company was started by our alumni and the employees are our graduates. With the new licensing of ScotWind in Scotland, there is a whole raft of new companies who are putting wind farms on floating assets. We are involved in leading all the aspects around that environmental assessment, looking at the impact on fish, flora and birds, and also on the engineering side.
A second area in which we have been traditionally strong is marine sciences, particularly in sustainable fishing and the development of marine communities. We have our chief scientist, Michel Kaiser, who is working with a number of fishing communities, in Scotland and around the world, in demonstrating how you can achieve sustainable fishing. It is not just about fishing technology, rather it is about working with fishing communities to be sustainable. There is some really interesting stuff in that area.
The third strength for us has been in decarbonizing industry. A member of staff, Mercedes Maroto-Valer, is the U.K. government's industrial decarbonization champion. We are one of the first universities to have on our executive a deputy principal for global sustainability, who is also leading the national initiative on decarbonizing industry, including reaching into the marine sector, where we are working with some 117 companies across the U.K.
The other areas of strength for us have been in quantum physics technology. We recently received our fourth Queens Anniversary Prize, which is the highest accolade in U.K. higher education for research groups. This one is for our long-standing work in quantum and optical technology. We were very early into investigating lasers and their deployments. We use them in medical technology and communications, and we won this award for applying these frontier optics to new technology.
Finally, we are just finishing construction on the National Robotarium, where we are pulling together our longstanding expertise in submarine robotics. We are bringing together our very strong mathematics group, engineering, and artificial intelligence in this big ambitious project.
Tell us a bit more about the university's internationalization strategy. How are you working to expand your international reach, craft new partnerships and collaborations?
We have been a multinational university for many years. In the UAE, we are the largest U.K. university and the highest ranked. We know that students who learn in different cultures are highly employable. There are about 35 big corporations that share our footprint in being in the U.K., in the UAE and Malaysia. Clearly those corporations are some of the primary employers for our graduates, who understand Sharia or how different societies work. Internationalization is a critical part of our role and it has massively affected how we run our university and our curriculum. In each location, we have partnerships that are extremely important. For instance, in the UAE, we collaborate with companies in the construction sector that we are able to introduce to Scottish suppliers. In some instances, trade has actually increased because of that, so we are something of a trade envoy.
How important is the North American market for the university?
North America is important for us in terms of business study and, also, with our program in brewing and distilling, where we enjoy the partnership with American students who are particularly attracted to Scotland. We were the first brewing and distilling course many decades ago. It is a very unique experience for students to come here to learn about the history and to see the modern brewing and distilling opportunities that exist here. Those are the two areas where we now track most North American students. We are keen to really build on that, and I hope Scotland will continue to attract North American students.
How do you assess the impact of Brexit on Scotland's higher education system as well as on international exchanges with the EU, and how are you working to cope with it?
Overall, international student growth into Scottish universities has been very strong in the last two years; not so much from Europe, but from outside Europe. Many universities have enjoyed significant growth beyond that which we expected, probably because of the pandemic, with students unable to go to some other locations. Additionally, some students value the work-study visa that we have in the U.K. that attracts students, particularly Indian students. As for the relationships with the EU, critical for us is the retention of our ability to do collaborative research in Europe. We value it so much.
I would say Brexit has not been good for Scottish universities, however the relationships we have with colleagues in Europe remain strong and I am confident that we will be able to continue with these partnerships in future. We just need to find other ways of resourcing and financing that relationship. The world is a big place and Europe is a big player, but we obviously will be looking to interact with the whole of the global world, as well as with Europe.
How would you summarize your personal vision, your priorities, and your ambitions for the university?
All of us at the university have been looking at our purpose and our statement and the impact that we want. It is so important to have clarity on ambition and purpose. I believe my purpose is actually to have an impact in developing an ethically and globally sustainable world. That is my intention, my ambition and my purpose. Unless we set out with this ambition, we won't achieve it. The global point is important because it is not just for Scotland to do it: the whole world has to do it together.
Do you have any final comments for the readers of Newsweek magazine?
Universities need to attract patient capital if we are to address and solve the climate challenge. We really need to look for and partner with institutions that want to invest in a different way in universities. That pound per CO2 value is going to come through patient capital investors.