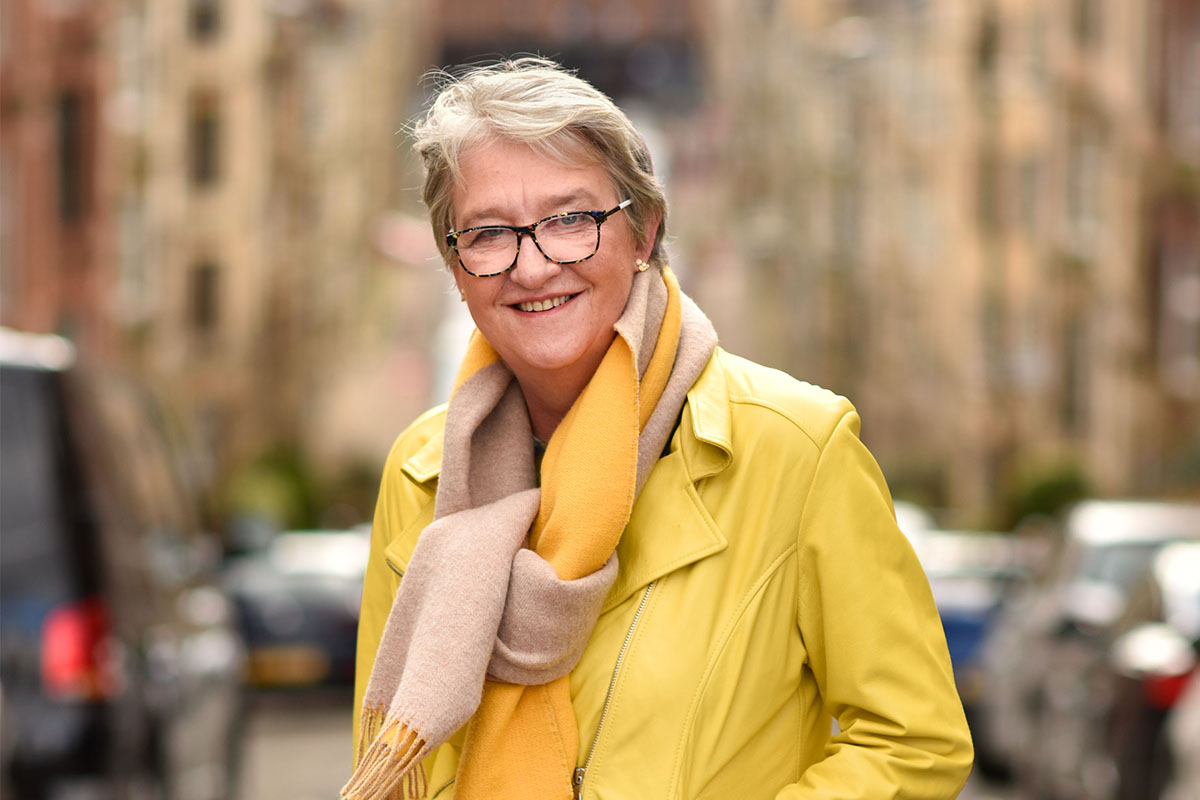 25 Mar

Teaching near and far
Susan Stewart, Chancellor, The Open University of Scotland, speaks about a school whose mission is uniquely suited for this era, when distance learning has become normalized.
Would you give us an overview of the Scottish higher education landscape? How competitive is it in the global context, and how do Scottish universities stand out? How do you value the overall capabilities, skills and adaptability of the region's post-graduate student in particular?
Scotland has a global reputation for higher education, and our universities are a major asset to Scotland's brand internationally. We have more graduates per head of population than most other European countries. We also have more research citations than most European countries, and we are focused on developing collaborative partnerships between business and academia. As a small nation, we have a strong drive for connectedness and these are strengths which can play a vital role in ensuring that nations across the globe, not just Scotland, are in a strong position to recover from the pandemic and to face future challenges. One of the other strengths is that the 19 institutions are a very diverse sector.
The Open University (OU) styles itself as Scotland's national widening access university. We have over 20,000 students now, which makes us the fourth largest in Scotland in terms of student numbers. We offer part-time study and flexible work-based education initiatives. This will also play an important role in supporting economic recovery from coronavirus. We are committed to using our expertise and online education to help people and society navigate through pandemic recovery. One of the founders of the Open University in Scotland was the Scottish MP Jenny Lee. Thus, we like to think that, to some extent, the Open University was born in Scotland.
How would you evaluate the university's role and contribution to the region over the past 50 years? Do you feel you compete with other more traditional education institutions? How do you see the university fitting in?
Because we are so unique in terms of our online distance offerings and our real expertise in online education, we are not really in competition with other universities, the way that some of them might be with each other. OU has no requirement for entry qualification, which is quite unique. Another differentiating aspect is that we are the only university in the U.K., with a footprint in all four nations: Scotland, England, Wales and Northern Ireland. During the pandemic, we also supported other colleges, universities and schools to pivot to delivering their teaching online. We are the only one with a national and international footprint.
Additionally, we are funded at a modular level, so students studying with the Open University in Scotland do not necessarily need to do a full degree with us. They could do a couple of modules and stop there or take that credit and transfer to a brick university. A lot of students come to us with other qualifications from colleges and then complete their degree with us.
To what extent has the pandemic enhanced your development and relevance, as a university? Going forward, which trends do you see will consolidate permanently to shape the future of education?
The OU's expertise really came to the fore during the pandemic. Our expertise in online education helped students, staff and society to navigate through and recover from the pandemic. We saw huge growth in student numbers, 30 percent from 2020 to 2021. We also experienced unprecedented interest in accessing our free learning platform, Open Learn. Through targeted short courses, we have helped to upskill and reskill individuals facing the challenges of COVID-19. In the very early stages of lockdown in 2020 we acted rapidly, using the already well established Open Learn platform to provide a focused and rapid response. We worked with Scottish government and Skills Development Scotland to develop skills training for furloughed workers. That was part of a similar response that the OU did across all four nations of the U.K.
We also took quite an agile approach to developing micro credentials on FutureLearn, along with Seek, the Open University's own FutureLearn. Essentially, we curated resources, free and short courses, across our platform for a wide range of audiences, including the healthcare sector, the third sector, year six school pupils and also for parents who were homeschooling. We advocated for new Scottish government funding to support those facing redundancy who were needing to reschedule or refocus their business during a period of such rapid change, and we successfully secured new funding across several grant programs. We are continuing to work to target Scottish skills gaps in digital, coding, business management and the green economy.
Furthermore, we also have developed new partnerships with many organizations, such as the Young Foundation. We are working with them on a new project to capture the social impact of coronavirus on individuals and communities across the U.K. The key themes under investigation include resilience, solidarity and support for the future of U.K. society. At a U.K. level, our research adds more than $94 million to the economy annually, and we address government research priorities and initiatives in Scotland, England, Wales and Northern Ireland.
What are some of the biggest research breakthroughs that you are most proud of, and what sort of impact has emerged from your research?
We are world leaders in space research. One of our postgraduate strategic areas is international development and inclusion. Some of our international development programs have been funded by the Scottish government and do work in Zambia on the educated school-based training. We believe Brexit is having a negative effect on research and the ability to deliver impact, to attract and retain talent. To counteract its potential impact, the OU continues to feed in via the U.K. research office, UUK International and University Scotland to advocate for appropriate resources for ongoing engagement with European funding. The OU has been awarded our first post-Brexit Horizon Europe funding, which is currently in the contracting phase.
How are you working to build closer academic-industry partnerships and close the research gap with the corporate world to enhance research impact?
We work extremely close with employers. Most of our research tends to happen out of Milton Keynes. We engage mostly with employers in terms of upskilling and reskilling. However, one interesting piece of research that is going on in Scotland is using space expertise and spectrometers which are used to sniff space environments in analyzing Scottish whisky to tell the difference between real and counterfeit whisky. That is a collaboration with the Scotch Whisky Research Institute, and it is really very innovative, exploring biosensor technology. It could significantly improve the whiskey industry production process and offer a competitive advantage. That is quite a nice real example of applied research with one of Scotland's biggest export, Scotch whisky.
How important is sustainability at OU and what initiatives have the university taken regarding its academic and research programs?
We have just published our new strategy, and sustainability is now one of our five strategic goals. Obviously, we are committed to lowering our carbon footprint, although distance learning is already probably one of the greenest modes of higher education there is. Nevertheless, like many universities, we are greening our estate, looking at different ways of collaboration that don't necessarily involve the amount of travel it used to. It is a really important area of work for us.
In terms of raising public awareness, we have a partnership with the BBC. We are the main sponsors of the BBC series Blue Planet with David Attenborough ,and it has prompted unprecedented public and government action to protect our oceans. That is an important way in which the Open University contributes to public awareness.
How are you working to boost the OU's reach and international strategy, and how are you working to craft new partnerships and collaborations at a global level to accelerate your integration in the global space?
We are committed to playing our part in ensuring that higher education remains one of the jewels in the crown of Scotland's international profile. The OU has over 7,000 international students from 157 countries and many more studying our courses through our partnerships and accredited institutions. In Scotland, we never took part in the Erasmus program because it is just not practical for our students, who are mostly working as well as studying and often have caring responsibilities. Another important thing to mention, not specifically international, is that 25 percent of our students have disabilities.
From a marketing or a recruitment perspective, what is your strategy to communicate your brand to grow your international appeal and image?
Key to our brand is the flexibility of studying with the Open University and our expertise in developing high-quality online learning. You can earn while you are learning. There is no need to take time out of work or other commitments in order to learn with us. Graduate attributes and employability are other attractive features. Three-quarters of our students say that they are studying with us for career reasons—either to advance in their current career, or because they are wanting to change careers. Whatever your aspiration is, with over 200 qualifications, there is something here for you. We truly have a huge curriculum.
The other thing about us is that we are a global provider of high quality, supported online distance learning. Our modules are developed by multi-disciplinary course teams, comprising academics, educational technologists and media specialists. Everyone is contributing pedagogical and technical expertise. That has helped to build the university's worldwide reputation for innovation, rigor and quality, which has been adopted by distance teaching institutions across the globe.
Do you have any final comments for the readers of Newsweek magazine?
The Open University offers transformational opportunities for everyone, regardless of their prior educational qualifications.