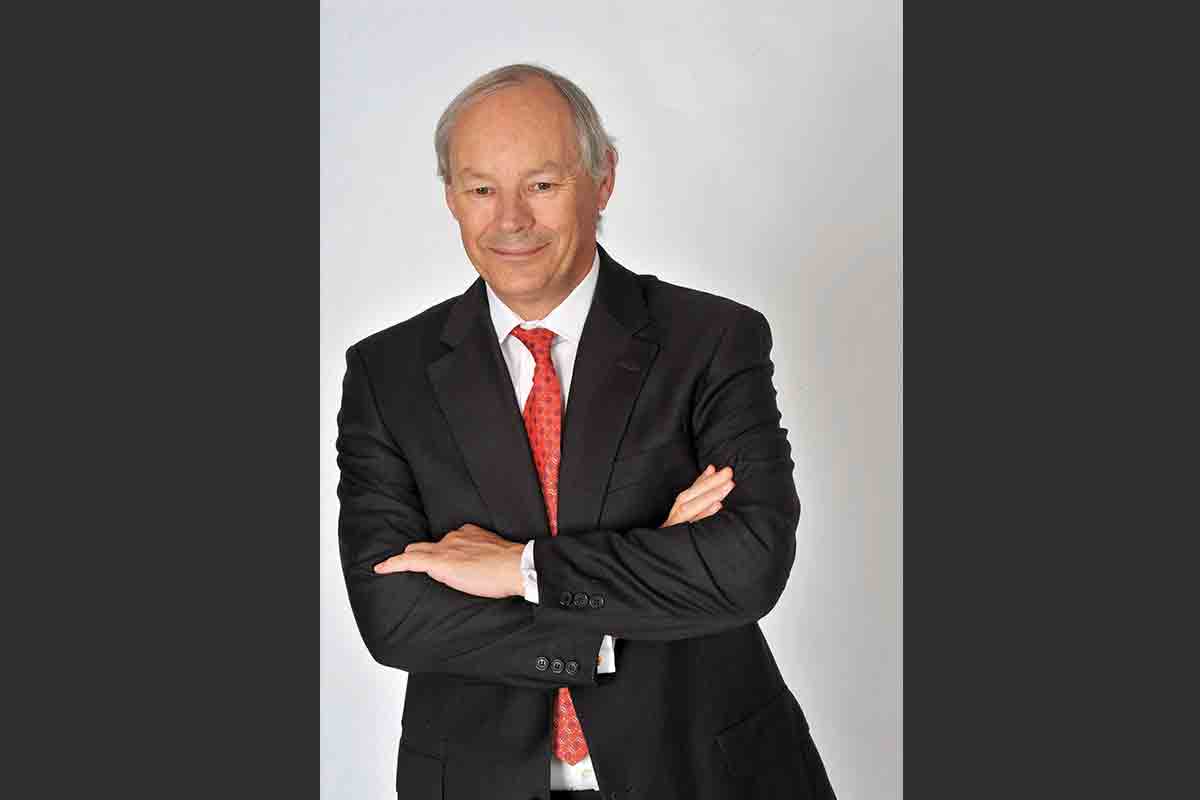 01 Sep

Testing your way out of a pandemic
Peter Fitzgerald, CEO, Randox, has had a busy year helping the U.K. government scale up its COVID-19 testing capabilities. What's next for the diagnostics company?
Randox is one of Northern Ireland's most outstanding diagnosis companies and a real success story in the life science industry. This year is marking the 40th anniversary since you founded it in 1982. It has become a global leader in in vitro diagnosis, providing for example 15 percent of the world's cholesterol tests, and more recently has illustrated itself in the development and roll out of millions of tests for Covid-19. Tell us how Randox stands out in the diagnosis industry next to other pharmaceutical giants? What's been its founding vision and the keys to its success so far?
Randox is a medium sized company with about 2,500 staff , but we are a reasonably large volume manufacturer since we manufacture between four to five percent of all diagnostic tests that are used in the world. That is a volume figure—not a value figure—as we distribute through our own label but also manufacture for many other people. We also have many distributors in different markets. We manufacture for a number of the larger giants in the field of diagnostics, something which gives us volume. The money we make from selling our routine diagnostics is in the field of clinical chemistry. They are the more valuable tests and we are moving into areas of higher value. The profits we make are put back into research and development. This year, for example, we spent $42 to $55 million in research and development to develop high value products.
One of the areas we specialize in is photonics, conducting many different tests onto a microchip. We have been working on this for quite a long time and have spent about $472 million on this biochip development. We have set up several manufacturing plants, in County Antrim in the north of Ireland and County Donegal in the Republic of Ireland. These plants have an ability to manufacture large volumes of biochips. This has been a major research effort. The whole concept is that you can measure many things at one time in one microchip. This had been cultivated in the area of proteins and small molecules, but recently we have moved into genomics, best illustrated by our innovation and impact within Covid-19 testing. Our concept is that we need to measure many different biomarkers within the body to get an understanding of what is going on. We believe too few tests are done to accurately assess clinical conditions because of a lack of equivalent lab technology and cost. We are trying to bring the costs down and give clinicians and scientists more information on each patient, so that they can offer accurate and reliable personalized medicine. We believe it is the future, because we are all different and unfortunately medicine in the past has treated everybody the same—a type of 'one treatment suits all' approach. We believe that understanding the differences in each person is critical to the early diagnosis and treatment of diseases. We are very much research and development focused, but we sell products which we develop and use the profits for this long-term goal.
Randox has been at the frontline during the COVID-19 pandemic, provisioning millions of tests from the U.K. to Japan and the Tokyo Olympics, where your gold-standard PCR testing services will be offered to Team GB. How instrumental your company has been in the fight against COVID, how many tests would you say have been carried out so far by Randox, and how has your company contributed to this combat? What's been the impact of the pandemic on your business?
We already had COVID tests in late January 2020 but not for the COVID-19 strain. It was not very difficult for us once we had the genetic make up to develop a test for the COVID-19 variant, which we did in a few weeks. Then we went through the process of getting public health approval. At the same time the British government were looking for people to execute testing, so we won some contracts. We actually detected the fourth positive case in the United Kingdom and then started scaling. We have reported about 13.5 million tests for the U.K.'s National Testing Program, coordinated by the U.K. government. We believe we are the largest lab in the United Kingdom and Ireland, and probably within Europe. We have scaled that process quite rapidly, and now have a capacity of 500,000 tests per day. Eighteen months on, we remain active in the U.K.'s National Testing Program and also provide high volume testing to support international travel. We have also developed a genomic sequencing capability, in this case to analyze the variants within positive samples to guide Government policy. This capability is very important in the National Testing Program and we have found that it is quite difficult for the government's public labs to scale as fast as we did. We have also invested in and developed significant levels of automation and associated processes which are critical to enhancing efficiency. Innovation runs within our DNA, and we have also developed manufacturing capabilities for extraction agents, PCR reagents and quality control materials. Faced with unprecedented demand we also scaled up and developed our own laboratories, adding over 80,000 square feet of molecular laboratory space within a few months. We have also developed fully mobile laboratories and deployable, static laboratories called 'Cubes'; at the time of this interview we are establishing several Cubes in England. We believe this will be very important in the future, we can deploy these cubes out to anywhere in the world faced with high diagnostic demand or inadequate services . They are fully equipped and proceduralized for rapid deployment. We also test international travelers for COVID. We have had to be both highly adaptive and responsive.
To what extend has the pandemic reinforced the importance of testing, and do you think this will remain as a long-lasting tendency?
It has been very bad news for lots of people, but there are good things. We believe that the pandemic has highlighted the importance of diagnostic testing, of PCR capabilities, and the importance of the immune system. People used to ask us what we did; when we explained they still didn't understand but they do now. They understand the importance of testing and of the immune system. There is now more research being focused on immune deficiency. This is a positive thing. I know there have been many negative implications, but this increased awareness of the ability of science to help is very good. Once COVID-19 is managed more effectively, many other diseases and conditions will get greater focus and understanding.
In a recent interview, you said, "I think there is a reasonable chance there will be more pandemics, with globalization and increased population." Certainly that'll be the case. How are you preparing for this in terms of capacities, research, team building and development?
We are building additional facilities so that we can develop key components such as primers and other key raw materials at short notice. There have been significant supply chain issues. We need to be able to develop both tests and the equipment to scale up very rapidly. We don't know when and where the next pandemic will break out, it might not be such a widespread event again, but having the capability to test at volume is critically important. In a wider vein, infectious diseases are probably more present in our everyday life than people realize. There will now be much more research into the relationship of the disease to the host. Many of the tropical diseases may be more linked than we think. These developments is quite positive, I think.
Randox is reinvesting about a quarter of its revenues into R&D. All of your R&D is done from Northern Ireland. In another interview you said, "We have to find ways of getting more tests out there in an economical way." What are some of the flagship projects in your current R&D investment program and some of the key fields that you are investigating? 
We are very keen on understanding the immune system. We are looking into many different auto immune diseases and immune deficiency conditions, because we feel that if you understand the immune system, you can understand many infectious diseases. They are going to be very closely linked. A lot of research focuses on one organ or one type of disease, but the reality is that they are all linked through the immune system.
Most of your R&D is done from Northern Ireland. How do you value the region's talent and resources in the medical and life science field? Do you have any issues recruiting and retaining talent in your specific field and company?
We always look for good people. There are lots of good people in Northern Ireland. We are very keen to bring people from all parts of Europe, or anywhere for that matter. We believe very much in open markets and open recruitment. Northern Ireland is good in terms of universities. We have a young population. We border the Republic of Ireland, which has a young population as well, so we have reasonable access to good, well educated people. We do have a low turnover because Northern Ireland is a good place to live. The quality of life is very good here and we now live in a very peaceful society. People get on very well and can achieve great success, but you have to be outward looking. Some of our best scientists come from Spain, from Italy, France. We really like to have that diversity and you need to have that in research. The key is to have good people and to retain them. Northern Ireland does not have as elevated a reputation as Cambridge or Oxford, but we have perfectly good and effective infrastructure to support life sciences. A number of our projects are very long-term and we want people working on them for years, even decades, so we want to retain that expertise. In many respects it's a very good location. Sometimes people leave Northern Ireland and go away for their early years and then come back once they have started a family. This happens in our facility in Donegal as well, with a lot of people leaving but then coming back to the communities, and we like that.
Recently Randox granted Ulster University £1.2 million to fund a medical education and research school. Tell us a bit more about this project. To what extend is the company partnering with not only the local universities, but also looking at sealing international partnerships and cooperation to accelerate R&D?
We work with both universities located in Northern Ireland, Ulster University and Queen's University. Ulster University is setting up a new medical school which is the first in Ireland for quite a while. They approached us, and we were very keen to partner with them. They are also very interested in personalized medicine; we were very keen to support this because we would like to engage with their research and for new doctors to be trained in the whole concept of personalized medicines, particularly understanding the critical importance of diagnostics. We hope that by being engaged with this new medical school we will provide significant added value to their students and research. We also have collaboration with National University of Ireland, Galway, which is an excellent university, with a number of university colleges in London, and a few others as well. We are keen to expand our network and have more relationships with other universities.
Randox today is present in 145 countries, either directly or through its partner network. How would you describe the company's international ambitions? What are your more traditional and mature markets? And what new regions of the world are you currently locking targets on?
A lot of the markets we are in are very small. Our biggest market outside the U.K. is the United States. We have a facility in West Virginia and an office in California. We are opening a clinic and laboratory in California as we speak. We want to develop in the American market. Our second market is China. We have a significant number of staff in China for the distribution setup. We want to keep expanding in China. Our next largest market is India, where we have about 100 staff. We are quite strong in India. We have offices in France, Spain, Portugal, Germany, South Korea, and Australia. All of them are quite small. We need to expand that footprint. We may set up labs. We certainly want to expand our technology to minor markets. The pandemic allowed us to consolidate in some markets. We are also very strong in laboratory quality control materials. There are a lot of unique control materials in the bio and genomic field, so we are expanding this area and specialization, which we are pushing quite strongly.
The U.K. leaving the EU at the beginning of this year caused quite a stir, with exported goods from the U.K. to the EU falling by 41% and imports by 29% in the first three months after Brexit. Partnerships and agreements needed to be remade, which has strengthened some relationships while muddying others. How has Brexit affected your sector and company? What challenges has it created, and what opportunities?
Brexit hasn't actually affected us. We don't believe we have lost any business because of it. It made some imports slightly more difficult around January, February, but then we do a lot of manufacturing in County Donegal, so that reduced the effect. There were administrative issues which were annoying in terms of supply chain, but we don't believe those are long term issues. The strange thing is the status of Northern Ireland in these islands, which is a bit greyer, and we don't know what the long-term implications of it is. We haven't lost customers because of it which we are very happy about. There were temporary negative things, but I don't think it has been detrimental. It hasn't been positive, but it hasn't lost business that is for sure. We try to make sure that we are not simply a Northern Ireland company, we are an international company focused on to serving our global clients and so far, it has been ok.
How do you see your expansion in the next couple of years? Do you have any plans for acquisitions or are you planning on continuing with organic growth?
Our growth will be mostly organic. It takes different managerial skills to acquire organizations and I am not sure we have those at the moment. But if something became very obvious, we do invest in small companies. That said, we are not ourselves large. We think our best ability is in organic growth and in maintaining our research program.
This year is a major milestone with Randox celebrating its 40th anniversary. Reflecting on this, what have been some of your proudest and most memorable moments as founder and CEO?
We are very happy that we have developed our biochip successfully and follow up systems for biochip use. I feel that we are only just starting and that there is a lot more to be done. I want to focus on innovative technology but also on developing my teams and the ethos of the company. We are like a family company: we know people and we like to see those people developing and growing. I get great pleasure from seeing young people brought in and moving on successfully. We all take pride in developing our people within the company.
Going forward, how do you see the future for Randox? What do you hope to accomplish in this new decade? What are your next targets?
I very much see a future in personalized medicine, but also selling and marketing directly to the public rather than through national healthcare systems. I think it is very important to get to the user as directly as possible, which is not always possible. We need to educate the public consumer of the importance and usefulness of diagnostics. I feel the future is going to be very much more direct with the consumer, with the personalization of the product we are creating.
What's your final message to the readers of NEWSWEEK?
Get tested! To measure yourself and to analyze what is going on in your body, to understand what is going on in yourself, and to realize that each of us are different. Get personal! It is critical to measure yourself and personalize your own health.