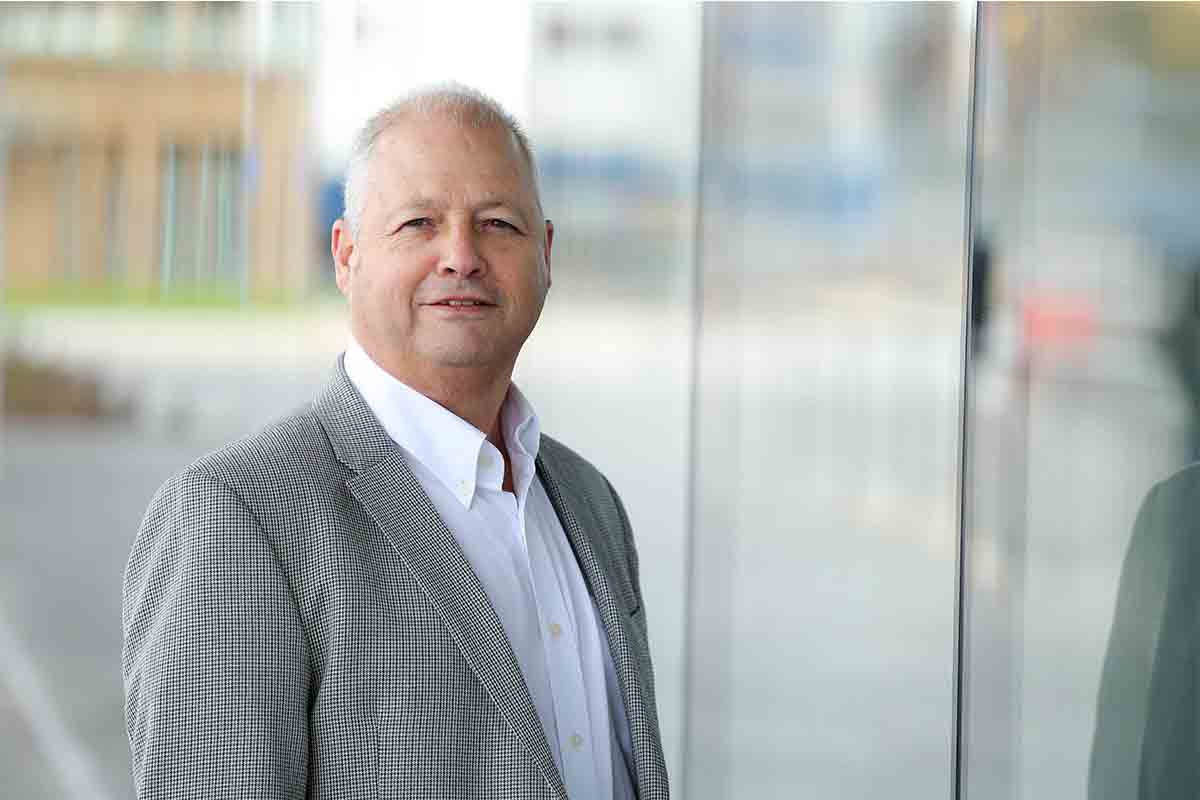 01 Sep

Using precision to turn Northern Ireland into a lodestar of healthcare
Peter Keeling, CEO, Diaceutics, has made an informed bet that precision medicine and proper diagnostics will upend a healthcare industry that has gotten increasingly and unsustainably expensive.
Diaceutics is a global leader in precision medicine diagnostics. In March 2019 you became the first company of the year to IPO on AIM. Despite the challenging global environment, your shares doubled in value over the last 16 months, making Diaceutics the recipient of the IPO of the year at the 2020 Small Caps annual awards. Can you share with us a snapshot of your journey as an entrepreneur: what ideas and conditions inspired you to establish Diaceutics?
I am in many ways a product of Northern Ireland: I was born here and went to Queen's University in Belfast, but like many young people, I left in my 20's to avoid the conflict of the Troubles. I was lucky enough to begin working with a global pharmaceutical company, GlaxoSmithKline. I worked with them for 11 years in the Middle and Far East. I was Commercial Manager for Glaxo Wellcome in Indonesia for a few years before moving to London and North Carolina. This experience abroad, working with different nationalities and cultures, gave me more of an international perspective. I then spent a year at MIT in Boston where I got the opportunity to mix with some of the most interesting tech entrepreneurs of the decade. During my time at MIT I had the privilege to work and be inspired by Professor Tom Allen (MIT) and Clayton Christenson (Harvard), both doyens of disruptive business models. They encouraged me to focus on the real future of healthcare.
At MIT I managed a 30-person thinktank meeting which included people from Pharma, FDA, Academia and the New England Medical Centre. Our exploration was about medical futures and what would truly upend healthcare for patients. We focused our attention on why diagnostics, which drove 70% of all decision making in healthcare, was rewarded with only 3% of the healthcare investment. We concluded that by bringing forward better models of patient pathway management, with a focus on better testing, we could disrupt and alter patient health. I took that mission on board and, two companies, later Diaceutics sits today at the nexus of enabling that vision.
I was inspired to focus my work on unlocking the power of patients' diagnostic journeys to improve their outcomes. This has been my goal for the last 20 years and I'm a firm believer that, while the world has focused on treatment (particularly in precision medicine) there is equivalent benefit to patients on improving the way they are tested, on getting them tested faster, so their treatment can be more effective.
I have formed two companies. Diaceutics is the second one and is focused on collaboration with the pharmaceutical industry. Our pharma client base is on both the east and west coast of the United States, in Switzerland, and in parts of the U.K. Our competition is global, from companies in Silicon Valley, Boston and New Jersey. We are on par with some of the most substantial precision medicine players in the industry.
I returned to Northern Ireland in 1995 and used Belfast as a base to build the businesses. Interestingly, it wasn't necessarily the best place to start a business as access to capital was really hard and there was a small talent pool to choose from, without the organization you see today from universities and healthcare. As time has gone on, we have all of those things. We have access to capital, whether it be local venture capital or, as in the case of Diaceutics, using the IPO on the AIM market as we have to raise well over $40 million. We have access to both homegrown academic and industrial talent, thanks to universities training world-class talent alongside talent that has come back home to Northern Ireland. We've been able to staff and build our business around some of the best talent in the industry who, like myself, have global experience and have come back.
We've been able to build a unique precision medicine platform alongside some of the biggest companies in the world. We compete with the likes of Flatiron in New York and IQVIA. These are some of the big names in the industry, and yet here we are in Northern Ireland, tapping into the local talent, universities, and money to stand shoulder-to-shoulder with them. While it was difficult in the beginning, Northern Ireland has proven to be a good, fertile place to grow a business.
Tell us a bit about the impact of covid-19 pandemic to your business, and how you managed to navigate the company through the dramatic fall in diagnosis experienced during lockdowns? In what other ways did the new dynamics of this period encourage you to pivot your business or accelerate certain elements to leverage new opportunities?
Half of our team is based in Belfast—the data team and the finance and admin team—and the rest is virtually located in all of the key markets. So, the initial impact to us, as a corporate entity, was very limited. Our people were already comfortable working efficiently from home, so we had that global connectivity already built into our business.
We did however notice an impact and significant opportunity in the way that COVID has impacted cancer in key markets. Cancer is about 70 to 80 percent of our business and focus. The first thing we noticed was that, during the pandemic, patients were not going to their doctor or hospital, either for an initial diagnosis or for a follow-up visit to get treatment. From the significant level of real world data that we gather across all the key countries (about 300 million patients worth), we could see a 20 to 30 percent drop-off in patients presenting for cancer testing and treatment. There was a delay in their diagnosis or treatment, increasing negative outcomes for them. We were one of the first to highlight the COVID impact on cancer. We have collaborated with local expert academics to produce some really important metrics which we have just presented at a meeting of the American Society of Clinical Oncology (ASCO), normally held in Chicago every year. We presented data to show what we think will be a significant long-term issue: that this delay is going to have a ripple affects on cancer patients for four or five years.
From a business point of view, this is a significant opportunity for us, recognizing that there is a second epidemic here that we can see and observe. We are collaborating with academics, both in the United States and the U.K./Northern Ireland to bring forward, hopefully, what is a better way of managing those patients and getting them back into treatment. We are fortunate in Diaceutics in that we have the data and a global lab network, so we are communicating with our lab network and our pharma clients about what they need to do to get more patients back into testing quickly. We are right in the forefront of the change, yet there is a lot of work to be done over the next couple of years to really make a difference here.
Since its founding, Diaceutics has been on a quest to improve the accuracy of diagnostics, to allow doctors to deliver the best possible treatments each patient requires. Your recently launched DXRX, the Diagnostic Network, a game-changer in precision medicine. This pioneering project is now the world's largest repository of diagnostic testing data, with a growing network of 2500 labs in 51 countries. Could you give our readers an overview of the scope and expected impacts of DXRX to the different stakeholders in the world of healthcare?
Every entrepreneur places a bet that they develop something that the future market will want. As an entrepreneur you put in your best endeavors, and you never know whether you are the right company in the right place at the right time. But I think with Diaceutics that has happened. We have developed in-depth experience working with leading pharmaceutical companies, such as Roche, Merck, Astra Zeneca and BMS, who have all formed a very advanced approach to precision medicine. We are working alongside these companies.
The second thing we have done is invest heavily in gathering real world data. You can do a lot of scientific analysis in a clinical setting, but it's when you start to look at how your brother, sister, mother or father get tested that you really start to see the negative impacts of bad testing on patients' lives. We have been gathering that data for over eight years and analyzing it so that we can come up with very precise insights as to where, how and when we need to create an intervention on a global level.
We then needed to scale that business, because we are looking at four to five hundred new therapies coming into the market in the next two, three, four years, where a diagnostic strategy will be critical to get patients onto that drug. For us, as a 120-person team, you either grow that to be a thousand-person organization or you approach it from a different angle. We approached it by saying we needed a platform. We went to IPO, we raised the money and have been building a precision testing platform which networks all of our labs together. It also brings all of our data together and allows us to pinpoint which labs we need to create a change, allowing us to work with those labs creating that change. It is a unique business, but very fitting for the precision medicine area.
Tell us a bit about the technology supporting DXRX, mining big-data sets? How you see the network evolving over the years with new advances in technology?
The platform itself is built on a typical technology stack. We have customized what that platform brings on board to a global lab network. We are connecting our pharma clients directly with labs—we have over 11,000 labs in our database and, of those, we think 2,500 will ultimately end up in the network. Those labs will allow us to very quickly change testing. Currently without our platform, if you want to change testing with a new cancer test it would be three to seven years before patients can be tested the right way. We believe we can do that in about ten months. We are doing that by creating this collaboration network.
We launched the platform on October 26, 2020. We have over 300 labs now up and running, running programs where they are changing testing. We are providing Labs and Pharma access to all of that data. It used to take six to eight weeks for us to provide that data to our clients, now it is about 60 seconds. We are really using the platform to modernize what is a very siloed area across the globe.
Our Northern Ireland base offers us both the talent from an engineering point of view, and from a data analyst view. We have a 10 person data analytics team based here which stands shoulder-to-shoulder with the best in the world. They are analyzing very complex healthcare data sets. The universities have done a superb job in creating a training ground for young, modern, intelligent people to advance how we are using that data.
What are some of the flagship projects in your current R&D investment program and what are the types of partnerships you have forged to nurture this field?
COVID and cancer is an area in which we have a strong interest; we will be bringing out important data in that field to try and influence the world to respond more appropriately to that. Another area that we have a very strong investment in is Alzheimer's. We have worked on four Alzheimer's projects, most of which have failed. Those products have not come to market. There has been some good news in recent days about what is going on with Alzheimer's drugs at the FDA. Alzheimer's is an area of intriguing diagnostic interest. In many ways, the drugs have not got to market because you can't find the patients early enough. It's very hard to find a 40-year-old who has early dementia. Alzheimer's will be a big area for Diaceutics and for our data and platform.
Within cancer you have some really smart new technologies coming out. Liquid biopsy is a new way of getting to patients earlier and earlier. Imagine being able to go to your GP and them running a blood test rather than having to go through a biopsy and exam and all of the drama that is associated with that. That is a revolutionary technology, being developed by others that we want to make sure is diffused across our network as quickly as possible.
Those are areas of collaboration, both here in Northern Ireland, but also in some of the key research centers—The Mayo Clinic, MD Anderson, etc. The research world does not know borders. It is a matter of whether you can coordinate the effort across those borders, and we have found no limitations being based in Northern Ireland to create those partnerships.
Diaceutics completed a restructuring exercise at the end of 2020, resulting in a $2.6 million annual reduction in cost base, but also successfully raised new funding both through the stock exchange and new VC partners. Coming out of this challenging period, what is your new growth strategy for the short-to-mid term?
We did some restructuring at the end of this year. At each stage of the evolution of a young business—and we are still a young business in a growing area even after 15 years—the key is to keep evolving in line with the market. We used the opportunity coming out at the end of this year to do that restructuring, to move some of the people who were right for us in the last decade, but not right for us in the next four or five years. 'Agility' is a big word that we use at Diaceutics. We have to keep agile in a space that is moving really quickly.
In terms of the growth strategy, we are six months into the launch of the platform. For the next two to three years, we are going to push that platform out to be the standard way in which to commercialize diagnostics. We have a first mover advantage here and part of my job is to make sure we leverage that. We have the ears and the confidence of leading pharmaceutical companies. We have a data supply that is second to none. The focus for us is to make sure we can get that platform out there in to all the labs that need it, and, most importantly, to make sure those labs are helping patients get tested quickly. That is our focus for the next three years. We may raise more funds. We may have additional partnerships in the mix. We are a 15-year-old company with a six-month-old product in the end. Whilst we have a very young platform, it's one that has been given a lot of design thought and we are going to really focus on driving adoption of the platform with our pharma clients and a global network of laboratories.
Tell me about Diaceutics' international ambitions. What are your more traditional and mature markets? What new regions of the world are you currently locking targets on?
When we initially launched the business, we were working with pharmaceutical companies who themselves wanted to launch these drugs in their top 15 markets within 18 months, so we had to build a business that could work alongside these companies in all those markets. One of the first things that we did was open up an office in New Jersey. Subsequently we opened a subsidiary in Singapore. We opened a further subsidiary in China and we have a subsidiary based in the Republic of Ireland which is serving Europe. In essence, we are ready to run in all of those key markets with our clients. Our team are based in the U.S., Italy, France, Germany, Singapore and China. Again, we are a relatively small company, but our mindset and platform is global.
Asia has huge growth potential. Precision medicine coming out of China is one of those technologies, along with electrification and silicon chips, where China has invested very heavily in. Ten years ago, you would have been very hard-pressed to find a leading Chinese pharmaceutical company focusing on precision medicine, but today there are several hundred. Precision medicine is one of those areas which Asia will focus on and make a strategic beachhead in, as it has in other areas. We wanted to make sure we were there working alongside them. We have a good, strong team, based out of Singapore and China, serving that market.
Northern Ireland has a burgeoning life sciences sector and has produced world-class companies competing on the global stage. The new $140 million Health and Wellbeing Park is tapped to become the UK's most dynamic life-sciences hub. Having spent over 15 years building up your company, what are your views on Northern Ireland's momentum in life-sciences today?
When I came back to Northern Ireland in 1995, we had healthcare companies but we didn't have a healthcare industry. We had a group of family-owned businesses that had grown up but weren't joined or connected. Universities have had a huge role to play, as well as Invest Northern Ireland, in bringing us together. They have identified the key competencies and have helped to promote those from a talent and investment point of view. What we have today are a couple of very strong themes emerging from the healthcare sector in Northern Ireland.
One is a strong competence within the diagnostics industry. Another one is healthcare data and artificial intelligence. Both of those are core to our business mantra here at Diaceutics. We have invested in a new office facility, which we have called The Dataworks, sitting within the healthcare park. We have not just opened an office, we are opening a space for collaboration. I use the expression, 'Data for good.' We have amassed a very significant body of healthcare data. Today, we are mining 35 percent of that data, but if we can open that up to people collaborating, both within Northern Ireland and beyond, to come and work with us, then there is much more value that we can deliver back to patients. We have had companies from the West Coast in the US through to Switzerland reaching out to come and work with us. My answer is, "Come to Belfast, we have a collaboration space. Work alongside us and see what we can do with some of that data to see how we can solve some of the interactable problems." It is very odd for me, as an entrepreneur, to think that a smart office environment has an important part in a business model. It is not the first thing that you think about. But right now where we sit is an important symbol of where we are at with precision medicine in Northern Ireland.
We are proud to be a lead tenant within the King's Hall Health and Wellbeing Park. Octopus Ventures, based out of London, have done an amazing job of building a world class park, alongside the great and good in Boston, Back Bay and San Francisco. It will stand shoulder-to-shoulder with those types of healthcare clusters, and we are in there at the beginning.
Has Brexit affected your sector or company? What challenges ad opportunities has it created?
Anything that moves the debate back around division is not business friendly. I think many of our politicians in Northern Ireland and Westminster are guilty, from a businessman's point of view, of bringing us backwards in this discussion and not bringing us forward. After all, there is an economic engine being built in Northern Ireland that is equally connected with the rest of Ireland, the rest of the British Isles, and the rest of Europe. Why on earth would we be bringing forward views of disunity in to the mix of work that has been done over the last ten or 15 years to create unity? We employ young people in Belfast, 26-year-old somethings, that have the ability to move to Dublin, Brussels or Sydney. We therefore have to make sure that they stay here and to do that we have to create a modern thriving economic environment that isn't tainted with past conflicts. That said, from an everyday standpoint, there should not be a major operational difficulty to operating under Brexit.
In terms of partnerships with other research entities outside of the UK and your distribution network, have you felt an impact?
Not really. Precision medicine has its own exciting trajectory. When I was raising money for my first company back in 1996 in Northern Ireland, investors would hesitate when you would say Northern Ireland, because it was when Belfast and Beirut were in the headlines. I don't get that question anymore and I hope I never get that question. We have investors based out of London, the U.S. and Switzerland, who haven't asked me whether the money is being spent in Belfast or anywhere else. Nobody cares. we are a global business and that is the way I want to keep it. Our base is important to us, but it is not important from a Brexit standpoint. I just think many of the politicians need to move out of the way and let the rest of us get on with it.
What is your personal vision for the company and how are you going to achieve it?
Looking at a patient's journey, like with lung cancer for example, the average patient could be travelling within four years from a cough to getting one of these exciting precision medicine drugs. In that journey, they may have had 10 different diagnostic tests. This is incredibly inefficient. If we can make that journey 18 months, we will have saved lives and changed the trajectory of millions of patients globally. When you change the standards of testing, they roll out across the globe. You don't have a standard for Brussels versus a standard for Boston or anywhere else, you are changing a disease paradigm across the globe.
We set the company to shine a light on what is a really big issue and to provide a solution alongside the pharmaceutical industry to change the way patients are being tested. It's work in progress. We've been working on this for the past 15 years, but the next four to five years, with what is going on in precision medicine, will really show that we can make a difference. That is what drives me.
What's your final message to our readers?
Being based in Northern Ireland has enhanced our ability to build a global world-class business. 15 years ago, it was difficult to get access to capital and talent but today that is not an issue. We have a really good industrial base to build world-class global businesses. I invite anyone to reach out and collaborate with us. Precision medicine is a global issue, and we are open for business.