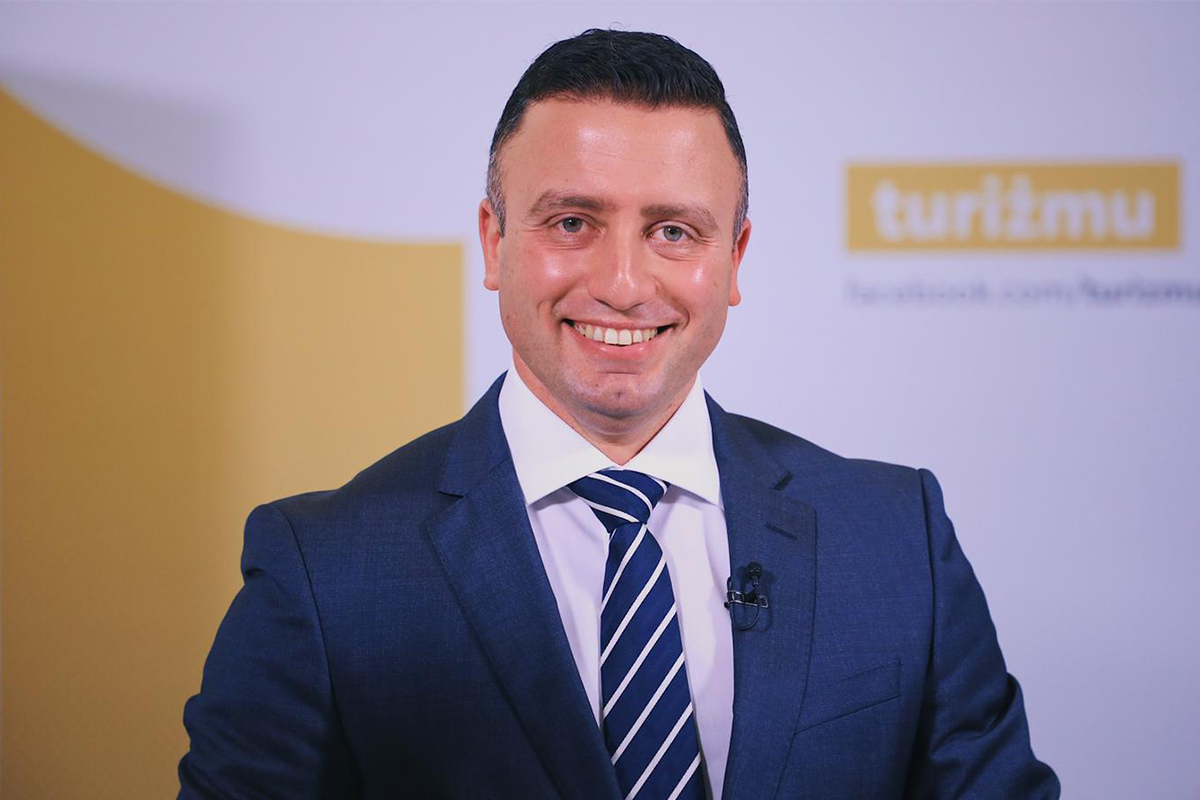 14 Jun

Utilizing all the right ingredients to garner international interest
Clayton Bartolo, Minister of Tourism and Consumer Protection, strongly believes that Malta has the potential to be at the forefront of digital tourism
As the new Minister, what is your vision for Malta's tourism industry and what are some priority projects you are focusing on to create new momentum in the sector?
The pandemic has brought long-awaited, inevitable change, and it has forced us to implement solutions. As a country in this recovery stage, we need to strike a healthy balance between volume and operations, creating a workable strategy to ensure revenues which will make operations viable. A few weeks ago we mapped out a 10-year strategy for Malta's tourism industry, which we are currently maturing in discussions with the primary local stakeholders.
The tourism sector is fundamental in our local economy. It needs to recover as quickly as possible in order to ensure a quick economic recuperation for the rest of the country. As an island, one of our main focal points towards this end is connectivity. Therefore, we are targeting both airlines and cruise ships, the only two means of arrival. Connectivity is key for smoothing the recovery period and assisting us in leaving behind the impact of the pandemic as soon as possible.
The second pillar we are working on is rethinking our tourism product. While the pandemic has been a challenge, it also provides us with a once-in-a-lifetime opportunity to overhaul our tourism offering and ideology. Rather than just concentrating on number crunching, or a simple, quick fix we are taking the time to rethink our value proposition to revitalize the industry as we head into the next decade.
Revitalizing means injecting capital and directing investment, but not in the traditional way of just thinking in terms of hotels and more beds. We are encouraging local and international investors to invest in new and innovative products for tourism, such as digitalization. We need to work together as a country to ensure recovery as quick as possible and open the gates for more local support while continuing to attract foreign presence. Foreign direct investment plays an important role in any economy, and in the Maltese open economy it is a perfect fit.
While recovering financially, I also want to improve the total experience, so that our visitors enjoy clear value for their money spent in Malta. Our visitors will be treated to high-quality, not just in our four and five-star hotels, but everywhere they go, whether that be in our beaches, our restaurants, or our cultural attractions. There is great value for tourists here in Malta, and my aim is that those who come will look back fondly on their time here, and they will not hesitate to return. It is all about providing an impeccable experience to our visitors who we welcome with open arms.
Could you tell us a bit about your experience during this period, after the Great Lockdown, and the most effective programs and initiatives implemented to mitigate the impact? What are you currently working on to prepare for the expected rebound of the tourism sector?
With a country of around 500,000 people, domestic tourism in Malta is not as strong as it is in bigger countries with several regions. However, staycations have become quite popular, even with the locals. Many Maltese go to Gozo, our sister island, spending long weekends there, which has kept the economy going. There is also an official national statistic which has reported an increase in our savings accounts, meaning that people have more spending power now. We are looking to capitalize on this both locally, and in terms of holidaymakers.
In Malta, we are one of the few countries to never have gone into lockdown, and we have managed despite that to keep the number of cases down. We have restrictions, which we are looking at easing up on as time goes by. Our strategy is to rely less and less on restrictions and more on vaccinations. At the moment we have the typical restrictions, such as wearing masks in public, closing bars and clubs, and closing restaurants by midnight. If the situation improves in the following months, we will decrease these restrictions in order to continue moving forwards towards normality.
As I mentioned, our aim to relaunch the tourism market here relies on connectivity. We are working with several airlines, both low-cost and the legacy airlines, including our own airline Air Malta, which plays an important role in our tourism sector. Several other airlines are also now interested in flying towards Malta, and that gives us the confidence and the credibility to seek even more alliances with other airlines.
We are focusing on niche tourism, and I can mention several areas in which this gives us value as an attractive destination. Malta is known for its dive sites, and we are looking to capitalize more on that. In fact, we are finishing up on the details of a package to attract divers this coming summer here to the island.
We are also developing an offering around religious tourism. An interesting fact is that we have around 365 churches, one church per day. We are studying ways to increase the number of religious and spiritual tourists of all faiths and belief systems, enticing tourists who would like to begin or continue a spiritual journey here in Malta. We have recently signed an agreement with the Salesians, who have a presence in well over 230 countries around the world. They will also promote Malta and religious tourism here, with the aim of attracting especially young tourists here to Malta in this particular niche. Additionally, we are publishing a book about Malta's religious tourism, which will also help us to further promoting our country in that aspect.
Malta also has a very good climate for sports, so we are very well-suited to sports tourism. Earlier on in the week we hosted an international women's football tournament, where we had a number of teams come from all over the world. Under the appropriate health protocols and testing, they held a very successful, COVID-19-free tournament. Cycling and sailing are two other important activities that fall under this niche. The exploration of these activities and more is helping to build our future tourism sector.
We also have a very rich cultural and historical background here in Malta, and we offer a year-round program full of related events for all ages. Whether it's theatre, exhibitions or open air events, we have a multitude of interesting happenings for our visitors to enjoy. Again, rather than simply looking at recovering the statistics, we are also rethinking and reinventing Malta's tourism, wherein these niches will take centre stage.
One of our major selling points is our hospitality, which is ingrained in the Maltese culture. From the point of view of tourism, it rests on the needs and the wants of the clientele we wish to attract. We are gradually moving towards a more sophisticated level in all aspects of quality. We recently entered into a partnership with Michelin in our initiative to enhance our gastronomic experience. Their stamp of quality will go a long way in promoting our restaurant sector, which is upgrading its levels across the board.
We are also diversifying our source markets as we are attracting a more discerning type of visitor. Our major source markets are mostly European: France, Italy, Spain, Germany and the UK. We are now expanding our targeted source markets to not to depend on one country or region over another which ties directly in with the vital nature of strengthened connectivity. This will help us attract high-wealth clientele and allow us to continue building our tourism sector on a solid foundation. Now is the perfect time for us to rebuild, and in the process rethink and innovate our tourism product with these niches.
The old adage 'Quality over Quantity' has never been more relevant. What kind of focus-driven, experience-driven and sustainable tourism are you embracing at the moment for future trends?
There are various tourism trends which we are noticing and have been studying through the Malta Tourism Authority network in many countries. They give us feedback both about Malta's visibility in these countries, and the trends in each respective country. For example, one trend which stands out is LGBTQIA+ tourism, which is another niche where we believe quality over quantity needs to take centre stage. I need to reiterate this vision of the significance of quality. The investment made here in Malta over the past several years ranges from three-star to five-star, and now we are also seeing the five star superior accreditation springing up here. I want to ensure that those investments are still relevant in the future of the tourism industry.
While emphasising quality over quantity, we need to find a balance which ensures that these hotels get their return on investment, while providing a higher quality experience, and in turn, we attract high-quality tourists. A tourist cannot be staying in a five-star hotel and walk out the door only to find an environment which does not reflect the same level of attention, and this includes sustainability. We are working steadfastly on this area together with the Minister of Environment, in order to increase green areas and clean air in Malta. This style of working with all the ministers and cabinets together to achieve these goals is the way forward. These synergies between the departments of government are essential to elevating our tourism product, and the resulting experience for our visitors.
I am emphasising the experience because it is a game changer, not just for today, but for the future. My vision is that, as soon as a tourist steps off the plane or the ship here until the moment he or she goes back home, the experience is so unforgettably good that they will immediately want to return. Our aim is for each tourist to feel at home in Malta, and for Malta to become the home of tourism within the Mediterranean basin.
As Minister of Tourism, what are your views on the trend of digital nomads who are eager to find new places to live and work from and how is Malta approaching this opportunity?
 Malta is a country where a person can live, work, and enjoy oneself. Being such a small island, you can literally be at the beach in the morning, and in a Michelin-rated restaurant in the evening, savouring all that is available on an island. These digital nomads also bring an added value to our economy. With this trend we have the opportunity to create a robust ecosystem of digital nomads who work here in Malta, earn their wages here, and invest in the economy. At the same time we are ensuring and heightening sustainability because they will not be travelling as much, as nowadays we are relying more and more on digital means of communications. Malta can easily support this ecosystem with its very sound digital and excellent internet connectivity infrastructure.
Malta already has all the right ingredients to become a digital nomad hub, attracting future residents mostly from the Northern European countries where they can do the same work but in a much different climate.
What would be your final message for our readers of Newsweek?
Malta is open for business. We are undertaking a very exciting project here, not just involving tourism, but affecting the whole economy. Come join us, be a part of our projects, and together we can be a success.