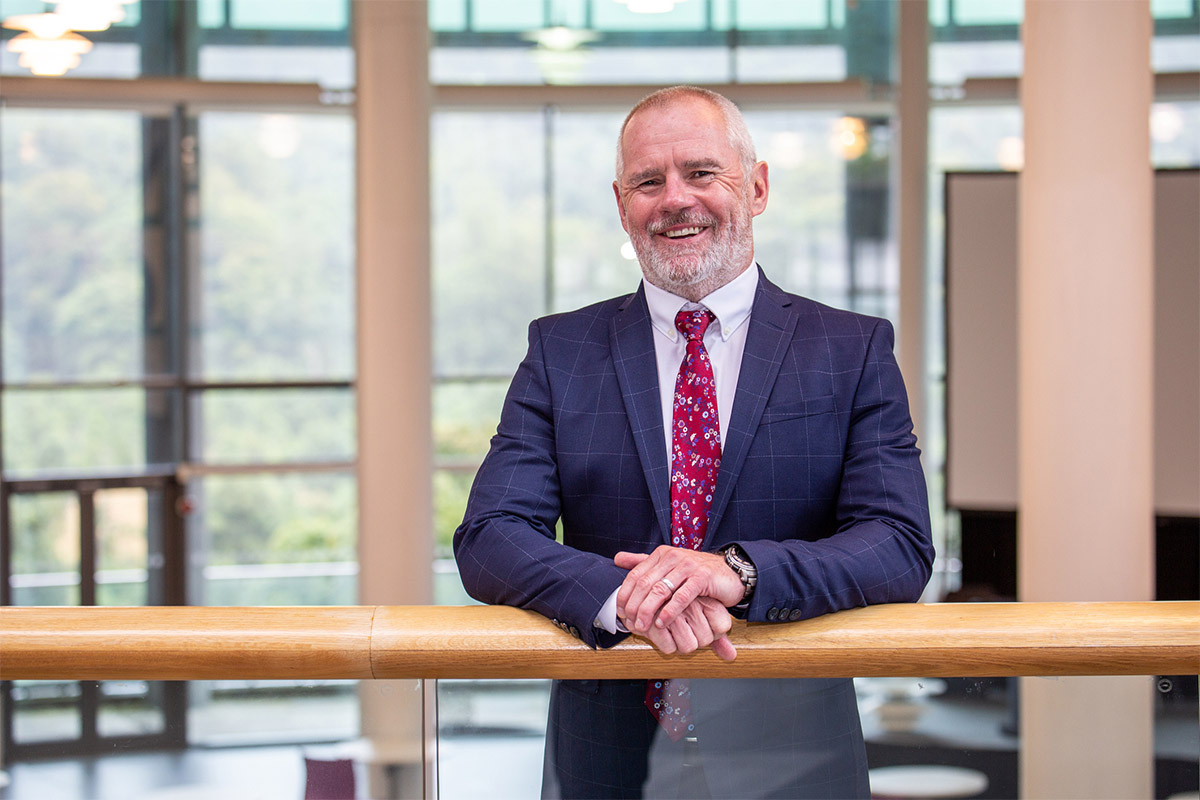 26 Mar

With an eye toward the future
Steve Olivier, Principal and Vice Chancellor, Robert Gordon University (RGU), explains why Aberdeen is a great destination for study and a great bet on a student's future.
How would you define the Scottish higher education landscape? What key strengths encapsulate Scotland's education system, how does it differentiate itself from the U.K. and other global markets?
There is a clear strength in Scottish universities in the worldwide rankings, and it is also a major economic and employment sector. Particularly, we are major players in the regeneration of the economy, both nationally, but in our particular case as well, in the northeast of Scotland, where Aberdeen is seen as the energy capital of Europe. We can play a big part in that. We have the Energy Transition Institute at our university, as well as the National Subsea Centre, and those play into the green economy.
Another strength of the Scottish university system is its diversity. There are lots of different types of universities—modern universities like ours, specialist institutions such as the Royal Conservatoire, and the ancient universities. They have different research focuses, as well as different teaching and learning strengths.  Most universities try and look for unique selling points. In my experience across many places, many are more alike than they are different, but certainly where our university stands out is in our professional focus and our business interface. Our connections with industry are stronger than I have seen in any university with which I have been involved. We like to think we are industry informed. In addition to that professional focus is a massively strong emphasis on enterprise: creating not just the entrepreneurs of the future, but also an entrepreneurial mindset in our students across the board. We have got a very broad portfolio, ranging across engineering, art, pharmaceuticals, life sciences, psychology, architecture, sports science, and more. It is very broad, but the common thread that runs through our programs is enterprise. For example, our university-wide Entrepreneurship and Innovation Group supports startup accelerators that interface with industry, a real thrust for us.
We are the top-ranked university in Scotland and second in the U.K. for graduate employment rate, and we are 34th in the world, according to the QS rankings. For a midsized university in the northeast of Scotland, we punch above our weight in two areas in particular, graduate employability and student satisfaction.
Can you give me a rapid overview of the university? How does it stand out and what has been your impact and contribution to the region for the past 150 years?
Our 17,000 students study on-campus and online. After having been in universities all over the world, this is one of the most beautiful university campuses I have ever been on. We are very international, with students from 153 countries. Indeed, RGU was Scottish University of the Year in 2021, and, interestingly, last year we were the Times Higher Education Awards Business School of the year as well and top modern university. We are the top University in Scotland for graduate employability and are very industry focused. In addition, we are also a very collegial university. It is a terrific place to work. In the last year, we have received excellent results in staff surveys. This year, we ran a mental wellbeing survey because we wanted to make sure that we were doing the right things for our staff in terms of interventions for their wellbeing, and we were very pleased with the results. Apart from working closely with industry, we work extremely closely with our students. We have really good relationships with our students. Almost all of our programs have work placements and work-based projects.
Can you tell us about the new strategy that you have just launched?
Our new strategy revolves around three E's: Energy and energy transition (our Energy Transition Institute and National Subsea Center provides thought leadership all over the world); Enterprise (we try and infuse all our activities with the notion of enterprise); and Engagement, meaning community engagement. We have a social conscience and want to emphasize and strengthen our links in all sorts of ways with the communities that we serve.
We are also adopting a new research strategy which encompasses four interdisciplinary themes. The first theme is environment, energy and sustainability. Sustainability in its broadest sense sits in all of our programs; for example, in nursing, with RGU being one of the largest providers of graduates to the NHS Grampian workforce. The second theme is health and wellbeing. The third one is living in a digital world. The fourth research theme is inclusive and creative societies. I will finish by saying we are explicitly values based. Hence, our strategy is very strongly founded on the values that we have and articulate.
Can you give us the highlights of the university research programs, and point out some of the biggest research breakthroughs and best examples of innovations made at RGU?
We are the largest provider in the north of Scotland for knowledge transfer partnerships, working with industry to solve their problems. We have received the highest number of innovation vouchers in Scotland awarded to any university, and 38 percent of Scotland's advanced innovation vouchers. All of that is research related.
Internationally we have looked at the quality of drinking water in Sri Lanka; we have been transforming the logistics supply chain in the North Sea; we look at sustainable cities; and we have also got projects on long COVID. It covers quite a wide range. Our National Subsea Center is going to be game-changing as well, in terms of looking at digital solutions and smart solutions to the North Sea and elsewhere. We do work with the Mexican Government on the energy workforce, as well as with Algeria. Essentially, it is spread across the world.
How important is sustainability at RGU and what kind of initiatives has the university taken in that regard? How do you view the role of universities in the climate crisis and response?
Sustainability is hugely important to us. It is mentioned in our new strategy several times, detailing our aims for net-zero and carbon reduction. We do all the usual things that you would expect to be done, whether it is looking at our buildings, transport, supply chains, and more. There is a comprehensive program to move to net zero, and it is also a focus for our Energy Transition Institute. We have a new senior appointment who will be implementing this transition, but also sustainability in a broader sense into every program that we have across the piece. On an individual level the message is there about the moral responsibility for people as well.
One the venture front, we had 130 applications for our startup accelerator program this year. One of the teams for example is developing an e-energy app that helps customers learn how to calculate the price of locally installed renewable technologies such as turbines and solar installations, helping customers not just reduce their energy bills, but also helping them become energy independent. There is a vertical farming concept that looks at former industrial spaces to grow crops, which then reduces land, water and energy compared with conventional materials, again giving people the chance to manage their own food supply and reduce their carbon footprint.
How are you working to expand your international reach, craft new partnerships and collaborations and develop additional student exchange programs?
We are busy refining a new international strategy that will be highly focused, building on our existing strengths. For example, some of the research that we do in Mexico and Algeria has to do with the energy focus that our school of engineering has had. We have a good presence from Nigeria, for example, and countries in that sphere. The impact of Brexit has been big, and it has been negative. We are a multicultural organization by nature, but I hope that we do not lose the vibrancy that we have. I do want to encourage Scottish students to travel more. A focus for me will be reciprocal agreements for staff and students with other good universities abroad, including Europe. I am interested in credit accumulation and transfer, even in short periods with other institutions; perhaps in Britain, certainly in Europe, and perhaps further. That is much more possible now with the whole shift after the pandemic to online provision. It is much more possible and palatable now for people than it would have been before. It will be culturally enriching for people.
Scottish education generally has this reputation of being broad, particularly in terms of the four-year degree. That has been eroded, and it is not as broad as it used to be. It has been strongly influenced by the single honors notion of coming here to study this and nothing else. I want to try and break that down a bit.
How is the university working to grow its appeal to international students, talents, and researchers, and how important is the U.S. and North America in particular?
The U.S. and North America are a little bit more difficult in that there is a little bit of a reluctance to travel. Certainly, Aberdeen is a terrific city, but it is a little bit further away, and it is not the major urban center that Edinburgh or Glasgow is. Having said that, it is still a city that historically has a huge international outlook. As you can see, we have students already from 153 countries. We will work with selected areas that we want to access, but there are few international students from the U.S. coming to modern universities in Scotland and the U.K. We will grow that through our business and research partnerships in the first instance, specifically for North America. We have many other arrangements already in place with the rest of the world.
Following Brexit, are trying to expand your international reach and divert your strategy?
Interestingly, our international recruitment has gone through the roof. I am sad that the number of European students accepted to Scottish universities has gone down 56 percent. That is dreadful. They did not have to pay fees in Scotland, but now they have to, and, therefore, this decline is not surprising. We try and make up for that with these reciprocal partnerships. It is unrealistic to expect that we will get it from those same sources, but it is interesting that our international recruitment has just absolutely shot up in the last two years. That is partly because of our reputation for employability and student satisfaction, but also due to the very specific programs or courses that we offer.
How would you summarize your personal vision, your biggest priorities, and ambitions as principal for the next couple of years and in the longer term?
I want constant improvement. If there is a ceiling on something, then you think about whether you are doing the right things. Additionally, I do not just want student satisfaction, I want staff satisfaction as well. I want this to be a great place to work, for people to want to come and do their best. If people are fulfilled in their professional jobs, then the institution will advance. I want to emphasize what I call the curiosity imperative. If people are curious about things, they will want to find solutions to things and there will be constant improvement. Curiosity is one of our nine values, and it is a big thing for me. I suppose simply that this will be a really good place to work and we will produce terrific graduates.
Do you have any final comments for the readers of Newsweek magazine?
Scotland, in general, and Robert Gordon University, in particular, are terrific places to study. Here you will be imbued with the spirit of curiosity, and you will learn. Therefore, you will be more likely to be successful in whatever field you choose.