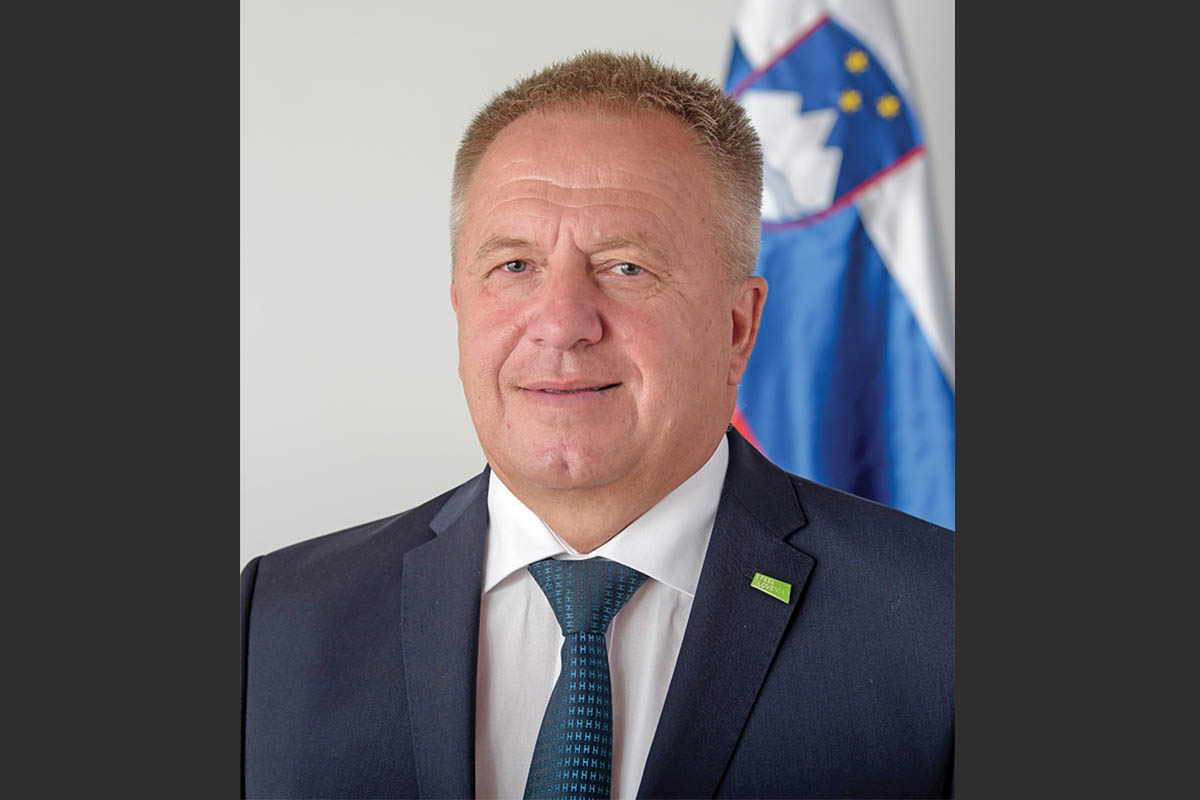 17 Nov

Challenges met, opportunities gained
Zdravko Pocivalsek, Minister of Economic Development and Technology, Slovenia, outlines the steps the government has taken to reinforce its economy after the COVID-19 crisis and its detailed roadmap to propel the nation towards digital transformation and further opportunities.
Why is Slovenia an attractive place for foreign direct investment?
In the last decade we have developed most in the automotive, pharmaceuticals and metal processing industries, the latter due to our history of having many aluminium and iron factories. In the field of advanced digital technologies, Slovenians are frontrunners. We are recognized globally as one of the leading countries in artificial intelligence. We were also recognized by the United Nations Educational, Scientific and Cultural Organization, and were chosen as a hosting country for the International Research Centre on Artificial Intelligence. In the other advanced technology industries, our blockchain projects and companies attracted 5 percent of the global amount invested in the sector in 2017/18.
We have put effort into attracting sustainable investments with higher added value. The goal is to reach the average level of foreign direct investment and domestic investment in the EU. In the past we were successful. However, in 2020 foreign direct investment in Slovenia amounted to €16.6 billion but only €7 billion came from investments abroad from Slovenian companies. We tried to enable these entities through financial assurance programs and consulting to grow outbound investment, which is important. We were successful in the Balkan area but must invest in other parts of the European Union and in third countries.
Slovenia's attractive business ecosystem promotes itself as green, creative and smart. Numerous measures optimise systems for attracting, supporting and maintaining foreign investors in Slovenia. Local communities are eager to attract and enable conditions for this new business. Custom-made support is given to investors at our national one-stop shop and our research and development facilities to support establishment of regional and global business platforms. Logistics is the main attraction for foreign investors, but an equal advantage is our well educated and skilled workforce on all levels, especially in digitalisation.
What is Slovenia doing to promote growth of its economy after challenges laid down by the COVID-19 pandemic?
What measures did the government take to ensure companies and workers remained economically stable during the COVID-19 crisis?
When the COVID-19 pandemic was declared in March 2020, a number of measures were taken for both citizens and the economy. So far, as many as eight anti-COVID packages to the amount of €6 billion have been adopted, of which almost €3 billion has been allocated. We decided to react quickly because of our experience in the 2008-2010 economic crisis. Our main task was to save all jobs and companies, or at least as many as possible. For the self-employed, we provided measures in the form of monthly basic income. The government also provided liquidity funds through guaranteed bank loans through the Slovenian development bank; deferral of bank loan payments; loans from public funds; interest-free loans from the Slovenian enterprise and regional development funds; deferral of rent payments; deferral of payment of taxes; partial reimbursement of fixed costs; and wage compensation for workers during quarantine and those who were unable to work due to force majeure. The right to reimbursement of compensation paid to workers due to quarantine or force majeure was also given to self-employed workers. Measures were extended until the end of June 2021, except for part-time subsidies which were valid to the end of September 2021.
What kind of financial platforms did the state put in place to aid the tourism sector?
During the first wave of the COVID-19 pandemic, we encouraged consumption with tourist vouchers worth €200 for adults and €150 for those under 18 that could be used only for accommodations. This had a significant impact. A new intervention law for the economy and tourism to the amount of €243 million was adopted in July 2021 by the parliament. Under the law, the government addressed the key challenges of the economy and sectors most affected by the COVID-19 health and economic crisis, especially tourism, hosting, culture and sports. The latest intervention law enabled new vouchers of €100 for adults and €50 for those under 18 years old that can be used for accommodation and other activities such as food and drink, cinema, theatre, culture, sports events, buying books and renting cars. The pandemic will affect how tourism will be structured after the pandemic. The most important thing will be health; we must invest in this part of the sector and restructure future offers. It will not be possible to count on mass tourism due to health measures.
How does Slovenia compare to its EU counterparts in terms of innovation?
Slovenia had a period of performance decline in 2018 and 2020. We are no longer among the strong innovators and have fallen into the group of moderate innovators. With some work on our side, we have managed to achieve an increase in 2020 to 2021. We must tackle some vital challenges in the field of innovation in the next decade. These challenges are strengthening the links between research and innovation and between academia and companies; we must connect industry and research institutions. The next challenge is to provide stable public incentives for entrepreneurial investment in research and innovation. We cannot count only on European funds. We need to be smart enough to allocate national funds for crucial instruments to be carried out each year. We must make additional effort to force the transfer of knowledge by improving international cooperation.
Can you give us an overview of the government's history in supporting the digitization of Slovenian industry?
In 2014-2020, one of the key priorities for the Minister of Economic Development and Technology for Slovenia was to provide support for research, development and innovation and create a supportive environment to develop companies. Our second mandate was to enable and increase internationalisation due to greater use of information and communications technology. We also wanted to strengthen the competencies of employees and management in the fields of digitalisation. Our last main focus during this time was to encourage the production of industry 4.0, including automation and robotics.
In 2020, Slovenia ranked 16th of the 28 EU member states according to the Digital Economy and Society Index and has been improving its ranking since 2015. The most important factor in this index is the integration of digital technologies in companies. Competitiveness of the Slovenian economy is strongly linked to digitization; digital transformations are improving the international competitiveness of SMEs as it allows them to quickly penetrate and expand in foreign markets. It also enables shorter processing times, lowers administration costs and increases transparency, sales and revenue. We are promoting the transfer of knowledge and technologies through strategic research, development and innovation partnerships or SRIPs established in the nine priority areas of the Slovenian Smart Specialisation Strategy. The creation and functioning of these partnerships are successful, mainly due to established connections, common projects and our large number of companies, associations and research organisations. We are implementing demonstration and pilot projects in which key emergent technologies for industry 4.0 are required. Digital transformation is foreseen in all sectors of the economy.
To prepare for the pending fifth industrial revolution, we are intensively introducing specific advanced digital technologies into our business processes and governmental procedures. However, we do not want to not simply have separate usages of new technologies such as artificial intelligence and machine learning; big data; blockchain and distributed ledger technology; quantum computing; the internet of things; augmented and artificial reality; and three-dimensional printing. We want to converge the processes of these technologies to transform businesses. We are introducing the digital twin concept into upskilling and reskilling of employees in the traditional industrial sectors to speed up the digital transformation of companies. Investments in digital transformation of businesses is a priority of the Slovenian Recovery and Resilience Plan, which was adopted in July 2021. We have defined milestones for digital transformation until 2023.
How significant are small and medium-sized enterprises (SMEs) in Slovenia's economic makeup and what is the state doing to support these businesses?
SMEs make up the most important sector of our economy. We have adopted a lot of very important measures and incentives for this sector to support entrepreneurship, with the aim of raising productivity and creating new jobs in specific sectors. We want to create an efficient business environment for starting and doing business through one-stop shops on national and local levels, technology parks, economic zones and business incubators. We will provide financial support for start-ups and scale-ups through seed and venture capital; mentoring schemes; investments in research, development and innovation; and grants, loans, voucher schemes, microcredits and guarantees for bank loans with subsidies. We have also prepared legislation to remove administrative barriers. When preparing new laws or changes to laws, every ministry needs to assess its impact on the economy, with a particular look at SMEs. We have established a strategic council for de-bureaucratization and organized developments such as the Single Document initiative and Stop the Bureaucracy program. We support start-up companies through the Start:up Slovenia project and the annual Podim DX international conference in Slovenia. We are long-term partners with the Slovene Enterprise Fund. The Podim DX event in Maribor has become one of the most important in the region.
Digitization of SMEs has proven to be a necessity and not simply an advantage afforded larger enterprises. The pandemic accelerated the development of companies and introduced new forms of work and digital tools. We reacted immediately and offered to support SMEs in their digital transformation through the Recovery Assistance for Cohesion and the Territories of Europe-EU funds. The Digital Innovation Hub of Slovenia acts as a one-stop shop for digitization. The organization offers promotion, advice and mentoring and analysis of the digital ecosystem and readiness of SMEs. We are investing €2.6 million in the initiative until 2023. We also provide vouchers for digital competencies and marketing and ensuring cyber security. These are fast and easy supports for SMEs of up to €10,000 until 2023. Our third support is through grants for SMEs going into international markets through the use of online digital tools. The total investment of €9.5 million until 2023 will be handed out in amounts of €5,000-30,000 per enterprise. We are also offering SMEs grants of up to €100,000 for the digital transformation of their businesses. The first public tender for this initiative was in 2020 to the amount of €3.4 million and a second one amounted to €15 million in the 2020/21 period. In 2021 we published a new public tender amounting to €30 million. Our purpose in supporting digital transformation is to mitigate the consequences of the COVID-19 crisis. The government aims to continue investing in the digital transformation of enterprises, both large and small, and increase the innovative potential of SMEs through collaboration with large companies.
Within the Ministry of Economic Development and Technology, we have set goals for 2030 under the Slovenian Industrial Strategy. The recovery and resilience plan will allow us to take advantage of the enormous opportunities in speeding up the recovery of Europe with massive investments in green and digital transitions. Slovenia, like the entire European Union, is facing many threatening challenges. However, there are many opportunities depending on how successfully we face them. Development of a cohesive innovative ecosystem that forces us to excellence is the answer.
What is Slovenia's global industrial footprint and what is the government doing to expand its reach?
Slovenia is focused on internationalisation because we are an extremely export-orientated country. A total of 85 percent of our products and services are exported, with 75 percent of it going to the European Union. We have various programmes that enable our companies to help prepare for and approach prospective foreign markets. We want to grow the export capabilities of SMEs. Only 12 percent of Slovenian companies export, and this 12 percent are responsible for 85 percent of exports. Stimulating measures are provided to companies positioned higher on the global value chain. Our task is to change this. We want to create an ecosystem that enables new exporters. Current efforts of economic diplomacy will be strengthened by an additional headcount at our foreign missions. Matching prospective domestic markets with key export sectors has been done. Most export development potential is in our electric equipment, information and communications technology, food and beverage, metal products, machine, pharmaceuticals, life sciences, automobile and advanced mobility sectors. Our main export partners are within the EU. Our priority markets outside the EU are countries in the Western Balkans, China and USA. We intend to strengthen our footprint within Egypt, Ghana, India, Japan, Canada, Russia, South Korea, Turkey, Ukraine, United Arab Emirates and the United Kingdom.