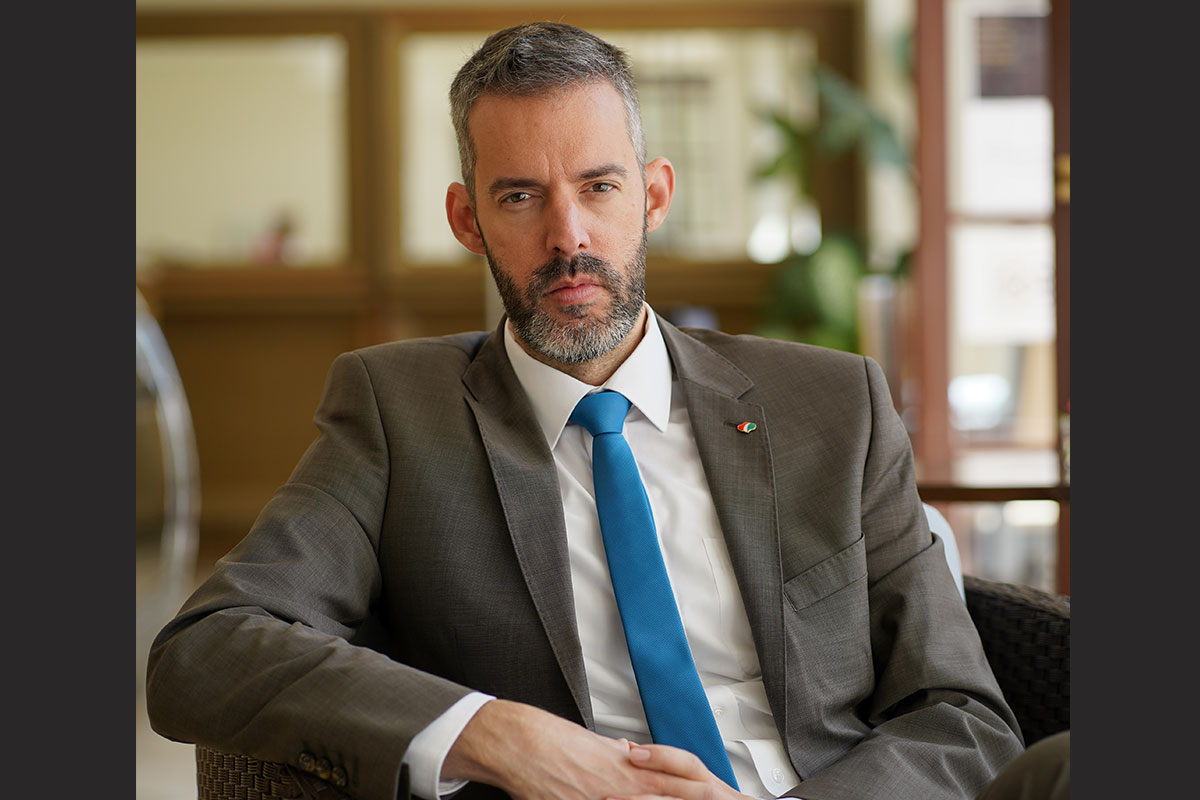 15 Jan

Discover a hidden treasure at the heart of Europe
László Könnyid, Deputy CEO, Hungarian Tourism Agency, on a unique destination that combines a cosmopolitan capital where modernity meets history with beautiful, off-the-beaten-path rural regions
The Hungarian tourism industry has really taken off since 2010, to the point where it has become something of a major player in the country's recent economic development. It now accounts for over 10 percent of gross domestic product (GDP), with the number of guest nights increasing by 84 percent between 2010 and 2019. What can you tell us about the country's tourism industry in terms of its recent performance?
Based on our figures, tourism accounted for 13.2 percent of GDP before the COVID-19 pandemic struck. Of course, this is still light years away from the situation in places like Croatia, where tourism constitutes 25 percent of national GDP but, considering the Hungarian economy and economic forecast, it is still extremely high. Last year was a record-breaking year, with 42 million guest nights recorded. This is something that had never happened before in the history of our small country, with its population of just 10 million; and it constituted a further increase of 2 million on the 40 million figure of 2018.
This surge was felt most by small- and medium-sized enterprises (SMEs) rather than large hotels. This is particularly great news for the economy, as tourism in Hungary is essentially based around these SMEs. Before the COVID-19 crisis, around 400,000 people were employed in tourism—which, considering Hungary's economic situation and relatively small population, is a very high number. Even this January and February were record months, where we registered double-digit increases in guest nights of 15 percent and 20 percent respectively. But then March came along, and everything collapsed.
We take great pride in how healthy Hungarian tourism was before the crisis hit. Across the country this was fairly well balanced between domestic and foreign tourists, with the number of guest nights roughly split down the middle. The only exception to this was Budapest, where 90 percent of guest nights were accounted for by international visitors. Overall the situation was quite healthy and balanced, and we weren't solely reliant on international tourism.
How would you summarize Hungary's attractiveness, unique attributes and value proposition for tourists in comparison to others in Europe or in the Visegrád Four countries?
Hungary is particularly well known for its thermal waters and magnificent spas and springs. Wherever you go in Hungary, if you dig down, sooner or later you'll find hot water! We have more than 1,300 hot springs and there are over 200 public spas registered in the country as a whole, including some in Budapest. For this reason, spa culture and health tourism are areas that distinguish us, and that we can continue to build on in the future after the end of the pandemic. We have more spas and springs than any of our neighbors, and we have Lake Hévíz: the largest thermal lake in the world, with 4.4 acres of hot spring water. Only in New Zealand can you find anything even remotely like this!
Hungary's landscapes are unique and beautiful as well, and we offer plenty of options for ecotourism to satisfy lovers of sport or nature through cycling, hiking and a sense of simply being out in nature. Outside Budapest, you'll find a rich natural world that is perfect for water sports and active tourism like hiking, cycling or water sports on a lake. This type of tourism is one of our unique selling points. This has been particularly important during the COVID-19 crisis when nobody wanted to go to large hotels or crowded cities, preferring instead to look for somewhere more remote or secluded. This was reflected in an increase across the entire country in guest nights in smaller hotels and apartments, as people escaped from cities and went out to smaller towns and more remote locations.
In addition, we're increasingly able to cope with the challenges of the current pandemic through the data-driven management policy for tourism in Hungary currently being run by the Hungarian Tourism Agency (HTA). As of July 1 2019, all hotels in Hungary had registered with an online database and reported to the central government via the HTA. There are more than 37,000 establishments in the system, and it allows us to monitor not only the performance of hotels, but also bed and breakfasts (B&Bs), apartments and even the Airbnb market in Budapest. Crucially, it allows us to analyze data in real time and to make immediate marketing decisions based on information showing the number of guest nights per region, or the nationality and origin of guests. This is extremely useful if, for example, the government is looking to kickstart a campaign to promote Budapest or another region, or to promote inbound or domestic tourism.
Similar things were already up and running in countries like Croatia—they have an online database called "the national data center for tourism." The database allows us to see the past, but also to forecast the future, so we can see how October or December are looking in Budapest or the rest of the country. This is useful because Budapest differs a lot from the country's other regions and, since the borders are closed, it's currently impossible for foreign tourists to enter Hungary, except those from the Visegrád countries. The picture is completely different outside Budapest, however, where domestic tourism is more active and still moving. Tourism in rural communities and outside of Budapest is looking healthier these days; Budapest is suffering the most.
What is your outlook for the rest of the year and for 2021?
For the rest of the year and into the first quarter of 2021, I envisage the slow return of international tourism. I believe that Budapest will still have some difficulties, even in the first quarter, and that only after April will we be able to generate higher tourism revenue in the capital. Of course, a great deal depends on the progress made around a vaccine but, once a vaccine is announced, confidence will surge and people will start to look at booking for next year. People want to travel and we see the trend—they can't wait!
The HTA is a state-owned national tourism marketing organization. Your goal is to increase the demand for Hungarian tourism by promoting inbound and domestic trips and enhancing the development of the tourism industry. Putting aside the current COVID-19 situation, what are some of the major challenges you are faced with?
As an agency, we're also tasked with promoting investment in the tourism sector. In this regard, one of our priorities is to develop tourism infrastructure through the promotion of hotel construction and partner attractions all over the country, not only in Budapest.
Another of our big challenges is to promote digital management and sustainable tourism. If you've been running a small apartment business with 10 rooms to rent, the chances are that you're over the age of 55-60 and, therefore, that in general you may struggle with modern digital technology. Likewise, it's probably something of a challenge to understand the concept of sustainable tourism. So one of our main difficulties is educating business owners and operators in the Hungarian tourism industry, equipping them with the knowledge they need to implement digitalization and get onboard with sustainable tourism. We need to spread this knowledge. Even more than building large-scale infrastructure, this is one of our major challenges, because many things will depend on how people react and what they do. We need to expand digitalization in the industry and teach business operators to operate on digital platforms like RTA or Airbnb, enabling them to attract more guests and offer better customer service.
While Hungarians are known for being very friendly with guests and customers, developing customer service is still essential, especially in the restaurant business. Another of our priorities is to further improve the quality of Hungarian gastronomy. We have well-known chefs working all over the world, we are champions at a European level, we won the Bocuse d'Or a couple of years ago and we have six Michelin-starred restaurants in Budapest that we are extremely proud of. Our ambition now is to spread the word and focus on raising standards outside the capital even higher. Once we do this, it will be possible to expand tourism into the countryside so that Budapest isn't the only region attracting international visitors. If we want to encourage U.S., Japanese, Chinese or U.K. tourists to visit the countryside and discover the beauty of our country, then we need the same level of service there as in Budapest.
All our spa resorts around the country already boast four- or five-star ratings, which is a good start in terms of attracting international tourists. Before the pandemic, the Hungarian provinces were a popular destination for Russian tourists, as well as for Israelis and Germans. For decades, the latter has been our biggest source country, with many visitors to the provinces and more visitors to Budapest than any other country. We were also able to generate tourism from the Visegrád countries like Czechia and Slovakia, especially in the summer and even after the arrival of COVID-19.
So, in summary, increasing international tourism outside Budapest is one of our challenges and we are addressing it by increasing the quality of our product. We are working on both the software (teaching people how to aim for higher quality) and the hardware (building tourism infrastructure). In the end, these two sides of the coin together will form a complete "tourism product."
In May 2018, the HTA launched the first comprehensive Budapest-centered international advertising campaign. The aim was to promote Budapest as a must-see European capital alongside Paris or London, ahead of Prague and on the same level as Vienna. How has this campaign been received and what have been the key learning points from this exercise? What kind of image does Hungary or Budapest now conjure up in the minds of tourists?
We repeated this campaign a few times following its initial launch in 2018—always with a new theme and new photography to enhance and improve the project. The initial concept was to introduce Budapest as a friendly, cosmopolitan destination where modernity meets history, and where you can find high-level gastronomy, a strong historical heritage, outstanding architecture from the 19th century and historic spas. It was a great product and was well received, especially in continental Europe, and also in the U.S. and South East Asia, where we received really positive feedback.
We repeated the same campaign—"Budapest, the Spice of Europe"—a few times and then, at the end of last year, we launched a higher-end campaign focusing on the U.S., French, Spanish, Japanese and Chinese markets, introducing Budapest as a luxury destination offering high-quality experiences and products. The campaign was aimed at people with higher spending power who are looking for a different kind of product or service, like five-star-plus spas and hotels or luxury shopping experiences, showing them that they can find these things in Budapest. This was the next step and was designed to raise Budapest to a higher level. As we had reached a record number of visitors in the previous year, the idea of the campaign was to make the switch from mass tourism and to slowly move our focus away from just quantity.
After the first wave of the pandemic, however, we had to switch our focus back. Therefore, instead of promoting Budapest as high-end, we went back to introducing Budapest as a trendy, fashionable destination, particularly aiming at those in the 25-35 age group: millennials who are looking to travel, aren't so afraid of the virus and who will be the first to jump on low-cost flights and jet around Europe. We ran the campaign this summer, not only in the surrounding countries but across the whole continent and it was really well received.
Are you already thinking about future, post-COVID campaigns to promote year-long visibility within an increasingly competitive global tourism industry?
Absolutely. I think every country is in the starting blocks, waiting for the moment when international campaigns can be relaunched. So one has to be ready with one's ideas and what one wants to promote in this new world. Hungary's plan for future promotion will be twofold: on the one hand, it will situate Budapest as a key product, enhancing the city's reputation as a cosmopolitan place where modernity meets history. But it will also look to promote the rural regions, eco-friendly tourism, nature and spas. The message will be about coming to Hungary to spend some time in the countryside, spend some time alone, connect with nature and take care of your body and soul. This will be one of our goals.
On September 1, after a sudden surge in COVID cases, the Hungarian government made the decision to reseal its borders to foreign arrivals, after being open to tourism for three months. It goes without saying that the impact on the tourism industry is devastating, even with the cushion measures in Hungary's Economy Protection Action Plan. How will the industry survive the pandemic and what strategies are being considered to accelerate recovery after this second wave?
This is a difficult time for the industry and we also have very difficult times ahead. The coming months will be hard for the whole country and especially for Budapest. One of our recovery strategies aims to generate more domestic tourism to Budapest, changing the existing ratio from 90 percent international guests and 10 percent Hungarian guests to something healthier. Paris, for example, has a ratio of around 60 percent foreign to 40 percent French, which is very healthy. As long as the borders remain closed, we want to generate more domestic tourism in Budapest, making sure that hotels, restaurants and other tourism service providers in Budapest are able to survive the coming months. This won't solve all our problems, but it's one of our aims
During the month of October, the Visegrád country group is exempt from the border crossing restrictions, with international tourism permitted from Czechia, Slovakia and Poland, provided that tourists have made their bookings prior to October 1 for at least one night.
Generating more tourism to Budapest from the countryside is also one of our aims. In contrast to Budapest, we think that domestic tourism will be able to keep tourism operations alive in provincial areas until next spring and that they will experience fewer difficulties. Meanwhile, we're gearing up for an international campaign that we'll launch when the situation allows. We'll start the campaign targeting international visitors to both Budapest and Hungary as a whole, but it definitely won't happen before next spring.
Prime Minister Viktor Orbán said that, "Budapest needs to transition to a new business model." Just lately, the HTA signed an agreement with the Budapest municipality and several tourism agencies to boost the tourism sector. What are some of the new pillars or segments that Hungary could lean on?
What the Prime Minister meant by changing the business model was lowering the percentage of tourists to Budapest coming from international destinations, while increasing the number of Hungarians visiting our capital city. This is an essential change to the tourism model of Budapest and one that we fully support. The agreement we signed aims to go further in developing business tourism and the meetings, incentives, conventions and events (MICE) tourism sector in Budapest. The Hungarian Convention Bureau, operating under the name Budapest Convention Bureau, is supported by both the Hungarian government and the city of Budapest. Its priority is the development of the MICE and business tourism segments in Budapest. By doing this, they aim to make the city more visible and accessible for destination management companies and other organizations looking to generate business travel. In the MICE sector, we are directly competing with Prague, Vienna and also Barcelona.
We currently have an organization helping the industry's key shareholders in Hungary that connects them with business partners outside Hungary. MICE and business tourism are two key areas that we strongly believe in, and which we have great opportunities to develop. Budapest already meets all the requirements for this sector: meeting spaces, high-end gastronomy, excellent transport links with our international airport, and many beds in high-quality and five-star hotels. Everything is here and ready to promote business tourism. What we are missing is the connections, and that's what the Budapest Convention Bureau is aiming to provide.
Another thing that Prime Minister Orbán has said recently is that, "Hungarian businesses haven't weakened but strengthened." What sort of innovation has come out of your sector as a result of the COVID-19 crisis and border closure?
Right now, we're using this time offered to us by the border closure to reassess the Hungarian tourism strategy, also called the National Tourism Strategy 2030. When we introduced it back in 2017, the stated goal was to generate 50 million guest nights a year by 2030. We had 42 million guest nights last year, so the chances are that we might have achieved our target of 50 million this year if COVID-19 hadn't hit us. Now we're taking a closer look at our tourism strategy and what we need to change in order to recover. Promoting business tourism is one of the key new elements and at the same time we have to look at further digitalization of the sector. Our tourism data analysis helps us to distinguish trends and predict the near future, and we want to digitalize the industry further so as to be able to make database-driven decisions for every aspect of tourism, and especially in times of crisis such as this.
At the same time, we also want to develop sustainable tourism as well as our gastronomy, which will be a huge task in the future. However, if we're able to digitalize the sector at the same time as teaching people how to practice sustainable tourism with a high level of customer service, then I think we'll succeed.
What are some of the big projects taking place right now that aim to reinforce tourism infrastructure in Hungary?
Over the next few years, Hungary will invest €420 million in rebuilding hotels, renovating infrastructure, renewing properties and redecorating guest rooms—primarily outside the Greater Budapest area. From this investment, €110 million will be allocated to the 14,000 small, family-run establishments that have no more than eight guest rooms. These include family entities, small apartments, B&Bs and hotels, but all with a maximum of eight rooms. This summer, these establishments were able to apply for government support. We provided around €3,000 per room for renovation, which is a large sum of money by Hungarian standards.
By overhauling infrastructure in our tourism sector, I believe that we can help to encourage Hungarian people to stay in the country, rather than going to, say, Croatia or Austria. If we're able to offer higher quality service in the countryside, then we can keep our own people within our borders and help the Hungarian economy. Renovating our hotel infrastructure will also enable us to encourage more international visitors out of Budapest to visit the countryside. By the time tourists start to arrive, these tourism operators will have to be ready with their renovations and rebuilds completed. That's an example of how we are making quick decisions to keep the industry moving.
How would you summarize your priorities for the short and longer term?
I believe that we'll have a hard time until next spring, with a very low flow of international tourism, low inbound tourism and low domestic tourism. We have to use this time until the end of March to prepare ourselves to be ready with a campaign, a message, and business-to-business activity. We'll also start business-to-consumer marketing activities once the situation allows. One part is marketing activity and the other part is using the time while we are effectively closed to upgrade our infrastructure, helping companies to rebuild and get ready. Once international visitors start flocking to Hungary again, once our infrastructure is all in place, I'm confident that Hungary will recover quickly and regain its international position in the tourism sector.
One of the major challenges in the coming months will be keeping and maintaining the tourism industry workforce. Before the pandemic, we had a labor shortage in tourism: it was hard to find a good chef or waiter who spoke a foreign language. With the tourism level so low at the moment, many people have left the industry to work in other sectors and the workforce is moving around. Our task will be to attract them back into the tourism industry once it restarts so that all these SMEs and hotel companies have enough employees.
What is your final message for our Newsweek audience?
Hungary is a hidden treasure at the heart of Europe and Budapest is the spice of Europe—we truly mean it. Everything from European culture and heritage can be found in Budapest and in Hungary, and this combined with Hungary's natural beauty makes it truly unique. Hungary is well worth a visit, whatever the season—and whenever you choose to visit, you're in for a very pleasant surprise!