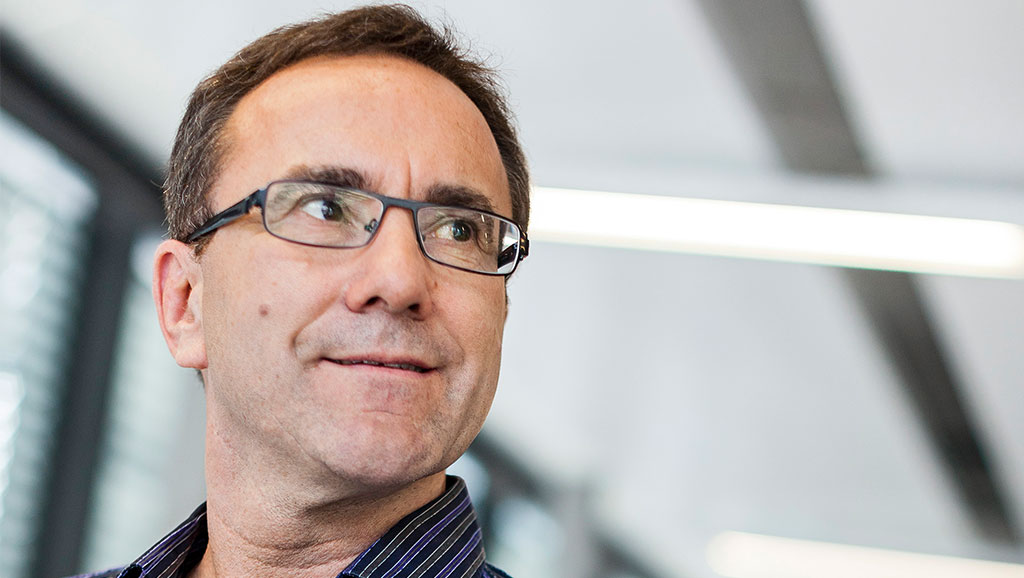 28 Sep

Driving innovational technology to improve people's lives
Andreas Wieland, CEO, Hamilton Bonaduz AG, discusses the leading manufacturer's global activities in medical, bio-pharma, biotech, food industry and environmental technologies
Hamilton Bonaduz AG has been one of Switzerland's leading medical technology manufacturers for more than 60 years. It is specialized in the development, manufacturing and customization of precision measurement devices, automated liquid handling workstations and sample management systems. Can you give a brief overview of the group?
Hamilton's vision is to drive innovation to improve people's lives. We are active in four main areas. The first one is in the medical field, where we manufacture ventilators for intensive care stations. The second one is robotics for automation in the pharmaceutical and biotech industry. For example, we do a lot of DNA analysis as well as virus and antibody testing. The third area is sensors. Our sensors are used to measure pH, oxygen levels or carbon dioxide (CO2), for instance, and they are used a lot in the pharma industry by vaccine manufacturers. As an illustration, our new CO2 sensor has been widely used by vaccination companies in the context of the COVID-19 pandemic. The fourth area where we operate is sample management and storage: we propose fully automated storage possibilities that go as far down as -80° or 150°.
Today, the company employs thousands of people and it is growing. On a global level, it is the largest automated liquid handling company in the world. Can you give me a couple of key facts and figures about Hamilton to understand the extent of its global activities?
Hamilton has been operating for more than 60 years and today counts over 3,000 employees—including 1,300 in Switzerland where we have a very big production site in Bonaduz. About one third of our employees are university graduates who are looking to work around innovation, research and development (R&D), production and marketing. Our sales are over $1 billion however, as we are a family company, we don't disclose our figures.
Hamilton is one of the global leaders in the production of respiratory ventilation devices. Can you tell us how Hamilton has contributed during these difficult times of COVID-19 and how you have been able to respond to the massive global demand for your products?
As our vision is to help people, it was of utmost importance to us to always sell our products and ventilators to places where they were most urgently needed during this crisis. Many countries wanted to buy a lot of instruments just to store them to be ready in case the crisis hit them, but we had to prioritize countries like Italy, for example, where the needs were so immediate and huge. Our approach was that any instrument leaving our facilities should be landing at a hospital bed no more than one day later in order to treat a patient. We had many calls from health ministers abroad, asking for our instruments. We did our best to place our ventilators where they were most needed and most at use in very short time.
Our testing instruments have also played an important role during the pandemic outbreak. Testing is indeed essential to know whether or not a patient has been infected and whether or not they need to be quarantined. Hamilton could deliver enough of its testing instruments and put them at disposal for coronavirus tests.
During this pandemic we have multiplied our ventilator production by about four times. That was not easy: the whole supply chain had to be geared up and we had products all over the place. This crisis has made us realize how globalized the world is and how globalized we are. Our ministers in Bern have been very helpful and supportive, they have been in constant contact and made calls to countries like India and Sri Lanka to make sure we had everything we needed to produce our ventilators. It was really good teamwork. The major thing was that we had a good network so that we could arrange numerous things—other companies may not have had the same chance.
From a business standpoint, what has been the implication of the crisis on your activities?
We have expanded our sales significantly, especially in the medical business. During the first five months of 2020 we achieved the same sales volume as for the entire year of 2019. Our financials, sales and profits have skyrocketed! As a result of this sudden business activity increase, we have had to hire a lot of people. This was not easy as, due to COVID-19 distancing measures, we couldn't interview them face to face, we couldn't properly train them and it was difficult to thoroughly integrate them into the company. That has been one of the big challenges we've had to solve during this period.
Hamilton has been a pioneer in the medtech industry, from the development of the lead-shielded syringe by Clark Hamilton in the 1940s to the first automated screening of blood for AIDS and hepatitis. Can you tell us what is in your innovation pipeline today, which other technologies or types of research are you investing in and where you expect to see the most disruption in the medtech field in the future?
We expect to see many developments in the medical field and, more specifically, around ventilator manufacturing. More and more people need ventilators as the air is getting worse in big cities and they need treatment. The needs are here and we can only expect this industry to continue to grow substantially in the future. Besides, this type of virus outbreak is bound to happen again, which is another good reason why demand and production will sustain. A few years ago, we had the SARS outbreak, so this isn't something totally new and we have already experienced similar situations.
Another area where we see promising potential is DNA analysis. In one gram of human DNA there is as much information as there is in a whole truckload of USB sticks. There is a lot of research going on in this area and huge dynamics.
Sustainability and the environment is another important area for us and one where we expect to see more momentum going forward. Our sensors enable the measurement of many gases and elements in the atmosphere that are critical for the environment and, therefore, we expect demand for this type of product to keep increasing.
Last but not least, the food industry should be very important in the future. Many changes and turbulences will affect our food production in the years to come because of climate change and other factors. We will see lots of behavior change as well in this industry and we want to be part of that. That is one of the main areas where we are conducting research and on which we are focusing.
Your subsidiary Hamilton Storage Technologies provides storage solutions that work in minus 80°C, minus 20°C, as well as ambient environments. In view of the sanitary crisis we have just been through and in view of the medical challenges that are bound to arise with the supply and transportation of medicines around the globe, what are the prospects for this segment of your business?
There are definitely a lot of possibilities with regard to sample management and storage. Numerous people are doing medical analysis: they get many samples, they want to analyze these samples and sometimes store these samples for possible future comparative analysis. So, sample management is really of growing importance. We are still quite small in this field but I think it is a very important business segment going forward.
Hamilton also has a headquarters in Reno, Nevada. How do the two company branches work in concert today to create synergies between their various competence centers to drive innovation?
To date, sensors and medical instruments have been exclusively produced and developed here in Switzerland. We are expanding that but, overall, I think it is great to have two centers of competence, one in the U.S. and one in Europe. Steve Hamilton is leading our facilities in Reno, Nevada, which is about the same size as our facility in Bonaduz, Switzerland. We are, of course, discussing all topics and strategy together, as we have done for a long time. In some segments we both work on the same product, whereas in others only the U.S. facility is involved. We try to optimize our two competence centers.
Hamilton works with many of the world's top manufacturers and original equipment manufacturers. How is the company working to enhance its network and partnerships with global technology leaders?
We advance our innovation pipeline along with university partners and other players that we find along the road. We have many large customers like Roche and other big players with which we share information—for example, we do the automation and they do the chemistry that runs on our operations. We have very good cooperation with these major companies, as well as with many young players. This is key for us to be able to advance into fields that we could not enter alone.
You have spent over 20 years at the helm of Hamilton in Switzerland. What is your roadmap for 2021 and beyond: which are the priority markets for you now and what is your vision for expanding your company's footprint?
The U.S. is still the most predominant market for us. China is also still growing and we do a lot of business in that country. We are also present in other Asian countries, where we are trying to improve our business. In Europe, the key markets for us are Germany, the U.K. and the Nordic countries.
Hamilton's vision is to drive innovation and that is very important for us. We generate a lot of R&D work, we produce a lot of patents. We want to drive innovation to improve people's lives—in the medical field, bio-pharma field, biotech field, the food industry and environment field. This is my personal vision but also the goal of all our employees to lead us in the future.
Do you have a final message for our readers?
Switzerland stands out as the world's innovation leader and is an excellent business location. This is a country where money is cheap, since we have negative interest rates. Hamilton has been able to manufacture complicated products for the past 60 years from Switzerland, using a lot of automation—I believe that Switzerland is a good location to do that.